If you are looking for a traditional wedding bomboniere, nothing beats five sugar coated almonds placed in a pretty box, or wrapped in tulle. But where did the sugar coated almond tradition come from, what does it symbolise, and how can you incorporate it into your wedding?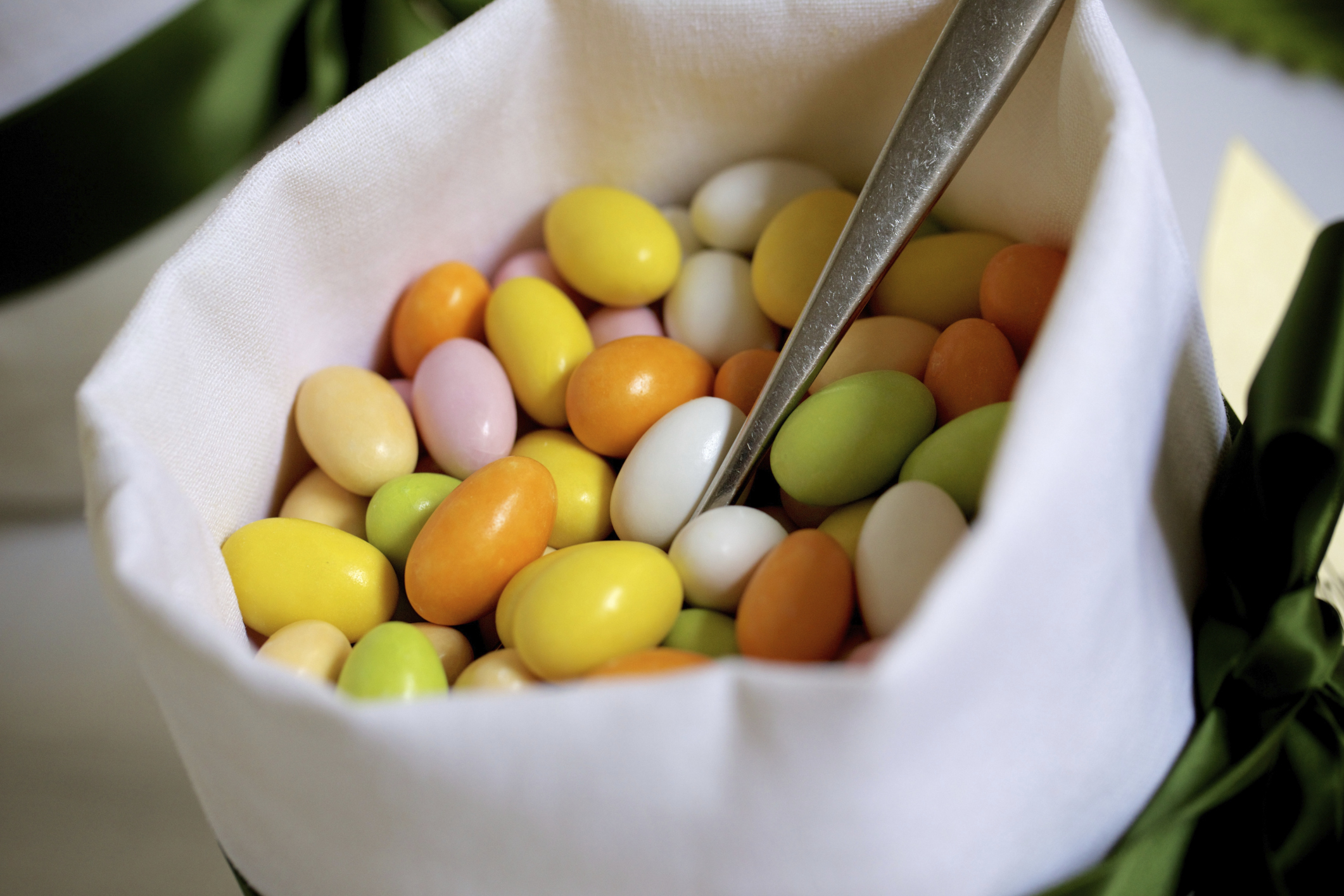 Where does the tradition of sugar coated almonds come from?
Sugared almonds, as the name suggests, are plain almonds coated in a sugar candy. They originated in Italy, and are typical of a town called Sulmona. Also known as Jordan almonds, they are given to guests at Italian weddings, and are usually white, pale pink or pale blue, and are wrapped in matching tulle tied with a ribbon. In Italy, five sugar coated almonds are traditionally given to guests representing health, wealth, happiness, fertility, and long life.
Sugared almonds are also traditional in other parts of Europe, and are especially common as bombonieres in Greece. At Greek weddings almonds are handed out in odd numbers, although not necessarily five. Odd numbers are chosen because they are indivisible, representing the unity of the bride and groom.
In Greece it is also believed that if an unmarried woman places sugar coated almonds under her pillow when she goes to bed she will dream about her future husband.
What do sugar coated almonds symbolise?
Sugar coated almonds are chosen for bombonieres for very specific reasons. Almonds have a bittersweet taste, which is thought to represent life's up and downs. The sugar coating illustrates the wish that the couple's married life will be more sweet than bitter.
How can I include sugar coated almonds in my wedding?
Making traditional sugar coated almond bombonieres couldn't be easier. You can bulk buy the almonds and then cut out circles of coloured tulle, place five almonds in the centre and gather the tulle up around them, tying it with a ribbon.
Sugar coated almonds were traditionally only available in pastel colours, but these days it is possible to order almonds in virtually any colour to complement your wedding theme. If you are having brightly coloured tulle you may just want to order plain white sugar coated almonds.
For a modern take on the traditional bomboniere, place five sugar coated almonds in small square cardboard box printed with your wedding details and tied with a coloured ribbon. You could also pick up the current trend for clear Perspex boxes, and brightly coloured almonds that work with your wedding colour scheme are ideal for this purpose as they will be seen through the box.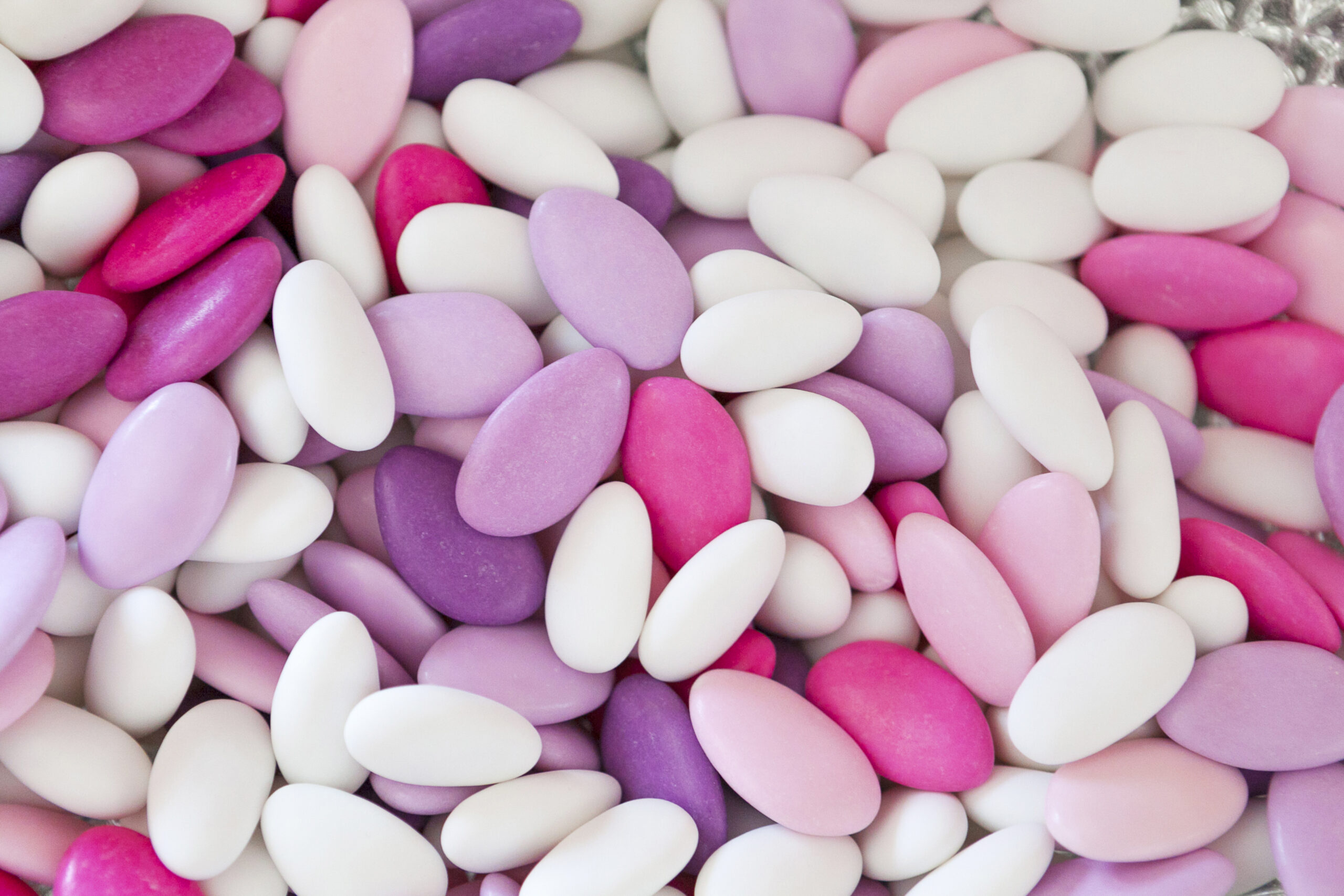 If you have another idea for your bomboniere but still want to incorporate sugar coated almonds in your wedding arrangements, you can simply place some around the reception venue and on the wedding breakfast tables. Use large martini glasses, glass bowls, or oversized jars to place the almonds in and put a sign or note with them asking guests to take five to represent health, wealth, happiness, fertility and longevity.
However you use sugar coated almonds, you can use this poem or something similar to convey their meaning to your guests:
Five sugared almonds for each guest to eat
To remind us that life is both bitter and sweet.
Five wishes for the new husband and wife
Health, wealth, happiness, children, and a long life!