We love a gorgeous photo shoot, and these same-sex wedding photo shoots had us all gushing! Although same-sex marriage isn't legal in Australia (yet), we love these beautiful images from around the globe, and we are sure that soon enough, Aussie same-sex couples will be able to get married.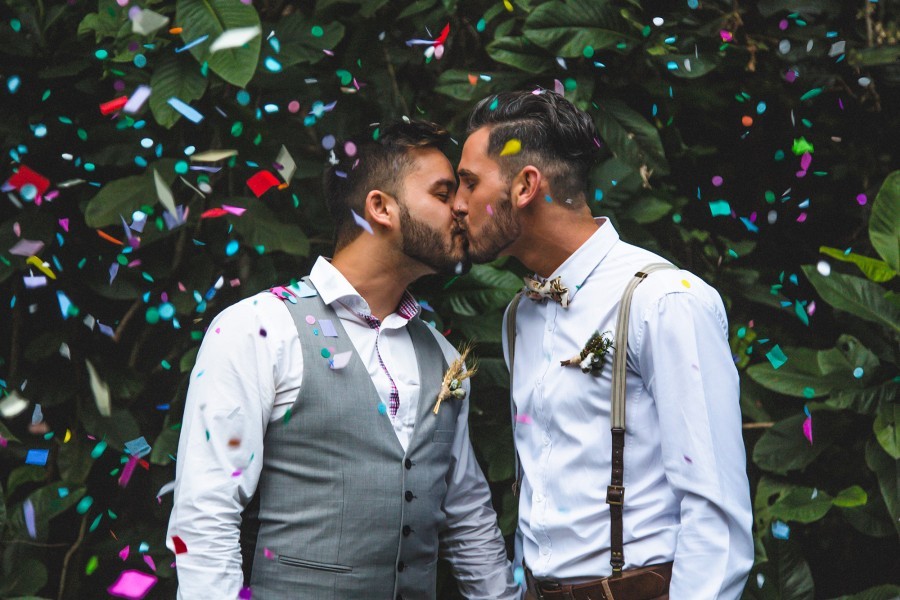 Erin and Kelsey
What's better than one bride? Two! These two gorgeous lovebirds were married at Stillpoint Lodge in Alaska with an intimate guest list. "The scenery and wildlife that we were able to show everyone is something that we all will never forget," smiles Erin. "How many people have seen an otter swimming out their window the morning of their wedding?" Just beautiful!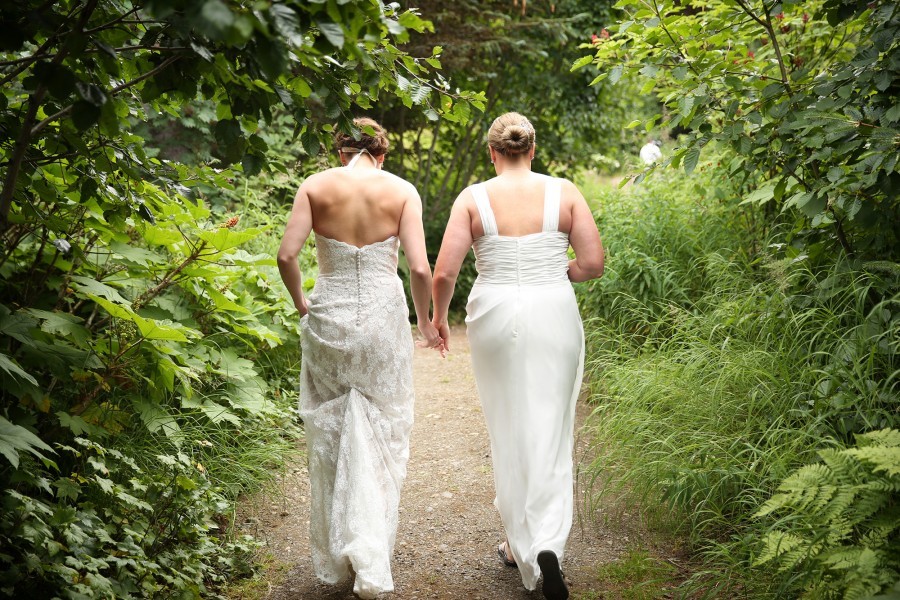 Love is love: same-sex wedding shoot
Loved-up couple Liam and Josh agreed to be part of Photographer Troy Freyee's plight to show that love is love, taking part in his romantic shoot in Bli Bli and Yandina in Queensland. "Although society has come a long way with same-sex relationships, making it more socially acceptable in most places, I believe we are so close to making it even better — by legalising same-sex marriage," explains Troy. A field of bamboo set the scene for the first part of the wedding shoot, followed by some moments in lush gardens, with props including a vintage deer head and confetti. "Here are two beautiful boys in love with some pretty pictures to help you realise love is love," says Troy.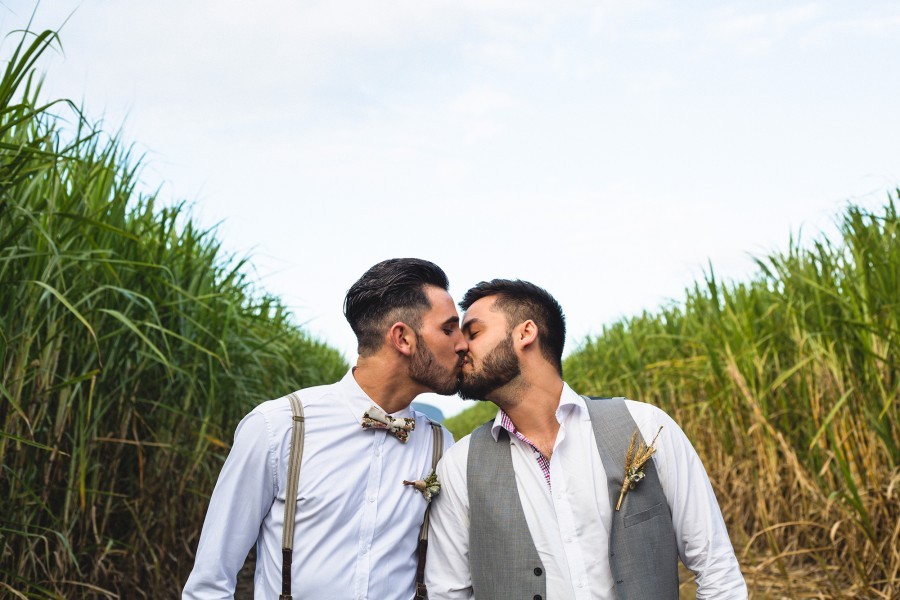 Joe and Miles
As a creative and personalised take on the traditional wedding, this photoshoot beautifully captures the essence of love and the meaning of "together forever." The images range from fun and playful, to emotional and thought provoking. Take inspiration from this photoshoot if you are looking to have a traditional, yet intimate wedding ceremony that is unique to you and your partner.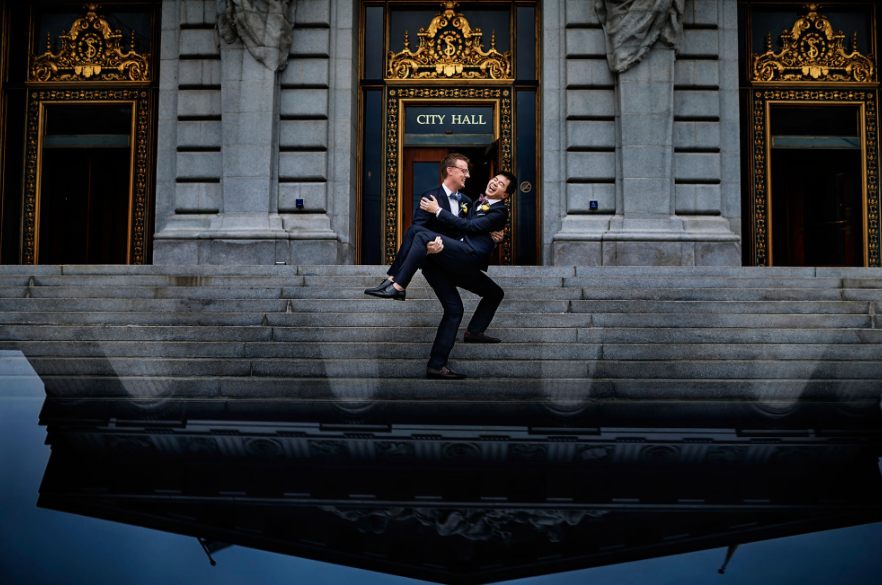 Jonathan and Marc
This Californian wedding was both glamourous in its old Hollywood theme and highly sophisticated in its charm. The Palm Springs location provides the perfect backdrop for a distinctive wedding that is like no other. Both grooms opted for the same style of suit, which is something to consider if you would like a more intimate and personalised look for your photos.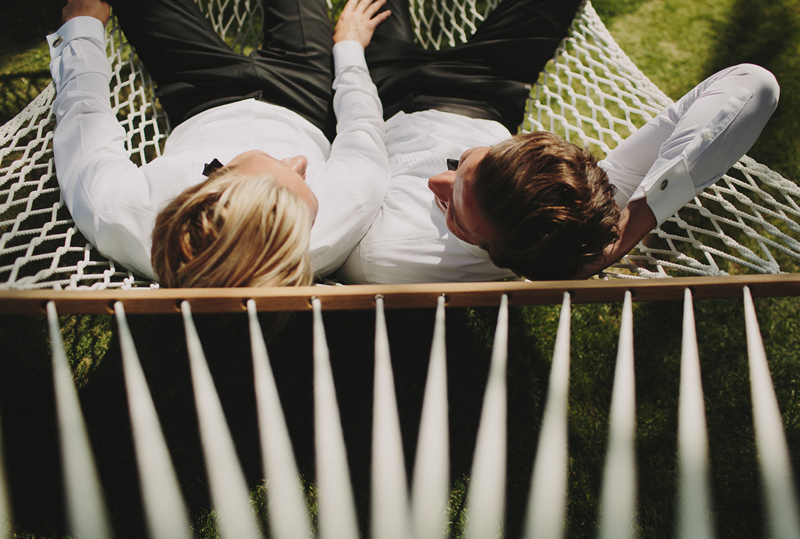 Dale and Brooks
A classic Southern- style wedding set amongst the gardens of a Georgian Manor sets the perfect wedding landscape for any couple, whether gay or straight. This photoshoot featured some classic shots of the two groomsmen kissing and holding hands, and pictures of them during the ceremony with the celebrant. What made this photoshoot so intimate was the close up shots of the rings and the newlywed couple having their first dance. By including shots of the venue and the indoor setting, this adds another element of appreciation for your celebration that will allow friends and family to see the finer details of the wedding and reflect on the day once it's all over.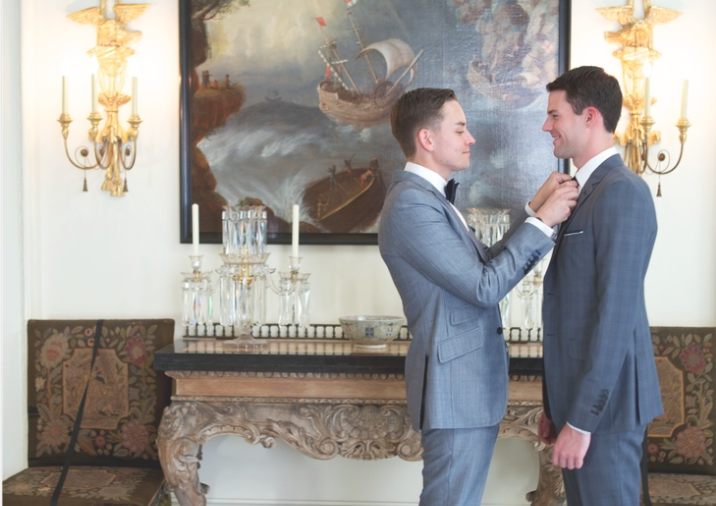 Two Brides: same-sex wedding shoot
This wedding shoot is elegant and stylish in all of its glory, reflected in the close-up detail of lace on both of the brides flowing, lacy gowns as they stroll along the beach hand in hand. The photo shoot shows a balanced mix of minimalist, yet refined detail that showcases the true warmth and beauty of the day. This photoshoot provides the ultimate inspiration for couples looking at having a beach wedding with a more sophisticated feel.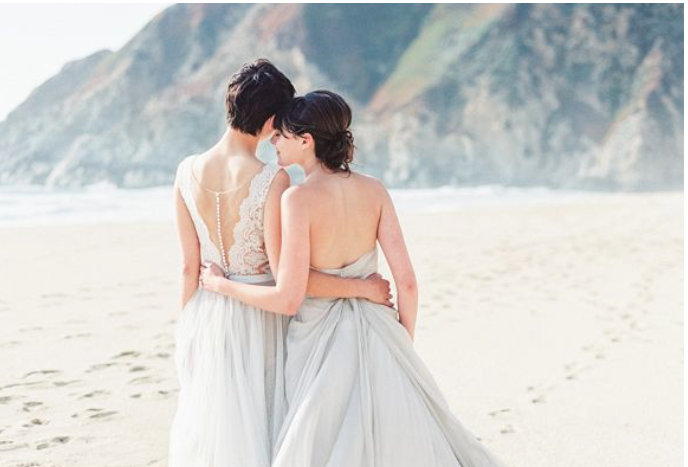 Jo and Carter
A photoshoot that showcases the very best of your personalities and highlights the femininity and beauty of your relationship will be remembered for years to come. Plenty of light in the photos signals the start of a bright and prosperous marriage together. To best showcase the love between you and your partner, make sure the photographer includes plenty of shots of you and your partner embracing each other, and lots of close ups of the rings, venue and the wedding party.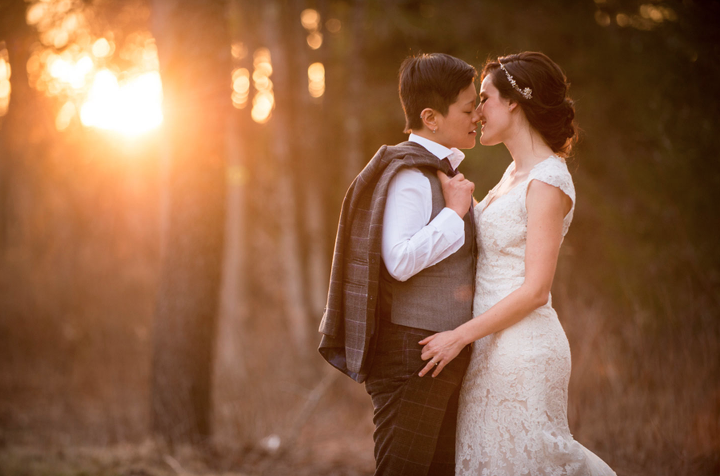 Mrs and Mrs: same-sex wedding shoot
This photoshoot is an eclectic mix of artistic images and intimate photos of both brides on their special day. This couple incorporated nature into their photos, with one bride adorning a handmade necklace made from a selection of flowers. Golden cups topped with fairy floss and brightly lit candles scattered across the floor added another dimension to the rustic, bohemian style photoshoot.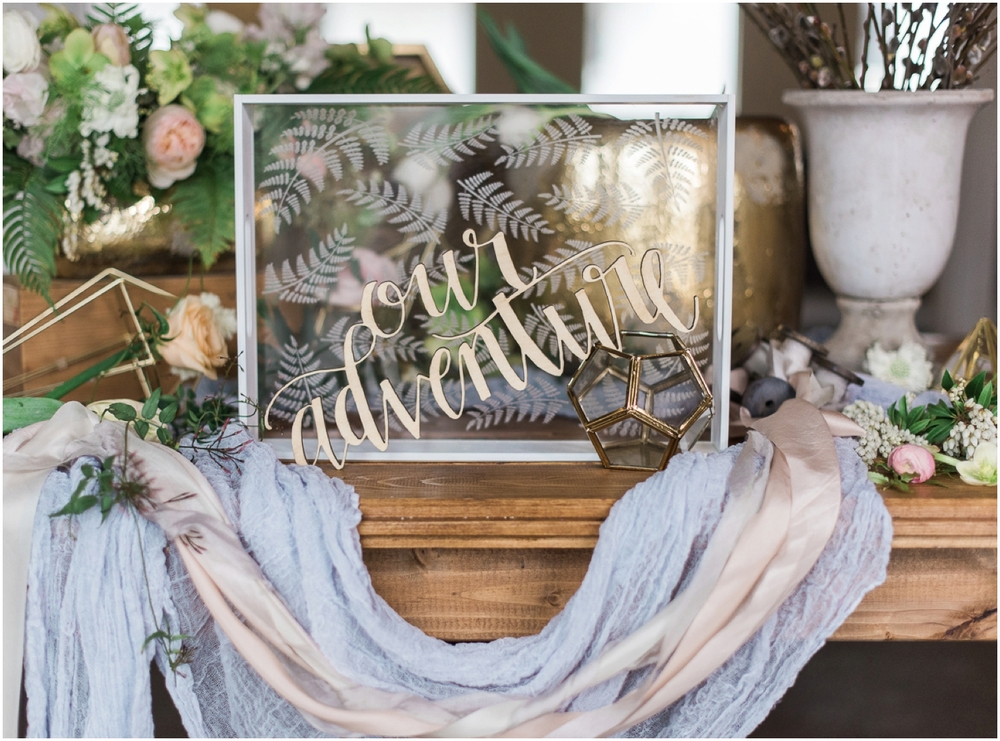 Jon and Jason
This stylish wedding is both well thought out and full of charm. Shades of blue worn by the groomsmen and ring bearer set a masculine tone, with hints of blue scattered through the ceremony, from the invitations and the table setting to the ring boxes. A natural theme was kept throughout the ceremony, with the reception set amongst a stunning outdoor backdrop and natural shrubbery used for decoration. We love the inclusion of the couples dog in their ceremony.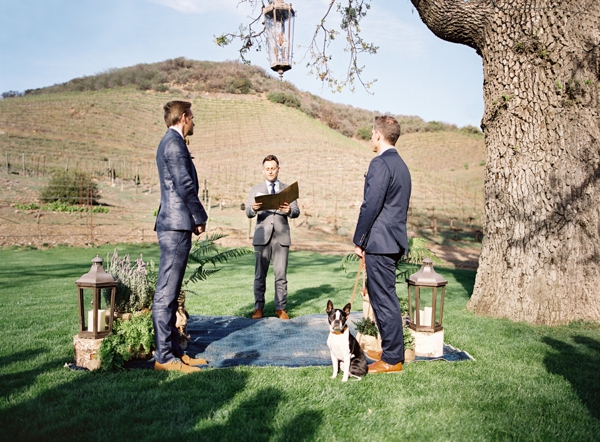 Lauren and Janah
Set inside a large rustic warehouse and amongst its surrounding gardens, this couple made their wedding shoot uniquely their own. With the word 'love' adorned above the barn doors to the reception and intimate photos of the newlyweds kissing inside an old bus and in front of an old house, their photoshoot featured a variety of photos that truly showcased their special day.