Unless you're a supermodel like Naomi Campbell who knows how to work a camera and sashay down a catwalk, posing on your wedding day can be quite daunting. How do you know which is your 'best side' to pose? Is now the time to crack out your best blue steel gaze?
"A lot of couples think photos are awkward and that they're going to be looking at the camera a lot. But as a photographer, if I ever put them in a position where they're uncomfortable, I just get them to reposition themselves so they're in a comfortable place, where they don't feel posed and just have fun with it.
A lot of the time, I don't get them to look at me, but at each other. As I say to groom, 'When in doubt, just look at your bride and smile at her,'" says Sydney-based photographer Samantha Heather, who quit a lucrative full-time corporate job two years ago after she fell in love with photography.
Samantha describes her work as having a photo journalistic quality about them, with a focus on capturing beautiful fleeting moments between people.
Rather than force her clients into unnatural, stiff poses, Samantha prefers to have them interact with each other in a way that is easy and familiar and it's usually those shots where she can capture special moments between the two.
"I love those little details that when put together, they create a bigger picture of the wedding, whether it's the way a dad cried when he saw the bride or when the flower girl falls on her face. Those are the things that make a wedding unique and I like telling those parts of the story," she says.
From romantic and intimate to cute and silly, here are six of Samantha's favourite poses for brides and grooms to try on their wedding day.
A familiar embrace
One of the first things Samantha asks her clients during a shoot is to simply hold each other in a way that's comfortable to them, whether it's a tight squeeze or a romantic hand-hold. Not only are the results quite natural, but it's a good way to ease a camera-shy couple into the shoot, she explains.
"A lot of the time, people haven't had a professional photo taken of them before and it can be quite daunting," she says. "Sometimes, you might have two photographers or three videographers and a bridal party watching, so it can be quite intense and feel very awkward. This way, it's simple for them to ease into the process."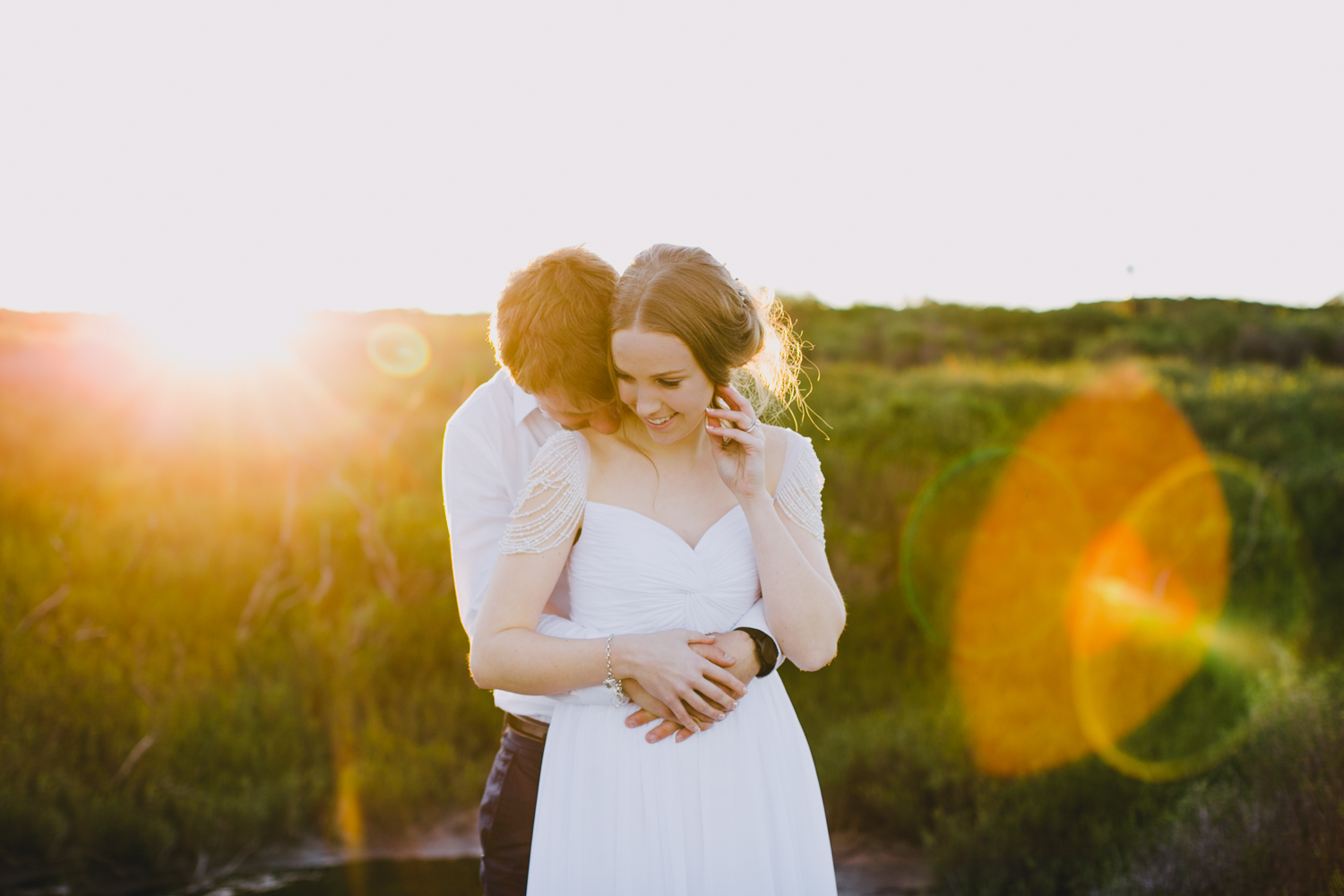 Baby got back
In this shot, Samantha asks the groom to stand behind his bride and give her a big cuddle. It's an ideal pose for those men who are feeling awkward. Often, men feel more at ease if they're doing something with their hands in a shot, she says.
"This one's great because there are so many different things he can do. He can nuzzle into her neck or hold her hands, squeeze her or tickle her. It's quite a comfortable pose – almost like spooning while standing up!" she explains.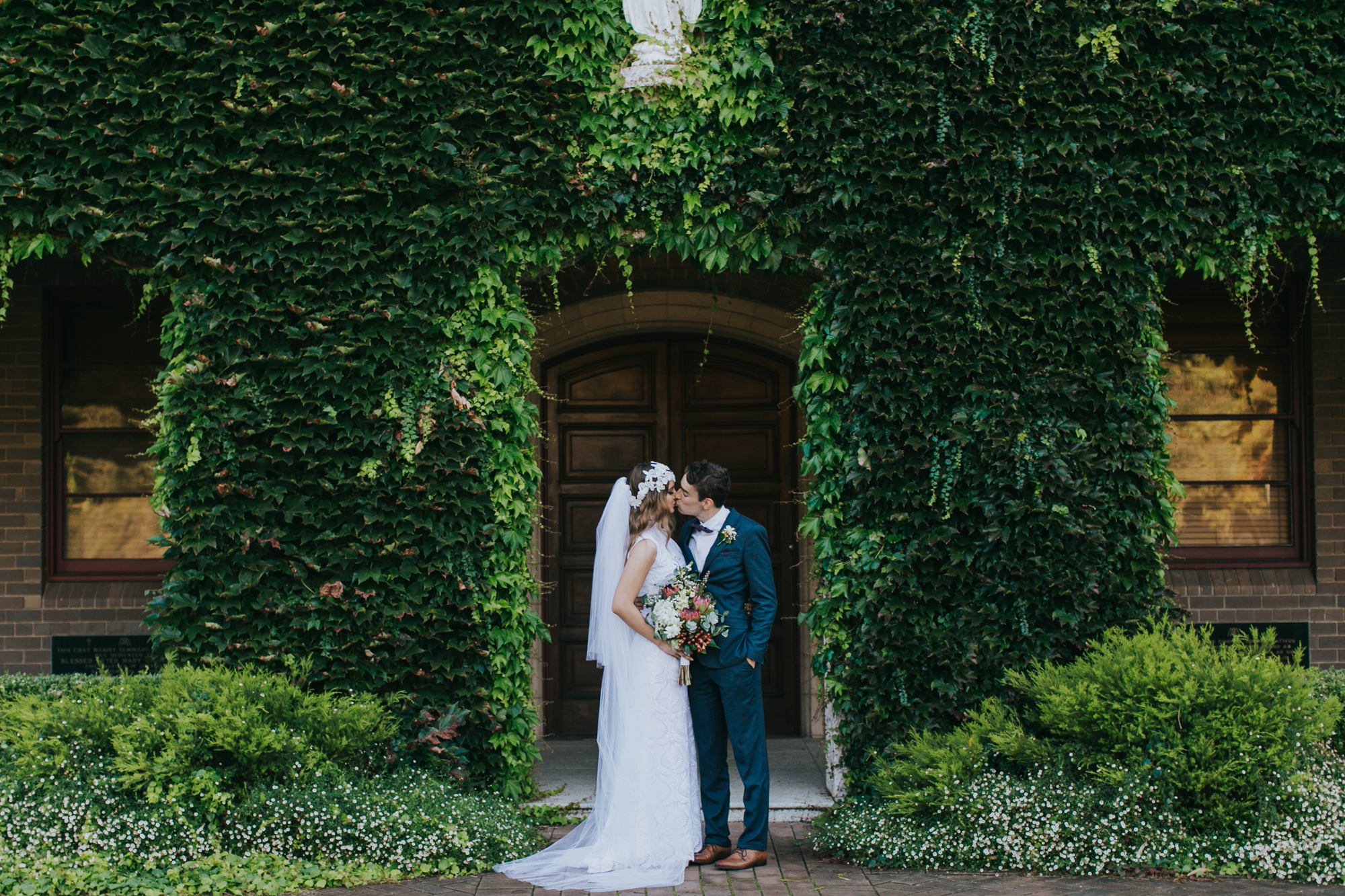 Come kiss me
When sharing a smooch for the camera, the couple are simply focussing on each other and not looking at the camera at all. And from where Samantha is usually placed in front of the couple, they're not usually able to see her at the time.
"Even the moments coming in or exiting from a kiss are beautiful, because they're sharing that special moment and they're as close as they can possibly get. It's very intimate in a way that's unique to the couple themselves," she says.
This is often the first kiss a couple share after a ceremony, away from family and friends, so they're often more relaxed with each other, too.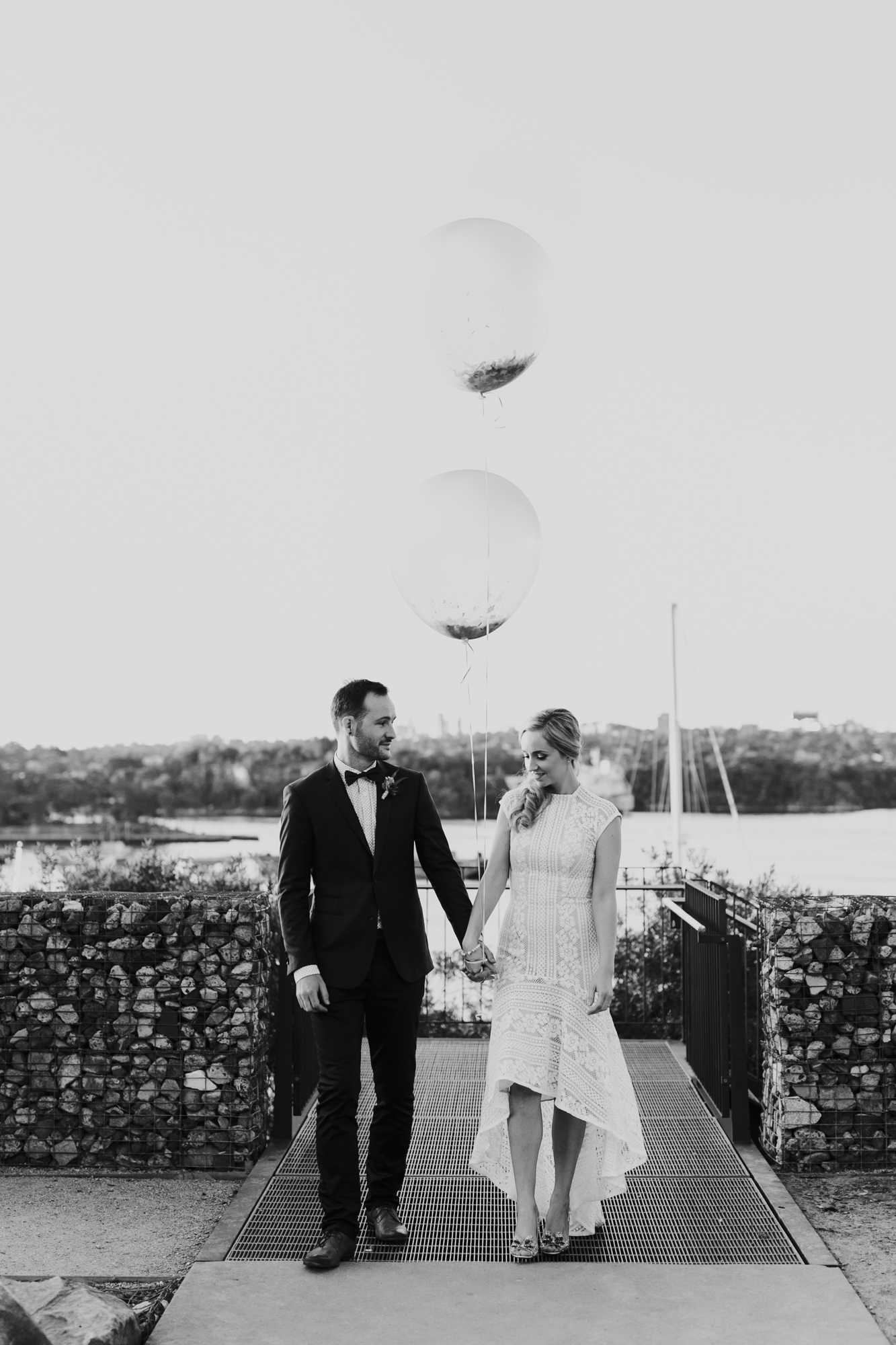 Walk this way
Unlike standing poses which can sometimes become a bit stiff, photos of the couple walking hand-in-hand either towards the photographer or away from him or her are a lovely way to get them to loosen up. They could even have fun with it and perhaps dance together, suggests Samantha.
"They can just have a conversation with each other and often this is the first time they're talking to each other as husband and wife without anyone else butting in. They can catch up and ask each other how their morning was," she explains.
"Often I get the couple to walk away from me at first and because I can't see their faces, it's a private conversation. It's a great chance for them to catch up and it makes for a great photo."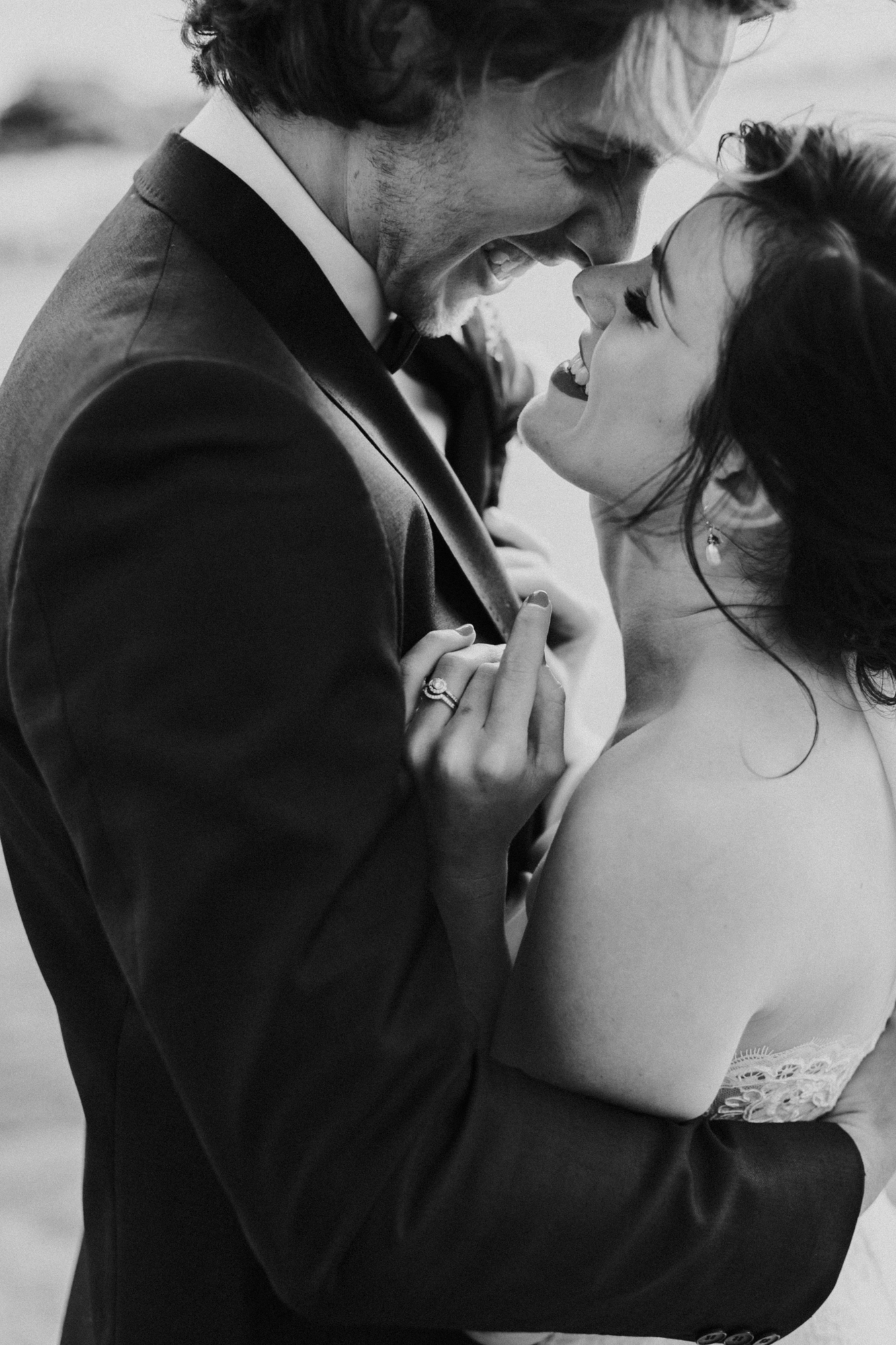 Up close and personal
In this romantic pose, the couple get as close as possible to each other without kissing, which usually creates some very sweet moments. Samantha loves capturing that intimate connection between a newly married couple.
"On your wedding day, you're so full of emotion. You've just married the love of your life and it's so nice to feel the emotion between the two," she says. "They're usually giggling because they're so close and can't kiss. Their noses and faces are so close and they're nuzzling into each other. It's very beautiful."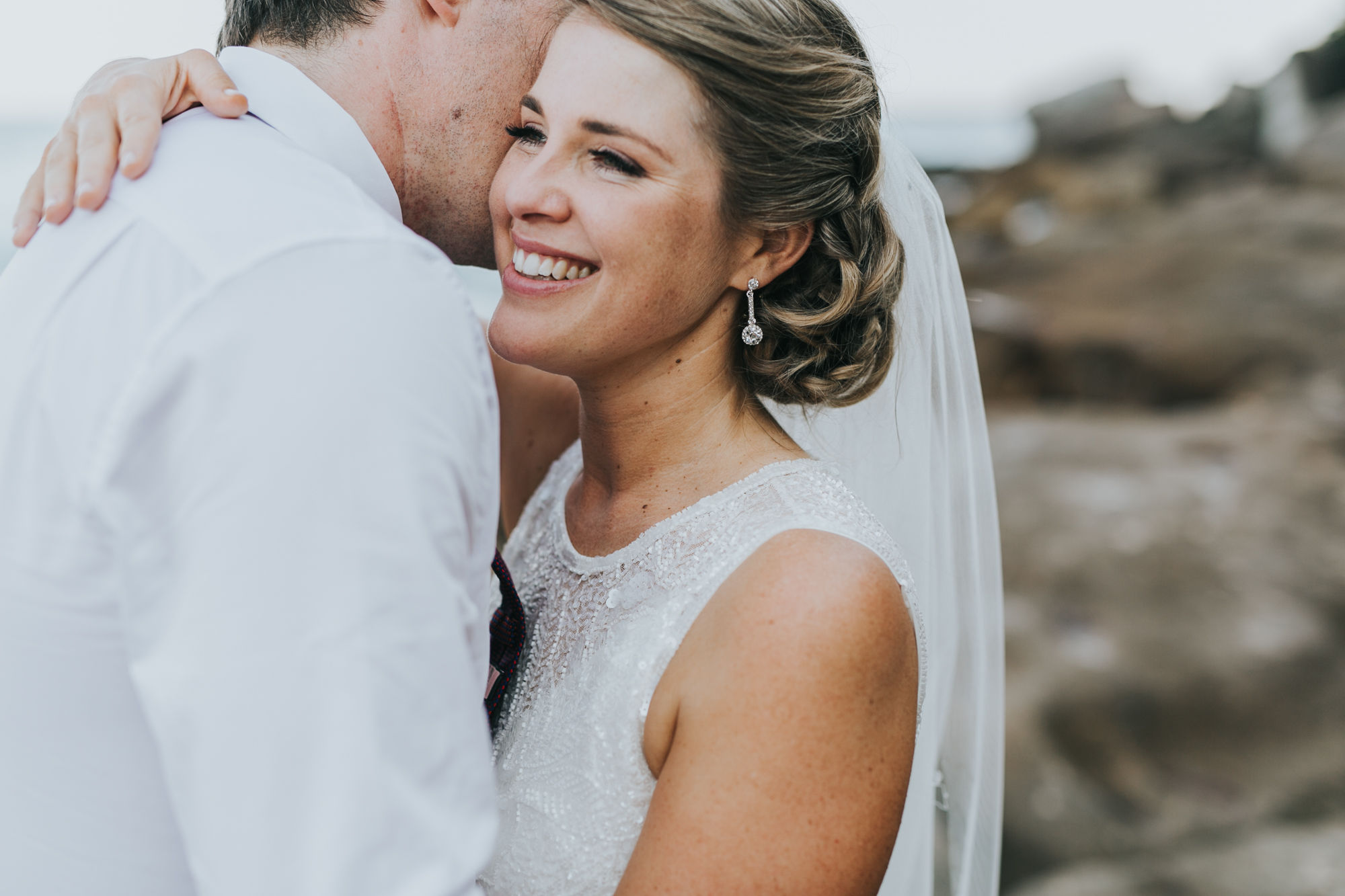 Whisper sweet nothings
Lastly, Samantha asks the groom to whisper a secret into his bride's ear. She loves zooming in on those moments to capture the intimacy between the two and their changing facial expressions.
"It can either be cute, or depending the couple, it can be a bit inappropriate or naughty. Because I can't hear what he's saying, the groom's often up for saying anything and gets a good laugh out of her. They can be silly together," she says.
"Sometimes I ask the groom to explain the moment when he saw her walking down the aisle and what he was thinking when he saw her. That gets a beautiful reaction from the bride. It's so intimate. I love it."