While the idea of sharing a first look with your loved one may not be the newest wedding photography trend, it's still a hot topic, with many couples on the fence about doing the big reveal during the ceremony or beforehand.
As your wedding day approaches, you might be unsure whether you want first-look wedding photos or would rather wait until you walk down the aisle for your big reveal. To help you decide, we asked the experts (i.e. some of our amazing Easy Weddings photographers) to share their thoughts on the pros and cons of first-look photos so you know what to expect.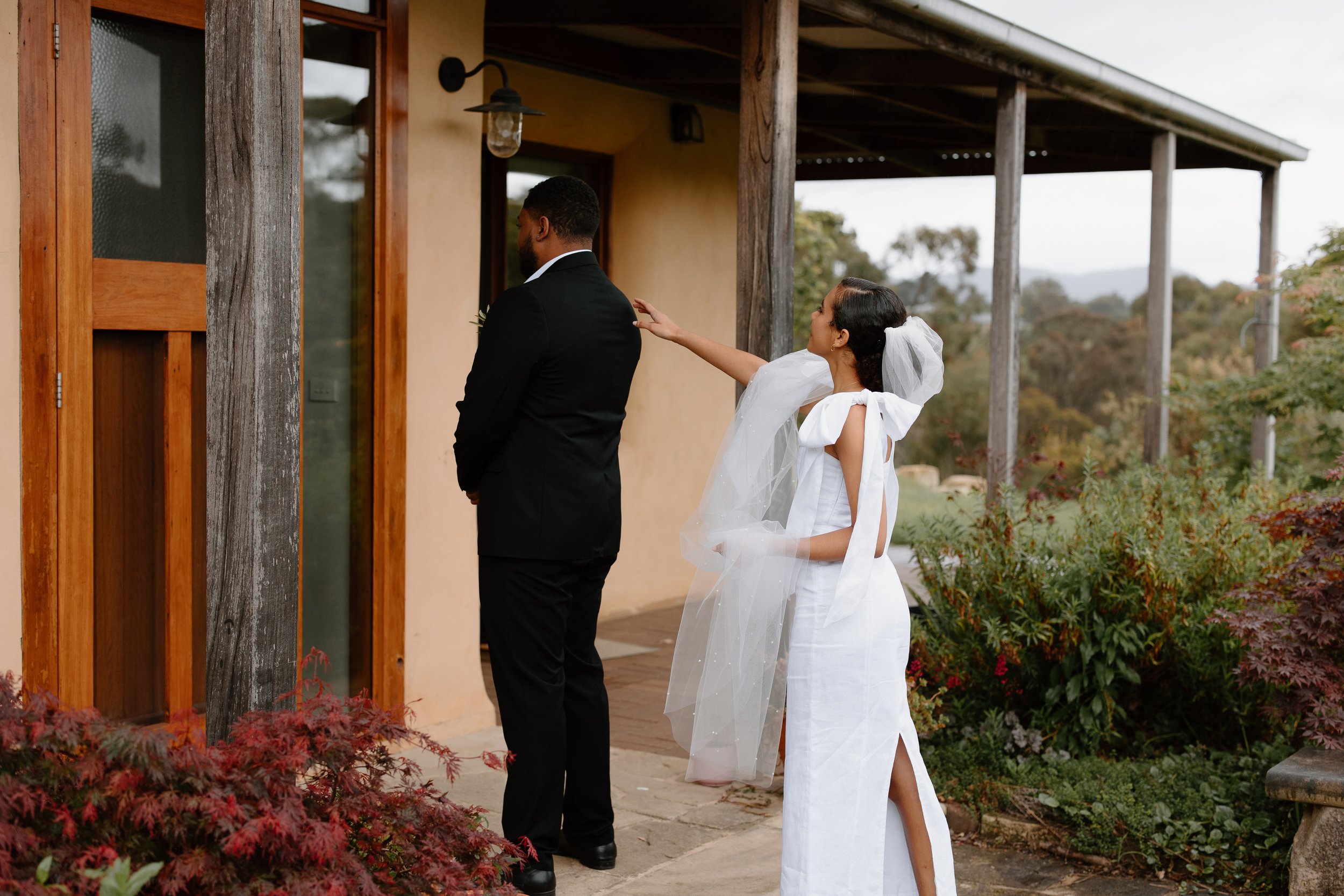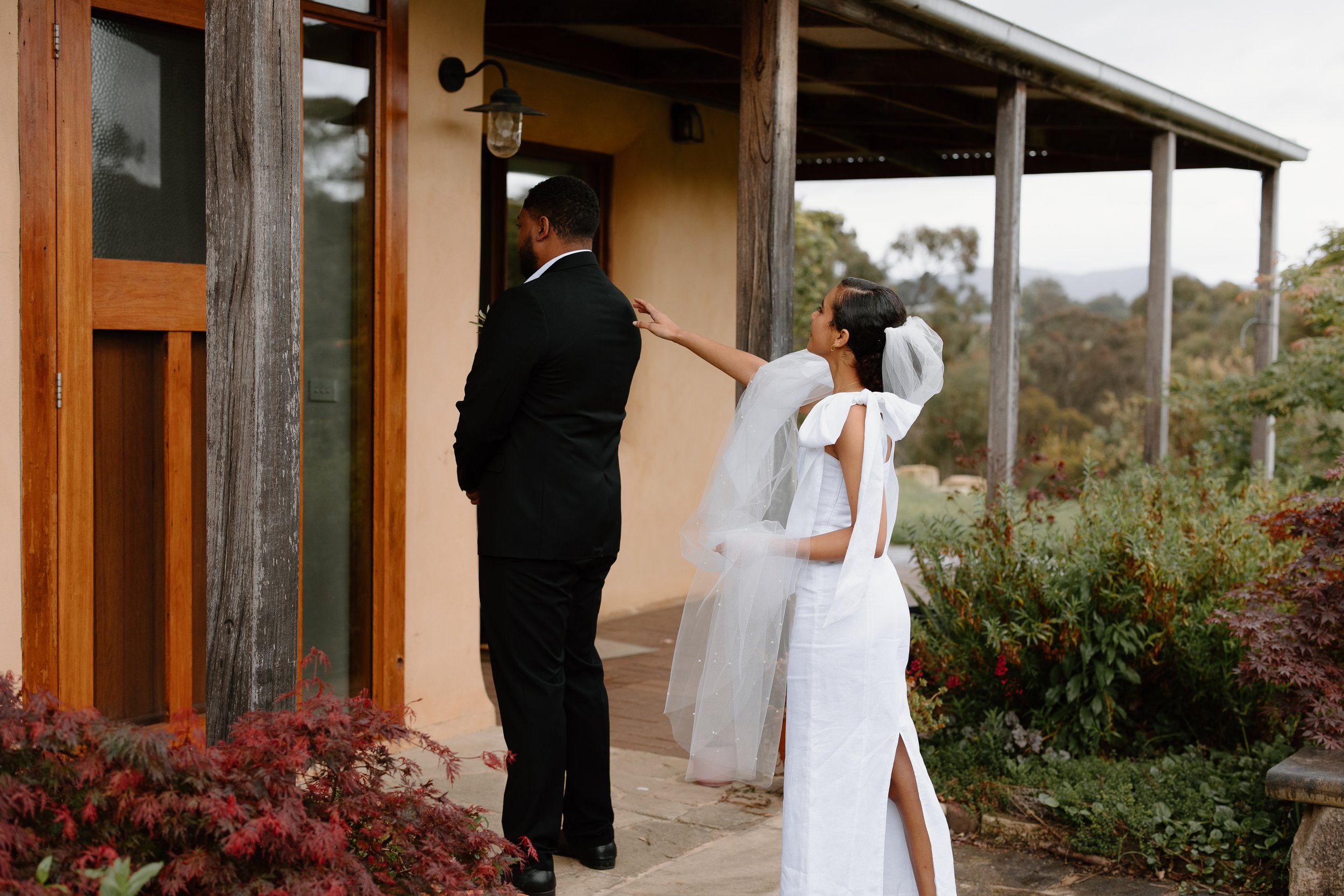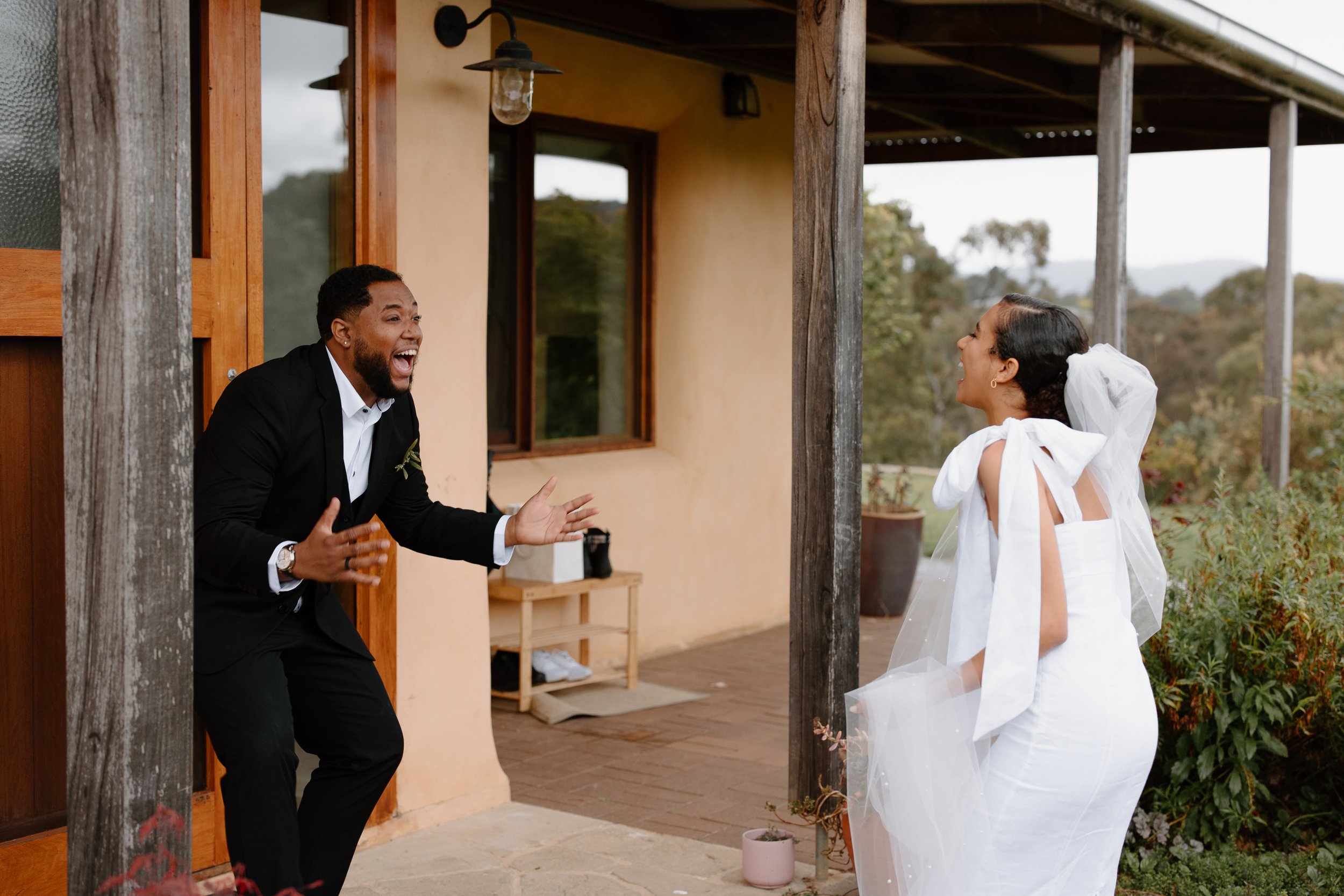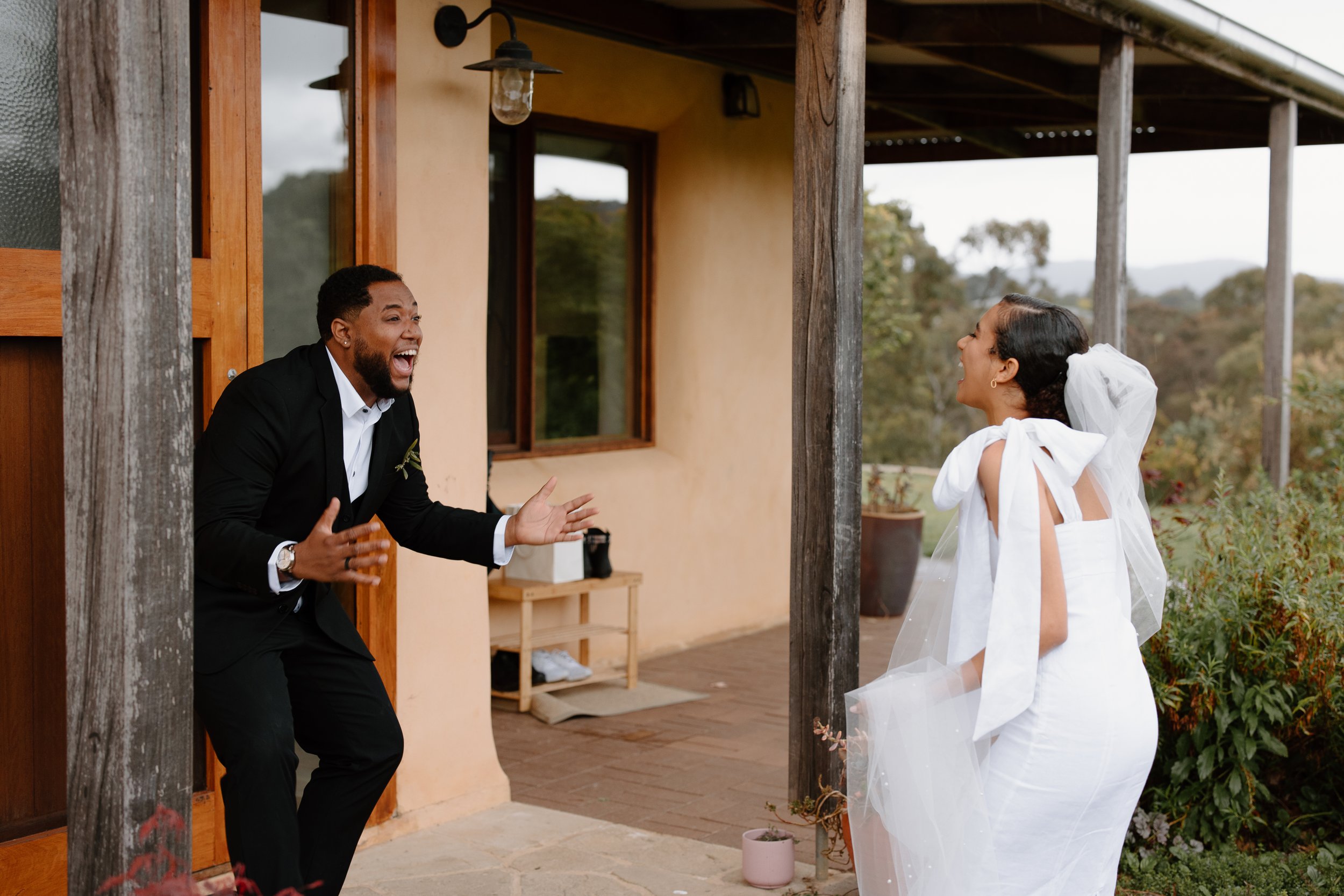 Browse Wedding Photographers
---
What is a 'first look'?
First-look wedding photos are when a couple sees each other for the first time on their wedding day, usually in the morning or before the ceremony. This private and intimate pre-ceremony moment is typically shared with just one other person — your photographer.
While there are plenty of benefits to capturing wedding photos with your partner earlier in the day, many couples are sticking to tradition and saving the big reveal for the ceremony. If you're still on the fence about doing a first look, here are some pros and cons to consider:
First look pro: Enjoy a quiet, intimate moment with your partner before the ceremony.
According to the Augmented Arts Wedding Photography team, first looks are becoming increasingly popular as they allow the couple to have a private moment together before the ceremony. Rather than walking down the aisle in front of all your guests and sharing the big reveal with everyone in the room, you and your soon-to-be spouse can enjoy a more intimate and special experience, just the two of you.
"From a photography perspective, first looks can be the perfect opportunity to capture some beautiful and emotional shots as the couple comes together before the ceremony for the big reveal."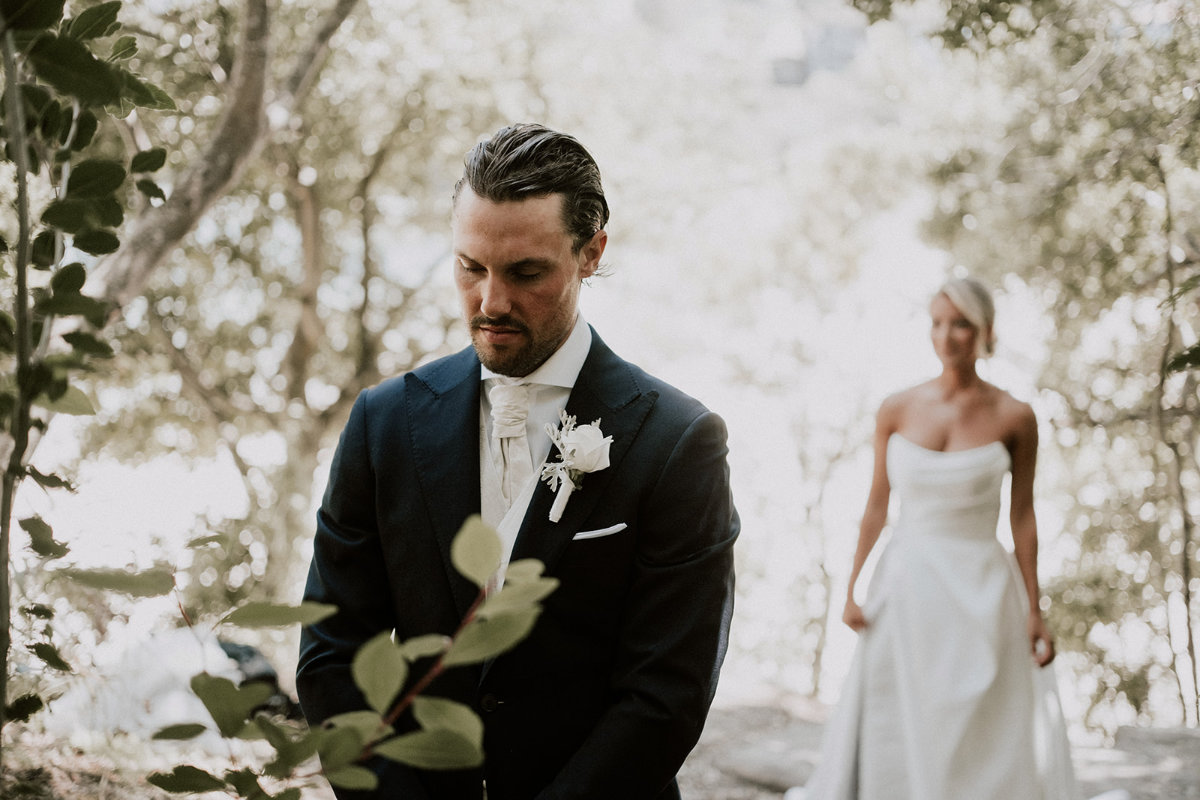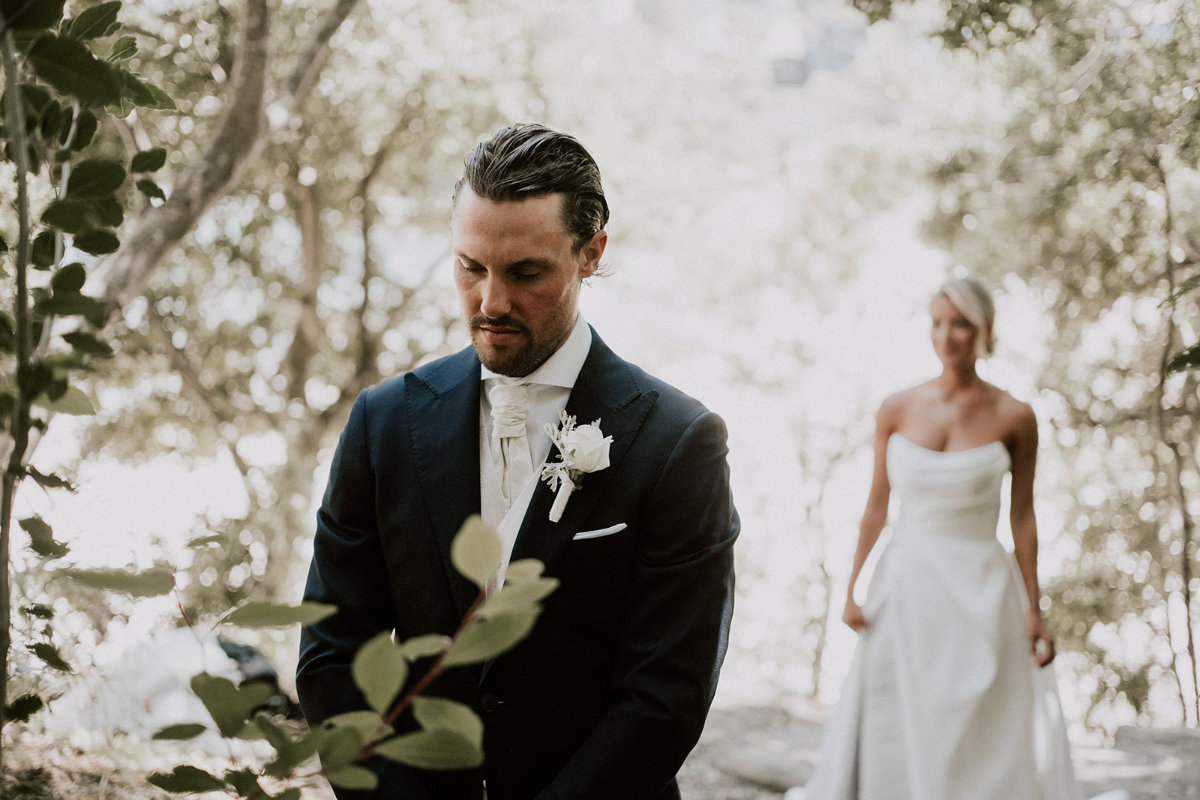 First look con: Losing the element of surprise at the altar.
If you envision a dramatic ceremony entrance and a teary reaction from your significant other as you walk down the aisle, a first look might not be the right choice for you. Many couples stick to tradition and skip the first look photoshoot as they want to see each other for the first time and enjoy the bride's big reveal with all the guests during the ceremony.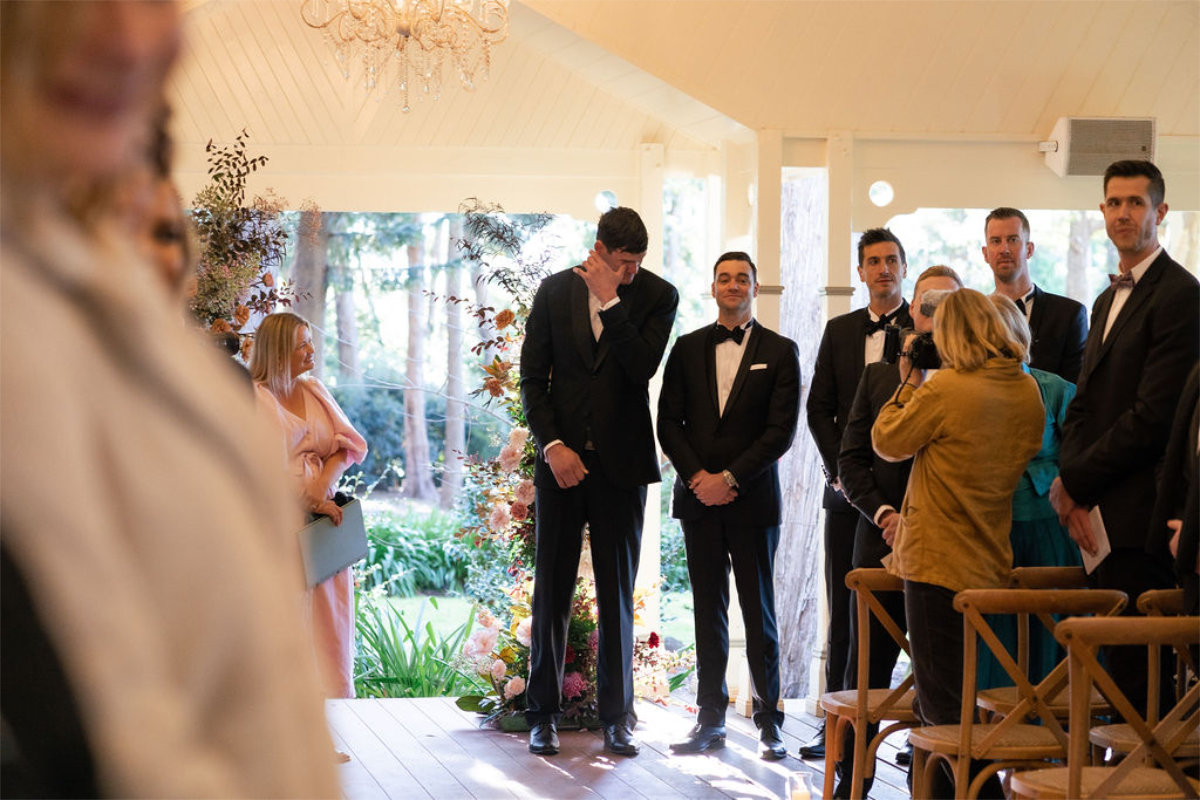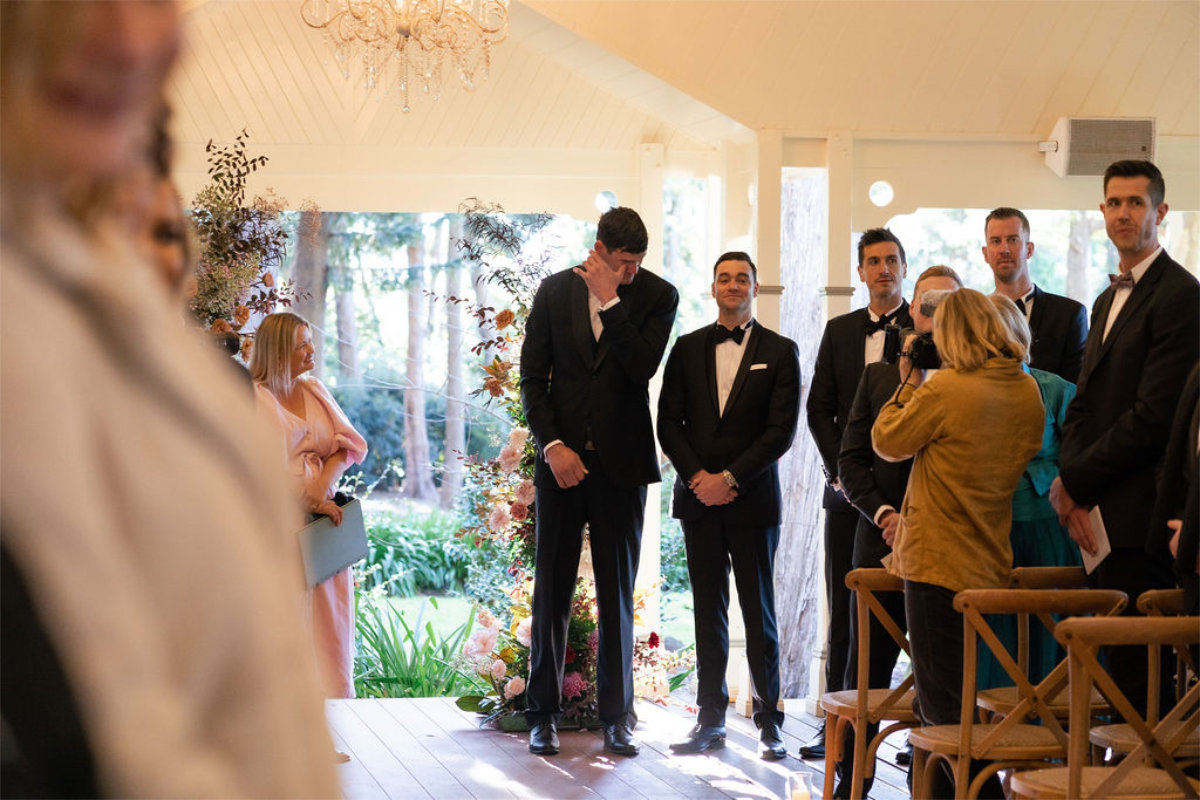 First look pro: Saving time later in the day by getting photos before the ceremony.
Photos of you, your wedding party and your family often suck up a ton of time between the ceremony and reception, which is one of the benefits of choosing a first look. You can snap these important images with your loved one and some with your bridal party before the ceremony begins.
"One of the main advantages of having a first look is that you get to spend more time with your guests during the cocktail hour as it's usually during this time that couples are whisked away for photos," says Tamara from Tamara Little Photography. "If these photos are mostly done, you and your new spouse can enjoy cocktail hour mingling with your guests."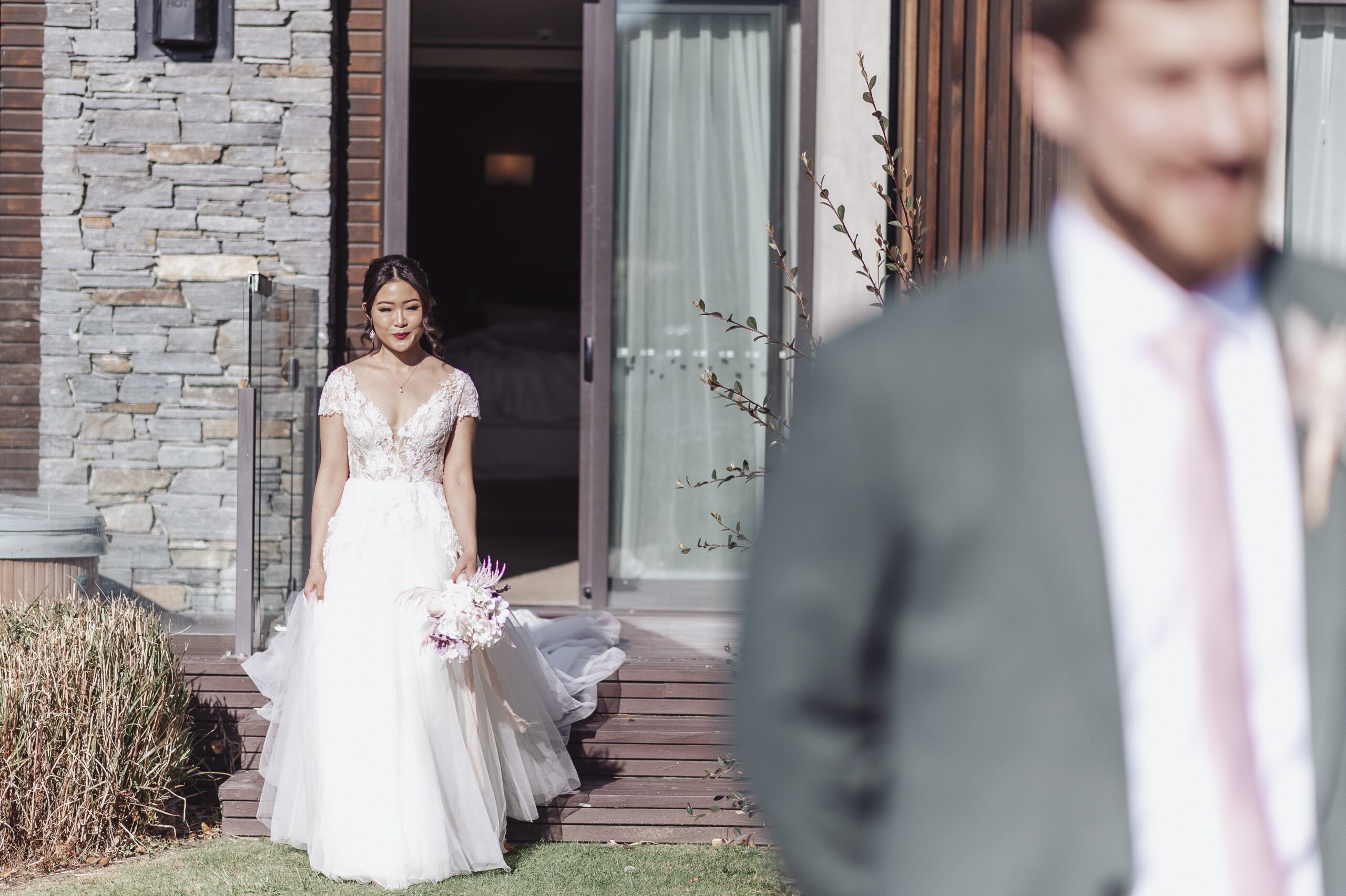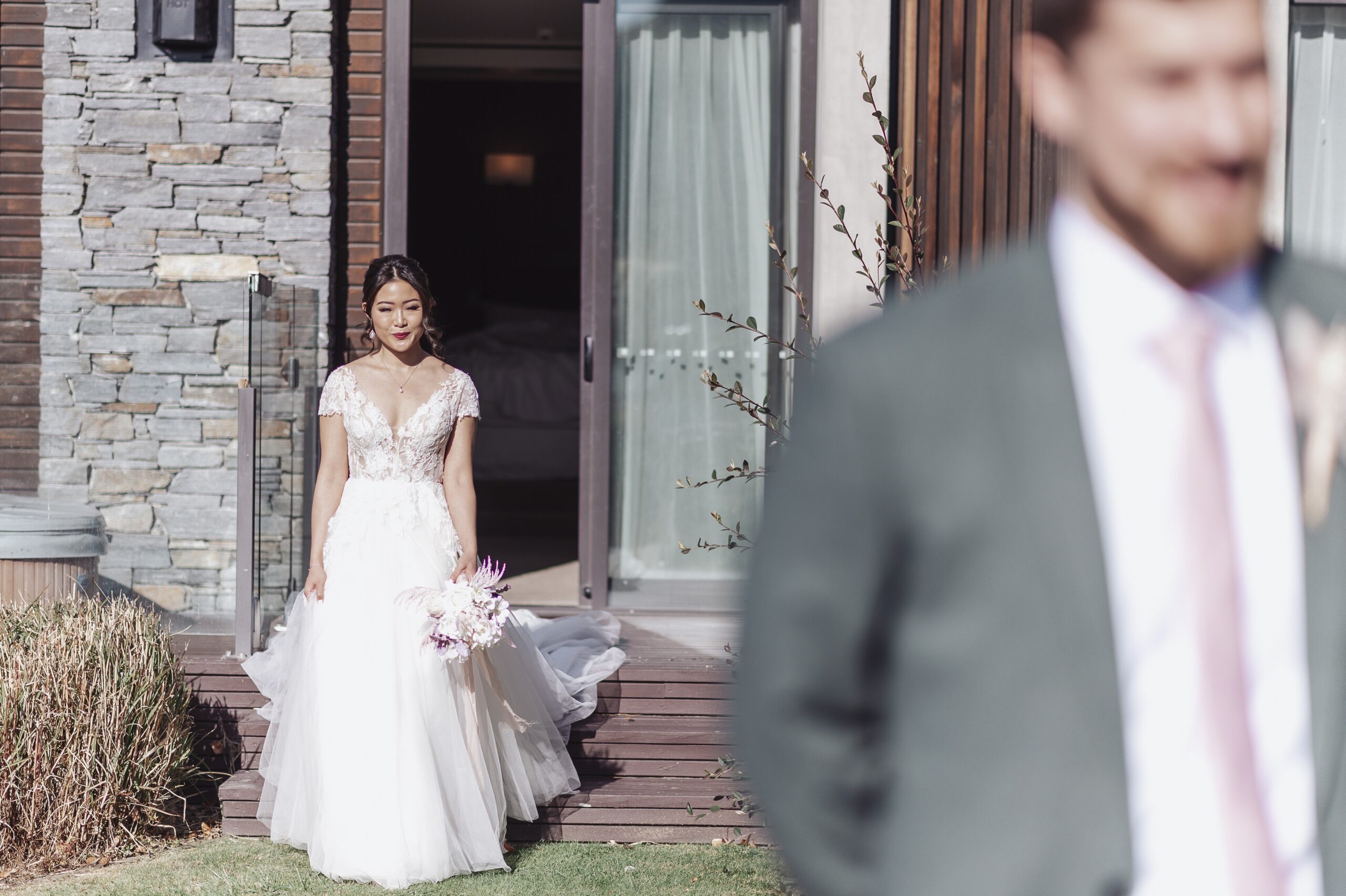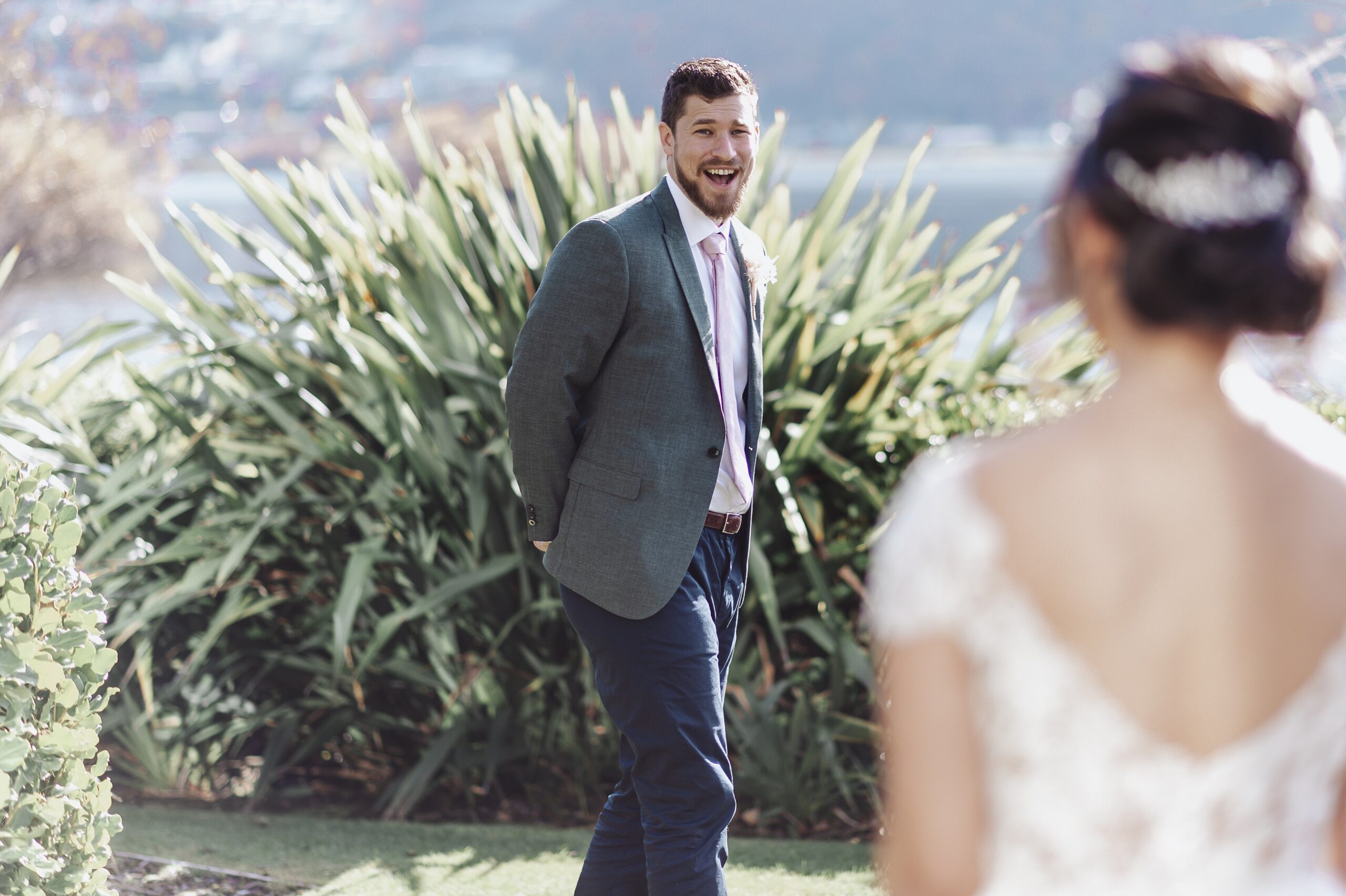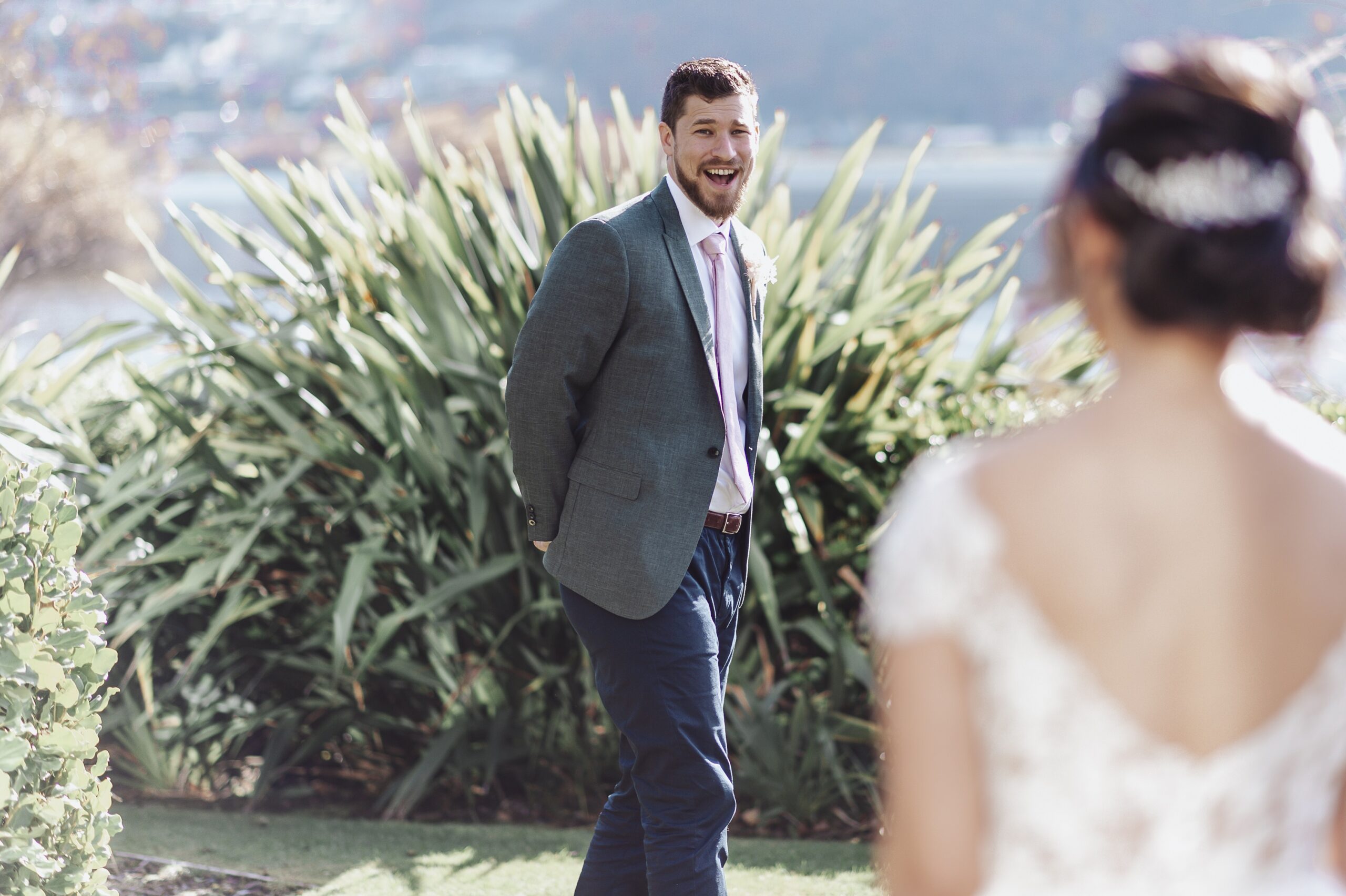 First look con: Getting up even earlier on your wedding morning.
The wedding morning is a jam-packed affair, with hair, makeup, getting ready photos, and any other last-minute prep going on in just a few hours. If you're doing a first look, all of this has to be done even earlier to allow time for photos with your partner before the ceremony.
As Augmented Arts Wedding Photography explains: "You might want to skip the first look to avoid feeling rushed before the ceremony, as they can sometimes add an extra element of stress to an already hectic day."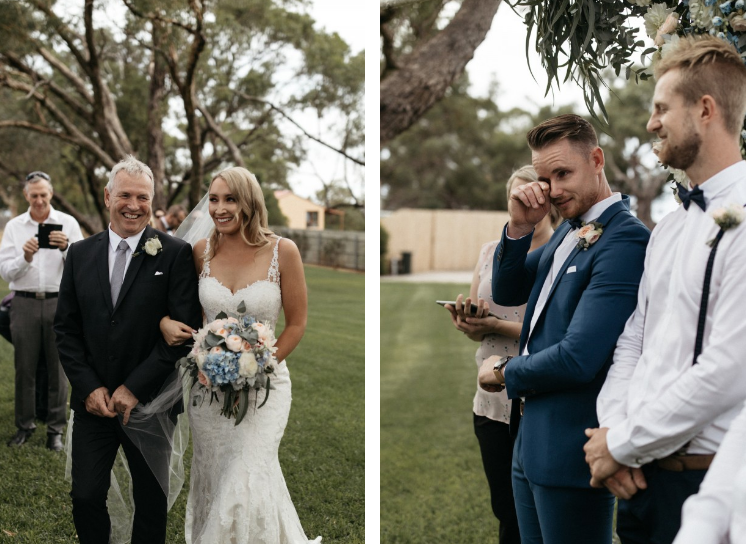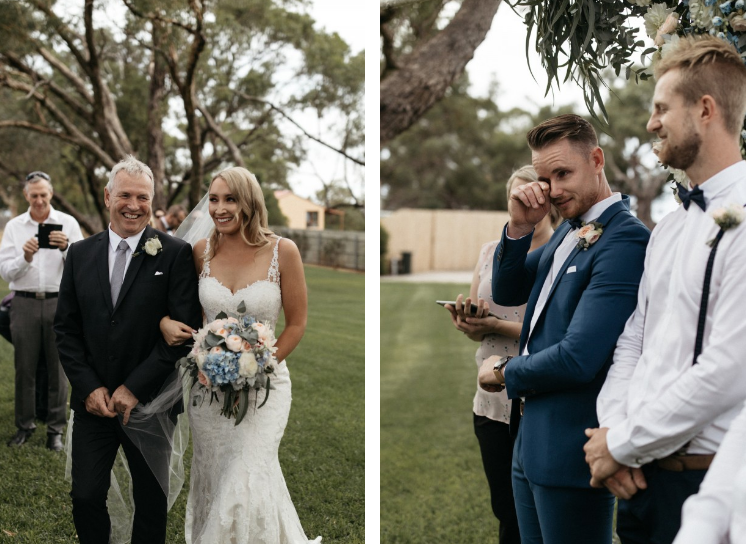 First look pro: Calm the nerves!
While exciting, weddings are often quite stressful for the couple. For some, seeing one another before the ceremony begins is enough to calm all pre-wedding nerves and relax for the celebration ahead. Enjoy being in the moment without hundreds of guests gazing at you and feel your partner's genuine reaction as you share a vulnerable moment before making it official.
Should you have a first-look wedding photo shoot?
Ultimately, the decision to do a first look or not should be based on your personal preferences and what you feel will make your wedding day the most special and memorable for you and your partner! From a photography perspective, both options offer unique and beautiful opportunities for capturing special moments.
"Both scenarios are really special, and it all depends on how you want to experience the moment when you and your significant other see each other for the first time," Maryke of Maryke de Villiers Photography explains.
---
Browse Wedding Photographers
---