Music is such an emotional addition to your wedding and can help set the mood throughout the day. Whether it's your ceremony, first dance, or the first song to get the dancefloor pumping, you want to make sure you pick the right track.
It could be a song you like for what it represents. The first song you heard when meeting one another. Or it could just be a sweet tune that the two of you love! At the end of the day, the songs you choose will help reflect you as a couple.
For many couples, the song that will be the soundtrack to their wedding will be their ceremony entrance or first dance. These songs often have more of a ballad feel and a touch of romance.
Every year we take a look at what the most popular wedding songs are. Our most recent survey of more than 5,600 Australian couples certainly picked out a few winners! So without further ado, here are the most popular wedding songs of 2020.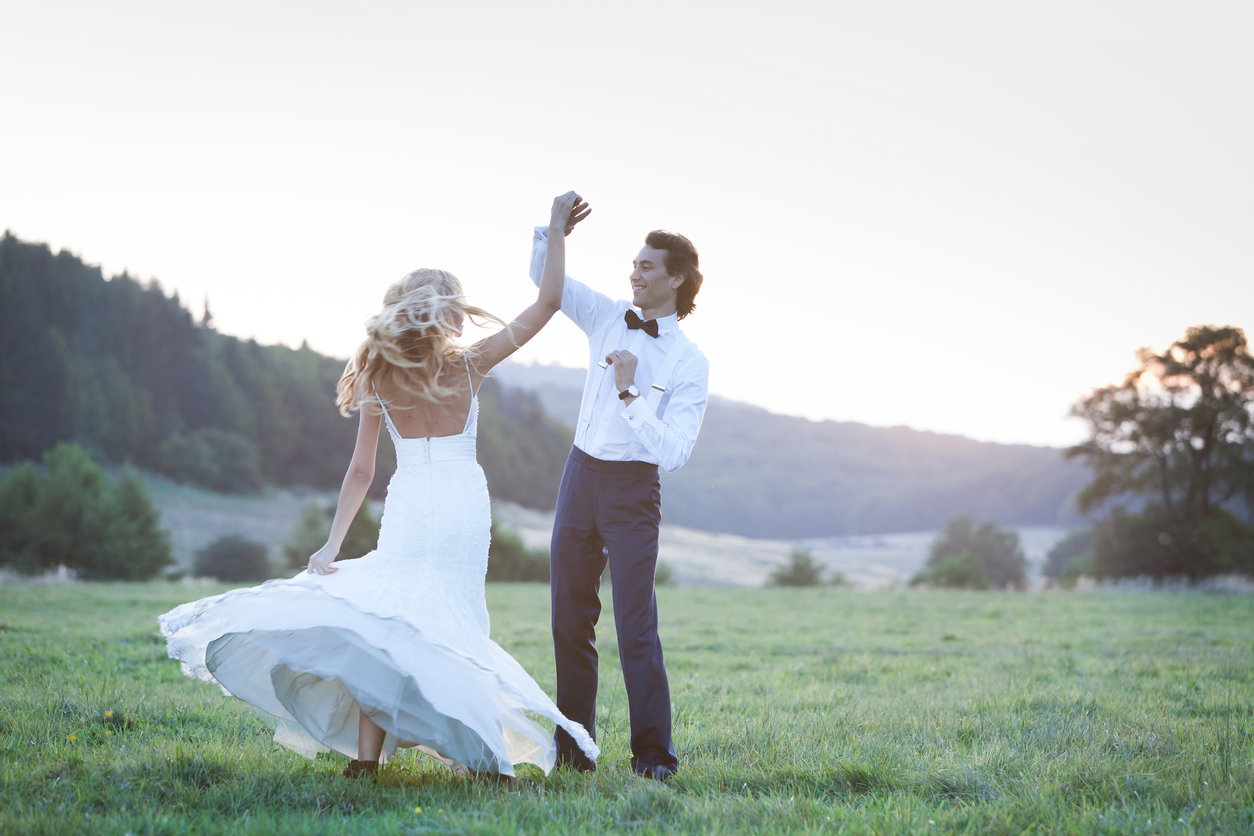 10: At Last – Etta James
Etta James has taken our number ten spot for the second year running. And we're not surprised! There's no wonder that this classic song made famous in 1960 has stood the test of time.
Originally recorded by Glen Miller and his orchestra in 1942, the song lends itself to a single strong vocalist and a whole lot of love.
It's been inducted into the Grammy Hall of Fame and covered extensively, including by Celine Dion, Aretha Franklin, Cyndi Lauper and Eva Cassidy. It was also covered perfectly by Beyoncé for the film Cadillac Records in 2008 which has given it yet another resurgence.
Whichever version you prefer, this song gives us goosebumps every time.
9: Beautiful Crazy – Luke Combs
If you're a fan of country music then this song is for you. But it seems that it's also for a lot of other people!
This 2017 song was originally just a bonus track on Luke Combs' debut album. But it has taken the world by storm as a single in its own right and is a massive hit with couples around the world.
The sweet acoustic melody and that country twang are paired perfectly with some beautiful and romantic lyrics. It also talks about romance in the every day which we love, and makes it super relatable.
I too am never on time for anything.
8: I Get To Love You – Ruelle
This is another song that has been around for a few years but is beginning to make waves in the wedding industry. Making its first debut into our most popular wedding songs, Ruelle's "I Get To Love You" is a romantic ballad to make your heart swoon.
Beautiful piano and violin composed together with a sweeping melody make it both emotive and powerful. It's perfect for the couple who have been dreaming about the one before they found each other by accident. This is a slow ballad as well, so if you're more interested in a slow dance could be the one for you.
Get the tissues ready. This song may bring out a few tears from your family and friends!
7: Love Someone – Lukas Graham
Another one if you're just stoked to be marrying the person you love, "Love Someone" is a bit more upbeat but still packs an emotional punch.
The soul band hit us hard with this one and the film clip never fails to bring a tear to my eyes. It talks about loving your person through everything, including ups, downs, new babies and old age. The fact that it was written by vocalist Lukas Forchhammer to his long-term girlfriend and mother of his baby girl hits us even harder.
We definitely give this song a thumbs up to share with your lover on your big day.
5: Thinking Out Loud – Ed Sheeran
I've been thinking out loud that Ed Sheeran is one of the most iconic wedding artists of our time, but don't just take my word for it. In 2019 more than 12% of couples featured an Ed Sheeran song as part of their official wedding day! That's gone down a bit for 2020, but it still shows he is wildly popular.
This is a beautiful tune to get you ready for spending your lives together and is a lovely one to get all the couples up dancing during your first dance. Especially the older couples who have already loved each other until they're 70.
Now for the big question. Do you think Ed played an Ed Sheeran song at his own wedding…?
4: A Thousand Years – Christina Perri
First of all, how is it 8 years since Breaking Dawn came out? And secondly, Bella and Edward's love song from the Twilight Saga has definitely stood the test of time when it comes to modern weddings.
Simple piano tunes with a sweet voice and gorgeous melody make it a perfect wedding day track. Being written for a film it's also perfectly timed to walking down the aisle, feeling the emotion of the day and the lead up to your vows.
3: All of Me – John Legend
This slightly more upbeat tune is a super sweet one for your ceremony. Plus, it was dedicated to John Legend's wife Chrissy Teigen and honestly, #couplegoals.
When you're exchanging vows and giving all of your love on your wedding day this is the perfect tune to match it, so it's no wonder so many couples love it for their big day.
All of me loves all of this song, to be honest.
2: Perfect – Ed Sheeran
It may have been bumped off the top spot this year, but "Perfect" is too perfect (sorry) a song to not play at a wedding. Released at the end of 2017 it rocketed into popularity as a wedding song as Ed cements himself as the most popular wedding artist of the year, yet again.
A bit more upbeat than some other ballads it's a lovely way to celebrate your first dance or even walking down the aisle. There are plenty of versions of this tune being used if you want to mix things up as well. The duets with Beyoncé and Andrea Bocelli are beautiful variations for you to play on your big day.
1: Can't Help Falling In Love – Elvis Presley
Elvis Presley's version of this song is certified Platinum and has sold more than one million copies in the US alone. But despite it's continued popularity, the Elvis version is not the only reason this tops the list for the most popular wedding songs of 2020!
Thanks to the 2018 film Crazy Rich Asians, another version by Kina Grannis has surged into popularity. The song was featured in the iconic water wedding aisle scene and has made it a staple at weddings in 2020. In fact, 6% of all couples will have a variation of this song played on their big day!
The most popular version is, of course, the original. Followed by the film version from Kina Grannis and a 2017 record by Haley Reinhart. If you factored each of these versions as a song on their own they would make the top ten most popular songs as numbers one, five and ten respectively.
Regardless of its popularity, there's nothing more romantic than giving your heart and soul to the person you love and this song captures that sentiment perfectly.