Deciding what your page boy or ring bearer should wear to lead you down the aisle is always a little tricky. Should he be dressed like the groom and his ushers, or should he wear something different to coordinate with the bridesmaids he is accompanying?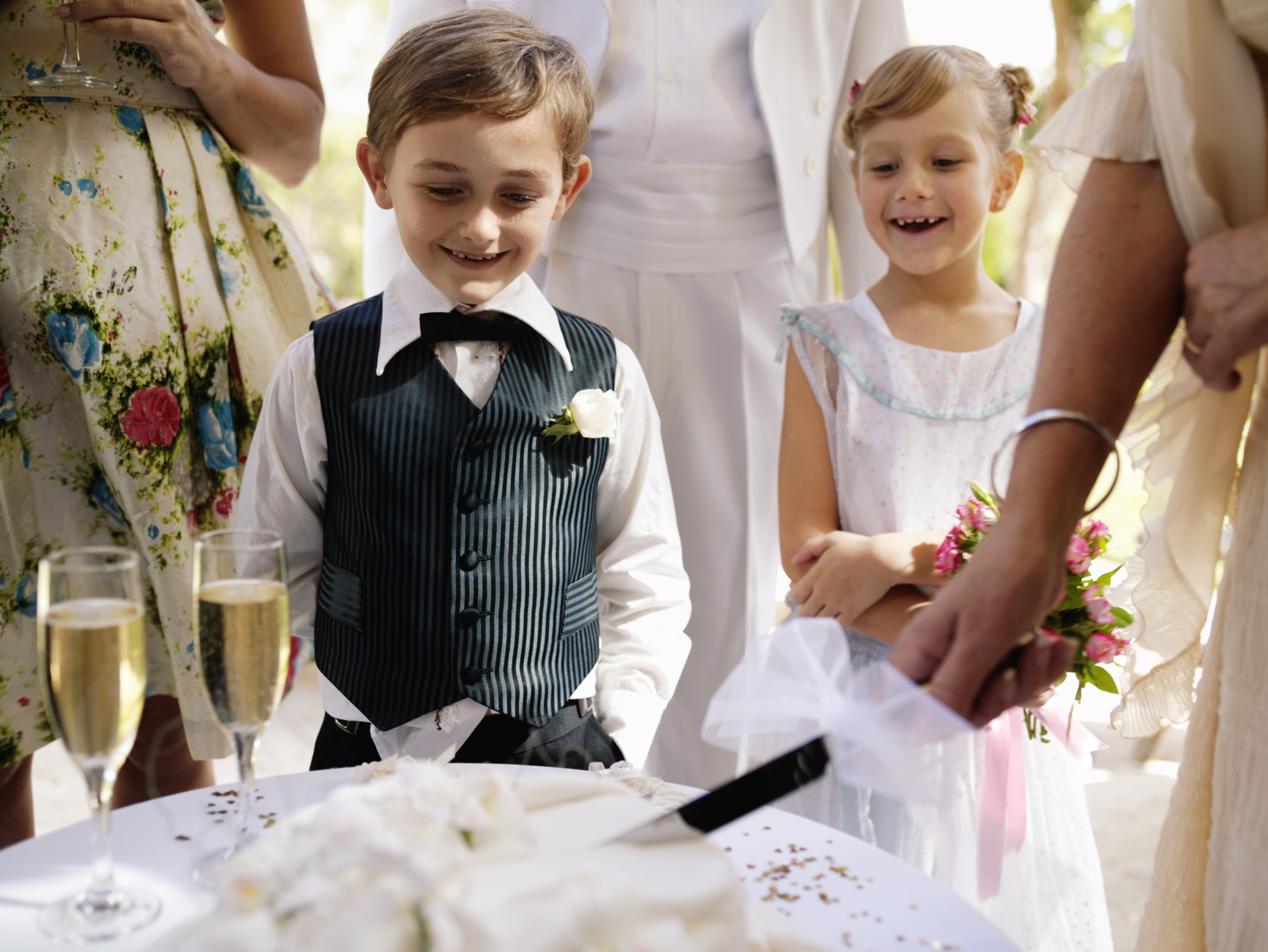 Opinion is divided on whether or not it's a good idea for your page boy to wear a mini version of the groom's outfit, such as tuxedo, or whether this is totally inappropriate and they should have a different type of outfit.
Why should your page boy wear a mini tux?
The obvious reason a page boy should wear a mini tuxedo or morning suit is that it is just so cute! Having a miniature version of the groom processing down the aisle with the wedding rings is sure to bring a smile to the faces of your wedding guests, if not a tear.
A mini version of the groom's outfit works especially well if the ring bearer is the groom's son, and will look great when they are having plenty of father son photos taken after the ceremony. Dressing your page boy the same as the other male members of the wedding party will create a uniform look and prevent your wedding party looking untidy.
Why shouldn't your page boy wear a mini tux?
Some people are of the opinion that dressing a little boy up as a grown man is a bit cheesy, or just plain inappropriate. If you have a page boy in your wedding party, you should be celebrating their youth rather than trying to make them look older than they are.
In practical terms, a mini tuxedo or morning suit can be very uncomfortable for a small child, and you don't want your page boy tugging at his collar and fiddling with his jacket throughout the wedding. They can also work out very expensive, with hiring a tuxedo for a child being almost as pricy as hiring one for an adult.

Alternative ring bearer outfits
If you deicide not to dress your little man in a mini tuxedo, there are a number of other options:
A simple satin or velvet suit in your wedding colour will work well and will be more comfortable than a tuxedo. If you are having a really girly colour such as pink, dress him in a grey suit with a coloured shirt.
Pain white shorts or trousers with a white t-shirt and a dark jacket can be a good look for a page boy. In very hot weather just dress them in smart white shorts and a white short sleeved polo shirt, with a belt or sash to match your wedding colour.
Novelty alternatives such as a sailor or solider suit are still very popular, but only really work on very young children.
Whatever outfit you choose for your page boys, make sure they try it on in advance and get used to wearing it. Most small boys aren't used to formalwear. Try to find a ring pillow that co-ordinates with their outfit and make sure they have a trial run with that as well. Make sure they have some smart shoes to go with the outfit; you don't want a beautiful suit ruined by the latest flashy trainers.