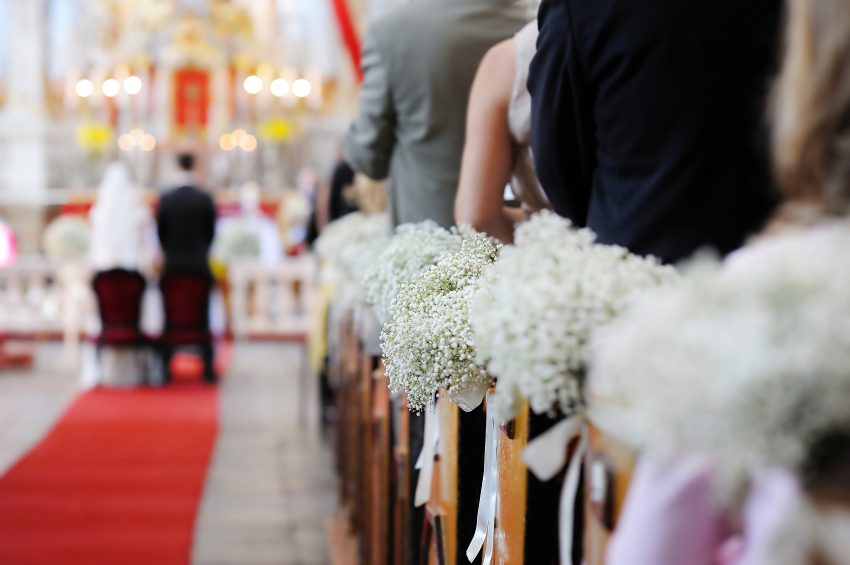 The text book Western wedding takes place in a chapel; the bride in white and the groom in black, with Here Comes The Bride bellowing from an antiquated pipe organ. And that's all peachy, but it's not every couples' fantasy wedding. If you're planning ceremonial celebrations, consult this list of 20 pre-cut wedding templates for inspiration:
Religious
If it's important for you and your partner to wed under the watchful eye of God, a church, chapel, cathedral, mosque, synagogue, temple or other place of worship provides a holy space for the nuptial exchange. Bell ringers, resident choirs, hymns and scripture readings feature prominently at these ceremonies, with reception guests generally pretty well-behaved.
[ew-supplier-carousel]
Non-denominational
These spiritual events usually include a reference to God, without actually following any formal religious proceedings. The couple's vows are exchanged in the presence of family and friends, often with acknowledgement of a higher Power, without having to name names.
Civil
For couples not worried about inviting the guy upstairs, a civil or humanist ceremony offer a secular celebration with no mention of religious beliefs or higher powers. A registrar takes care of the knot tying, which usually happens in the registry office or other licensed venue.
Interfaith
This type of wedding occurs when the couple comes from different religious backgrounds and adhere to different faiths. This can also include a religious person wedding a non-religious person, or a marriage between two people of varying Christian denominations, such as Catholic and Protestant.
Cross-cultural
A fusion of two cultures doesn't always involve the sensitive subject of religion. It can include other cultural and traditional elements such as dress, song, food and wedding rituals. Chinese brides may select the wedding date based on astrological signs and birthdates, while French grooms will traditionally escort their mothers down the isle before exchanging vowels. A cross-cultural wedding finds ways to accommodate traditions from both parties.

Same-sex
Currently, same-sex couples can't marry under Australian law, but they can have their relationship recognised in a civil ceremony. To stay informed of policy updates, subscribe to Australian Marriage Equality.
Destination
Mexico, Bali, Caribbean, Maldives, Tahiti, Fiji, Hawaii and other exotic coastal locations are popular destination wedding choices for couples that are confident their guests will fly half way around the world for them. Given the expense, invite lists tend to favour quality over quantity, and the honeymoon is usually enjoyed at the same location.
Cruise
Let the on-board wedding planners take care of all the nautical nuptial organisation from the cake through to live streaming the event for absent on-shore guests. In some cases, the Captain will officiate the wedding, but keep an eye on Capn's cocktail consumption at the reception if you plan on making it safely back to the mainland.
Eloping
Often less stressful, a whole lot cheaper and far more intimate than sharing the day with partners of extended family twice removed, eloping allows couples to take off to an exotic location where they can exchange vows before getting on with the honeymoon. The downside? You can forget about the gift registry.
Joint
It's not often you'll find a bride willing to share their fame, but joint weddings aren't unheard of. Childhood besties, siblings or twins have been known to enjoy a combined ceremony, significantly reducing overheads, while doubling the fun.

Vegas
If it's good enough for Brittany, it's good enough for *some people. Cliche, but fuss free, a Vegas wedding officiated by the King himself, followed by an assault on the strip can be a memorable affair for those couples seeking to really let their hair down before settling into married life.
Proxy
A proxy wedding ceremony takes place when the bride or groom is unable to attend their own ceremony due to overseas military service. Mexico and Paraguay offer them at a cost, and proxy marriages arranged by the Paraguay consulate in Tel Aviv are recognised by Israeli law. Italy also grants proxy weddings to Italian solidiers during war times, but Aussies just have to wait it out.
Home
Whether it's a rustic rural property or palatial riverside mansion, having a home wedding eliminates venue costs and date restrictions, allows full control over the space and setup, and generally reduces any limitations imposed by venues.

Pop culture
You can't go past Disney's Cinderella story for a fairytale wedding. The only hurdle is convincing your other half that costumes and a thematic recreation is a great idea. Gaming couples can draw on their favourite pastime for character inspiration and royal fans can relive the Wills & Kate wedding, minus the reputed £250,000 gown.
Picnic
For the no-fuss couple that prefer barefoot bowls, finger food and fresh lemonade to fancy chandeliers, boozy bar tabs and five course meals, a picnic wedding is an informal but no less memorable style of family-friendly affair with colourful rugs and parasols for some seriously cute wedding photography.
Green
An eco-friendly wedding doesn't have to mean a raw food menu with vegan wines. A feel-good green wedding can implement as much or as few green initiatives as you and your partner are comfortable with, while still reducing your environmental impact and sharing your sustainable ethos with wedding guests.
Gypsy
Irish Traveller families and British Gypsies sure know how to throw a party. Think extravagance, glitter and Swarowski crystals. According to The Daily Mail Online, an average Gypsy wedding costs six times more than the average non-Gypsy wedding. Custom carriages, impossibly poofy fantasy dresses and excessively loud music also feature strongly.
Vintage
The 1950s Rolls Royce, teardrop pearls and classic sleek updo; there is so much room for customisation with a vintage themed wedding. For inspiration, refer to our 10 tips for holding the perfect vintage wedding.
Thrill seeker
Take your destination wedding to the next level and tie the knot in a helicopter 8000 feet above sea level in New Zealand's Southern Alps before jumping out and skiing down, or head to the Maldives to exchange vowels in the world's only glass underwater chapel 16 feet below sea level. Extreme is the new rational.
Pets
They were there in the beginning and have stood the test of time, proving you and your partner capable of keeping another living being alive longer than two weeks. They are a special part of your lives together, so planning a pet-friendly wedding was always on the agenda.
No matter what type of wedding you choose to have, you'll find the perfect venue here.