If you're spending a bit more time on the couch watching Netflix lately, then the chances are you've been looking for new ideas of what to watch. So how about getting some inspiration for your wedding at the same time?!
We've taken a look at the most popular movie wedding songs that people are planning for their weddings later this year or in 2021. From romantic songs written specifically for a wedding scene, anthems from movies, or just popular songs that saw a resurgence; here is a list of romantic songs to consider for your big day. What's better, they come paired with movie tips for your isolation entertainment!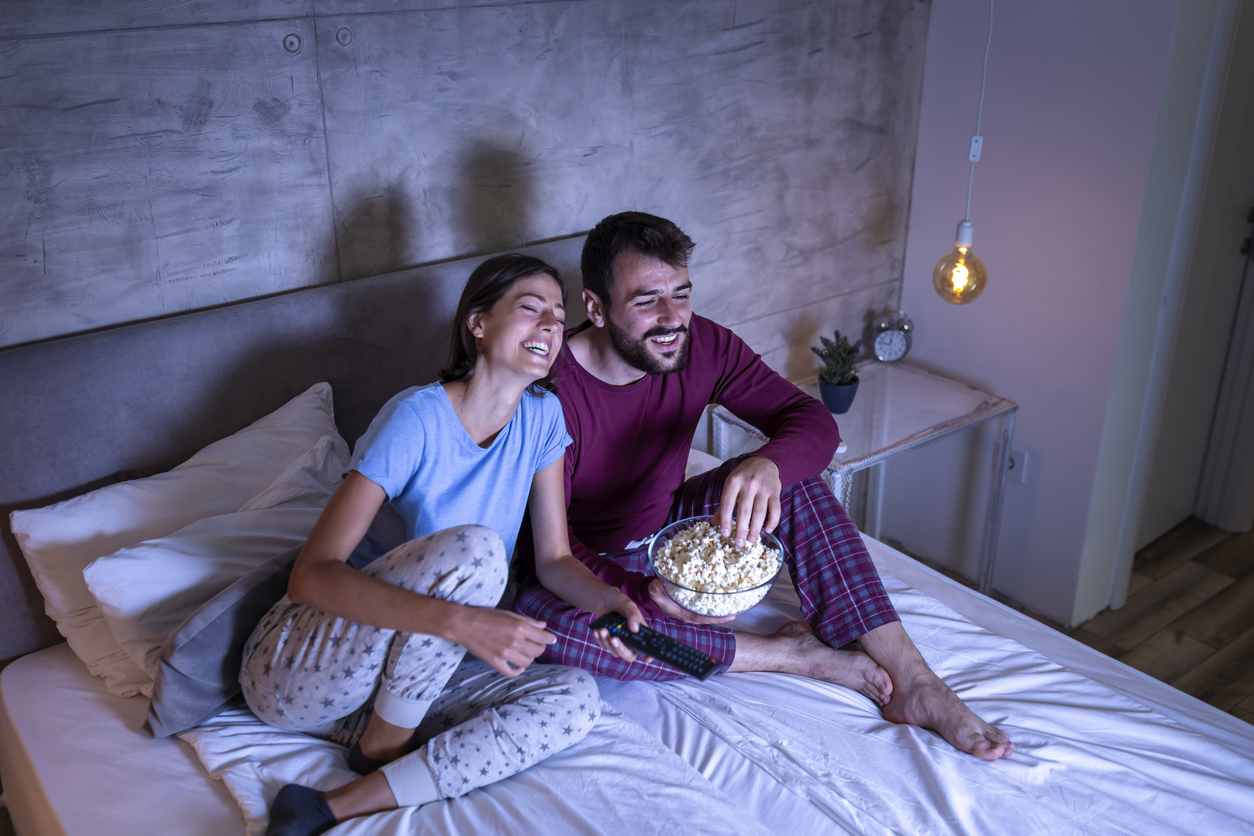 A Thousand Years – Christina Perry
Twilight: Breaking Dawn Part 1
A popular movie saga. A teen heartthrob. A wedding song written perfectly for film. 'A Thousand Years' is just as romantic now as it was all those years ago when Bella walked down the aisle for her wedding to Edward. It's also one of those songs that has stood the test of time and steps outside the film to be a power of its own.
A Million Dreams – P!nk
The Greatest Showman
Although Pink's version is technically a cover from the musical, it has become a big hit with couples planning their weddings. The reimagining of an entire musical album so soon after its release was a stroke of genius marketing for The Greatest Showman. The original film version was performed by 14-year-old Ziv Zaifman, followed by Hugh Jackman and Michelle Williams.
How Long Will I Love You – Ellie Goulding
About Time
The Waterboys first recorded 'How Long Will I Love You' back in the 90s, but its resurgence is thanks to romantic comedy About Time. If you haven't seen this gem of a movie (it's by the same producer as Love Actually and Four Weddings and a Funeral) then go find it on whatever streaming service you have and enjoy. Spoiler alert: you might want to have some tissues nearby.
I Don't Wanna Miss A Thing – Aerosmith
Armageddon 
A classic addition to the 90s era of disaster films, Armageddon's most notable legacy is this absolute hit from Aerosmith, which debuted at number one on the U.S Billboard Hot 100.  The film clip takes moments from the film, ending with Liv Tyler saying her final goodbyes to her on-screen father Bruce Willis. It's an emotional moment, that replaced with the images of her real-life father Steven Tyler (who she didn't know was her biological father until she was 8), becomes even more poignant.
Can't Help Falling in Love – Kina Grannis
Crazy Rich Asians
While popular in its own right, Elvis' classic 1961 love song 'Can't Help Falling in Love' has experienced an additional wave of popularity over the last year to make it Australia's number one wedding song. This can be hugely contributed to the wedding scene from the film Crazy Rich Asians, with Kina Grannis' angelic version of the song being the fifth most popular wedding song for 2020. In fact, 6% of all couples will have some version of 'Can't Help Falling in Love' on their wedding day!
A Whole New World – Brad Kane and Lea Salonga
Aladdin
Welcome to the first of the Disney wedding songs. The romantic melody from Aladdin has stood the test of time with 90s couples who are now planning their weddings. The credits version was performed by Regina Bella and Peabo Bryson with revival versions from the live-action film sung by Mena Massoud and Naomi Scott, and then Zayn Malik and Zhavia Ward for the credits. But for us, nothing compares to the films screen original.
Come What May – Ewan McGregor and Nicole Kidman
Moulin Rouge
Moulin Rouge had it all. Amazing costumes. A killer soundtrack. EWAN MCGREGOR. Disney has a bit of competition in this list because Baz Luhrmann also knows how to choose a romantic tune that will live on for years to come. Now, where can I find this movie online…
Can't Take My Eyes Off You – Frankie Valli
Jersey Boys / 10 Things I Hate About You 
Another song that is popular in its own right, 'Can't Take My Eyes Off You' is romantic and stands the test of time. Its inclusion in films such as the hugely popular musical and movie Jersey Boys has made it popular with modern couples. But it will always hold a spot in our hearts for Heath Ledger's rendition in 90s romcom 10 Things I Hate About You.
Shallow – Bradley Cooper & Lady Gaga
A Star Is Born
If listening to this song and watching the film clip doesn't want to make you curl up on the couch, watch A Star Is Born and bawl your eyes out, are we even in isolation? Lady Gaga and Bradley Cooper (BRADLEY COOPER!) are absolutely perfect for this song and helped make the film the hit it was. Other popular wedding songs from A Star Is Born include 'Is That Alright' and 'Music to my Eyes'.
Iris – Goo Goo Dolls
City of Angels
OK, I have to admit; I remember very little of the 90s romantic fantasy film City of Angels. I've also seen too many memes and couldn't believe Meg Ryan's love interest is Nicolas Cage. But I remember this SONG. What a power ballad.
Beauty and the Beast – Angela Lansbury
Beauty and the Beast
The epic ballads of 90s Disney strike again with this classic which has also been reimagined for new audiences. It's also one of the only romantic ballads that isn't sung by the love interests themselves. Instead, Angela Lansbury as Mrs Potts lends her voice to this iconic melody. The original credits scene by Celine Dion and Peabo Bryson holds its own, but we are also fairly impressed with the modern cover by Ariana Grande and John Legend which retains its original power. Emma Thompson's Mrs Potts – not so much.
Feels Like Home – Chantal Kreviazuk
Dawsons Creek
OK, I know, technically not a movie! But 'Feels Like Home' makes it into the top 100 most popular wedding songs and definitely deserves a credit. The original was actually written by Randy Newman for Randy Newman's Faust (we are just as surprised as you are!) but wasn't made widely popular until Chantal Kreviazuk's version on the 1999 Dawsons Creek soundtrack.
Kissing You – Des'ree
Romeo & Juliet
The piano. The violin. That VOICE. Everything about this song is perfect and the fact that it's a ballad for a young Claire Danes and Leonardo DiCaprio in an iconic modern reimagining of William Shakespeare's classic gives us no reason to wonder why it's still so popular today. Baz Lurhmann's second appearance in this list.
Can You Feel The Love Tonight – Elton John
The Lion King
What's better than Elton John? Elton John singing the romantic ballad for two lions in love. Well, the credits scene at least. This is one of our favourite inclusions from the Disney wedding song family because, while synonymous with The Lion King, the song can also stand alone in its own right. Cartoon or remake, no version can compare to Elton's original.
I Wanna Grow Old With You – Adam Sandler
The Wedding Singer
Although not officially a song in its own right, 'I Wanna Grow Old With You' is still being played at weddings around the country and it's not hard to see why. It's super sweet, relatable, and a little bit fun as well.
Can I Have This Dance? – Zac Efron and Vanessa Hudgens
High School Musical 3
I'll admit that I was never a HSM fan and did not make it all the way to number three. But with this on the list of popular wedding songs I decided to give it a shot. I can definitely see why couples are choosing this as their romantic first dance tune. Disney, you've done it again.
https://youtu.be/AQLlbY9GJZo
Young and Beautiful – Lana Del Rey
The Great Gatsby
Baz Luhrmann found the perfect person when he chose Lana Del Rey to lend her voice to this 1920s inspired ballad. While his film adaption of The Great Gatsby only has a score of 48% on Rotten Tomatoes, we cannot thank him enough for bringing us this tune which gets an A+ in our eyes.
I'll be there for you – The Rembrandts
Friends
Another TV show we know! But Friends is an icon in its own right and what is your spouse-to-be if not your best friend? We love that this song is still popular with couples as it's a fun way to celebrate and will also help to get everyone else on the dance floor as well.
https://youtu.be/Mecjelaza1o