We recently caught up with award-winning Sydney marriage celebrant, Meggan Brummer, to chat about all things wedding ceremony related. Keep reading to discover everything you need to know before choosing a celebrant for your wedding.
In the interview below, Meggan answers our burning questions around everything you need to know about celebrants, including:
What couples should consider when searching for their celebrant
The key ingredients for a memorable wedding ceremony
Tips for couples on adapting their weddings due to lockdown restrictions


meet meggan brummer
---
Easy Weddings: Hi Meggan! Tell us a little bit about yourself and why you became a celebrant.
For 20 years, I worked as an internationally published writer, and I absolutely loved it. And then, one day, while working on an article for Wellbeing Magazine, I got to interview an incredible celebrant in Byron Bay.

That conversation really inspired me — by the end of it, I was jumping up and down with excitement. It felt as though I'd found something that was going to become very significant for me. It felt like a real turning point in my life.

And I knew at that moment that I HAD to become a celebrant. Having sat through many dry wedding ceremonies in my lifetime, I was passionate about helping couples have an extraordinary ceremony. A ceremony where their friends and families would walk away feeling they'd witnessed something incredibly special.

I felt so excited to be in a position where my writing skills could take their ceremony to the next level — one that was engaging, meaningful, and lots of fun.
How would you describe your celebrant style?
My celebrancy style is elegant, fun, warm, and natural. I like to keep my wedding ceremonies punchy, engaging, and meaningful.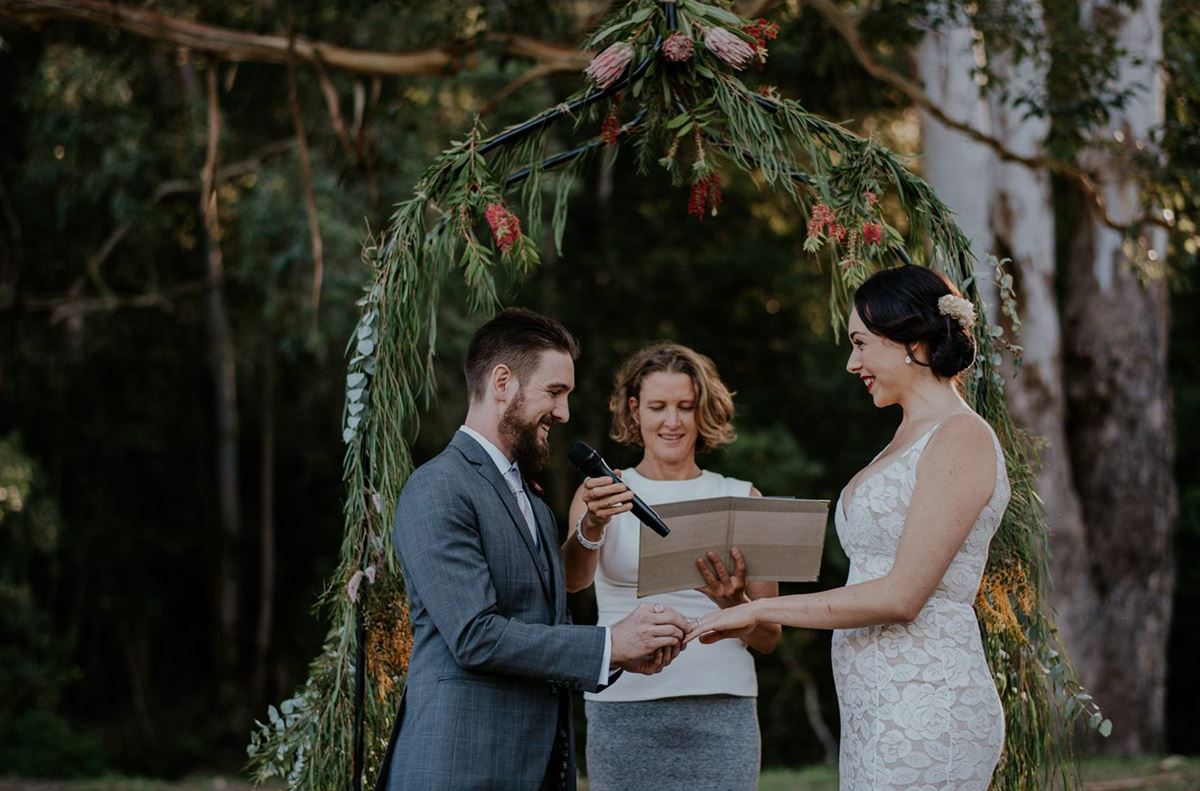 What should a couple consider when searching for their celebrant?
Look for someone who feels like the right fit for you — someone you feel you can trust and who has your back. Your celebrant sets the tone of your ceremony, which in turn can really impact the tone of the whole day and the celebrations that follow.

It's important to find someone who matches the vibe you want on your day. For some couples the right celebrant would be sincere and elegant. For another, it's someone sassier.

Because stress levels can often be high on the day, it helps if your celebrant is grounded, reliable, and level headed.

If it were me getting married, I'd also be looking for someone whose dress style I like and who is willing to coordinate with my colours and theme for the day. I also suggest checking what audio equipment they'll be using on the day. There's nothing worse than not being able to hear the vows at a ceremony or the music when the bride walks in.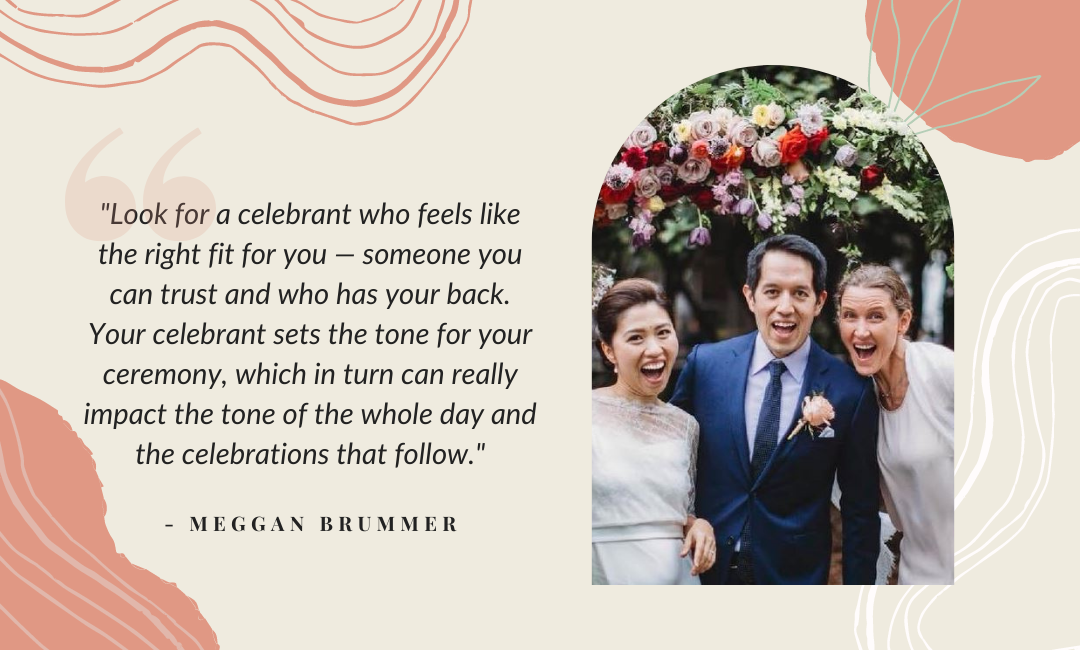 find a celebrant in your area
What do you think are the key ingredients for a memorable ceremony?
If a couple is very private and doesn't share themselves, a ceremony can feel generic and dry. The key ingredients for a memorable ceremony are for the couple to 'let their guests in' through sharing their love story and personal vows. This will allow guests to love and know you that much more, causing them to feel that they've witnessed something incredibly special.
How do you find inspiration for your ceremonies?
A lot of my inspiration for my ceremonies comes from teasing out the juicy bits of my couples' love stories. As a professional writer, even if a couple isn't great at sharing about themselves, I know which questions to ask to get those meaningful anecdotes, those quirky bits that will make the ceremony engaging and unique.

Some couples don't feel that their story is amazing, but when you ask the right questions and know how to write well, any couple's story can become gorgeous.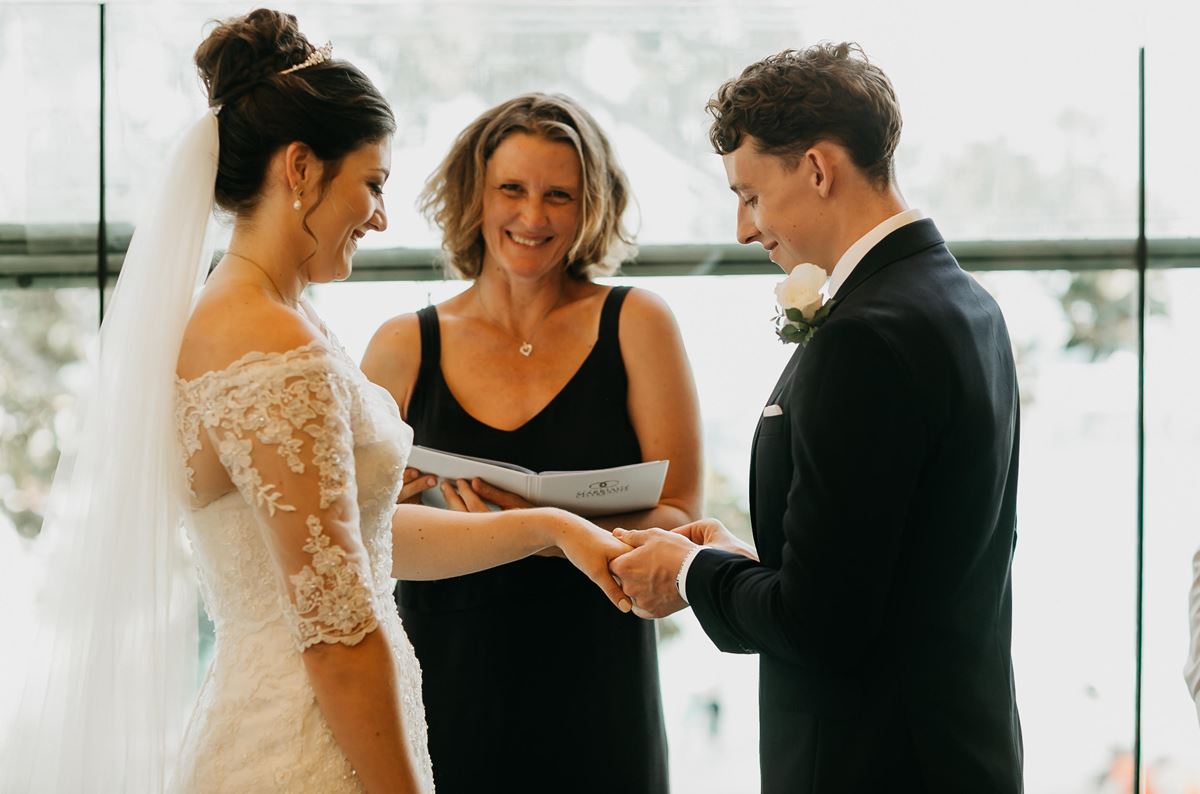 Are there any specific readings you like to include in your ceremonies?
I really love some specific readings, but for me, readings at wedding ceremonies are all about what resonates with the couple.

For a punchy, engaging, and meaningful ceremony, avoid including anything that doesn't mean a lot to you. If you don't really really love a reading, don't include it just for the sake of it.
What does a wedding day look like for you?
Part of my preparation for a wedding is doing Sudarshan Kriya breathing and meditating when I wake up. This is an essential part of my prep as it gets my head into a really good space and ensures that my energy is high. Most couples place a massive amount of importance on their day going well, and it's my way of making sure I'm at my best, not only for them but also for me.

I also make sure I read the couple's ceremony several times, so I know where to put those intonations, where to speed up or slow down, and where to pause for effect. The more I know the ceremony, the more I can engage with the couple and their guests rather than have my nose in my book.

I also like to arrive at the wedding an hour before it starts. I'm all about allowing for the unexpected and doing whatever I can to avoid unnecessary stress. I like to be calm and centred, and if I'm too early, there's always someone to chat with once everything's set up.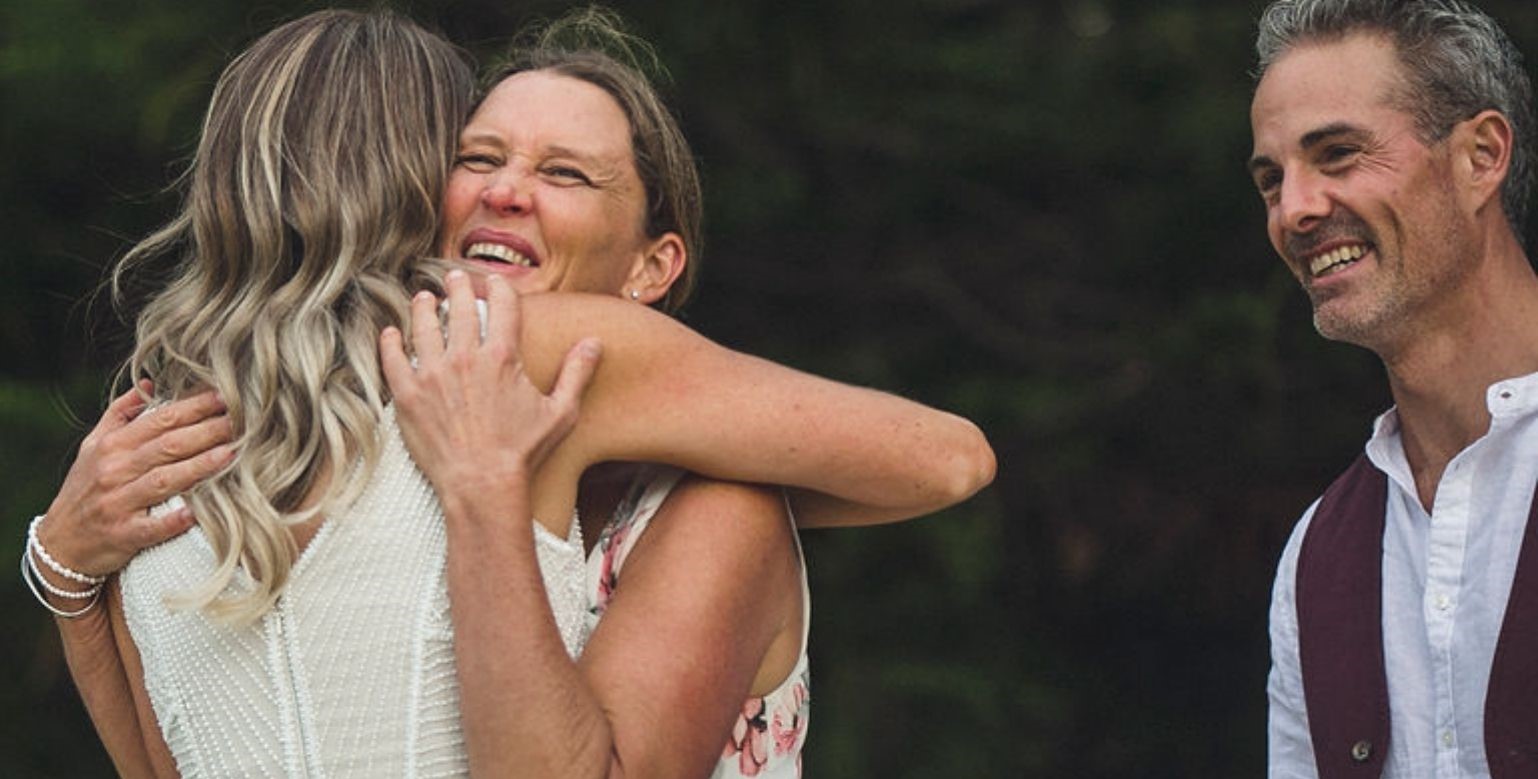 Do you have any advice on dealing with wedding day nerves?
Plenty! This is where other skills as a yoga and meditation teacher come in handy. I have a guided relaxation I share with my couples that they can play before they go to sleep the night before their wedding. I also have a very easy but effective technique that can be done by the couple immediately before we start to help shift any nerves. It works like a dream.

By the time your wedding day arrives, you've done so much to prepare for that day. Now you just have to let go and enjoy it however it unfolds. And that's my final tip — let go of perfection.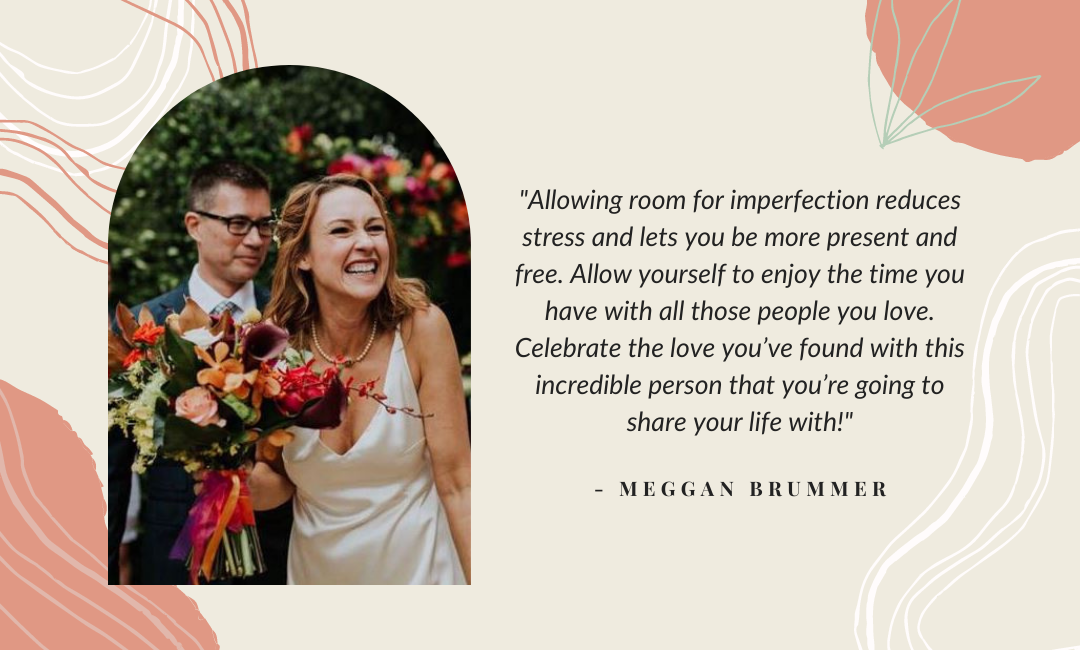 meet meggan brummer
Finally, we know this is a challenging time for couples dealing with wedding postponements due to COVID-19. Do you have any tips for couples on adapting their weddings due to restrictions?
As restrictions ease up, venues and suppliers will book out fast, so don't delay planning. To give you the best chance of having your first pick of venue and suppliers, consider having your wedding on Monday to Thursday.

If you need to reschedule your wedding due to lockdown restrictions, think about moving to a weekday wedding so you can take your dream team of vendors with you. Your guests will also be happy to have an excuse to take a day off work!

Some of my other tips include:

Consider keeping your wedding small and intimate.
Keep it local and avoid a state border crossing if you can.
Live-stream your ceremony for anyone unable to travel.

Many of my couples are tired of waiting, so they're choosing a small, intimate wedding now and a big party later — no one likes feeling stuck.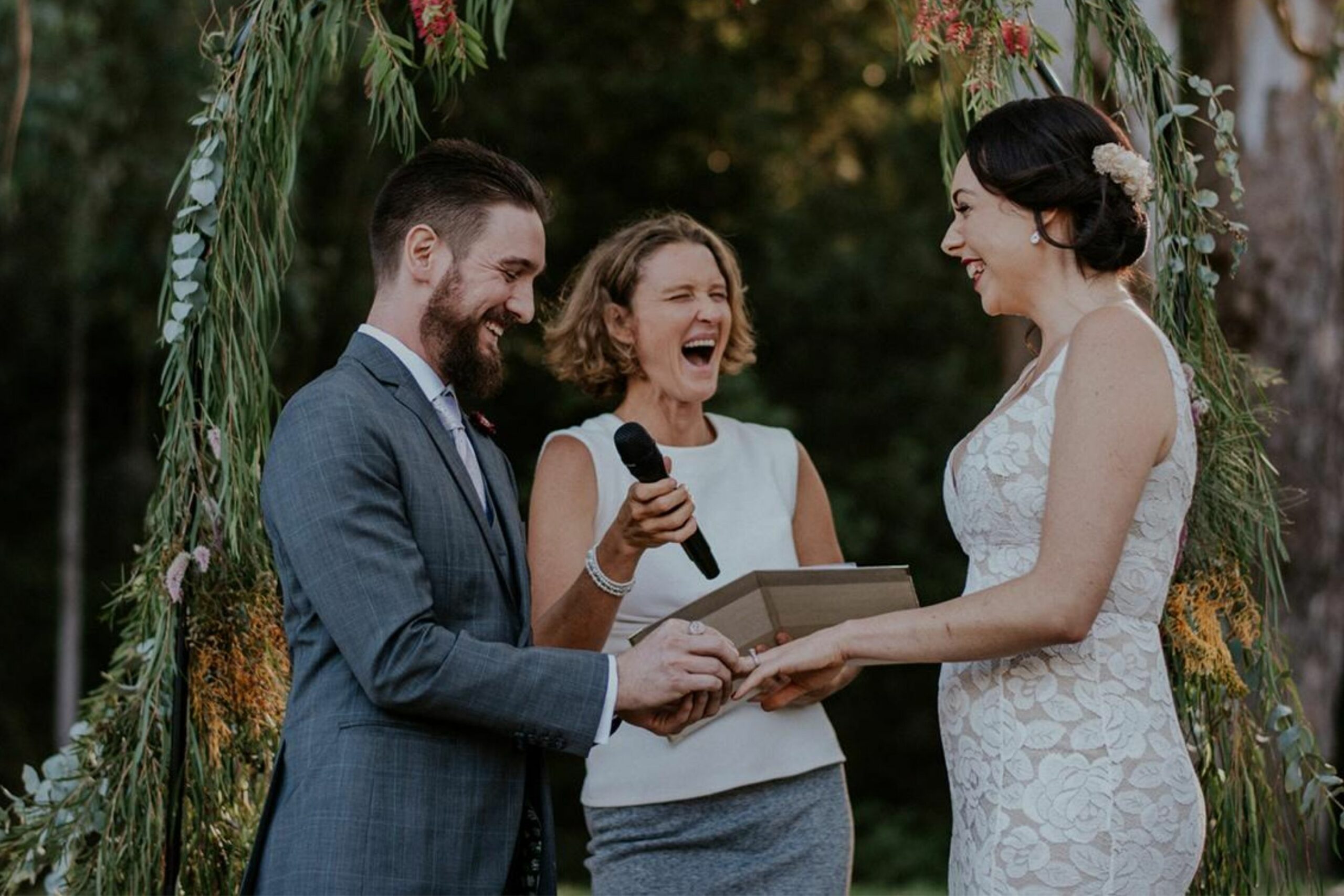 search celebrants