We recently caught up with Mornington Peninsula wedding celebrant Ebony Carver on IGTV. Check out her take on what you need to know before hiring a celebrant for your wedding.
In the interview below, Ebony answered questions asked by our Instagram followers around everything you need to know about celebrants, including:
What a celebrant actually does
What to ask a celebrant before booking them for your wedding
Tips on writing your own vows
You can watch the IGTV session on our Insta channel, or jump into the highlights outlined below. To see if Ebony is the celebrant for you, head to her storefront to chat.

View this post on Instagram
Easy Weddings: Hey, Ebony! Tell us about yourself.
I'm a Melbourne-based marriage celebrant, more specifically located down on the Mornington Peninsula. I've been a celebrant now for about three years. My business is Ebony Carver Marriage Celebrant.
Why did you decide to become a celebrant?
My previous background is in event management. I spent about 12 years working as an event manager, which at the time I absolutely loved, but eventually got to the point where I was ready for a change.

It was also around the time that I had my daughter. I wanted to spend more time with her and not be doing the long corporate hours. But it was still important for me to be doing something creative and fulfilling. I originally thought about becoming a wedding planner because event managers and wedding planners kind of go hand-in-hand.

But it was a family member who first planted the seed about becoming a celebrant. Then when I looked into it I thought, "I reckon that'd be a good fit for me." It requires strong planning skills but also personality, creativity, etc.

I won't lie, it felt like a big leap of faith – would I get any work? But I absolutely love it, and it has exceeded all of my expectations. I always say to people now that my only regret is that I didn't do this sooner, because I probably sat on it for a couple of years before taking the plunge!.

A wedding day is a day that people never forget; it's one of the best days in a couple's life, and it's pretty damn special to be part of that. When you pronounce them husband and wife, or husband and husband, or wife and wife, to just be there for that moment is such a great feeling, that's for sure.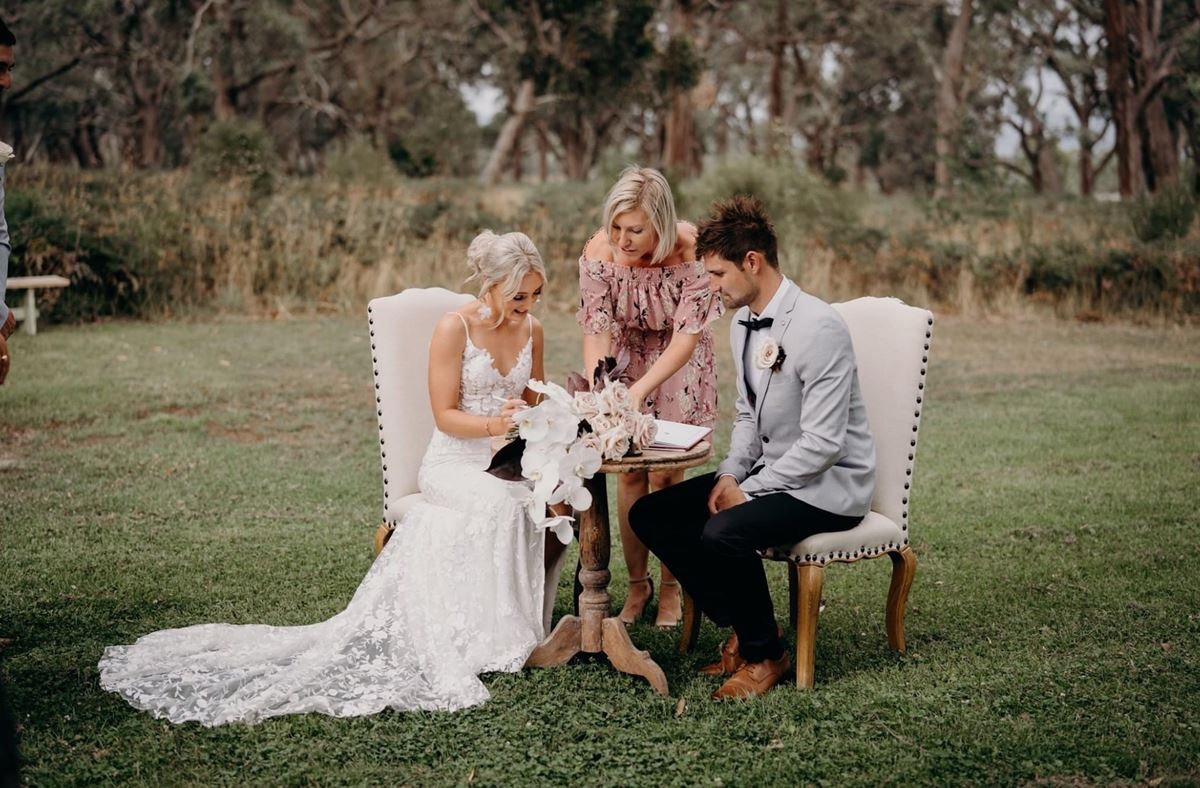 How do you become a celebrant?
The first thing you need to do is get your certificate in celebrancy. There are various registered training organisations that you can do it through. I did mine in Melbourne, face-to-face, and it took me about 6 months.

We learnt about the legalities, there were lots of assignments and case studies, we wrote a variety of different ceremonies and performed in front of everyone. That was really valuable, because it gave us all some public speaking experience and an understanding of how other people approached their ceremonies.

Once I got my certificate, I then applied to become a registered marriage celebrant with the Attorney General's office. This required me to pass an online exam, mostly to ensure that I understood the legalities. I also had to write a mock ceremony, as well as complete the paperwork associated with that mock ceremony. Lastly, I had to get a police check done, and two reference checks from previous colleagues or friends within the community.

Once all of that was done, it took about three months to approve my registration, which is the usual amount of time. Then I paid a one-off registration fee.

You also have to do 5 hours of ongoing professional development per year, as well as pay an annual fee. So when people say, "Oh, it's just half an hour of work on the day!" Well no, it's actually a lot of work! And it's a lot of money to do the course. But it's absolutely well worth it!
What are some questions couples need to ask to make sure they're picking the right marriage celebrant for them?
Is your celebrant easy to talk with?
Do they match the vision and vibe you want for your day?
Do they make you feel relaxed?
Do they make you feel safe that they've got it covered?
Are they experienced?
What are their timelines?
What are their packages, and what do they include?
What are their values, and do they align with yours?
How do they get information to help personalise your day?
One question that I get asked often is, "Can you help me write my vows?" Lots of couples need help and support with that!
Does each celebrant only do specific styles of weddings?
When I started out, I kind of just offered all types of ceremonies. But after the first 12 months, testing the waters and understanding more about what I liked vs what I didn't, I decided to concentrate on 4 packages:

The full wedding package, which is fully personalised, with all of the bells and whistles.

Micro weddings, with just 20 people or so. Especially with COVID still present, I think more and more people are realising that small weddings can be really beautiful and much more stress-free.

Elopements, and there is something really special about running away with your lover and 2 witnesses, celebrating your relationship and including some gorgeous heartfelt vows.

Legals only, i.e the bare minimum. Just the legal words, the legal paperwork, etc.

I really enjoy these types of ceremonies. But I know celebrants that offer other types, such as renewal of vows, naming days, funeral services, etc. It's just about finding what's right for you, what you feel you're really good at, and concentrating on those services.

There are so many different types of celebrants who have their own vibe and style. Couples will be able to find the right person for them, it's just a matter of doing a little bit of research.
What advice do you have for writing vows? What is the ratio of couples who want to write their own vows vs. couples who want to go with traditional vows?
I would say about 95% of couples choose to write their own vows. I think it's one of the highlights of the day and I encourage my couples to write their own.

I've got lots of examples; I keep all the vows from previous couples (only first names, so it's anonymous). Sometimes just reading how other people have written their vows can really help for some initial inspiration. Beyond that, I'd say talk with each other about tone, length, and style, and that way you shouldn't have too many roadblocks.

Also, don't stress over it! Have fun with it! As long as you speak from the heart, you can do no wrong. It's not the time to be overly rehearsed or sound like someone else. You need to be yourself.

I always tell my couples to send their vows to me in advance so I can make sure they complement one another and they're not too dissimilar. That way, if I find that someone's written a half page that's from the heart and the other has written something a bit shorter, lighthearted and fun, I can give them some feedback to make sure that they balance out a bit more.
What are some of the questions you ask couples to make sure you know them well?
I always start with their backstory; how they met, how things progressed, what the initial attraction was/first impressions, when they knew they were falling in love. I also love talking about some of the big moments in their relationship, some of their strengths as a couple, and what makes them work so well. I love a good proposal story, too!

Also, I ask what marriage means to them, why they chose to get married, and what their future looks like together. Plus any fun or funny stories they want to share!
Do wedding celebrants take care of all the paperwork/legalities etc?
Celebrants will manage all the paperwork end-to-end. The first thing we'll do is sign the NOIM (the Notice of Intended Marriage), and then the last thing a couple will do is sign the paperwork on the day.

It's the celebrant's job is to make sure that the paperwork is done within the legal timeframes, making sure it's all done correctly, and then submitting it all to the Registry of Births, Deaths and Marriages after the marriage has taken place.

It's a really important part of the job actually, because if it isn't done correctly, then the marriage may be invalid or it may risk not being registered. It's really important that we cross check everything three times over!
How much time does a celebrant spend with the couple before the wedding?
For me, the initial couple meeting would go for around 30-60 minutes; we might have a coffee or drink, and a nice chat to see if we're the right fit for each other. From there, when the couple decide they want to book in with me, the bulk of the work that we do together is during the planning meeting. That normally happens about 3-6 months out from the wedding day, and I always allow about an hour and a half to chat with my couples because I really want to get to know them. I want to get to know their story, I want to hear all the nitty gritty, get all the quotes, the fun bits that we can put into their ceremony.

Obviously, we have to sign some paperwork as well, but for me, that time is invaluable. It means I can walk away and write their ceremony with ease. After that, it's mostly contact via email or messages in the leadup to the wedding day, lots of DMs on Instagram, too. If a couple really wants a rehearsal, we can, but usually not. Instead we'll schedule a quick meet-up over a coffee or Zoom, and go over things in the week leading up to the wedding day.
Do celebrants require a rehearsal?
This has been a bit of a controversial topic lately, and I've heard a fair few celebrants talk about this. I felt like when I was a "baby celebrant" (when I was brand new), I loved rehearsals! I loved going to see the venue, catching up with the couple, going through everything, just to make sure it would all run perfectly.

Now that I've become more experienced, I feel like I'm good, I know what I'm doing. I have confidence in my ability to troubleshoot anything on the day. So now, I feel like rehearsals are more about the couple. They go through all the other stuff with their venue manager anyway, so why not practice walking down the aisle while they're there? The reality is, they're going to walk down one line. I'm going to be there, making sure I get them where they need to go.

And when you've got an amazing team of suppliers around you like your venue manager, your celebrant, your photographer, videographer, musicians – we've got you! We know what we're doing, we've got the experience, and we're in control!

Even if you do a rehearsal, the reality is that your real wedding day could be different from the rehearsed one. But those "real" moments are kind of what we're looking for. There's no harm going into it without a rehearsal, and if there are any little mishaps, just roll with them and have a bit of a laugh. Your day will be great, no matter what!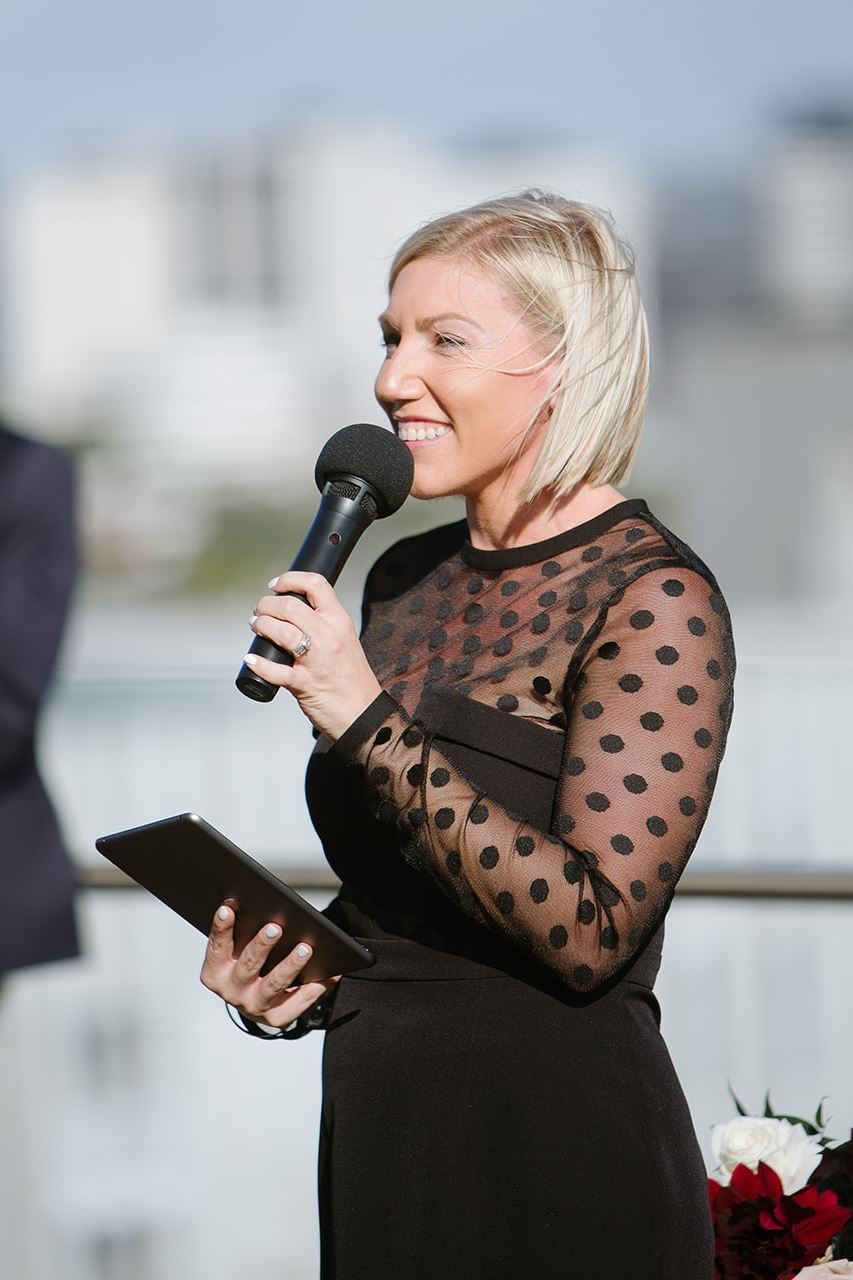 What does the wedding day look like for you?
I always like to arrive about an hour or so before the ceremony. In the first 5 minutes, I'll set up my speaker and microphone, put out my paperwork, turn on my iPad, and get the vow cards out.

After that, I pretty much head off to see the other suppliers such as your venue manager, photographer, musician, etc. Then I could be seating people, handing out rose petals, troubleshooting anything that's needed, briefing bridal parties, etc. That hour allows me to get all of that done and perhaps even read over my script one more time, as well as take some photos for Instagram so I can post them later (very important!)

After the ceremony, I'll help with the group photo. Sometimes I like to stay for a glass of bubbles if the couple's family and friends want to have a chat. Then I'll know when it's time to say goodbye, leaving the couple and their guests to party the night away!
Do you have your own equipment or do you rely on the venue to supply equipment?
I have my own equipment – speaker, PA, microphones, etc. I find most venues are happy for the celebrant to bring their own stuff. I prefer to bring my own equipment anyway because I know how to troubleshoot my own equipment, whereas with theirs, you might run into some problems and not know how to fix things.

It's also important that we make sure our equipment is charged, fully working, and that we've got a backup if needed.
Celebrants had to get creative with lockdown weddings. What did your couples do?
I did see one celebrant do a mock ceremony over Zoom. She'd lit candles around her living room and made it all very romantic and beautifully styled. The couple had needed to postpone due to lockdown, so this was a nice way to celebrate their original wedding day. They then got legally married at a later date.

For my couples, they celebrated their original wedding day (or even second) during lockdown with some delicious food and the best bottle of wine that they could find. Often their family or friends (as well as their wedding vendors) would send them a care package to cheer them up, too!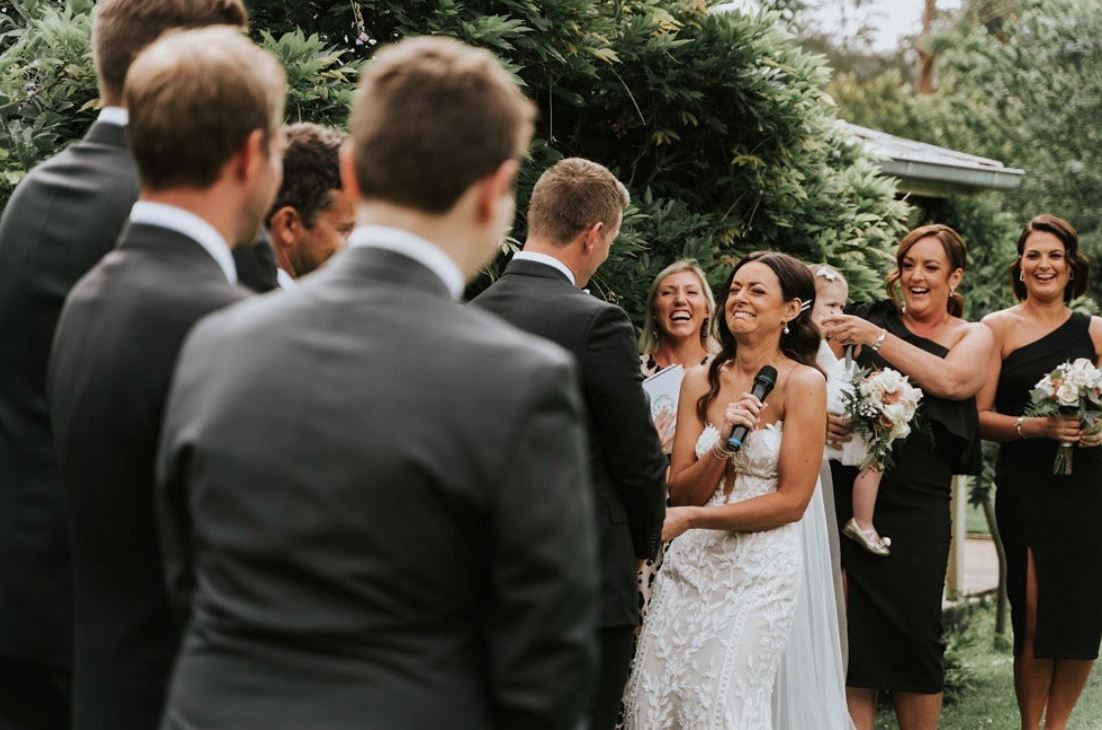 ---
Interested in booking a marriage celebrant in your area? Head to our directory.