We recently had the pleasure of interviewing Jordyn Martino, co-owner of Hey Jack, one of Melbourne's top wedding entertainment agencies. Check out all of her helpful tips and advice so you can really nail your wedding entertainment.
In the interview below, Jordyn answers all of the music-related questions asked by our Instagram followers, including:
Where to start when booking your wedding music suppliers
Whether you should have a band or DJ at your wedding
How to put together your wedding playlist
You can watch the IGTV Q&A session on our Easy Weddings Instagram profile or keep reading below to discover all of the highlights.

visit hey jack
View this post on Instagram
Easy Weddings: Hey Jordyn! Tell us about yourself and your business.
My name is Jordyn, and I am co-owner of Hey Jack. We are an entertainment, film, and photography agency in the wonderful wedding space. I founded the agency about five years ago, and I'm also a musician, so I go out and do all of our amazing weddings as well, which is awesome. When I formed the agency five years ago, it was just my duo, and we kept growing!

My now fiancé, Rich, runs the agency with me. We have a team of four, which is really exciting. We're based in Prahran, and we're constantly growing and expanding, working with some incredible acts, performers, filmmakers, and photographers.
Where should couples start when booking their wedding entertainment?
I think it's so funny because entertainment can be one of those things that people just really don't know where to start. A lot of people do find that venues and photographers might potentially be easier to find because music has so many little components to it, and it is so special on the day. It can be really hard to know where to start.

Your standard Google search is a great place to start for anything in the wedding planning process. We're also listed on Easy Weddings, which we love. Some of the best weddings that we've done have been couples that have come through Easy Weddings, which is amazing.

There's also word of mouth, of course – so if you have friends who have had or have been to a wedding and have had great experiences with entertainment, they can refer you to that supplier.

Once you've found a supplier you're interested in, I'd suggest following them on social media. We post a lot on Instagram to showcase what we can do, such as live videos, behind the scenes of our shoots, promo videos, and performances at weddings. We try to really show what we can offer.

Once you've done that research and followed a few different suppliers, you'll know when you've found the right wedding entertainment for you.
What are the most popular act sizes for weddings?
Everyone's different. It probably does really come down to two things: your budget and the size of your venue.

As much as you might want to have five different performers at your wedding, if the space is too small, that won't allow enough room for guests to dance, or it might feel crowded, etc. That's something we work with our couples on to ensure everything runs smoothly.

Usually, we see a solo or a duet for ceremonies, and we'd probably do at least a two-piece for the reception, especially with size or budget constraints.

We also do DJ only, and that's becoming a base for our couples at the moment. And then we can add on from there, whether it's a duo and a DJ or a trio and a DJ.

At the moment, we've been doing our incredible DJ band gigs, which are super exciting because it means that you have the full effect of a live band, but essentially the vocalist or the saxophone player are roaming. So you don't necessarily need that set space for them, which is great. For the venues that only really have the space for a DJ, it means we can add on that vocalist, sax player or percussionist, and it's more of a roaming feel.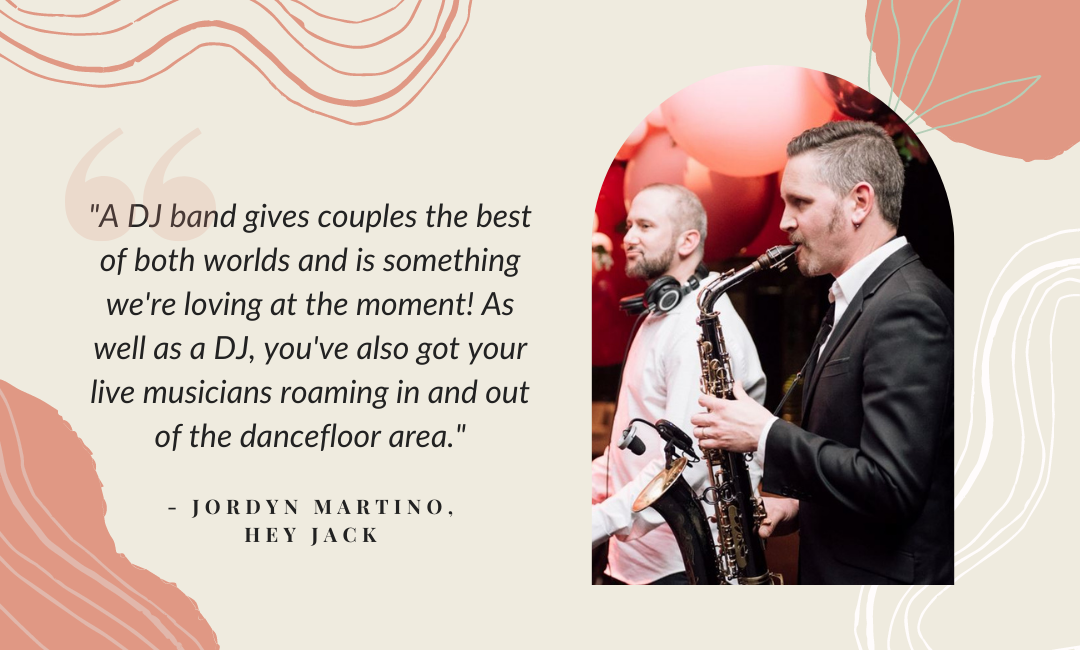 find a musician in your area
Do you assist couples with specific song choices?
We've actually been working on an online music portal for about 12 months because we care a lot about the user experience with our couples when it comes to their song choices. As soon as people book with us, they get access to that portal. We have all of the songs in the portal that we need from our couples and we also have song suggestions in there.

Before you book your wedding entertainment, it's good to know that you'll have guidance from their team because it takes a while to choose those songs for the most special moments of your wedding.

As soon as you enquire with us, you get a dedicated entertainment manager who is 100% experienced in weddings. We also have constant communication throughout the process. We have emails that go out with new song ideas, and we've got playlists that we send across, so you get that guidance from us from start to finish.
Should couples book a band or a DJ?
I sort of touched on this in previous questions, but I guess it really does come down to budget. If you do have budget constraints, booking a DJ is more affordable as it's just one person, and that's all you need to worry about. It will be a little cheaper than going for a duo/DJ combo or the complete three-piece or four-piece band.

Another thing to keep in mind is that, although a band will have a broad range of genres, a band won't have the same capabilities as a DJ. If you have guests who are quite diverse in age or culture, a DJ would be a great option because they do have the flexibility of getting a playlist from you beforehand.

So it's probably just about working out what your guests are going to be better suited to.

Something else to consider is a DJ band, which is the best of both worlds and something that we're loving at the moment. You've got your live performers there, and they're roaming in and out of the dancefloor, and you've also got your DJ there for the start and the finish of the night so they can play all of your requested tracks.

You also have a two-hour set in the middle with a DJ band, which is the feature set of your singer, saxophone player, and bongo percussionist. Whether you add on a cool electric guitarist or something similar is up to you. This hybrid performance includes the live music elements and also the ability to have your song requests played.
Do you take requests from guests or stick to your own setlists? And can couples submit a "do not play" list?
Requests are something we try and steer away from as they can get messy. However, we recommend taking song requests from your guests in advance and passing them onto your DJ so they can be added to the playlist before the wedding.

These days, many wedding invitations have song requests on there for guests to make recommendations in advance. For example, they'll say "please request three songs" or "please request your favourite song to be played on the night". The couple will then collate all of the requests when they get all the RSVPs and then send them to us, which is great because people get to hear their favourite songs on the night (if appropriate).

As far as a "do not play" list, we actually prefer this a lot more than your actual playlist. It's a great way to give an idea of your style, and if there are certain songs that you're adamant you don't want to be played on the day.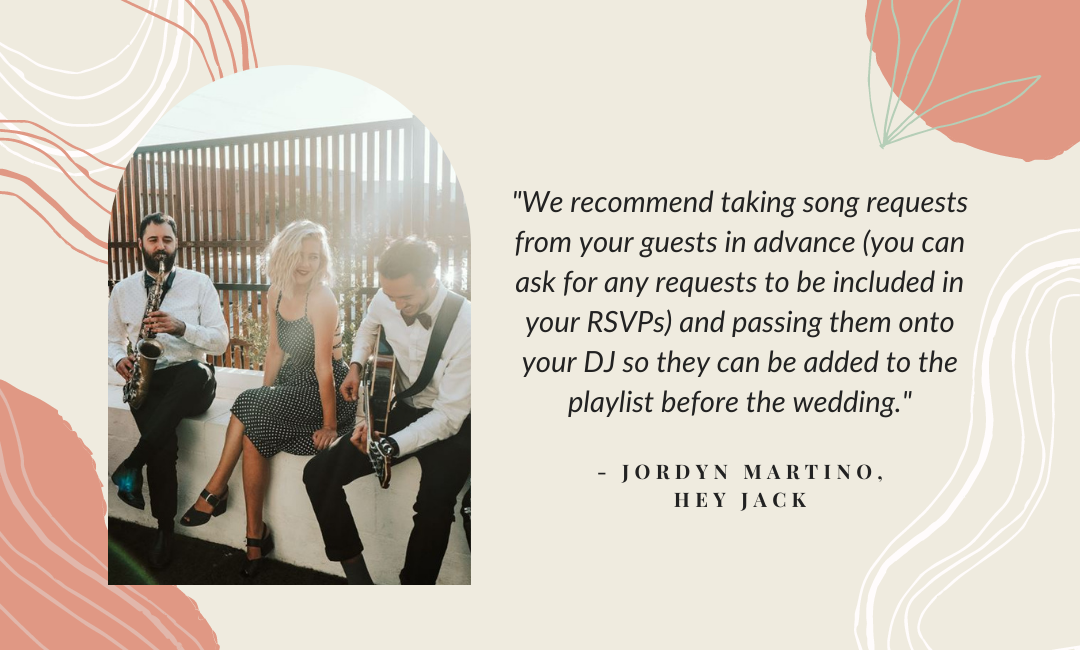 find a musician in your area
How do you get guests on the dancefloor?
I guess that's why you're spending money on your entertainment, right? We're not just putting together a playlist; we work with very professional musicians and entertainers.

Every wedding is incredibly different, so it's very much about reading the room from the start of the night and seeing what people are tapping their feet to and what sort of genre they're after.

That briefing process is really important to us, but, at the same time, you don't know what you're going to get on the night. It's really about trusting that the performers know what to do when it comes to getting to know the crowd. If something's not working, they'll switch it up and change to another genre.

We always make sure our couples know that we need to adapt and be flexible with the playlist if no one is on the dancefloor.
Do you offer MC services for weddings?
Depending on who gets booked with us, either the musicians or the DJ can double as an MC. We do charge an additional fee for this service as MCs are a vital part of the reception, so we take this role very seriously to ensure everything runs smoothly on the day.

The reason we charge extra is that taking on the role of MC means sitting down with you, working on a run sheet, talking in more detail with the venue, and catching up with you, your DJ, and your entertainment manager before the wedding.
Do you meet with your couples in person before the wedding?
It depends on the couple. We also offer film and photography services for weddings, so if people are booking all three services with us, then we might meet a couple of times before the wedding to curate all of their requirements.

If they're just an entertainment client, we've changed our meeting process due to COVID. Because we're based in the heart of Prahran, it can be hard to get to us sometimes. We've found that Zoom meetings or detailed phone chats actually work really well, so we have that communication in the lead-up.

I anyone has a request to chat with their DJ or their live musician, we can arrange that if it is something that they need. However, we are that middle person – being the artist agent, as well as your entertainment manager – who looks at the entire day holistically to make sure we're across everything.
What questions do you ask couples to make sure you're getting the right vibe for their wedding music?
There are so many! I like to look at it as two parts.

Once you've booked, it's the lead-up period, and we're getting closer and closer to your day, the questions are all about working out the genres and the actual song requests. Our music portal that I mentioned earlier is very detailed. We have an extensive reception section, which goes through any playlist links you send us, genres of music, top 10 songs, etc.

We've spent a long time curating this wedding portal because it is so easy for time-poor couples to go in and add everything in.

We also spend a lot of time on the phone. We do a lot of cultural weddings, so we need the exact songs and links from people, making sure that we're playing the correct versions, etc.

Aside from that, questions we'd ask would be: What are you after for your wedding? What's the vibe? What's the dress attire? Is it a black-tie wedding? Is it a cocktail wedding? These aspects of a wedding can really make it clear what people are after when it comes to the music.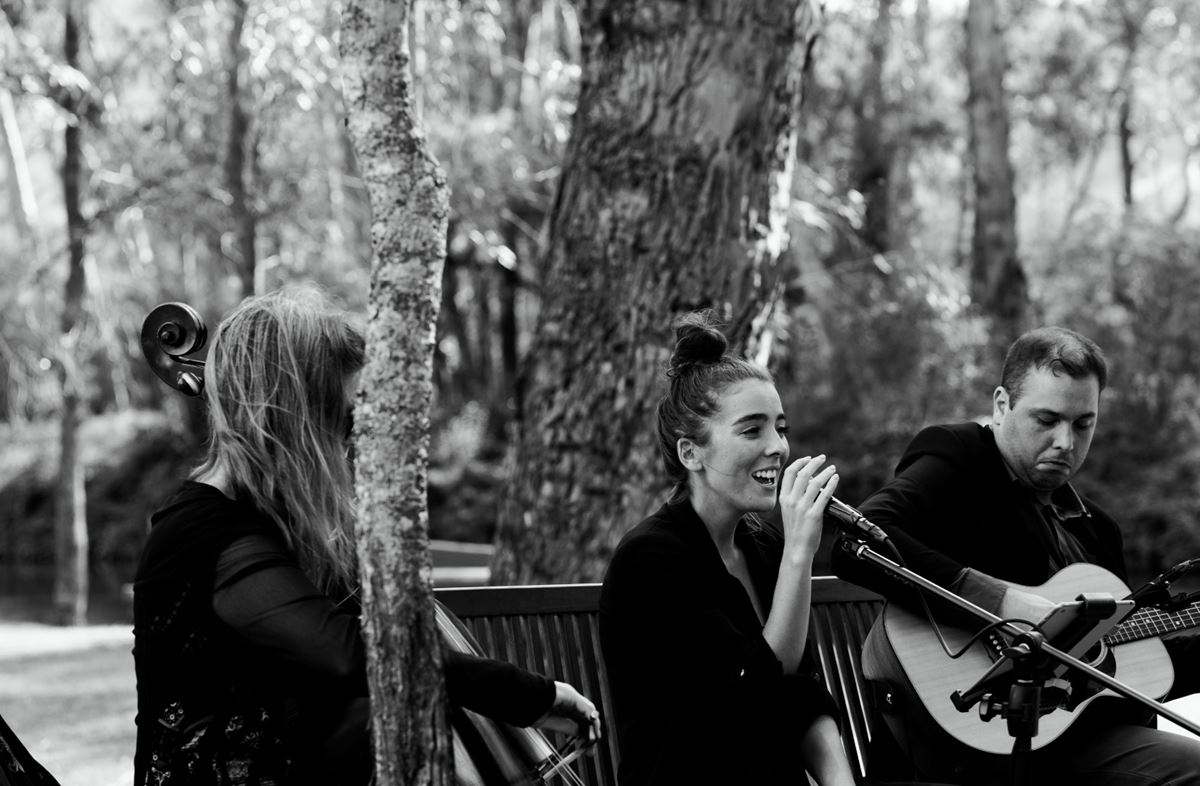 Interested in booking a wedding entertainment supplier in your area? Head to our directory.
find wedding musicians