We recently caught up with Melbourne wedding cake expert Madie Gostin from Mad About Cakes on IGTV. Check out all of her handy tips to find out everything you need to know about choosing and ordering your wedding cake.
In the interview below, Madie answers all of the cake-related questions asked by our Instagram followers, including:
How many tiers your wedding cake should be
What kind of price range you should be looking for
How far in advance you should order your cake
You can watch the IGTV Q&A session on our Easy Weddings Instagram profile or keep reading below to discover all of the delicious highlights.

view mad about cakes
View this post on Instagram
Easy Weddings: Hey Madie! Tell us about yourself and your business.
My name is Madie, from Mad About Cakes. We specialise in dietary requirements, custom cakes, and desserts for all types of events. I've been running Mad About Cakes for about five or six years now, and we've recently opened up a studio, retail space, and kitchen in Caulfield, which was a massive dream of mine and my team!

We do weddings, of course, and corporate events. Not only do we make custom cakes, but we also offer a vast range of desserts and dessert tables. We also do styling, prop hire, and stationery. We do delivery and set up and all those kinds of things as well – so we're a bit of a one-stop-shop for events!
What is the process for choosing and ordering a wedding cake?
Often, people just email us saying, "Hey, I want a wedding cake – what do I do?". The next thing we do is get the essential information, including the wedding date, how many people the cake needs to feed, where the wedding is being held, dietary requirements, and cake design ideas.

Then, we start to work out all of the more important details. Often, couples will send us a Pinterest board and screenshots of cakes they like, so we see what kind of vibe they want to help us work out a unique design for them. From there, we put together a quote for the wedding cake. Then comes the best part — the cake tasting!

If a couple doesn't have any idea what they want, they can just contact us, and we'll guide them through that process and make it easy!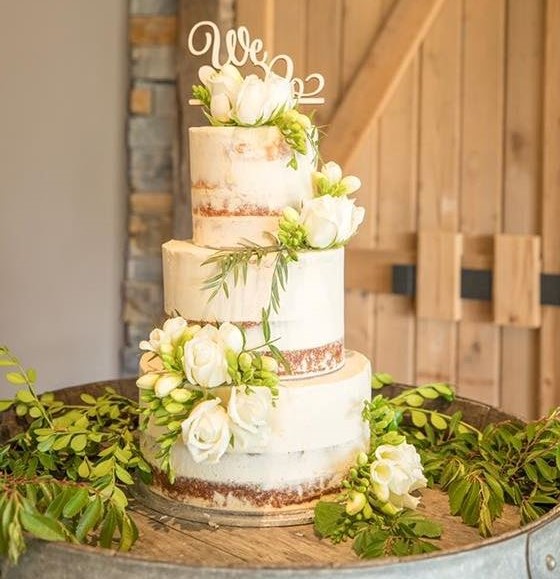 find a cake supplier in your area
Do you include delivery and setup in your costs?
Yes! When we send out a quote for a cake, it's based on the size, flavour, design, and delivery location. We service all around Victoria, and we have even delivered a cake to New South Wales!

We offer a full service, so we will deliver your cake ready to go, liaise with your suppliers, and provide your venue with cutting instructions and all the important information. We cut out the couple as middlemen and liaise directly with the venue so everything's stress-free and seamless.
Can you replicate a wedding cake from a photo provided by a client?
Yes, one hundred per cent! People can send us images from google, from other suppliers or even from our own website or socials, and we can replicate the cakes to a tee.

I generally encourage people to do a few different things, whether it's changing an arrangement or a few colours, just doing something a little bit different so that the cake is unique for them.

But yes, if you have your heart absolutely set on a design, then that is the exact cake you will get on your big day!
How do you decide on the number of tiers a wedding cake should be?
Coffee size servings are small slices of cake and are ideal if you have another dessert catered at your wedding. So you can generally get away with small servings and coffee slices at a wedding.

To feed about 50-60 people, I would suggest a two-tier cake with an eight-inch round first tier and a six-inch round for the second tier. That would feed around 50 to 60 coffee size servings.

For about 130 people, you might do a ten-inch first tier, eight-inch second tier, seven-inch third tier and a six-inch round fourth tier. To feed 250 people, you could do a twelve-inch on the bottom, then a ten-inch, an eight-inch and a six-inch.

Having said that, if a couple wants to feed 250 people but doesn't want a huge cake on display, we can make a two or three-tier cake that is displayed and have the remaining servings kept in the kitchen, ready to cut up when it's time to eat the cake. So really, the options are endless!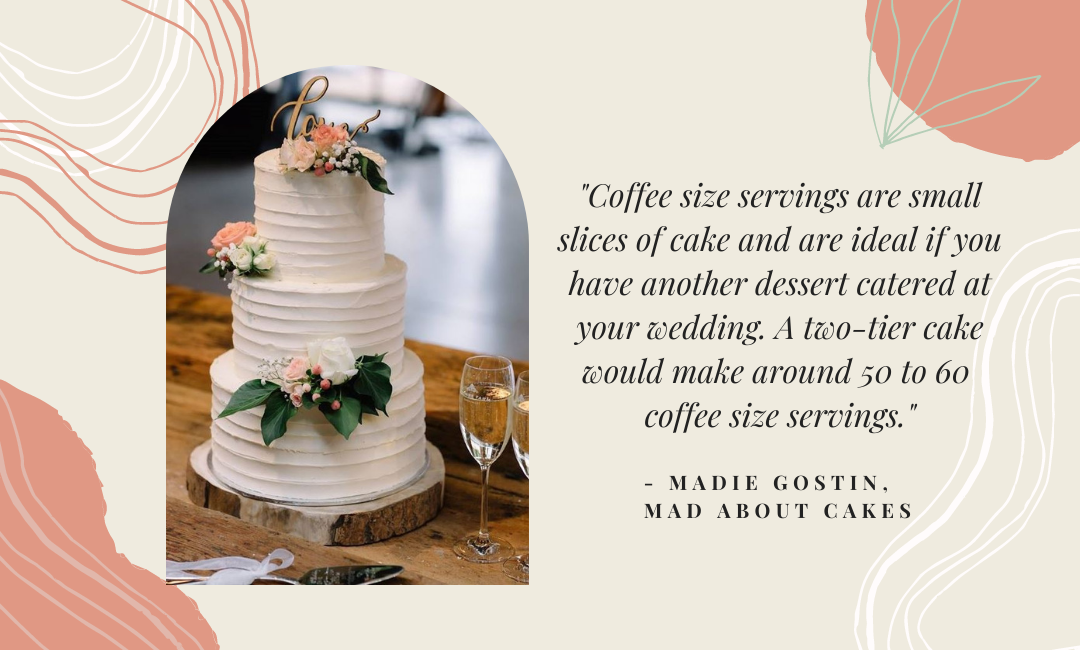 How do you know if you're spending too much on a wedding cake?
The best way to figure out if pricing is fair is to inquire with multiple cake suppliers. We know our pricing is competitive and reasonable based on market research and because our customers have told us.

But I think that goes with any supplier; you need to ask around and request quotes from multiple suppliers to find a price that suits your budget!
What are some of the elements that will increase the price of a wedding cake?
So, for example, a semi-naked cake is very budget-friendly in terms of the final design because less buttercream is used and the buttercream is pulled over the cake, and you can see bits of the cake exposed. That doesn't mean that it looks cheap; it's just a simple yet classic design that suits both rustic and high-end venues.

Then you've got buttercream, which is when the cake is completely covered in buttercream. So that jumps up a little bit more in price.

And then you have things like fondant cakes, which are very labour-intensive, stacked and filled, then they're covered in ganache, then they're covered in fondant, and then they're entirely hand-decorated. So something like that is going to jump up even more in price.

You also have to factor in sizing and flavours as well. If you're going to have a different flavour for each tier, that will add a little bit of extra cost.

But there's a wedding cake for every budget, and there's a wedding cake for every couple and every venue as well. We work out what the ideal design and budget are and come to the perfect middle ground really easily.
How far in advance should couples order their cake?
Ideally, I say as soon as you're ready to order, whether that's two years in advance or a year in advance. Because you want to be as organised as possible, you can never get in too early!

We're always open for bookings. So as soon as you know your wedding date, get your cake booked in. In saying that, we do a lot of last-minute weddings. Sometimes we are given a one or two-week window, and we do our best to make it happen.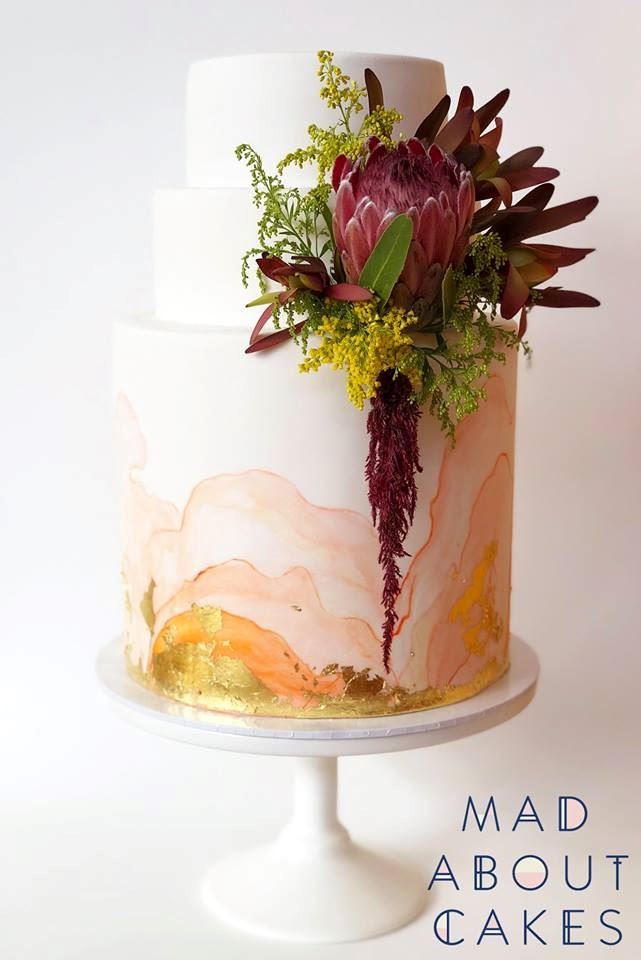 find a cake supplier in your area
When do you make the wedding cake?
We usually make everything within the week of the wedding. We bake, stack and fill the cakes within a few days from the event. However, it also depends on what the couple is after. If there are intricacies and specific decorations that are just pure sugar, we might start in advance.
What happens if the cake gets damaged on the way to the reception?
Firstly, that's not your problem; it's our problem! It's very rare that a cake gets damaged as we have many security measures in place for delivery. We have special stands that we've designed ourselves and had custom-built for delivery. We also have really safe delivery methods and special tools we use to protect the cakes. So it's very rare, but it does happen.

If something ever does go wrong with the delivery, the cake is brought back to the kitchen, repaired and then redelivered, or one of us will go to the venue to fix it there.
Can you create dessert tables as an alternative to the classic wedding cake?
Absolutely! Wedding cakes are classic and will always be in fashion. Having said that, dessert tables have definitely become more popular in the last couple of years. We can do individual desserts and full dessert table setups, including props and styling.

Dessert tables are really fun because they're completely unique to each wedding. If your wedding is more rustic, we'll use wooden crates and create more rustic-looking desserts such as brownie slices and cupcakes with more natural decorations like edible flowers or dry fruit. For a more glam wedding, we might use a lot of clear acrylic and gold mirror rises and desserts that feature a lot of gold leaf or sugar flowers.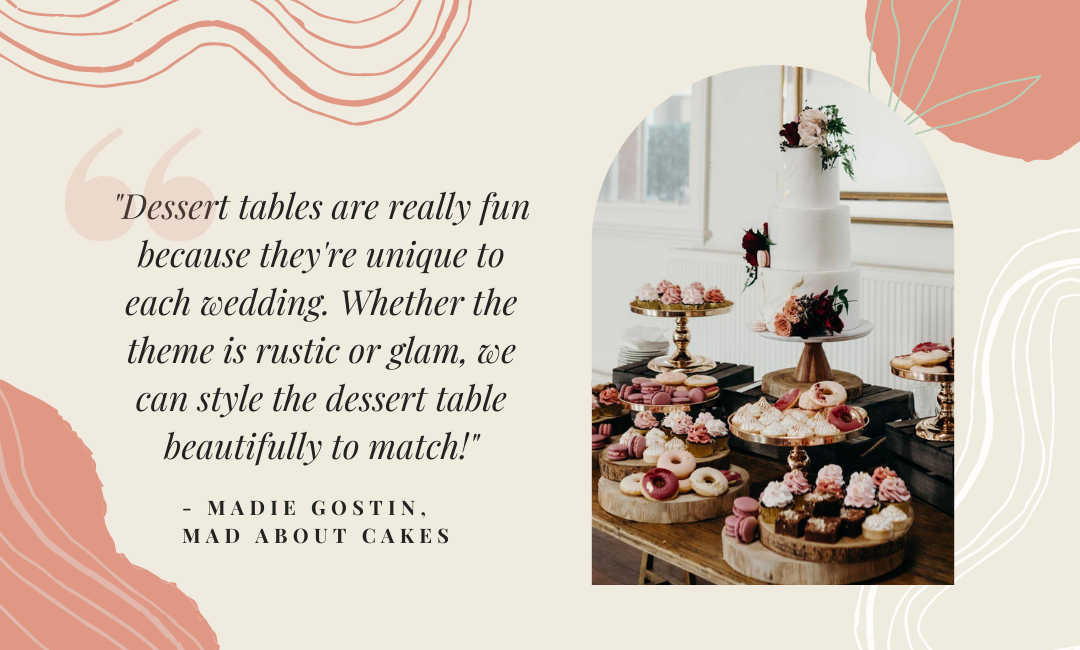 What if a couple has no idea which kind of cake they would like to have?
That's where we help guide you. Sometimes, your venue is a perfect place to start. Say someone's getting married at a beautiful winery in the Yarra Valley; we might suggest a semi-naked cake to go with that more rustic vibe. If someone's getting married at Metropolis or a city rooftop bar, we might go for something a bit edgier.

We'll try and find out about the location and style of the wedding and the colour theme. Is it white and gold? Is it browns and neutrals? Are you having a colourful rainbow wedding? We pick your brain a little bit and then offer designs that would work with your venue and wedding style.
Do you offer cake tastings?
Yes! Because we work business hours and most people have jobs and aren't able to come to the store during business hours, we've actually moved towards express post cake samples that can be sent Australia wide. We let every customer choose what samples they want to try from our wide range of around 30-40 flavours.

We offer box sets of either three or six cake samples, depending on the customer's requirements. The samples are packed in cute little pink boxes and express posted to wherever they need to be.
How many flavours do you offer?
I would say we have between 30 and 40 flavours. Because we're a custom bakery, we don't really have a set flavour list. People can ask for different flavours all the time.

For example, we make a gluten-free dairy-free orange and almond cake, and if someone saw that and said, "actually, can I just have almond cake? And can you put that with honey frosting?" we would happily do that for them! We're totally flexible and love getting creative! We're all about experimenting.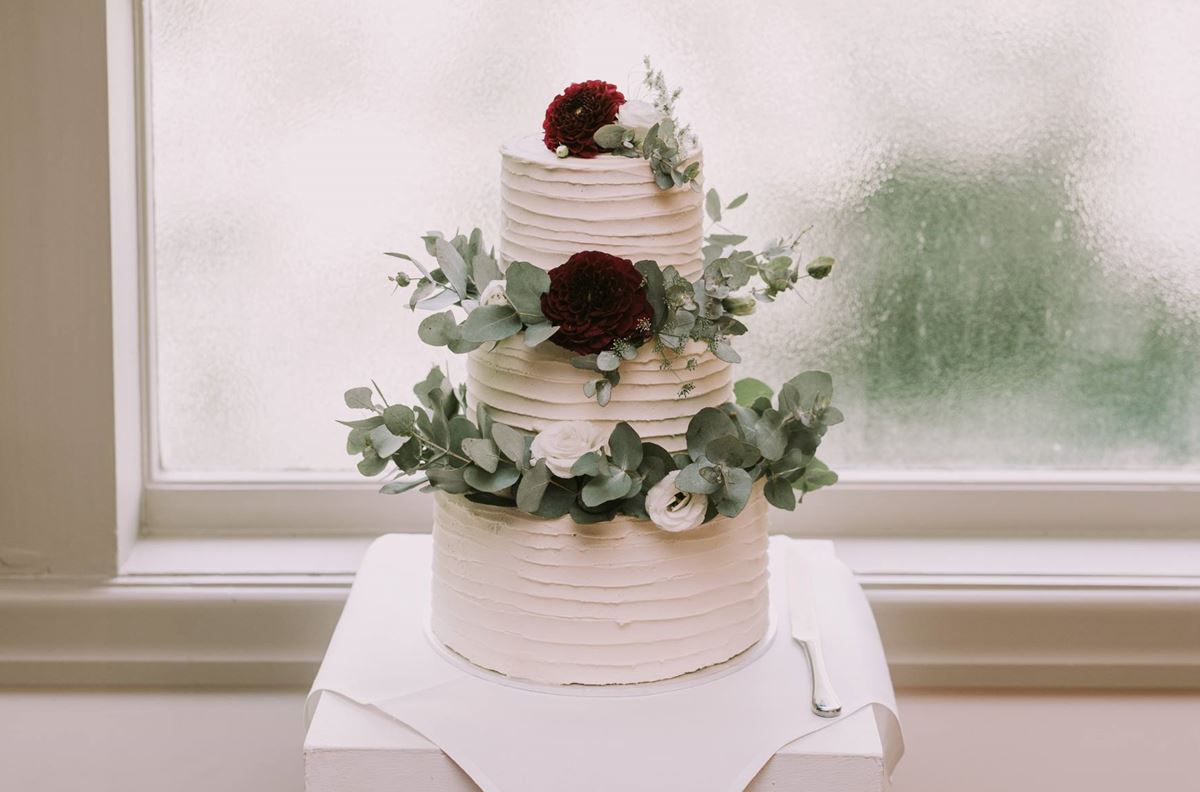 Interested in booking a wedding cake supplier in your area? Head to our directory.
find wedding cake makers