We recently had the pleasure of catching up with the incredibly talented Nathan Op de Coul, General Manager of Melbourne Entertainment Co, to chat about all things wedding music related. Keep reading to discover all of Nathan's top tips for nailing your wedding entertainment.
Putting a fresh, modern spin on classic wedding entertainment, the talented musicians from Melbourne Entertainment Co are renowned for their captivating, high-energy performances that are guaranteed to keep the dancefloor packed all night long. Melbourne Entertainment Co has over ten years of experience in the industry and can provide acoustic singers, live bands, DJs, MCs, saxophonists, string ensembles, and much more for your wedding.
find out more
---
Easy Weddings: Hi Nathan! Can you tell us a little bit about yourself and your business?
I'm a DJ-saxophonist who first started Melbourne Entertainment Co 'out the back of the garage' in 2011. I'm an avid lover of all things music and have incorporated music into just about everything that I do in my life.

While holding a residency with Nova FM nationally for six years, I started building a team of fresh and talented performers to fill a niche in the wedding entertainment market. Seeing many out of touch, un-cool and dated acts, I saw an opportunity to keep weddings exciting and youthful.

My main goal in my professional life is to create the best and most respected event entertainment agency in Australia. I believe that if you're good enough at what you do and you love what you do, you'll never have a bad gig.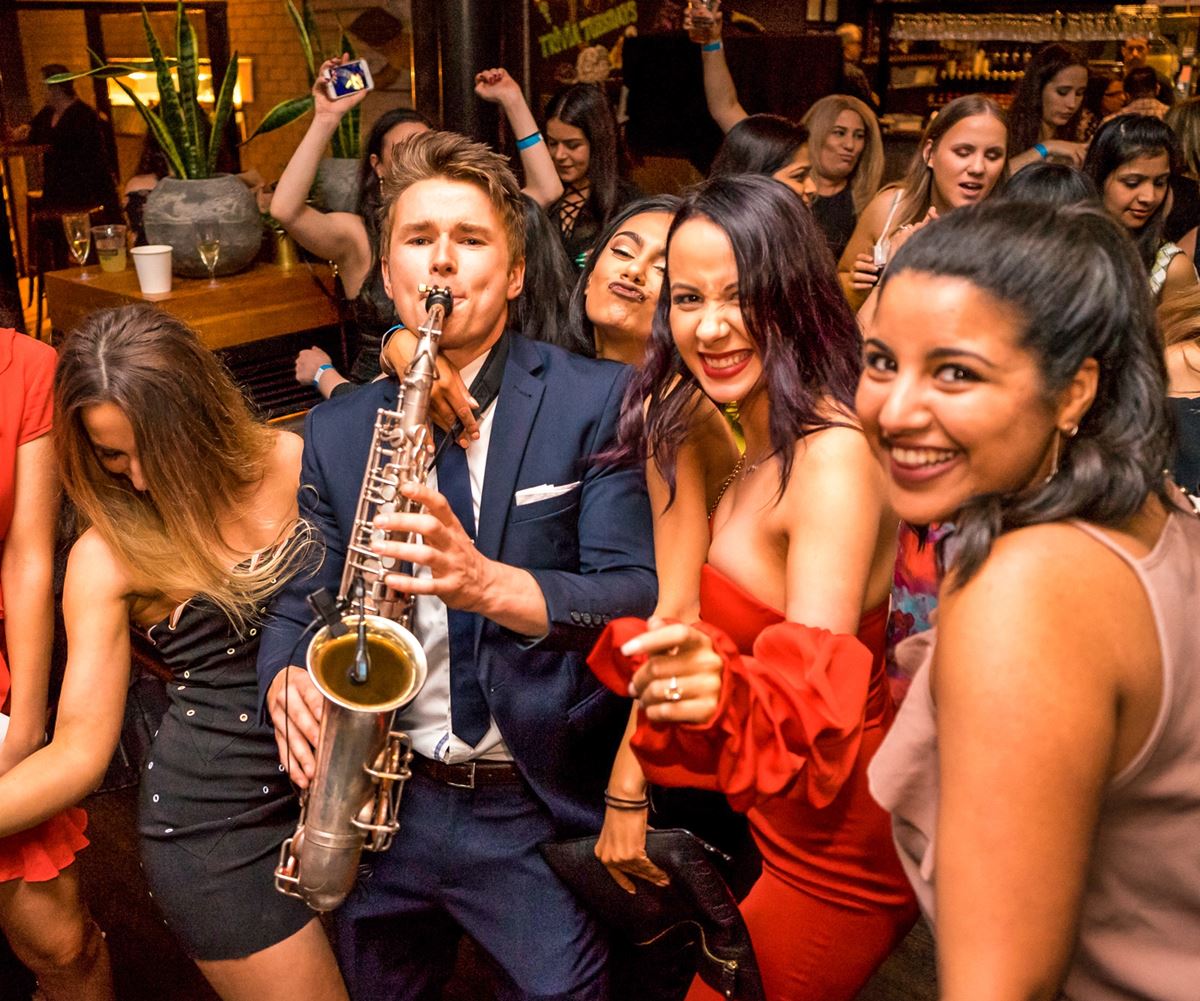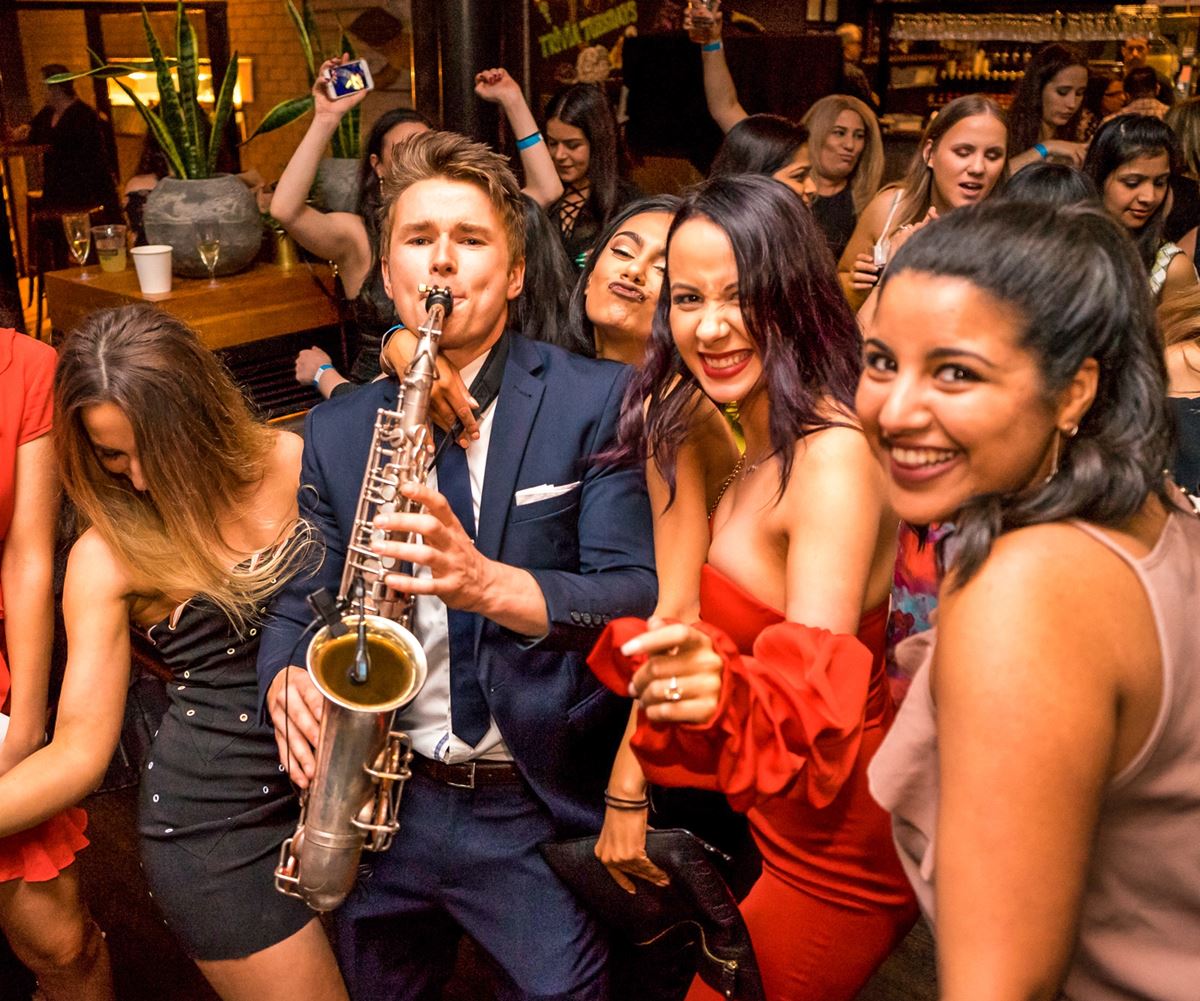 How did Melbourne Entertainment Co start, and what has it become since then?
2011 is when we began as a small DJ agency with four DJs. Over the past decade, we slowly built up our roster to include all different types of entertainment from DJs to bands to acoustic musicians before branching out into roving entertainment and other services.

Fast forward to today, and we are your complete entertainment service provider that can look after everything from your roving magician on entry, to your MC, to your photo booth, to your DJ and everything in between. You can check out our complete list of services here.
You offer several options for wedding entertainment, including acoustic singers, DJs, string ensembles, saxophonists, and live bands. What are the most popular act configurations for weddings?
By far, our most popular performers are our talented "all in one" artists: DJ-Sax / Hybrid DJs (DJs who have an additional skill) or Complete Soloists (acoustic musicians who can also DJ later on in the night).

These two-bird-one-stone performers are our most booked because you get a bit of live entertainment and DJ entertainment at the same time. They're able to seamlessly switch between live performance and DJ performance throughout the night as needed, which makes them the most versatile performers on our roster.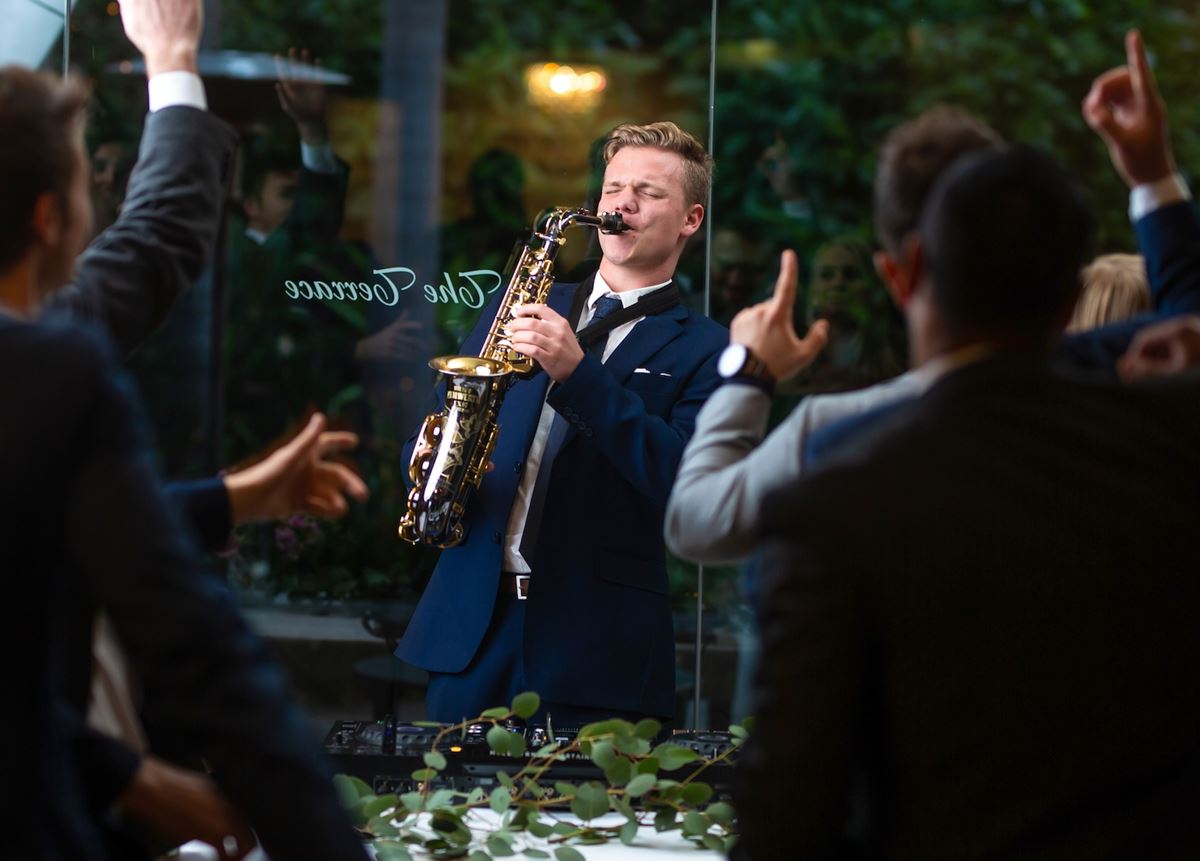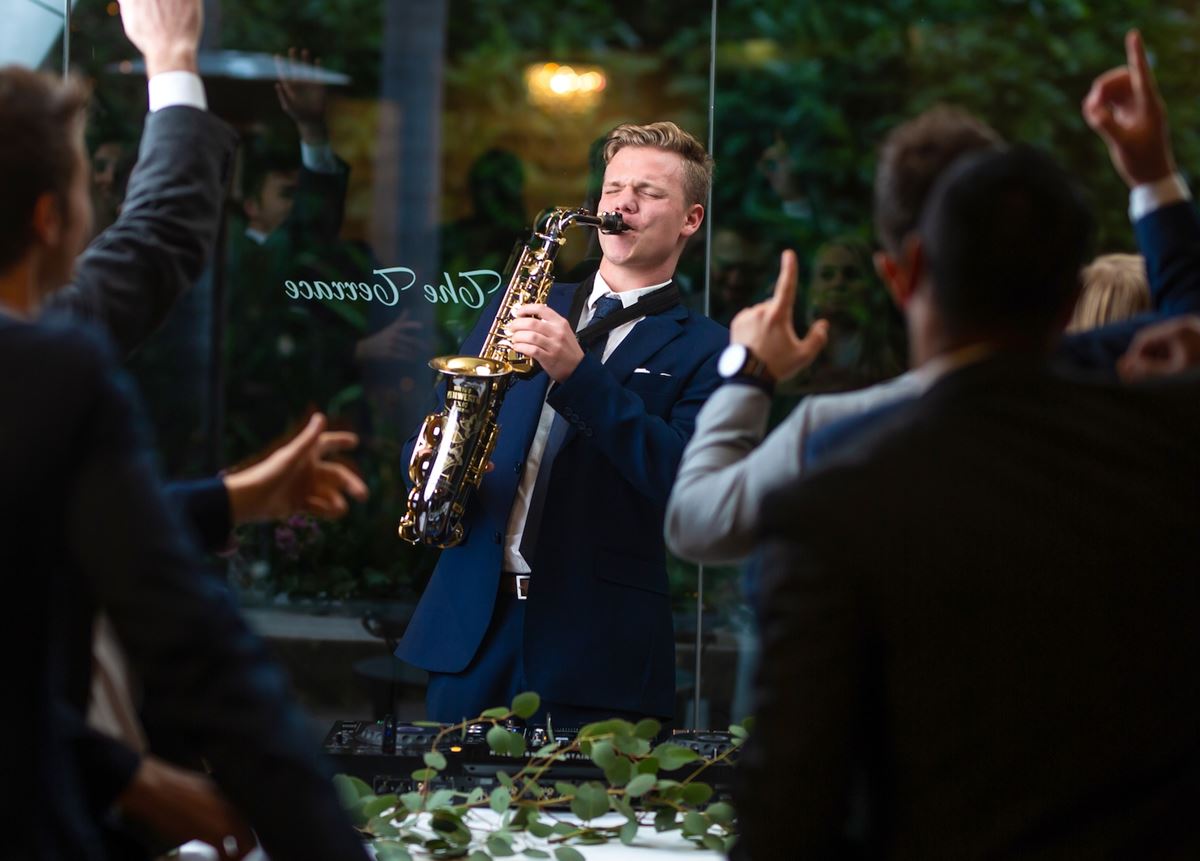 book your wedding entertainment
What advice would you give to couples who can't decide between a DJ and live musicians for their wedding?
The decision to book a DJ or a band has long been the topic of discussion for couples, event managers, and function holders. Interactivity is definitely what the band/live musician has over a DJ.

DJs pretty much have to stay behind the decks the whole time throughout the night. They need to change songs, pick songs, move buttons, and change phases. Everything has to be done from behind the decks, and it's harder for a DJ to be more interactive. They can dance around a little bit behind the deck and point to some people, but they will never have quite the same level of interaction that you get from a live band.

There's no question that bands will provide a more interactive performance for your guests. However, after a few hours of listening to the band, the music does start to have the same tone and feel. It's difficult for bands to be as diverse in their style as a DJ can be with the original recording of a song.

It is difficult for a DJ to have the same interactive stage presence that you would achieve from booking a band. This is mainly due to the number of people on stage and the singer who is on the microphone at all times. However, guests often like to hear the song the way that it was originally recorded — not a cover by a band.

A live band can have a front singer, a woman, a man, and a sax player. They can jump in a crowd or play with the crowd. You've got that real live presence, and that's something that a DJ can't catch up with. So in that regard, a band would have more advantages over a DJ in terms of interactivity.

We believe that we've developed an innovative solution to this problem: The DJ Band. Adding a live element to an otherwise standard DJ set can create a unique, bespoke entertainment experience that will keep your guests raving for years to come. Our most popular additions to our DJ sets (in order) are singers, saxophonists, percussionists, guitarists, strings, and pianists. For the best experience, we recommend booking two or three live elements for your event.
What kind of input do couples have when it comes to the song list?
Once booking with us, we'll send you over our wedding request form, which asks for a few more in-depth details about the couples and any specific music requests they have. This also includes a "do not play" list to ensure that you don't hear any tragically terrible tunes throughout the night (think The Chicken Dance or The Nutbush — not that we'd ever play those anyway!)

You're welcome to list as many or as few songs as you like on this list — after all, it's your wedding! But we ask you to keep in mind that our performers usually play between 10-15 songs per hour, and the ideal requested song list is between 10-20 of your favourite songs and your formalities.

It's good to leave a bit of creative freedom to the artists as this is what they do week in week out! They know what works best to get your dancefloor going, and you're paying for their professional wisdom.
Why do you think it's important to have great music at a wedding?
Your entertainment may cost less than 10 per cent of your total wedding budget. However, if done poorly, it can ruin 50 to 60 per cent of your day and your evening. People aren't going to remember their cocktail on arrival once they've had four of them. They're going to remember those peak moments on the dancefloor with friends and family. The dancefloor component of the wedding makes up a significant portion of your memories of the night.

You don't want to skimp out trying to save a bit of money and risk ruining your wedding just because you've gone with a cheaper entertainment alternative or attempted to run a Spotify playlist yourself!
Check out this article for Melbourne Entertainment Co's take on the Spotify vs. DJ debate.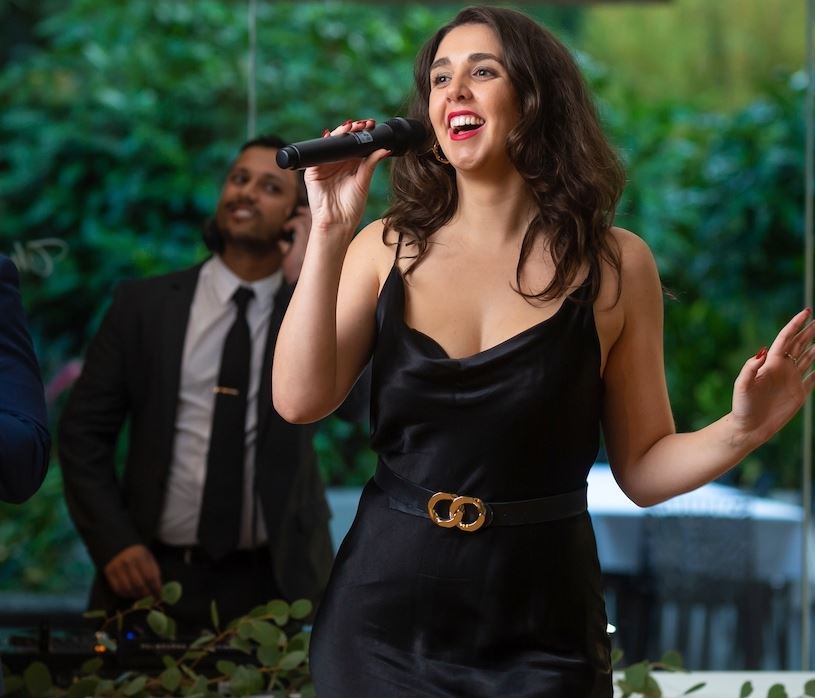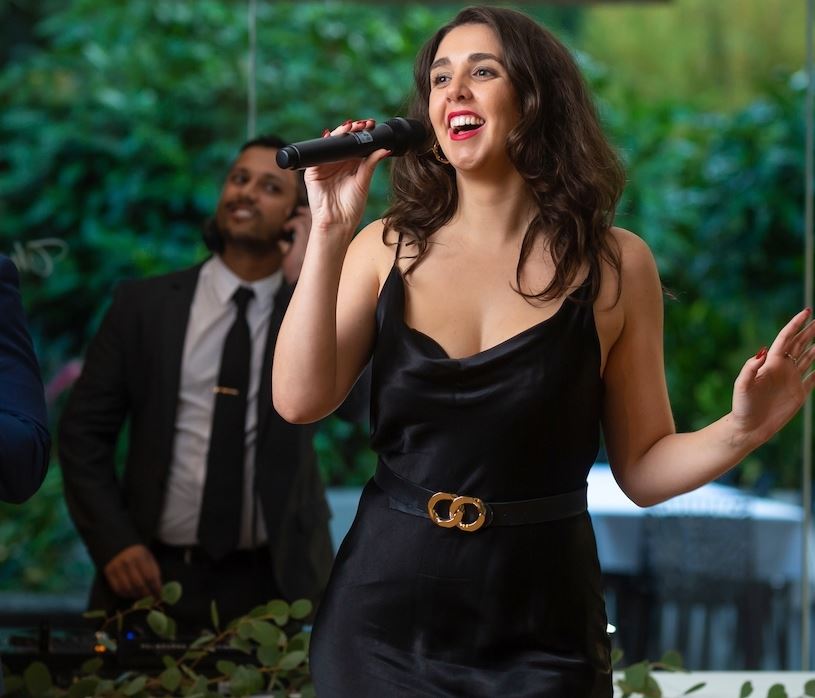 What are your favourite songs to get people on the dancefloor?
Signed, Sealed, Delivered (I'm Yours) — Stevie Wonder

If I Ain't Got You — Alicia Keys

Moondance — Van Morrison (Live Sax)

Ain't No Mountain High Enough — Marvin Gaye

Valerie — Amy Winehouse

September — Earth, Wind & Fire

Shout — Otis Day & The Nights

Destination Unknown (Live Sax Solo)

Mr. Brightside — The Killers
---
find wedding musicians