If you're recently engaged and slightly overwhelmed with engagement party planning or wedding planning, then maybe a few little gifts for yourself wouldn't go astray?! However you justify it (online shopping, that is)- this is the one time of your life when you can freely buy all of that gorgeous "just married" or "mrs" stuff that you have probably seen and lusted after before now! Well now that you are set to become a "wifey for lifey" (thank us for that little phrase later), here are our top picks for some super cute products from one of our favourite retailers, Kate Spade New York, that every bride-to-be needs: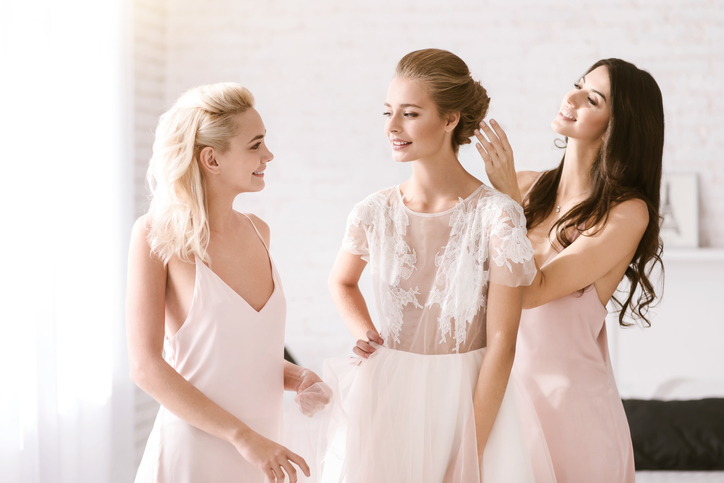 These would all make great splurges for yourself (treat yourself!), a friend who is getting married, an engagement gift or something to add to your wedding registry. Get your credit card out in preparation. Trust us, you will be needing it for this list:
1. Wedding belles happily ever after tote bag
This is the PERFECT tote for transporting your on the day essentials, bride emergency kit or on your honeymoon. A simple and carefree canvas tote, complete with a quirky phrase on each side. One side says: Happily ever after, and the other side says: en route to the honeymoon. And plus, you can wear it long after the wedding to remind you of the beautiful day you had! It actually is a great size for the everyday things that you tote around (see what we did there?!). You can fit in a water bottle, phone, wallet, notebook, diary and your ipad. Even a smaller macbook like an air would fit in here! And the subtle pale pink colour is perfect as it suits every outfit!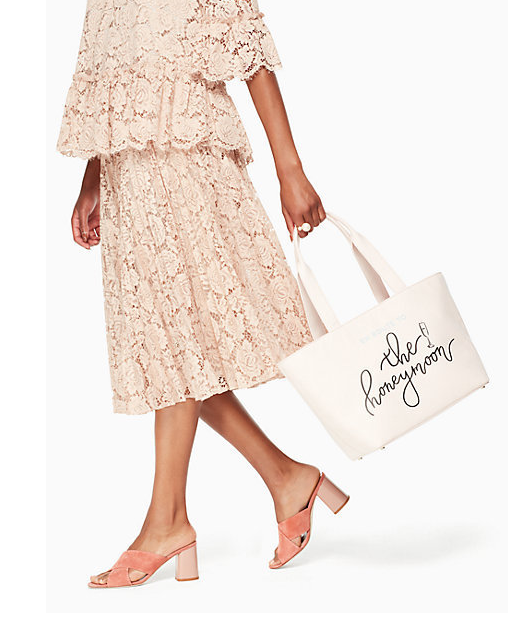 2. Just married Gwen flats
These super cute "just married" Gwen flats are perfect for the feminine, quirky bride. Available in mint green and pale pink, and featuring an adorable gold tipped bow and token Kate Spade charm on the back of each shoe. The beautiful nappa leather shoes are perfect for all day OR to swap out the heels or wedges for something more comfortable later on your wedding day, when your feet might need a break.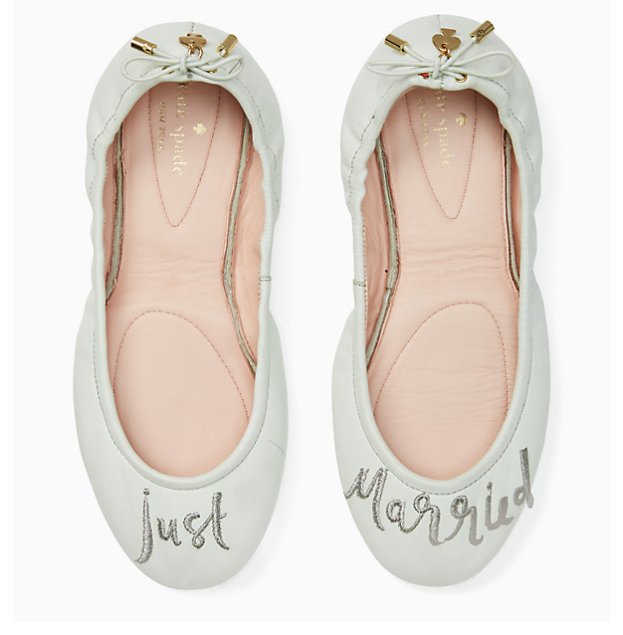 3. Say yes "mrs" stud earrings
These gorgeous gold "mrs" stud earrings are the perfect addition to your gift registry or to be worn on your wedding day or honeymoon. Celebrate your title with these gorgeous gold plated stud earrings by wearing them well into your new life as a wifey! If you're not so into gold, then keep reading, there may be some other cute "mrs" options for you to choose from!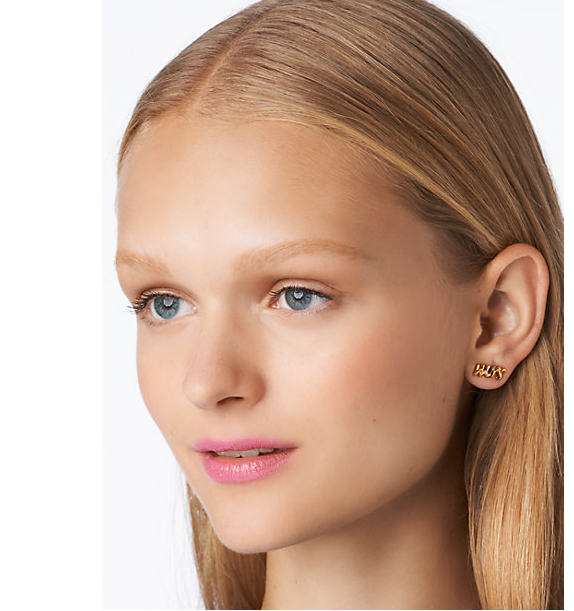 4. Mrs robe
Perfect for getting ready in, this gorgeous "MRS" robe would be perfect for while you are having your hair and makeup done and enjoying a whole bottle of bubbles with your bride squad. The delicate silky texture is just luxurious and will make you feel like a queen! The beautiful piping details give it a beautiful detail.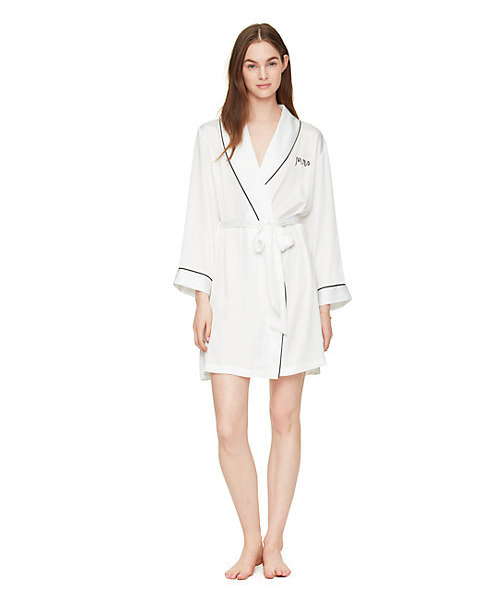 5. Happily ever after wine tote
Perfect for carting around your pre-wedding bottle of Moet, this gorgeous "Happily ever after" wine tote is a gorgeous keepsake that you could keep long after the wedding. It's the perfect gift for the newlyweds from a friend, (along with a bottle of wine, of course) or as a gift for yourself as it will look gorgeous in your wedding photographs. It even features "something blue", so for those who believe in old traditions, this wine tote may come in handy.  Plus……. wine! 😉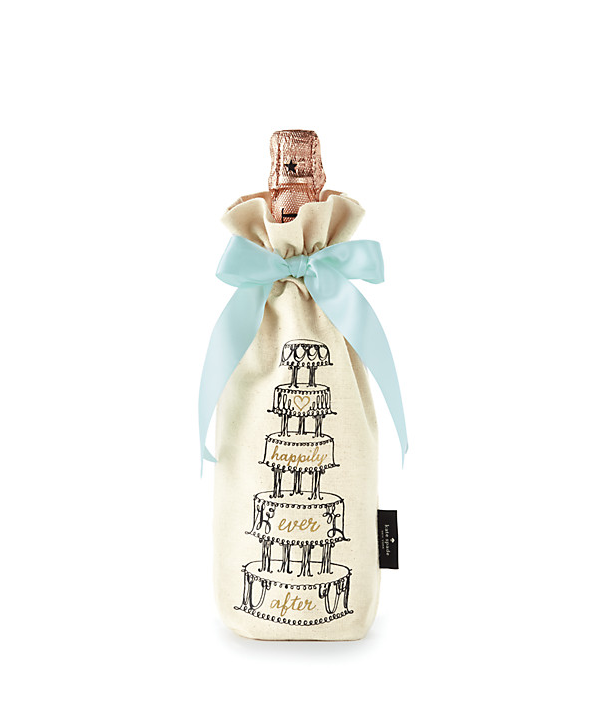 6. Bride idiom bangle
How sweet is this delicate idiom bangle? It's just the right amount of quirky and cute! Perfect for a bride as a wedding day gift or a hens party gift, or even an engagement present for the bride to be. The inscription reads: cue the confetti, cheers! kiss the bride, tie the knot, toss the bouquet, cut the cake, and the inside reads: happily ever after. So cute. Take my money!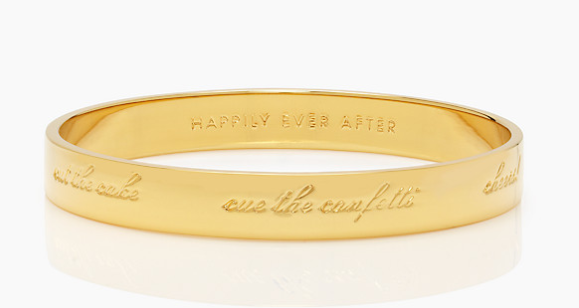 7. Bride2be Notebook
Ideal for wedding planning, this Bride2be notebook features an adorable numberplate look. This is where you could write your vows, keep vendor lists and even work on your draft guest lists or seating plans. If you're more of a "pen to paper" lover, then this is the ideal way to kickstart your wedding planning and get organised for the next (and very exciting) chapter of your life.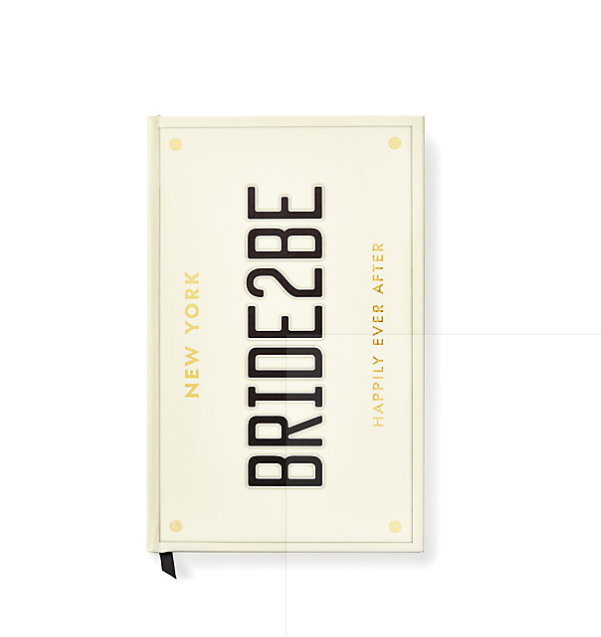 8. All that glistens ring holder
Everyone who is now sporting some daily wedding ring bling needs a ring dish or ring holder! This is the perfect addition to your bedside table that will be sure to make you smile on a daily basis. Plus, cute, cheeky quotes never go astray!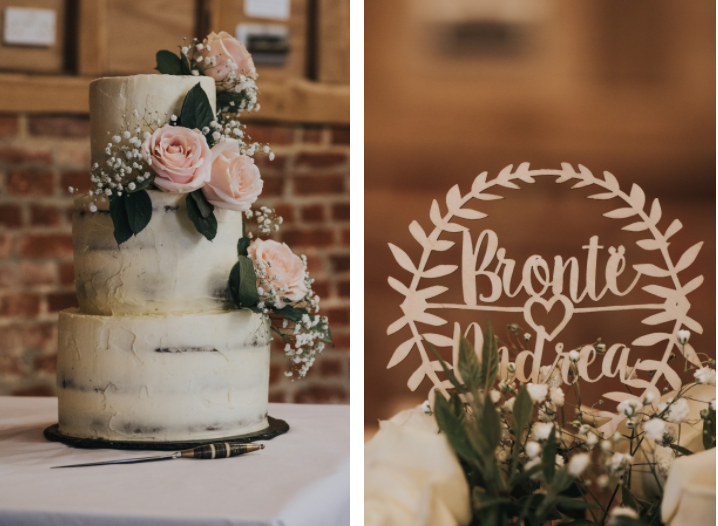 9. Daisy place love you more mug set
These beautiful porcelain mugs would suit couples of any gender, so they have our tick of approval! These would make a great engagement or wedding present from a guest, or a lovely thing for you to buy yourself or for your partner as you settle into your new life together, assumedly drinking lots of tea or coffee together! We are in love with the romantic font and the beautiful gold trim. And best of all, they are dishwasher safe so you need not worry about handwashing them!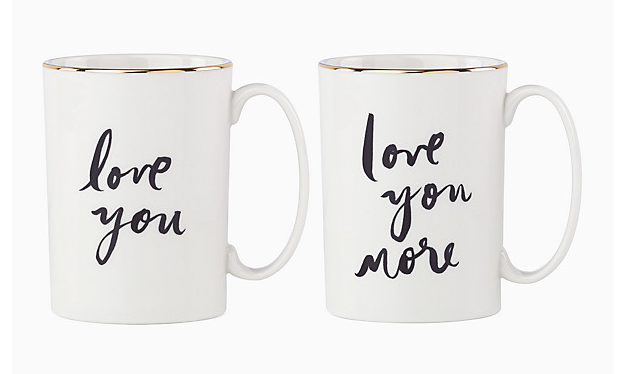 10. Charmeuse Chemise
Perfect to go under your bridal robe on your wedding day while you get ready, this white and floral chemise is delicate and sexy. The beautiful slip would also not go astray on the honeymoon or as sleepwear long after you're married to bring back those happy wedding vibes back into every single day!  If you're looking for some beautiful wedding lingerie to wear under this, check out our lingerie section.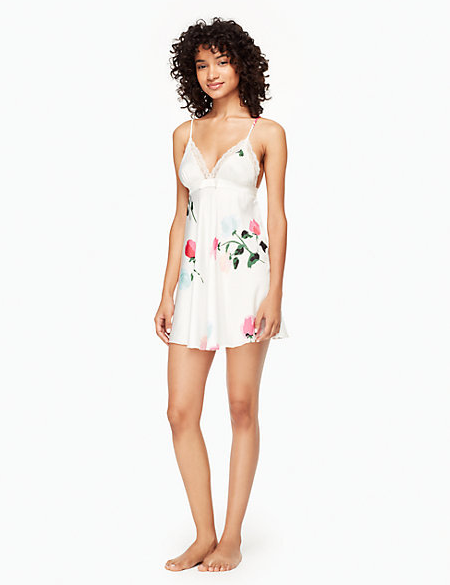 So, there you have it! 10 gorgeous Kate Spade items for all of those bride-to-be's (or grooms-to-be) that absolutely love perfectly quirky and cute products like we do. While you wait for your parcels to arrive, why not start planning your wedding?