The exchange of gifts between bride and groom is a time-honoured tradition, however, not everyone does it. There are many couples who agree that the cost of a wedding outweighs the need to give each other bride and groom gifts, and some even feel that the marriage ceremony is enough of a symbol of love and commitment, without having to show it with a gift as well.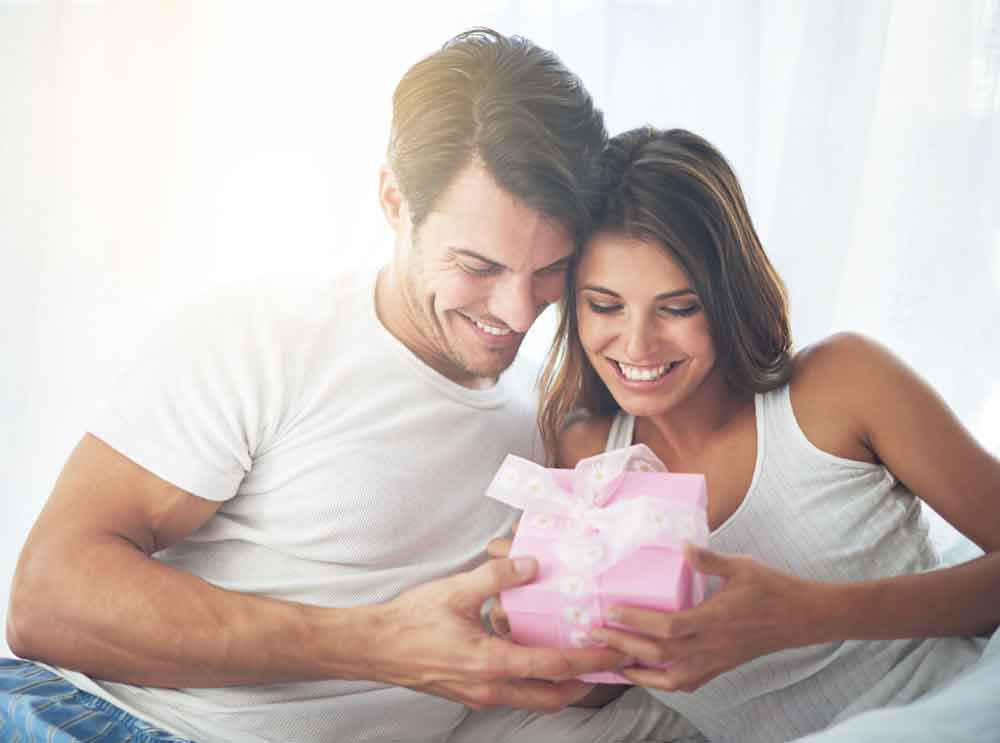 Arguing in favour of bride and groom gifts, a recently married friend told me that opening the earrings her husband bought her on the morning of the wedding was one of the special moments of the day. She had felt that the wedding had become more about their guests than about her and her fiance. Opening his present and reading the note that came with it helped her to focus on what the wedding was really all about; their love for each other.
What type of gifts should we give?
Although your gift should have more sentimental value than monetary value, you will probably want to choose something that will last forever, so it should be good quality. Your gift should also be timeless so that it doesn't go out of style a couple of years down the line.
Many couples choose to buy each other jewellery; perhaps a necklace or bracelet for the bride, cufflinks for the groom, or a watch for either. Gifts of jewellery could be something to be worn on the wedding day itself, but you will need to discuss this beforehand so that you and your fiance don?t buy other items of jewellery to go with your wedding outfits.
If you are looking for a romantic gift, but are on a tight budget, something like a photograph of the two of you, or a printed love poem, in a beautiful frame can make a great gift. You could even just write letters to each other to be opened on the morning of the wedding and kept as a reminder of the love you feel for one another.
You could always choose something practical, such as designer sunglasses or a travel guide for your honeymoon. You could even choose something for the house if you are setting up home together for the first time. However, most couples are looking for something more romantic, and tend to leave these presents for their gift list.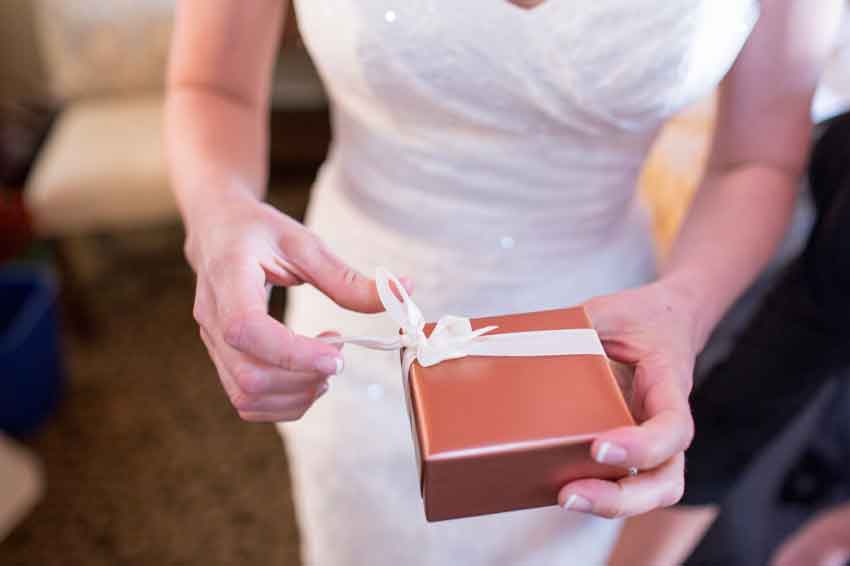 Bride and groom gift ideas
Jewellery – watch, cuff links, earrings, necklace, bracelet
A special experience
Photograph, painting, or piece of art
A new gadget 
Something for the honeymoon
A love letter, poem or song
Detailed scrapbook of all your special moments together
Designer wallet, purse or bag
A couple's photo shoot
Something for your house
A surprise performance at the wedding
A camera
A book which holds sentimental value
A mix-tape of all your special songs
Special note written on the bottom of his/her wedding shoe
A gift box of his/her favourite things such as lollies, chocolates, candles, or even a 'survival pack' to get them through the day ahead
Relaxing spa treatment
Surprise fireworks display at the wedding
When should we exchange gifts?
When you choose to exchange gifts will often depend on the type of gift you are giving. If you are buying each other something to wear to the wedding itself, such as jewellery and cufflinks, you will need to exchange them before the big day.
Assuming you are sticking to tradition and not seeing each other the morning of the wedding, you could exchange gifts the previous evening, just before you go your separate ways.
A lovely alternative is to give the gifts to the best man and bridesmaid to be given to you the morning of the wedding, while you are getting ready. You could include a note with the gift to let your fiance know you are thinking about them as you prepare for the big day.
Some couples wait until after the wedding to exchange their gifts. The wedding night is a very romantic and intimate time to exchange your first night gifts. Alternatively the first night of your honeymoon could be the ideal moment. You don't necessarily have to agree a time to exchange presents with your fiance, but if you want to wait until the honeymoon, maybe let him know so he doesn't think you've forgotten his present entirely!
As with most aspects of your wedding day, the exchange of gifts is entirely optional and you should do whatever feels right for you and your fiance. If you do give each other presents you will have a treasured keepsake to remind you of your wedding day, but if you don't their will be many other reminders such as your rings, your photos, and most of all each other.