We love the industrial wedding trend, particularly when it comes to decking out your wedding venue.
Industrial weddings allow you to create an amazing and unique space for you big day with what is essentially a blank canvas, and there are so many different ways that you can use the space.
From moody boho vibes to clear and clean pastels, acrylic features or quirky geometric designs, having your wedding in an industrial space can make it stand out to your family and friends. Plus it's a great way to really put your own spin and style on your wedding to make it more about you.
Here are some of our favourite ways to add a bit of unique design to your industrial wedding space and quirk up your big day.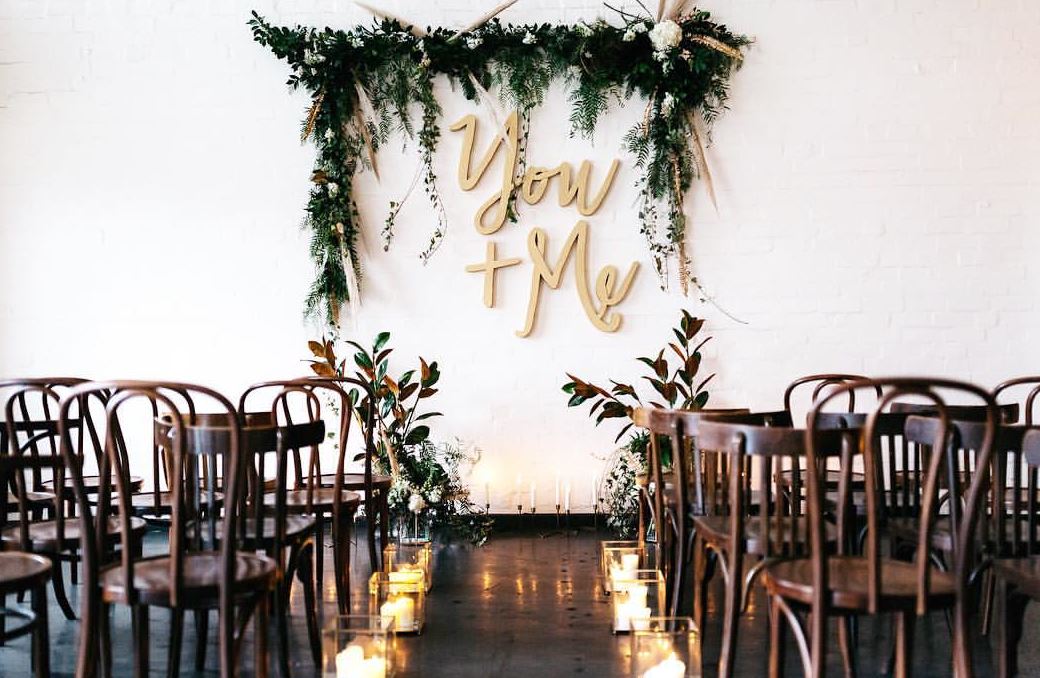 Lighting features on the floor
Where we're seeing greenery take to the ceiling, we're seeing lighting make its ways to the floor! Low lighting features can really help create a gorgeous frame for your wedding day and make the most of that large and stunning warehouse and industrial space.
Whether it's golden vessels filled with fairy lights or high vases with candles (just make sure no one knocks them over!) you can get some truly stunning lighting features gathered together on the floor to complement your higher features.
These floor lighting features also help to add areas of light or shadow to your venue if you're going for a moodier theme.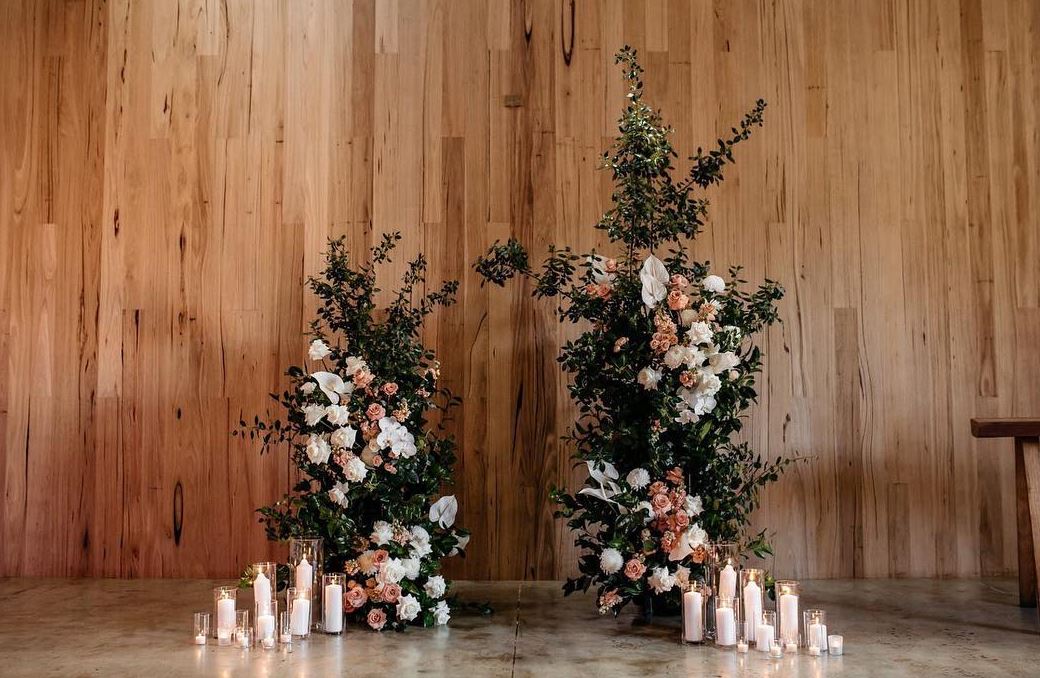 Bold pops of colour
When you're working with a blank canvas like an industrial venue then you often have a lot of blank white, brick or even wooden walls to work with. These simple backdrops can be the perfect match for a bold explosion of colour.
If you're having a wedding that's a bit more colourful make your décor stand out by using different colours and textures to the industrial vibe. This gives your guests a gorgeous statement and focal piece when they first walk into the room.
Make sure than when you are working with pops of colour you select a few complementary colours and add them as pops rather than going too over the top. You want to make sure your design comes together to complement itself, rather than looking too 'bitsy'. Consider adding different shades of the same colour or even metallic to get around having too many colours in the one place.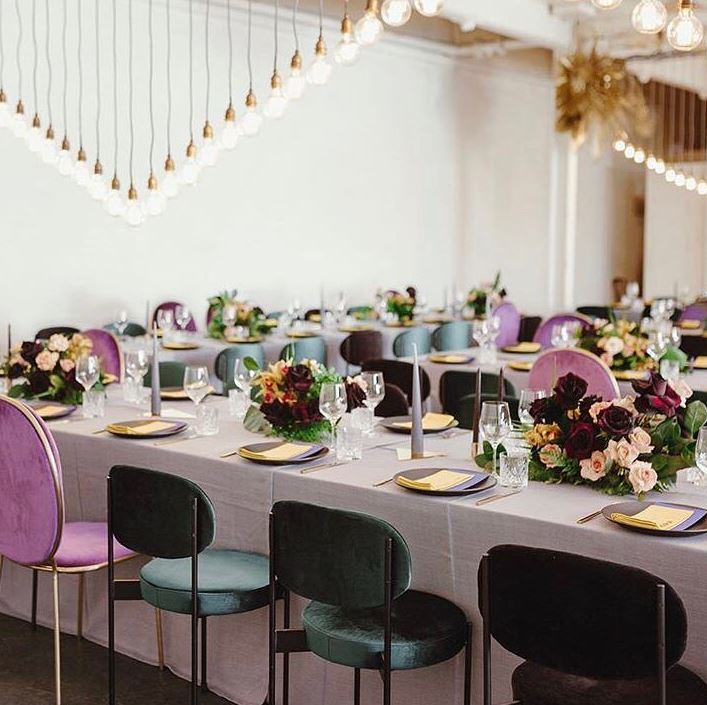 Succulents and cacti
Green or coloured succulents or even feature cacti are very in at the moment and are a stunning addition to the simple backdrop of an industrial venue. You're working with a blank desert-like space so it makes sense to add some desert-like features in nature!
You can also add different coloured succulents to give that additional pop of colour against your backdrop, whether you're looking for something with a reddish tinge or a pop of green up against a white backdrop.
If you are working with cacti though make sure that they're sitting in a space that's a bit out of the way. The last thing anyone wants is an unwelcome prick at a wedding!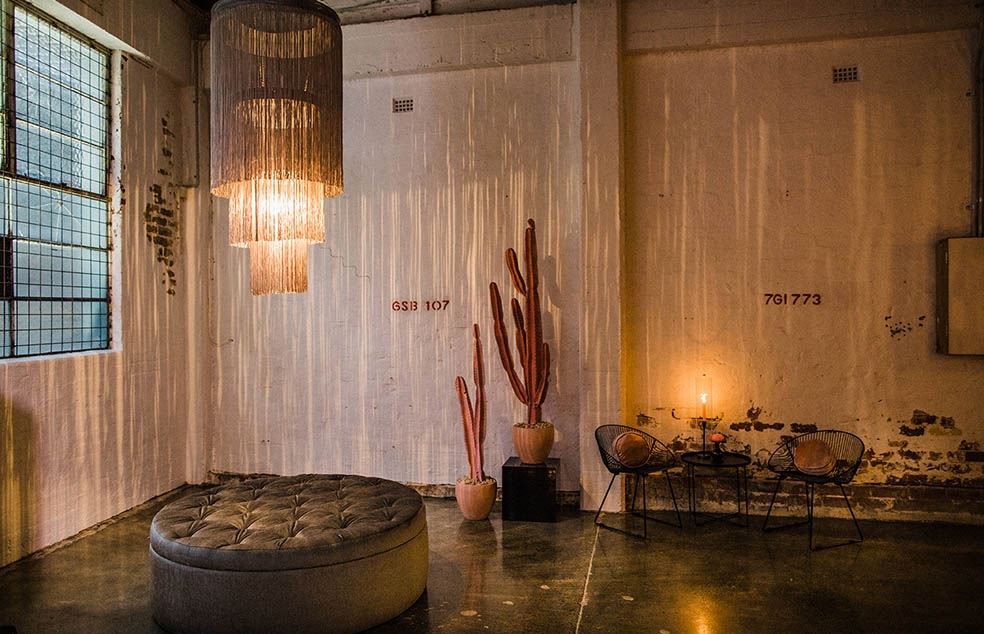 Native features
If you're not having succulents or cacti, we recommend going down the native greenery path. These native features will make a stunning addition to a simple warehouse-style space.
You've also got a lot of different spaces to play with, particularly when it comes to industrial roofing. Hanging installations are a particularly gorgeous option here and can really make the décor stand out and come together.
Greenery is particularly effective when it comes to larger white spaces or venues with wooden or brick features.
Larger natives such as proteas can also be extremely effective to help fill up your larger space.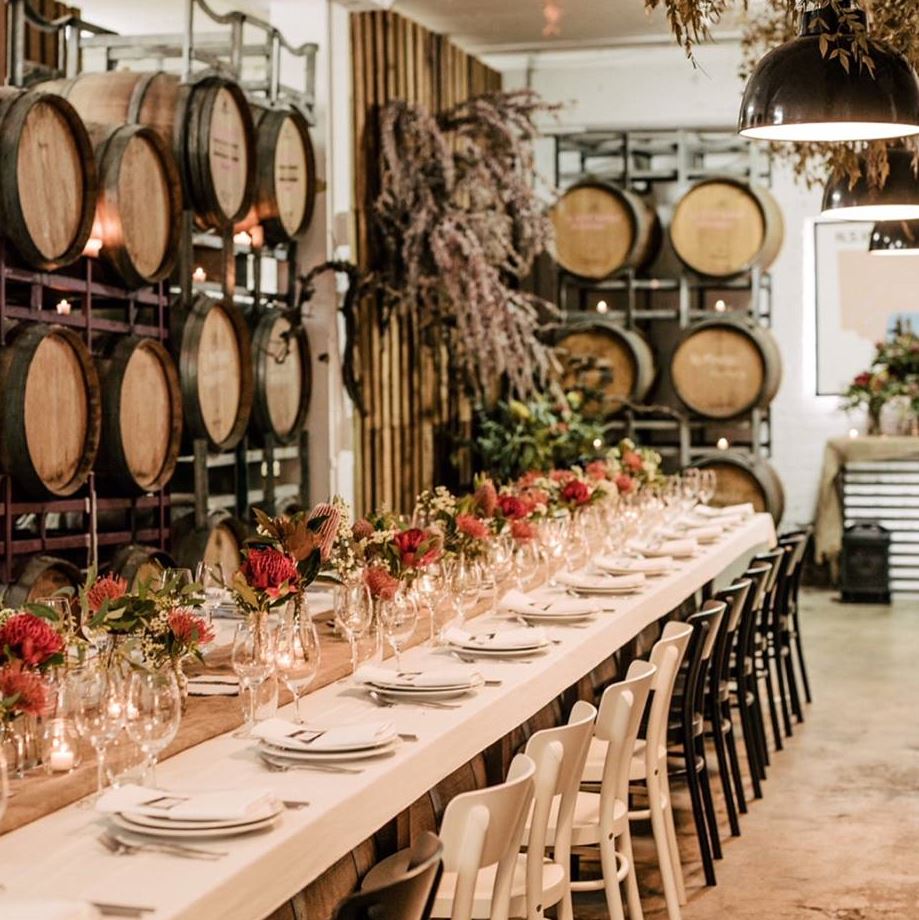 Alternative seating
If you're having an industrial wedding then don't be afraid to play with the seating arrangements! More casual bohemian-style seating, such as couches, groups of seats, or even crate seating, can look gorgeous in an industrial setting.
If you're going for more traditional seating then see what goes with the style of your venue. Will bench seats really hit the pace, will acrylic seating stand out, or is a bentwood café chair going to bring it all together. Consider what colours and styles you're playing with when it comes to your seating arrangements as well as your actual seating!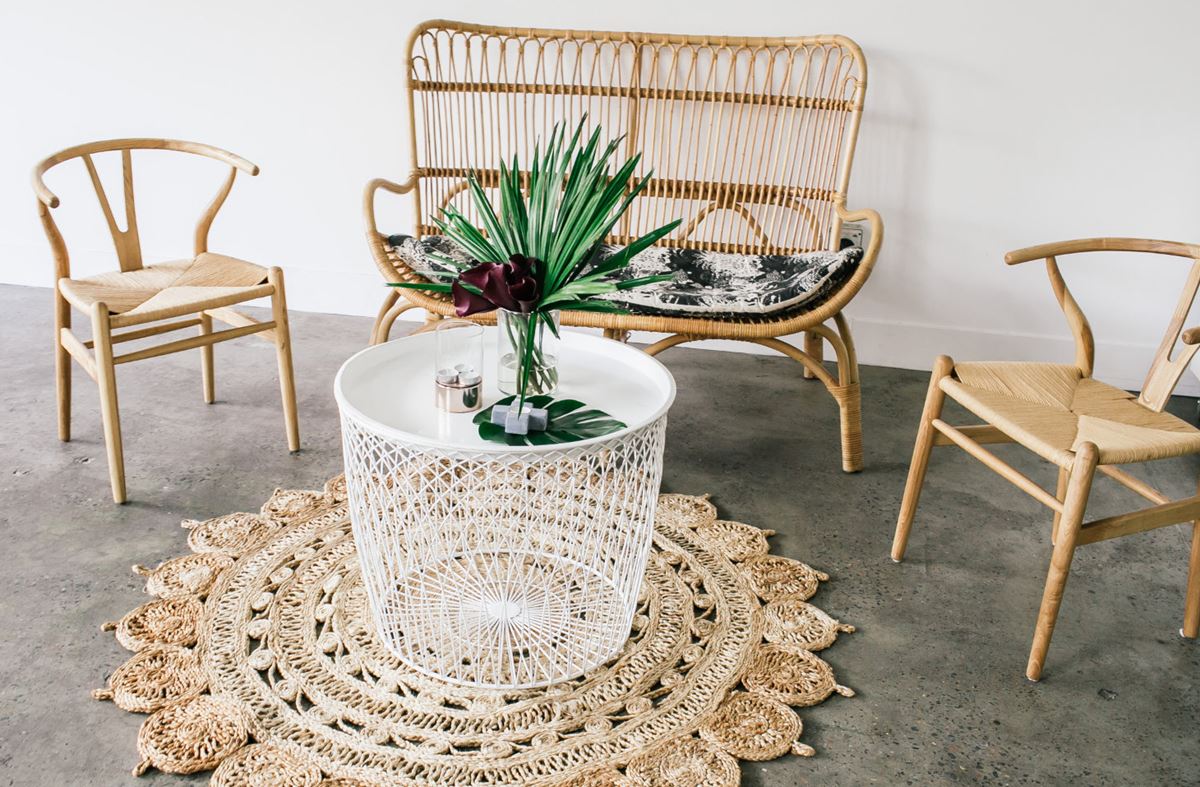 Neon lighting or sign features
Nothing quite says 'commercial' like a neon sign. Now becoming more and more popular for weddings, neon features can add that little bit of colour while also making a unique focal point for your wedding day.
Neon will look extremely effective against the blank canvas of your wedding, and helps with the 'less is more' theory when it comes to decking out a larger space.
It's also another stunning way to create a moody element with your wedding, to pair the bright neon against the shadows and colours across your wedding.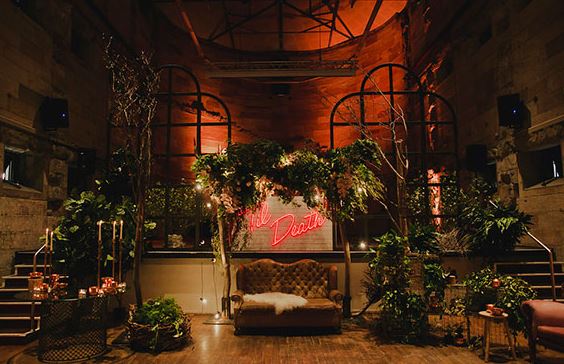 Lighting installations
When it comes to lighting you also want to make sure this stands out. Like hanging installations of greenery, interesting lighting features can also help capture the eyes of your guests.
Rather than simply having fluorescent lighting look at moody lighting created by festoon features or lantern-style lighting. Festoon lighting is really complementary to the industrial theme, but you can also go for decorative filament lighting or large modern light fixtures that style with the décor.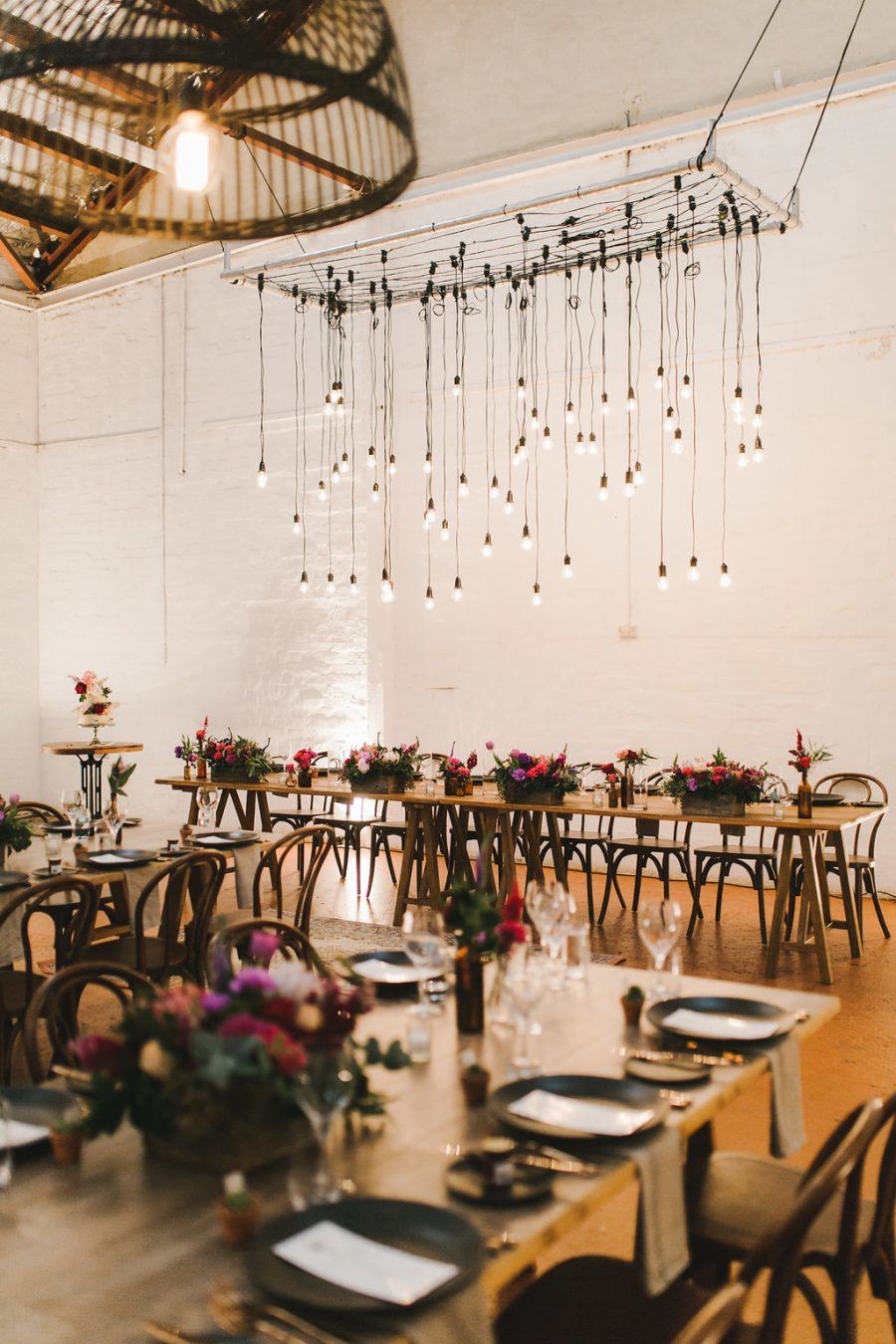 Geometric designs
Work with the quirky space of your industrial venue by adding geometric designs into the mix. Unique chair stylings, triangle or geometric arbours, or even unique features around your venue will all add to the quirkiness and styling of your wedding.
Metallics will work particularly well for this if you're working with brickwork, a white blank canvas or even wooden features.