India is a very diverse country with a rich heritage and culture, and Indian wedding music tends to vary greatly between the regions. India also has a number of different religions, including Buddhism, Jainism, Sikhism, Islam and Christianity. However, by far the most dominant religion in India is Hinduism, so we will concentrate here on Hindu wedding music.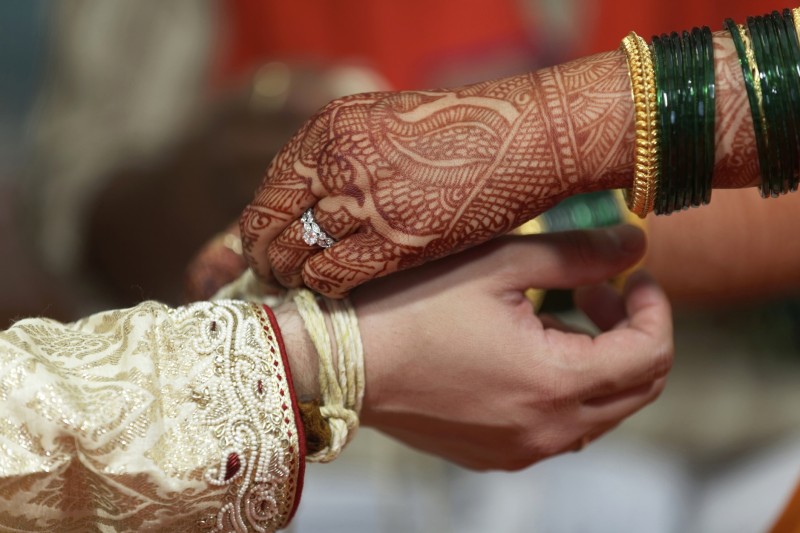 Hindu wedding ceremonies last for five days and consist of a number of rituals, most of which have certain types of music or wedding songs associated with them. These can be traditional pieces of music, folk songs, or contemporary Bollywood hits. Here are some of the elements of a Hindu wedding along with the music played or sung at them.
The Sangeet ceremony is when all the female members of the bride's family, along with female family friends, come together. They sing traditional celebratory songs about the bride's future life with her husband. The songs may also poke fun at the groom's family a little.
The Mehndi ceremony is the time when Mehndi, or henna is applied to hands and feet of the bride. It is believed that the bride should do no work in her marital home until her Mehndi fades. This ceremony includes traditional music and songs, usually accompanied by a Dholak.
The Baraat ceremony is a type of procession that marks the arrival of the groom at the wedding venue. His friends and relatives known as 'baraati' accompany him on his way to the venue, and they are usually joined by a band which plays traditional music for them to dance to along the way.
The Vidaai ceremony is when the bride is separated from her family, and the lyrics of the songs sung during the ceremony reflect this sad time, but the hope of the family for her future. The groom's family also sings songs to give the bride a warm welcome into their family.
Bands for Indian Weddings
Because Hindu weddings go on for so long it is likely that there will be a number of different types of music and various bands or groups playing. Traditional groups that play Indian classical music tend to include instruments such as a sitar, tabla, tempura, dhol, and tumba. However, modern Indian weddings may include a DJ playing contemporary music as well as the more traditional aspects.

Including Bollywood Hits in your Wedding
Many Indian weddings now include modern Bollywood movie hits that are relevant to weddings. Here are three popular songs along with their significance:
The song 'Babul Ki Duaayein Leti Ja; from the movie 'Neel Kamal' tells the feelings of the bride's father when she gets married, and shows how much he will miss her.
The song 'Joote Dedo Paise Lelo' from the movie 'Hum Apke Hain Kaun' is a popular choice to accompany the Indian custom where the bride's sisters steal the groom's shoes and won't return them until he plays a ransom.
The song 'Mehndi Laga Ke Rakhna' from the movie 'Dilwale Dulhaniya Le Jayenge' is often sung before the wedding during the Mehendi ceremony where the bride has henna designs painted on her hands and feet.
Here are another fifteen popular Indian wedding songs.
Cham se wo aajaye
Aaj hai sagai
Kala sha kala
Saajan Ji Ghar Aaye
Shaadi Tujhse Karoonga
Mera Piya Ghar Aaya
Mere Hathon Mein No No Chudian Hein
Dulhan Hum Le Jayenge
Mehndi Laga Ke Rakhna
Mere Yaar Ki Shaadi Hai
Utha le jaaonga
Chal Pyar Karegi
Badhaai Ho Badhaai
Banno Rani Tumhain Syani
Palki Mein Hoke Sawar Chali Re
---
80% of Australian couples use Easy Weddings to connect with their dream wedding suppliers.
Browse the directory and start planning today!