It's time to choose your formal wear! But while for brides it's easy to talk about buying a dress, for grooms there is a bit more choice.
The decision of whether to hire or buy a suit for your wedding will change depending on what style of formal wear you're wearing as well as what you have planned after the day. After all, finding the right formal wear is just as important as the right dress!
There are three major options for grooms when it comes to their formal wear. You can hire, buy off-the-rack, or have something custom-made. What you decide to do can depend on what you want to wear on the day. So if you're not sure where your vision fits into this, here are some tips of what other couples do in the leadup to their wedding.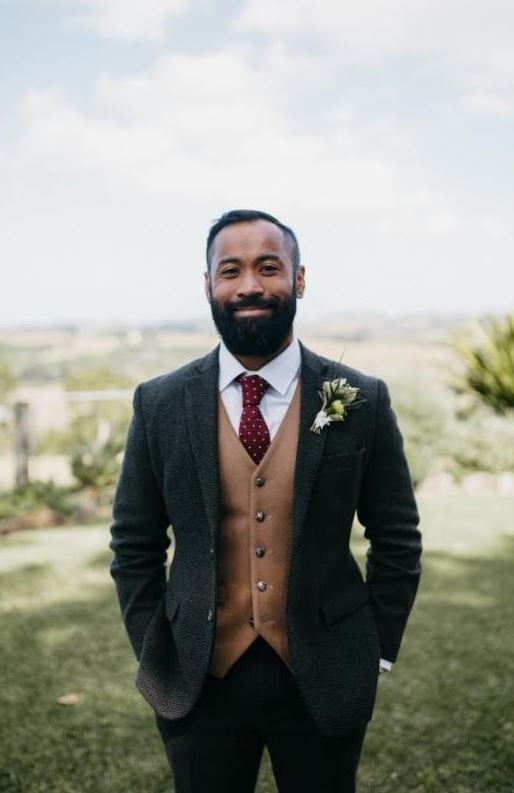 What will you wear?
The first question you want to ask yourself is what style of suit or formal wear you're looking for. The most popular option is the pant and suit jacket look. This is easily accessible and will be comfortable for the groom who may not always be comfortable wearing something formal. There are also plenty of different ways you can play around with this option to make it more or less formal.
For a step up there's the three-piece suit which will include a vest. Although less popular, three-piece suits are well suited (sorry!) to a more formal ceremony, with the option of going more casual. You could stay formal all day in a three-piece suit. Or, have a formal ceremony with the works and ditch the jacket later on for a more casual vest-only look.
Tuxedos are another popular option, particularly for elegant or luxury weddings. These usually include satin and are for the groom who really wants to go that extra mile to look formal and isn't afraid to wear something extra elegant. If you're not someone who usually wears a suit, then a tuxedo could almost be a bit daunting. So make sure you see how comfortable you feel with the extra formal look.
Of course, there are many different options for styles when it comes to choosing your suit but these are the three major categories that most formal wear will come into. But whether to buy or hire?
The biggest question you should ask yourself is: will I wear it again?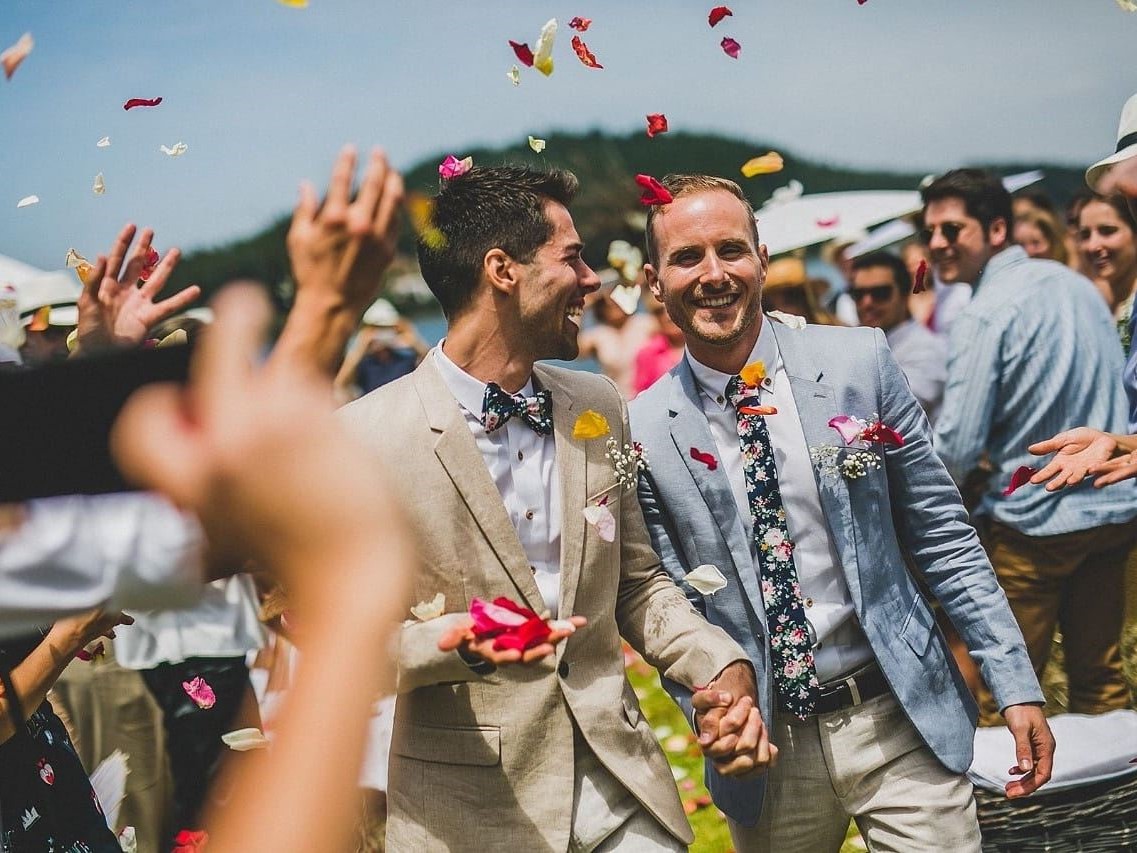 Hiring a suit
Hiring a suit is a great option if you're not someone who wears a suit often, you already have enough suits, or you're wearing something that you're not likely to wear again. In fact, 18% of all grooms say they will be hiring a suit for their wedding.
Three-piece suits or tuxedos are generally good options to hire as they're less likely to be worn again in everyday life.
Hiring can also be a good option if you're on a budget but want good quality. Some hire suits are better quality than cheap purchase suits and will get you a better look without the price tag.
Pros
An affordable option for more formal suits
Better quality than cheap purchase suits
Environmentally friendly
Cons
Can't be worn again
Can be limited for sizes, colours, styles and alterations
Less cost-effective if you wear suits a lot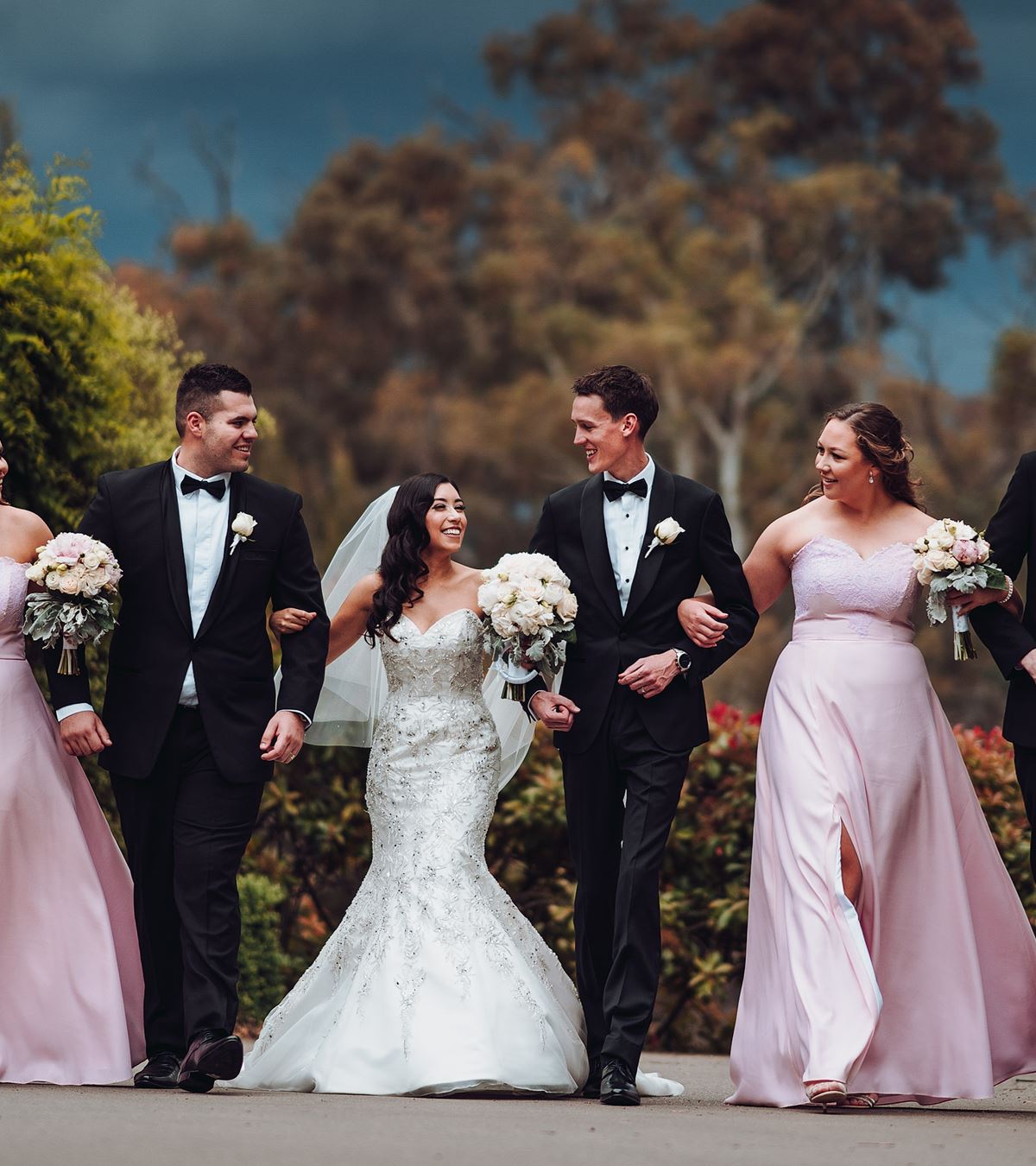 Buying a suit
When purchasing a suit consider what statement you want to make with your formal wear. Weddings are becoming more about couples as a whole and more grooms are opting for their own fashion statement.
If you're looking to make a statement with your formal wear or have something a bit different then custom-made could be the way to go. Custom is also a good route if you often have trouble finding things that fit you properly.
Off-the-rack purchases are great if you're having a more casual wedding and want a suit that can be worn again for less formal events.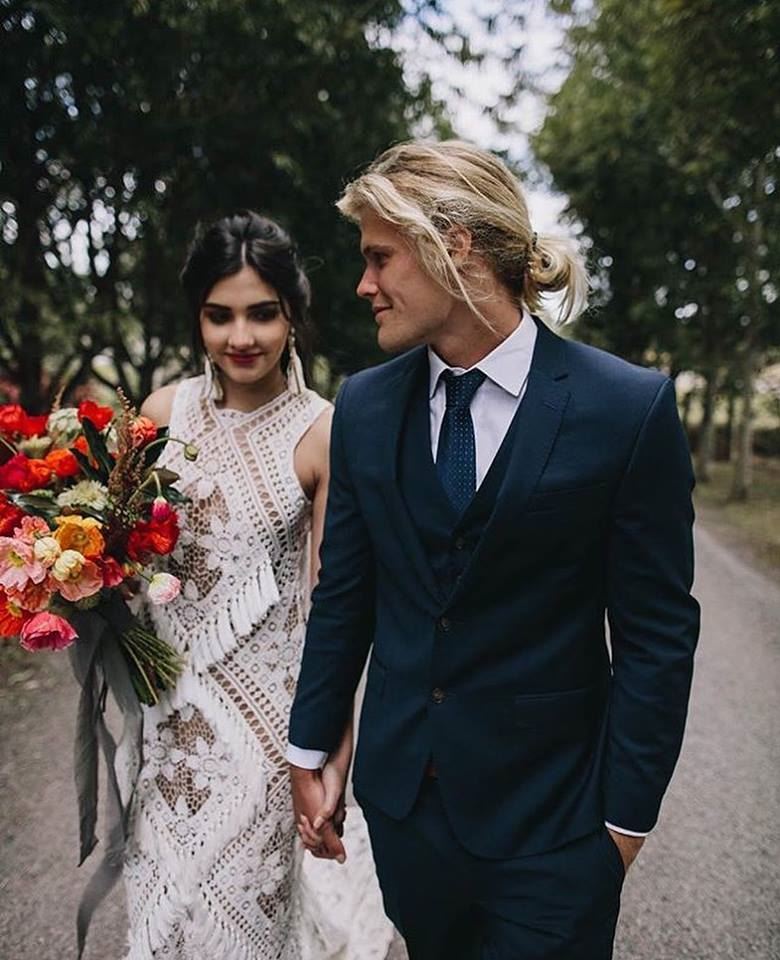 Off-the-rack
57% of grooms say they will buy a suit off-the-rack for their wedding day. This is the most accessible option for most couples and can be styled to different formalities.
Off-the-rack suit purchases can range from the classic black or navy suits to a more standout striped or chequered design. Suits have become more affordable over the last few years but make sure if you're looking for something to wear again you choose quality over cost. It may cost you a bit more at the beginning, but you'll get more wears out of it down the track.
Pros
Easy to wear again
Can be more cost-effective if you'll wear it more than twice
More flexible with alterations than hire suits
Cons
Potentially limited for sizes and colours
Quality will vary depending on the price
Makes less of a statement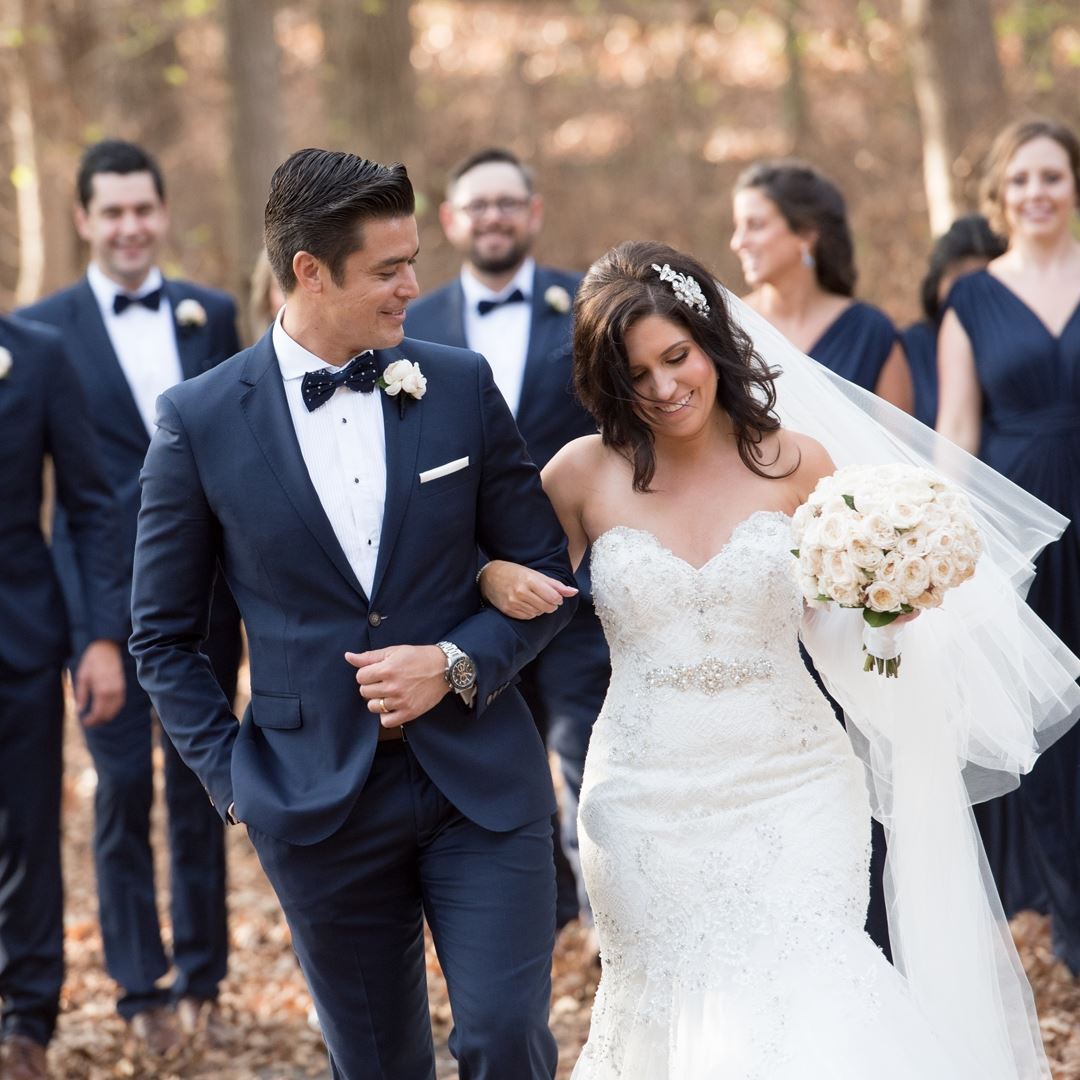 Custom Made
Custom-made suits are perfect for the groom who wants to make a statement on their big day. More grooms are pairing classic black pants with a bold jacket as they make a statement on their day. In fact, a quarter of all grooms will have their wedding suit custom-made. You can even custom-make something you know you'll be able to mix and match with your existing wardrobe later on.
Custom-made designs are perfect if you want to make that statement and have something that you know is that special wedding suit. After all, most brides won't wear their wedding dress again so who says you have to re-wear your wedding suit?!
Pros
Unique and will make a statement
Properly tailored to your body shape so will fit properly
More options for colours and styles
Cons
Not always as easy to wear again
Need to order further in advance of the wedding
Higher once-off cost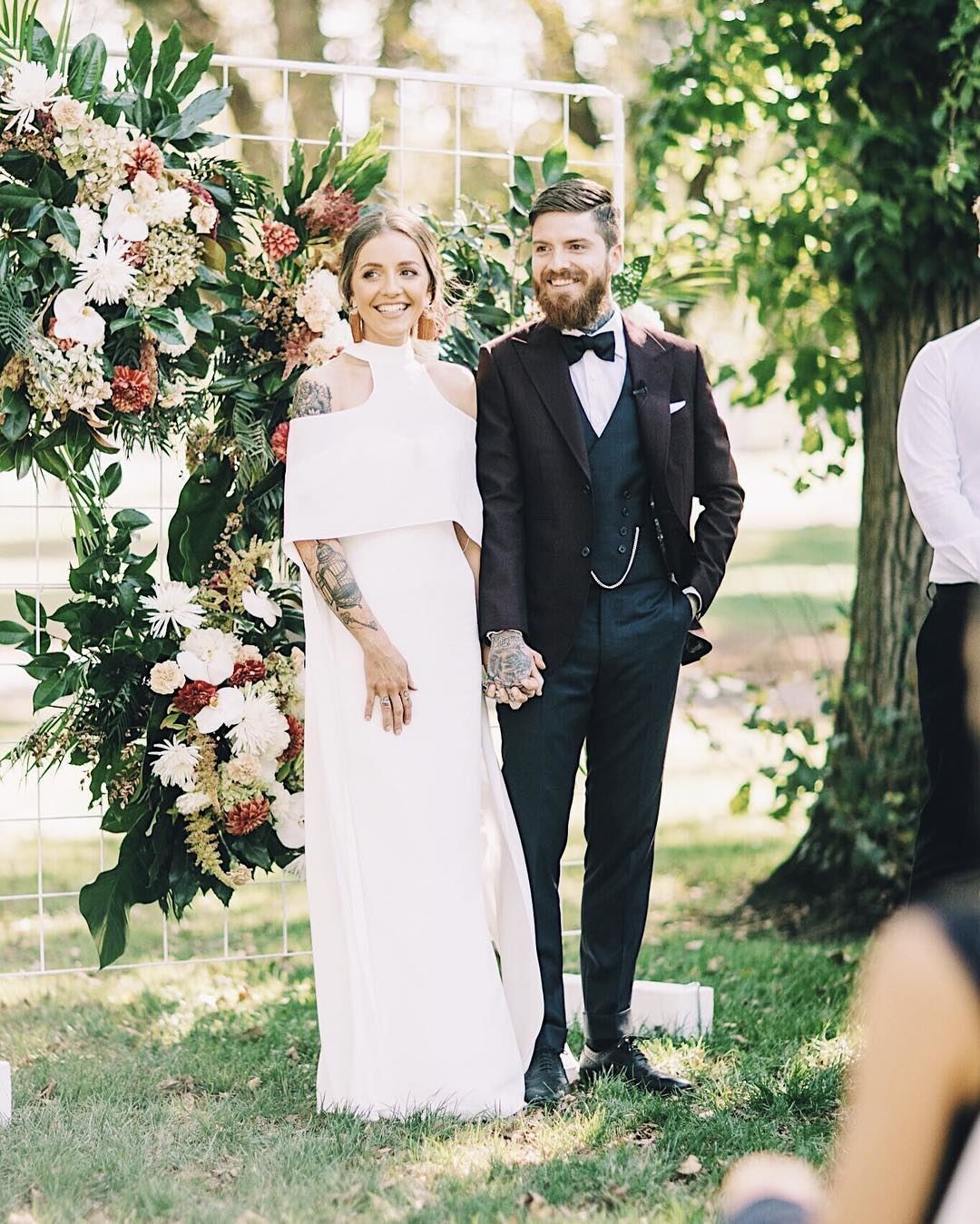 What if I don't want to wear a suit?
That's ok too! You might want to wear something with significance to your culture. Or simply opt for a more casual look when it comes to themes such as rustic or beach weddings.
If you're wearing something cultural that you're not likely to wear again then hire will likely be the most cost-effective option for you. However, custom-made options are also available if you want to make some extra special.
For those not wearing a traditional suit and opting for something like a suit pant and shirt option, or even chinos, then we recommend purchasing off-the-rack. These more casual looks are easier to wear again and pair with other bits of your existing wardrobe down the track.
What about groomsmen?
What you want to do with your groomsmen suits will depend on your budget, how many groomsmen you have, and who is paying for what in your wedding party.
If you have a larger wedding party or are more strict on your budget then hiring suits for your groomsmen could be the best solution for you.
Otherwise, buying a suit off-the-rack in a classic colour is a good option for your groomsmen. This gives them more opportunity to wear it again and gives more value for money if they're contributing to their own formal wear. Remember, even if you're having something custom-made as the groom doesn't mean you need to offer the same luxury to your groomsmen.
If you're less concerned about budget, have a smaller wedding party, or want something more unique, then custom-made suits for your groomsmen are also an option.  Just remember to chat to them about costs if they're contributing themselves. And have fittings and sizings organised well in advance if you're having a few suits made at once.