Whether you've been tasked with planning a hen's party or are trying to figure out if you want (or need!) a kitchen tea, we've got you. Here, we explain the difference so you know exactly what celebrations you want to partake in.
Hands up who hasn't the faintest idea what the difference between a hen's party, kitchen tea,  and a bridal shower is? It's a confusing topic, awash with many traditions, presents, games, and expectations, which is why we've decided to break down exactly what you need to know about each. And because we're all about news you can use, we've also compiled a list of actually-fun ideas for each event. Prego!
Need hen's or bucks suppliers? We got you.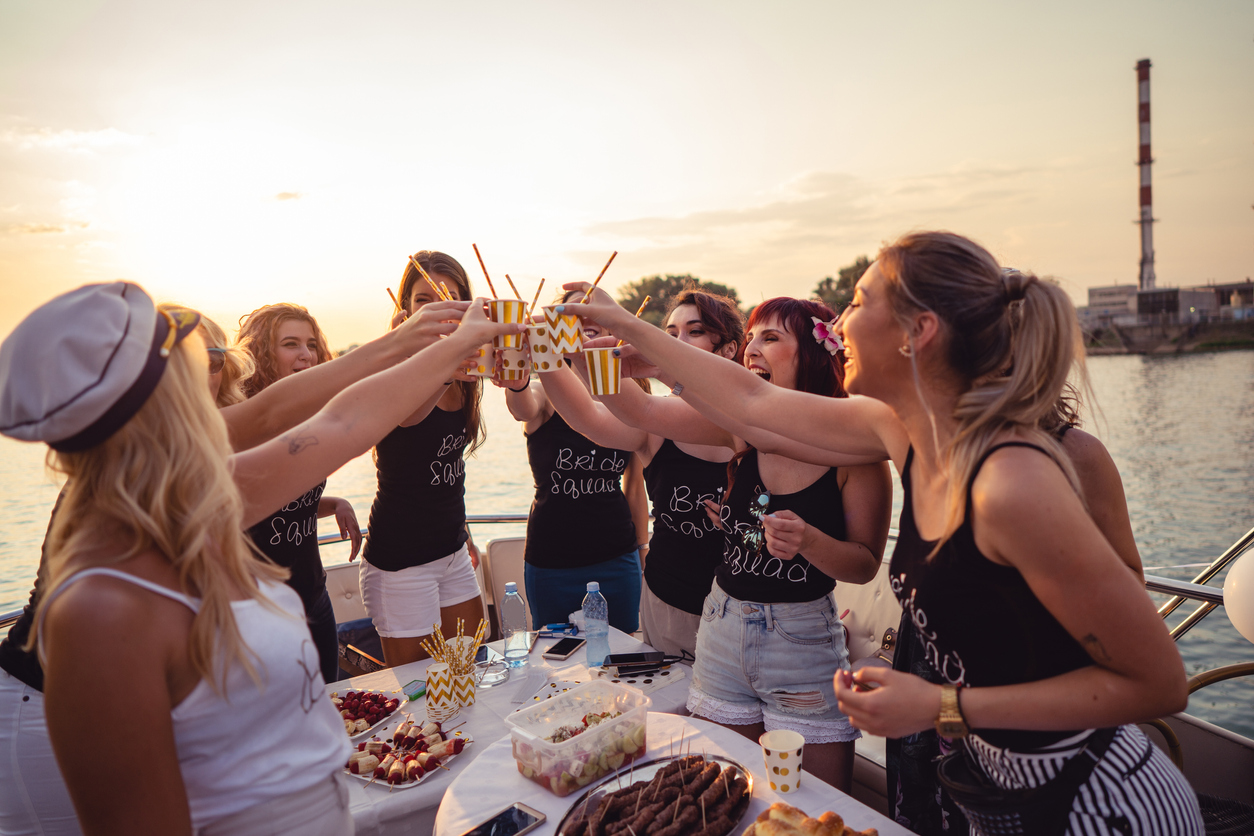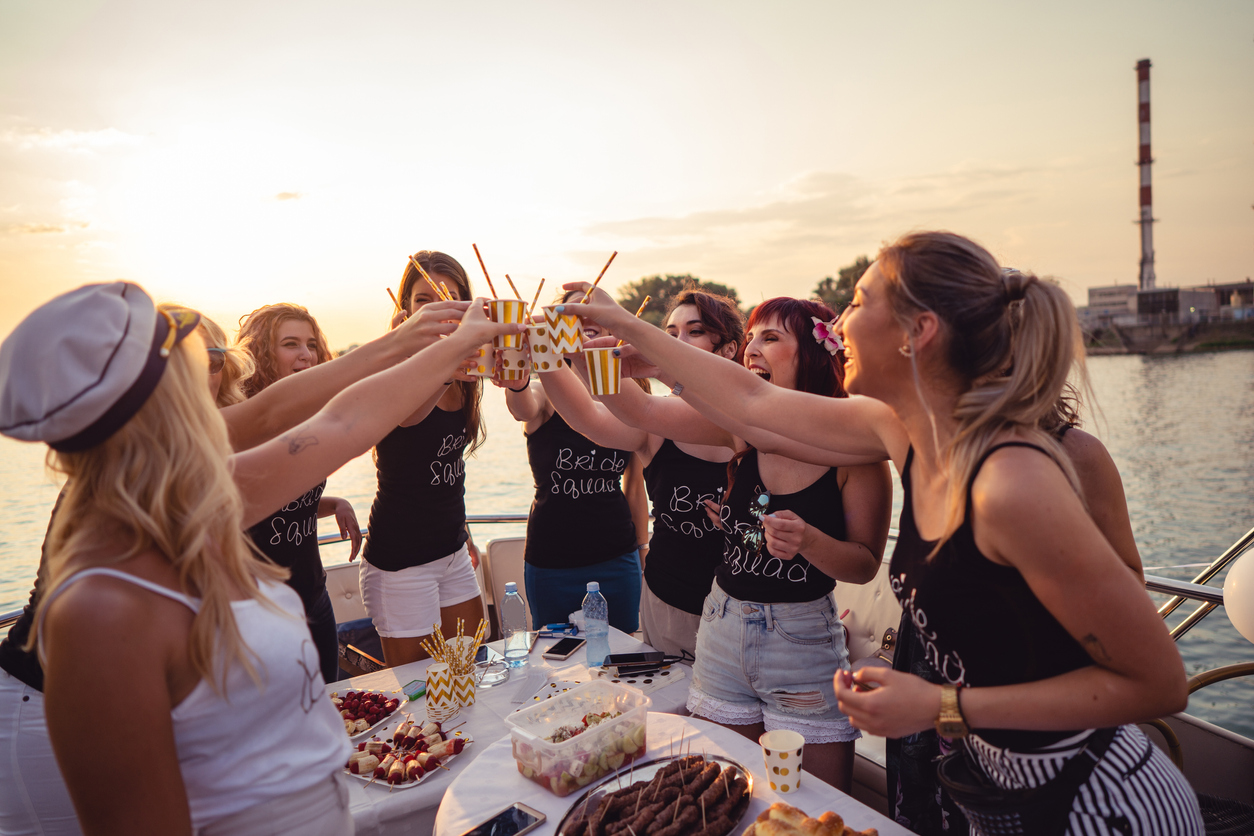 What's a hen's party?
A hen's party or bachelorette party is a celebration for someone about to get married, typically a bride, held in the weeks or days before the wedding. It's often touted as a 'last hurrah' for said bride and yeah look, we're not going to sugarcoat it: it usually involves some kind of cringe-worthy outfit or embarrassment on their part. Think a veil made of toiler paper, penis-themed decorations, and being pulled on stage at the strippers to fake… well, you know.
Having said that, many brides are opting out of the traditional activities in favour of something more to their liking, such as karaoke and cocktails (need help finding an amazing mobile bar? These mixologists and mobile bars are cute), laser tag, or high tea. The occasion is usually coordinated by the maid of honour with help from the bridesmaids, and invitees often contribute a portion of the cost of activities.
Hen's party ideas.
After some hen's party ideas that your hen and guests will love? If you're planning a hen's for your friend, ask them what they would like to do first and don't organise anything risque if they're not down for it. Remember: the day/night is about them. Have a peruse of these bad boys for inspiration:
A winery tour
A spa day — you cannot go wrong here
A booze cruise
A high tea
Bottomless brunch
A cooking class
A dance class in their favourite style
Cupcake decorating
A musical or show
Dinner (a degustation, maybe?), cocktails, and karaoke
And yes, the strippers are an option
Hunting for more ideas? We've compiled a list of hen's party suggestions from real brides right here, lovely.
Fun Hen's Party Ideas everyone will love
What's a kitchen tea?
Hear ye, hear ye, gather 'round, because we are about to detail a tradition supposedly dating back to the late 1800s.
A kitchen tea is a celebration usually held at the bride's house or her family home and is MUCH tamer than a hen's party.
Usually, the bride's nearest and dearest — including older relatives who may not want to attend penis-themed occasions — come to this event. Guests are commonly asked to bring a recipe and something for the bride's kitchen, like a bowl, pot, etc etc — something from House, really.
The rationale behind this is simple: It was less common for women to live with their partners before marriage and hadn't yet set up their home. These days, it's a fantastic way to nab stuff you want for the kitchen, like an air fryer.
Kitchen Tea games.
Quiz guests to see how well they know the bride.
Before the event, ask the bride's partner a set of questions (favourite movie, who made the first move etc). On the day, ask the bride what she thinks the answers are.
Make a list of things you might find in handbags (keys, bobby pins, etc), and then work your way up to items that are a little less common (a muesli bar, ticket stub); each item is worth a certain amount of points. Once all items have been read, whoever has the most points wins a prize! N.B. This is also a great way to find out which of the bride's friends hasn't cleaned out their handbag in a while…
Can't be bothered cooking? Suss catering here
What's a bridal shower?
Oh, you will love this one. A bridal shower is very similar to a kitchen tea except instead of receiving kitchen-themed gifts at the intimate celebration, the bride is showered with items for the whole house. Hence the name.
So, feel free to set up a gift registry with that new Dyson vacuum you've been eyeing off, lovely — this is your special day, after all.
Bridal showers are also a relaxed way to introduce both sides of the family before the wedding, sans awkwardness. Aim to host these roughly two to three weeks before the wedding.
Bridal shower games.
Would it really be an article on hen's parties, kitchen teas, and bridal showers without a suggestion to play the toilet paper wedding dress game?
Wedding movie charades.
The Find the Guest game is one of the best ice-breakers out. Each guest will be given a checklist, and on this checklist is an achievement or characteristic (e.g. met the bride at a coffee shop, went to high school in Alaska). It's up to the guests to mingle and chat to find out who matches each one. After the game, be sure to smugly pat yourself on the back for getting guests involved in getting-to-know-each-other chats, huzzah!