Traditionally wedding bombonieres are placed on the dining tables at the wedding breakfast for your guests to pick up as they sit down for their meal. They are usually coordinated with the colour scheme and theme of the table arrangements. If you are giving one bomboniere to each guest, it is placed centrally between their knife and fork, and if you are giving one per couple it is positioned in between their place settings.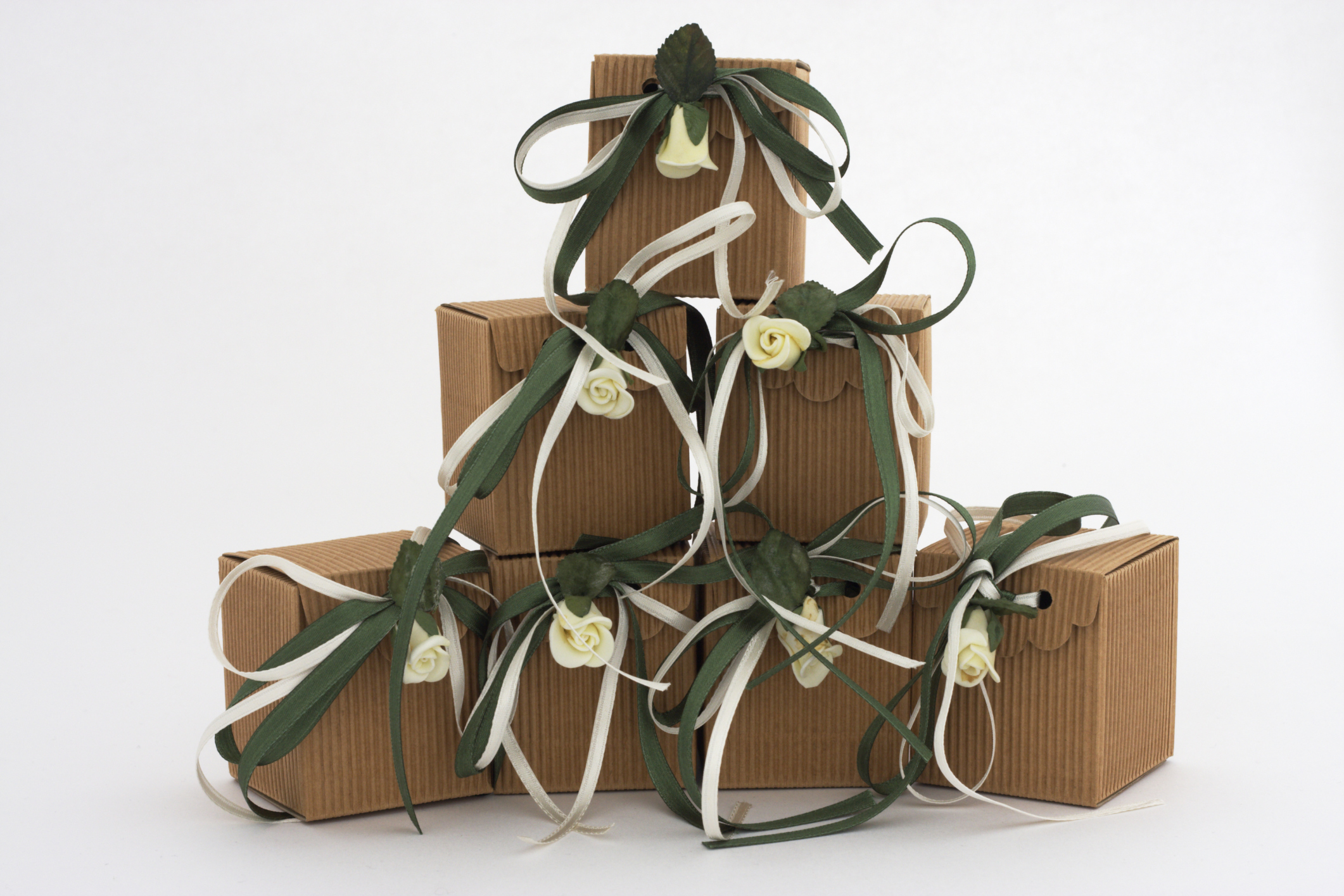 However, as couples are moving away from the traditional five sugared almonds and getting more adventurous with their bombonieres, they are also trying different ways to distribute them. Perhaps you are worried that your bombonieres will get lost or damaged if you just leave them on the tables, or that guests may forget to pick them up. Perhaps you are having a cocktail style reception without a formal dinner, so you don't know what to do with the bombonieres.
Here are four alternative ideas for handing out wedding bombonieres:
Place them at the exit
This is perhaps the simplest way to hand out bombonieres as long as you put them out early enough to catch the first guests to leave. Arrange for a large basket to be placed on a table by the exit with a sign thanking your guests for celebrating your special day with you and inviting them to take a bomboniere as a token of your appreciation. This way your bombonieres stay pristine, at least until the end of the reception.
Serve them with the cake
Whether you are serving your wedding cake as the dessert course of your wedding breakfast or as an accompaniment to coffee at a cocktail style reception, placing a bomboniere on each plate is a great way to distribute them. The bomboniere adds a decorative feature to the plate of wedding cake, and if it is edible it provides an alternative sweet treat to the wedding cake for those guests that aren't cake lovers.

Post them as thank you notes
If you don't want to hand out bombonieres on the wedding day itself, you could combine your bombonieres with your thank you notes and send them out in the post. This would be a great idea if you were giving small photo frames as you could personalize these by inserting a picture of the guest taken at the wedding. Perhaps have someone take photos of each guest with you and the groom during the receiving line specifically for this purpose. Include a note with the framed picture, and be sure to check the weight of the frame and postage costs or your bombonieres could cost more than you imagine.
Use them as prizes
Instead of handing out bombonieres to everyone as they arrive at the reception, use them as prizes and award them to the guest with the best hat, the best dance moves, and so on. This works best for a smaller wedding where everyone knows each other and won't get embarrassed, and where everyone will eventually get a bomboniere; it's not fair if only half of the guests win one. Ask the best man to work out what the prizes are for, and have him or the DJ announce them.