Hugh Grant blitzed his way on to Hollywood's A-list with one of THE wedding speeches of the modern age in Four Weddings and a Funeral. It was sharp, it was funny, it was sentimental and, of course, it mentioned sheep. And there was one more thing – it was written by someone else.
In his case it was a scriptwriter, but these days, more and more grooms and best men (plus the bride and bridal parties) are turning to professional wordsmiths to help translate their sentiments, emotions and excitement into bespoke speeches that are equal parts entertaining, amusing and heartfelt.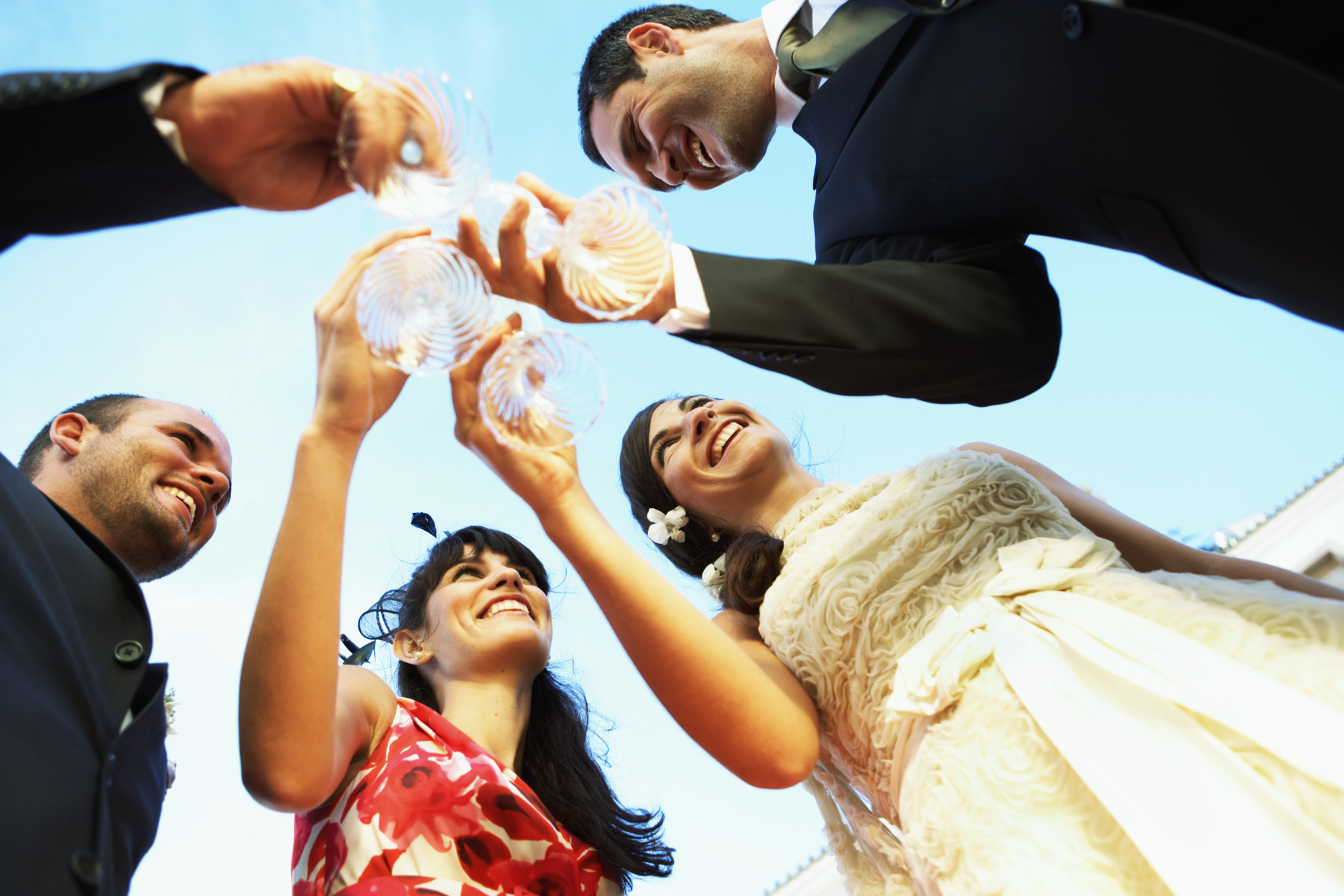 Anita Stevens, the founder and owner of Write It For Me – who specialises in crafting beautiful wedding speeches – understands why.
"A survey done in the UK asked 1000 brides what they regretted about their wedding and No. 1 was the best man's speech," she says.
"And you can understand why. After all, we've all seen them go very wrong, from a best friend who references an ex-girlfriend to the Hangover 2, where Zach Galiafanikis's character of Alan presents an almost textbook case of how not to do it."
Fortunately, the tide is turning, as modern men begin to discover that assistance is available, providing the polish and insight they need to create a speech that will rank among the bride's best parts of the day.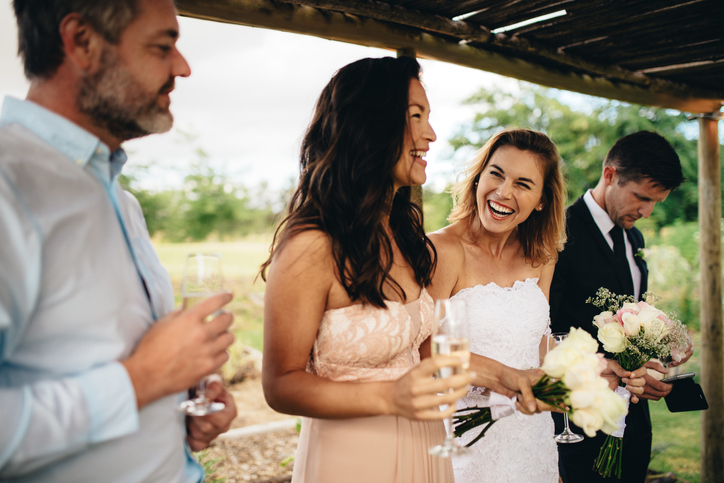 Anita – who offers the reminder speeches are far too important to leave in a rush for the last minute – says helping grooms and best men curate their thoughts into a great speech is as much about storytelling as it is about putting pen to paper.
"The men I speak with want to say the right thing, but they're just not sure how to go about it," she says. "So it's about extracting the essence of their relationship, as this is the foundation of a great speech.
"People want to know how they met their wife, what their first impression was, when they knew she was The One, what they love most about her, and what they're looking forward to most about their life together. That's the sort of romantic stuff everyone loves to hear.
"I also tend to act as a sounding board, where they might say 'I want to make a joke about this' and I can gently remind them, for example, that there will be grandparents and children in the room and that perhaps they might want to rethink, or at least retweak, that plan."
How to start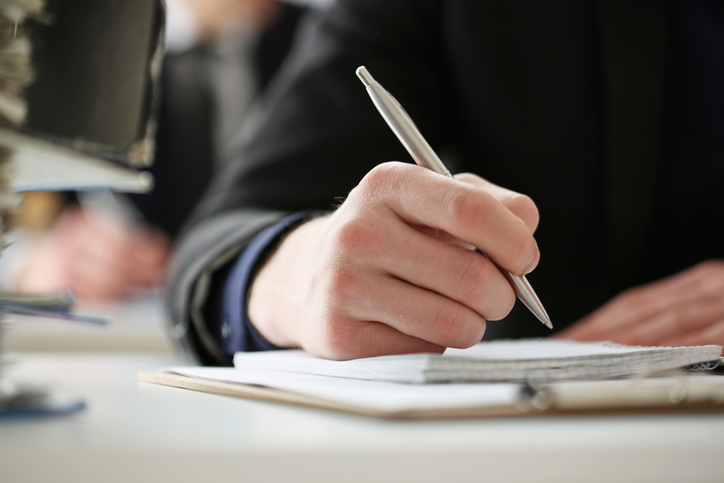 Time wise, Anita – who writes each speech without a template, allowing for adherence to traditional etiquette or something more personal – says about five minutes is the perfect length.
"I don't recommend going over 10 minutes unless you're pretty confident and entertaining, but under two minutes probably means you're not thanking all the people you need to," she says. "So aim for two to five minutes but ideally five to do everyone justice."
She also offers advice to grooms-to-be about inclusions to think about.
What to include
"Every bride wants to be told 'You look absolutely amazing' so this is something that needs to go in," she says. And it can be done without sounding like a passage from a Mills & Boon novel.
Balance is also important, providing a lovely sense of light and shade, so a tender moment can be followed up with a one liner to add a touch of levity.
"Most people want to have a speech that's peppered with a bit of light humour," says Anita. "It's not about being too soppy, but nor is about trying to be wildly funny; it's about finding the right balance between the humorous and the heartfelt."
Here's some other questions to ponder in deciding what to include.
Are there any special people you want to thank?
Are there any guest milestones you want to mention?
Are there any famous quotes or pieces of verse etc you'd like to include?
Are there any stories about your courtship you want to tell?
Are there any guests who aren't with you who deserve a mention?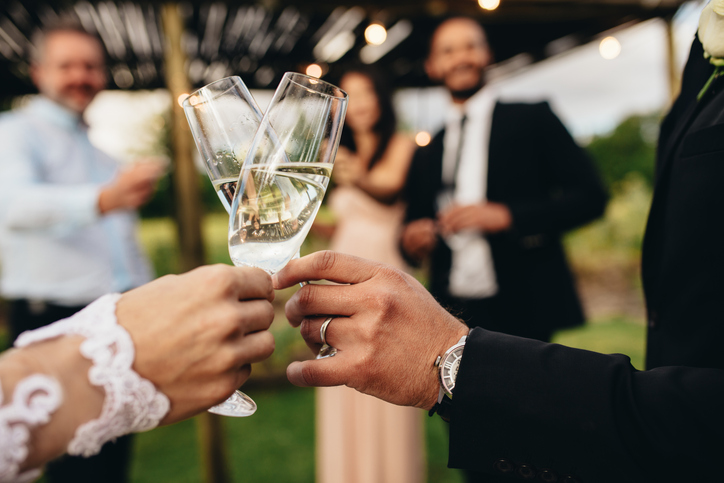 What to watch out for
Anita – who says the memory of a bad speech will linger long after people have forgotten elements such as the invitation design or flowers – says starting with a joke kicks things off nicely.
"Opening with something humorous is a great way to help break the ice a little bit, but it can also be a beautiful segue," she says. "For example, the groom generally hands over to the best man, so he might preface the changeover by paying tribute to his friend, thanking him for his support and then alerting people to the fact that 'He's coming up next and is probably going to crucify me, so don't believe everything he says.'"
Of course a statement like that will probably only serve to whet guests' appetites but, like everything else, the idea of the best man's speech continues to evolve, with a modern sense of perspective that recognises the honour in being asked to fill the role without being afraid to show there's real emotion to the bond.
Remember – more toast than roast
"It's about remembering that this is your mate; someone you've known for a long time," Anita says. "So yes it's your time to make jokes and give him a roast, but again, he's your friend, who's just gotten married, so I encourage people to have a think about their friendship over the years and about what makes him a great guy, because that sort of thing is important to communicate."
That's not to say there's no room for anecdotes, just not too many – and absolutely none involving ex-girlfriends or adventures best savoured on a boy's night out.
"I always recommend people don't go overboard in choosing stories and anecdotes," Anita says. "They shouldn't be too in-jokey or cliquey; everyone needs to be able to appreciate the story, and there shouldn't be too many of them. Even if you're wildly entertaining, one or two good stories told well are much better than five mediocre ones that go on and on."
How to deal with somber stories and anecdotes
Balance should similarly be applied if there's a sad matter to note. "For example, if the bride's mother has passed away, the groom can acknowledge the loss and absence, but then look to move forward in a slightly uplifting way, for example: 'Thank you all for coming and sharing this special day; (name) couldn't be here with us today, but if she was I'm sure she would be proud of her daughter. I know I am proud to be her husband.'"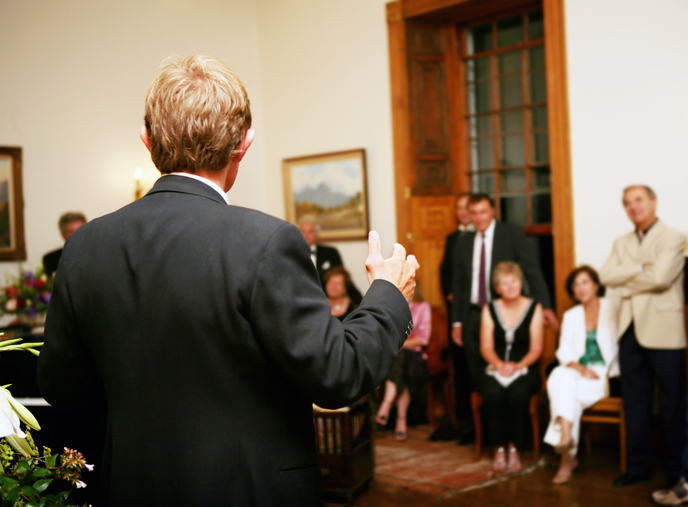 Here's some more top tips for a great speech…
Take a sip of water before you pick up the microphone to banish dry mouth syndrome.
As you begin speaking, make eye contact with people in the audience you know, so it becomes less a room filled with an intimidating sea of faces and more a gathering of people you know.
Smile to cover up any awkward or nervous moments, or if you feel your voice begin to quaver.
Make a conscious effort to speak slowly and breathe, as nothing gives away nerves like someone who adopts a monotone and crams what should be a five-minute speech into three minutes.
If you have a terrible memory, or aren't confident at ad libbing, make yourself up some cue cards or even write your entire speech on paper. No one will think anything of it, and it will help to ensure you perfectly pull off a speech you went to so much trouble to have professionally crafted.
"The thing is, many men want to give a great speech, but they struggle to find the right tone or to get their words down in a way that makes sense," says Anita, who is happy to polish and tweak drafts until they're perfect.
"They worry about sounding corny or they rely on inappropriate material, which doesn't always go down well with the crowd and, more importantly, disappoints their bride.
"Speech writing isn't everyone's bag, so taking the trouble to have a wedding speech written is a wonderful gesture. It's recognising the significance of the chance to get up in front of your friends and family and tell them how you feel – and wanting to make a good fist of it.
"As for me personally, I just find it so rewarding. I get to listen to these beautiful stories when I'm writing the speeches. It's so lovely to be part of.
"It's a wonderful reminder of how special love is, and a reminder of how powerful two small words – I Do – can be."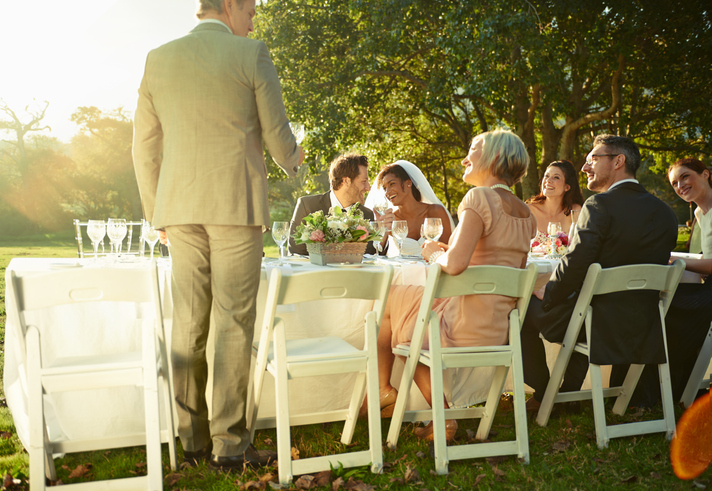 What we recommend
We here at Easy Weddings have seen our fair share of fantastic – and terrible! – best man speeches.
The main thing to remember is practice, practice, practice. Don't just write your speech down, read it aloud more than once to make sure you don't stumble over any clunky or awkward-sounding words on the day. You don't have to have the speech fully memorised word for word, but having an idea of what's coming next will help you feel and appear more confident in front of the guests. And make sure you bring palm cards to the gig – if your nerves do kick in on the day, the palm cards will help remind you what you're talking about.
If you can, perform your speech to a third party at least a week before the wedding. If they have any tweaks or suggestions, you'll have enough time to amend the script to ensure it's perfect. Your pre-audience will let you know if you mumble, if it's drawing on for too long or if you're including anecdotes that don't belong in a best man speech. If they do bring up any concerns – listen to them. It might all sound good in your head, but you're not the one it's being performed to.
And finally, have a plan B. If you sense you're losing the attention of your audience, or the guests seem keen to get back to the party, bring attention back to the bride by saying 'Doesn't she look beautiful?'. However, don't do this too much – guests might think you wish you were in the groom's place!
A great alternative
If you are really and truly lost when it comes to writing the best man speech, look into having your speech professional written. Writer's block is a real thing, and it can be hard to get intimate feeling and personal anecdotes down on paper. Soliciting a third party to write the speech will ensure it sounds great, has flow and keeps guests entertained.
When you launch into a witty, polished, comfortable and charming performance, it'll be a wonderful surprise – for your bride, your groom and your guests.