It's corny as hell, but we're frilled to bits with the latest trend in wedding cakes – ruffles.
The simple, but stunning effect is an older, very traditional icing technique that's making a comeback among modern brides looking for a wedding cake that's a little bit different.
Canadian cake maker extraordinaire, Rosie Aleya, who runs Sweetapolita, one of the most inspiring cake blogs you'll find online, is thrilled with frilled, saying ruffled cakes are a perfect alternative for any bride wanting to avoid a predictable or picture perfect wedding cake.
"I think the appeal is that they offer almost the very opposite look to the ever-popular clean and porcelain look of fondant cakes, and it's just so feminine," says Rosie who has been making cakes and other delicious goodies since she was 16 years old.
"I also believe that with ruffles and ruffles of fluffy buttercream, you can almost taste how delicious the cake is before even taking a bite, which really is what cake is all about."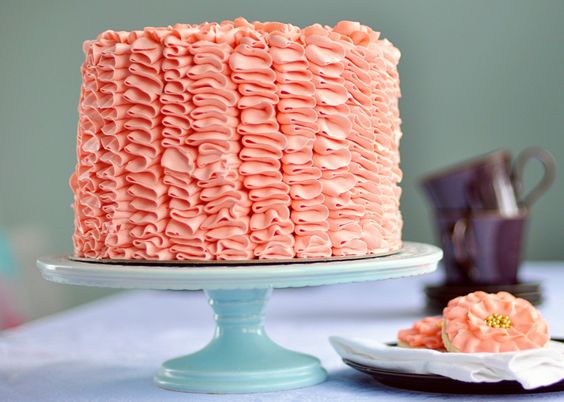 Ruffled cakes are perfect for less formal weddings and are a particular favourite of brides having vintage-inspired weddings and, because getting the ruffling even takes some practice, the fact that, often, the ruffles are a little out of kilter adds to the warm and charming informal feel cakes with ruffled icing offer.
"For a wedding, ruffle cakes are a wonderful idea because of their lovely aesthetic, and their wow-factor,"  adds Rosie, who lives near Toronto with her husband and two gorgeous daughters, Reese and Neve (pictured below), whom she calls her little cakelets.
"They seem to work as a formal, multi-tiered wedding cake, or as one (or several) single-tier ruffle cake on a charming dessert table, in a more casual wedding environment, or even small outdoor weddings."
Though Rosie provides the complete recipe for this rich chocolate cake, as well as "ruffling" instructions on her blog, for those of us with less steady hands (and no cake-making confidence), your cake maker should be able to duplicate the effect easily to match your own style and wedding colour preferences.
Rosie's blog, Sweetapolita, can be found here