Kitting out your flower girl is your chance to go crazy on girlish frills and pretty bows. Your older bridesmaids might not be impressed by a baby pink dress with satin rosebuds and a full net skirt, but your flower girl will simple love it.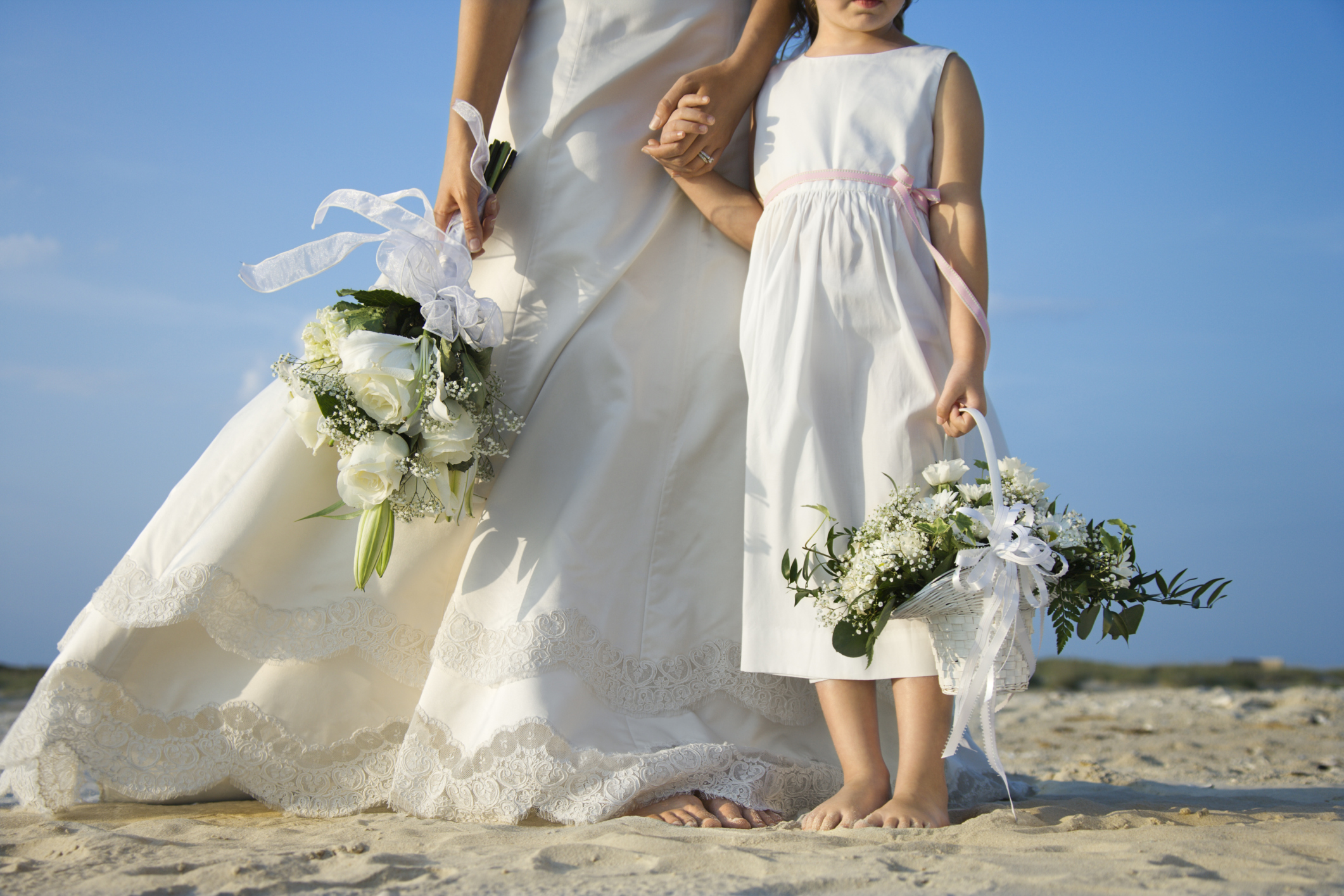 Here are some of the key looks for flower girl dresses along with a little practical advice on choosing their gowns.
The miniature bride
The traditional look for a flower girl is a tiny version of the bridal gown, without the rigid structure and the veil of course. Flower girls look adorable in white or ivory gowns that mimic the bride, perhaps with an added sash in the same colour as the bridesmaids.
The miniature bridesmaid
Many designers have flower girl dresses in the same style as bridesmaids' dresses so you can have a co-ordinated wedding party. Do consider that styles for grown up bridesmaids won't necessarily suit young flower girls; for example if your bridesmaids are wearing strapless gowns your flower girl could wear something similar but with straps added. One great look is to have your flower girl in the same style dress as the bridesmaids, in a lighter or darker shade of the same colour.
Co-ordinating accessories
Perhaps you have four young nieces that you'd like to have as flower girls, but you can't afford to buy four dresses. Ask their parents to dress them in similar dresses, perhaps simple white knee-length cotton summer dresses and then kit them out with matching accessories such as a coloured sash and fresh flower head dress.

Practical advice for flower girl dresses
Before you get carried away with the look of your flower girl dresses, here are some practical aspects to consider:
Floor length dresses are very pretty but if your flower girl isn't used to them she may end up tripping down the aisle instead of processing. Consider a tea-length dress or simply have the hem turned up a little.
Check the material you have chosen to make sure it won't be itchy, or irritating to the skin, and that it's not too heavy for your flower girl to wear all day.
Make sure your flower girl has a pretty cardigan that compliments her dress to slip on when it gets cold. Her dad's dinner jacket really won't look the part with her gorgeous gown.
Keep flower girl shoes flat and simple so she is comfortable. Slip on pumps or white sandals are great. Ask her parents to get her to wear them around the house in the week before the wedding to break them in.
Don't spend a fortune on your flower girl's dress as you can guarantee something will get spilt on it during the day. If you want her to be able to keep it as a memento of the day make sure it can be dry cleaned with your gown.
Ask your flower girl's parents to make sure she is wearing white underwear on the day. Her pink puppy dog knickers might be her favourite but you don't want them to star in your wedding photos. If you want her to wear tights make sure there is a spare pair to hand in case of ladders or snags.