If you're looking for the perfect wedding destination, Fiji is a tropical paradise waiting to be discovered. You'll be enchanted by its warm climate, laidback island vibes, and the natural beauty of its tropical forests. If you ask us, you'd be hard-pressed to find a wedding destination that checks quite as many perfect-getaway boxes.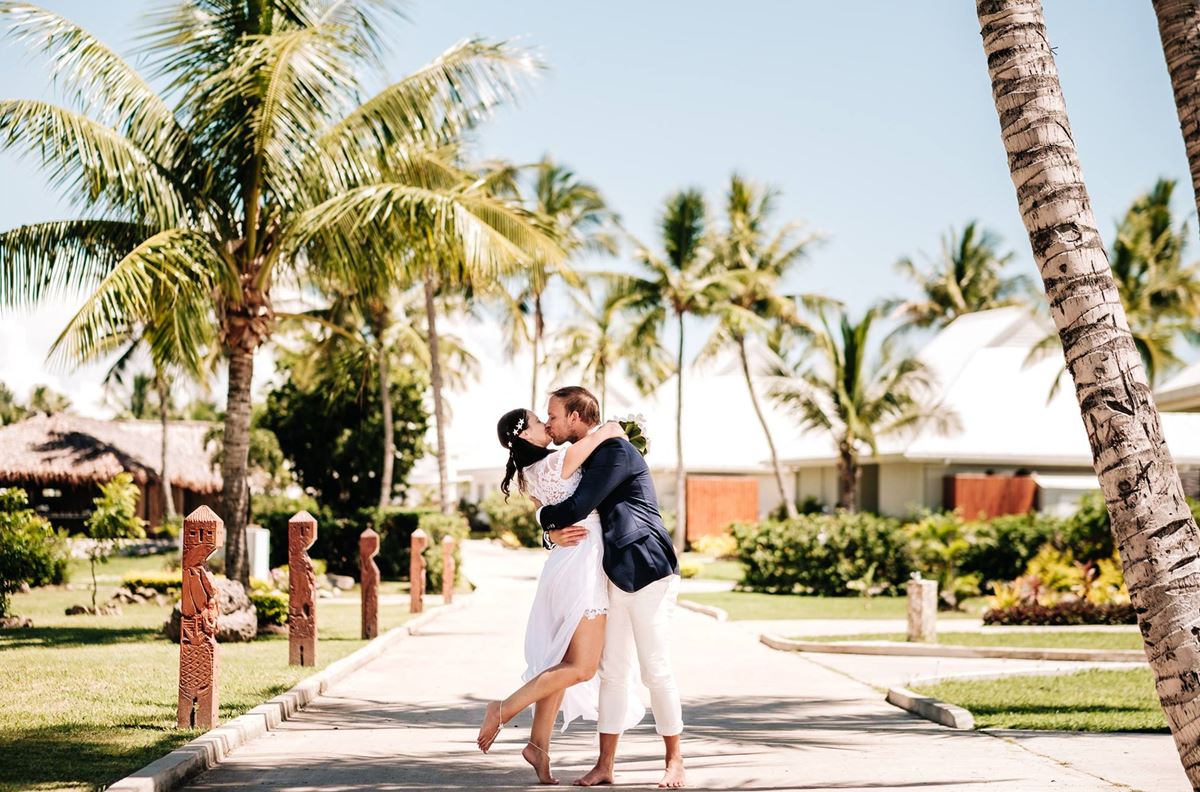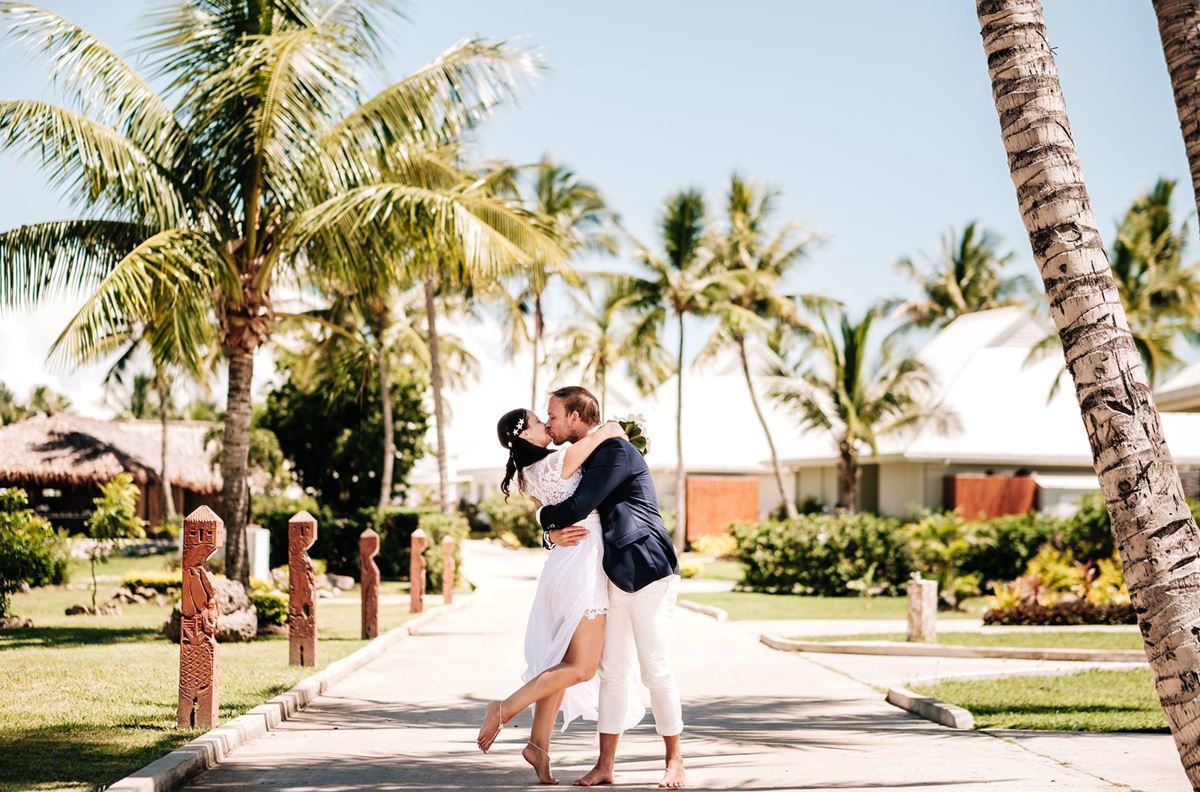 Another huge plus is the Fijians themselves. Known for their warmth and welcoming nature, Fijians go out of their way to welcome you into their rich and vibrant culture.
Fiji is home to a huge range of luxury and all-inclusive resorts that cater to couples looking to celebrate island-style. These venues and hotels offer everything — stunning beachfront locations, relaxing spa treatments, and delicious island cuisine, all wrapped up in quintessential Fijian hospitality.
Travelling from a major Australian city? Fiji is a simple plane ride away, with regular flights available via Qantas, Fiji Airways, and other airlines.
Here's what you need to know about when to plan a wedding in Fiji.


What's the best time of year for a wedding in Fiji with blue skies and nice temps?
Fiji is known for its tropical climate and beautifully warm temperatures. And with that, of course, there can be humid, tropical air year-round.
Peak tourism season hits between the summer months of July and September, which goes hand-in-hand with the island's dry season. This time of year is often sunny and dry but with less heat and humidity — perfect for those who enjoy the sun, but not the heat. This season is ideal for outdoor weddings, as your day is less likely to be interrupted by rainy or unpredictable weather.
That said, peak season is the most expensive time of year on the islands of Fiji. So, if you're planning a wedding between July to September — or in January, during the Australian school holidays — you may have less negotiating power on your own. An all-inclusive destination wedding package can be useful in this case, with all the negotiations done on your behalf.
The shoulder seasons are a great alternative, as you'll see similar weather with patches of rain here and there as the seasons change.
What are the busy seasons in Fiji?
Peak or high season in Fiji hits from June to September, and again in December and January while many Australians are on their summer vacation. December and January can be both wet and touristy.
November to April is Fiji's wettest season, with low season being November and February through April.
Shoulder seasons are the periods between the high and low seasons, which are generally a more affordable time of year for travel, as tourism has softened and the good weather of high season is still in sight.
Fiji's shoulder seasons are May and October. During shoulder season in Fiji, you'll still be able to enjoy Fiji's beautiful beaches, but rain is slightly more of a risk than it is during peak season.
The beauty of the shoulder season is that you're more likely to get a competitive price on your destination wedding in Fiji while, at the same time, avoiding cyclone season and too-hot weather.
The Australian summer school holidays, which take up most of January, often bring an influx of tourists to the islands and tend to be a less optimal time for a wedding — unless, of course, you're an educator.
When is cyclone season in Fiji?
It's important to plan around cyclone season, as the last thing you'd want is for a cyclone to disrupt your destination wedding weekend. In Fiji, cyclone season runs from January through to March and coincides with the islands' wet season.
Typically, cyclones only occur every few years in Fiji, but if you're planning an outdoor wedding in this season and don't want to get rained out, it's important to have a plan B you're also excited about.
When can you get the best deals on a Fiji wedding?
If you're looking to benefit from great weather at a lower cost, the shoulder seasons are your best bet in Fiji. You'll find cheaper flight packages, as well as more inviting resort rates too.
If you're looking to make further savings, consider hosting more than one wedding event at your resort or venue. You could host a low-key welcoming party and, after your wedding, host a day-after brunch to celebrate everybody being together. Hosting multiple events in one place often gives you more pull when negotiating rates with your venue. Ditto for booking more hotel rooms.
So, is a Fiji destination wedding in the cards for you? Sounds pretty great!
To recap:
If you're obsessing over the weather already, consider the dry season from June to September.
If you have a tight budget or you'd rather avoid the crowds, shoulder season (May, October) probably makes the most sense.
Have a great backup plan from January to March.
Whatever date you choose, you can relax knowing that your Fiji destination wedding is going to be peaceful, beautiful, and an experience those closest to you will remember for the rest of their lives.
---
DISCOVER DESTINATION WEDDINGS