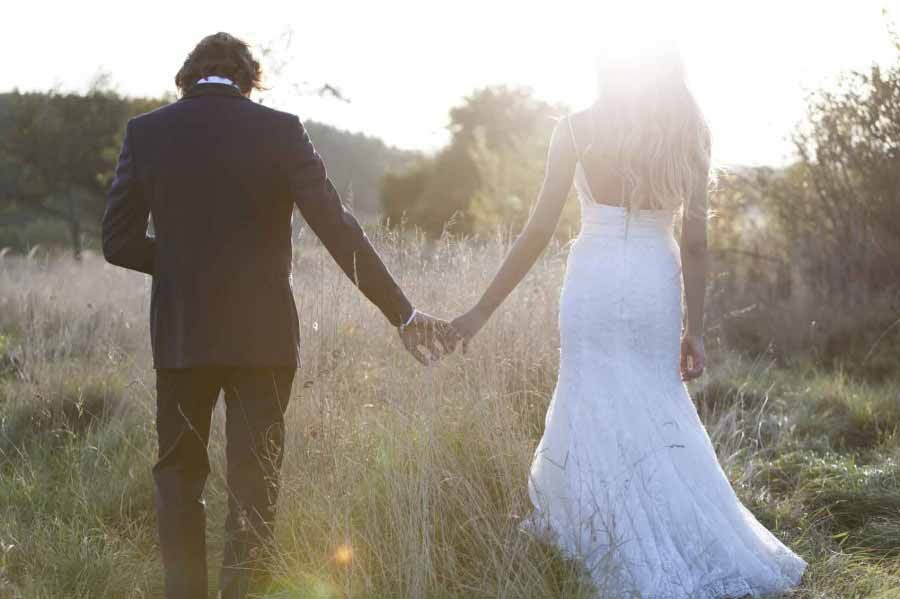 A wedding can take months of planning, but will swiftly come and go in a matter of hours. Many brides and grooms confess that their wedding day felt like a blur, so, to prevent the special bits from fading into a foggy memory, here are eight moments no bride should miss on her wedding day.
These are the wedding moments you want to stop and enjoy:
The walk down the aisle
This is the moment that you walk towards your future husband/wife and he/she sees you for the first time in your dress, (unless you chose to do a first look photo shoot). These are also the very last steps you will take as an unmarried woman.
It can be easy to rush this moment and walk fast because of nerves, or not make direct eye contact with your spouse-to-be for fear of ruining your mascara, but, this is the moment where the magic happens. Walk slowly and savour the spine-tingles.
Here are 10 fantastic songs to walk down the aisle to.
Saying your vows
These are the few precious moments before you become an official married couple, and these carefully chosen words that you speak express your love and your commitment to spending the rest of your life with your partner. It doesn't get more special than this. Try to speak slowly, rather than reciting your vows in a robotic manner, and allow your emotions to come through if you need to.
Here are 25 fun vows for modern couples.
Your first steps as a married couple
Since you've walked all the way down the aisle, you need to walk all the way back again to make you grand exit, but this time you get to do it with your new spouse! The recessional, as it's traditionally called, is the part where all your family and friends will cheer, congratulate you and take your photograph as you walk together for the first time as husband and wife. Hold hands or link arms and allow yourselves a second to take in the joy, relief and elation you will feel in that fleeting moment. Take in the happy, smiling faces of your family and friends and feel the love that everyone in that room is sending your way!
Sharing a special moment with your parents
Take the time to share a special moment with your parents and your new in-laws. If they helped with your wedding, take the opportunity to thank them if you haven't already, and even if they didn't or couldn't, embrace the fact that you they are present and sharing such a special moment with you.
Here are some tips for meeting your inlaws for the first time.
Your first meal as a married couple
You will be hungry, but you don't want to become hangry, (hangry = being so hungry you get angry). When your dinner arrives at your table take a moment to sit there and eat your first meal together as husband and wife. The best part is you can people watch and you get to see all your months of planning, decorations and effort come to life right before your eyes. You can even ask your bridal party to double as security around your table while you eat, so as to avoid being interrupted by guests who will come over to congratulate you, (sorry, not sorry!)
Make a bonus moment
When you have the opportunity, take you spouse outside, or into the bridal suite, so you can have a moment to yourselves. Have a quick chat, debrief each other on your day so far, re-group and refresh. Maybe even sneak in a cheeky kiss or two! Remember, your wedding is a celebration of your union so take a second to remember why you're there.
Your first dance
You've chosen 'your song' and now it's time to step onto the dance floor and share your first dance as husband and wife. While you many have organised to capture your first dance in photographs or in film, try to savour the moment in real life. Use your eyes as your lens and engage you senses; perhaps the smell of his perfume or the way you hold each other as you dance will serve as precious parts of a lovely memory.
Making your own rules
Couples can feel pressure to tend to certain obligatory tasks over the course of the evening, such as making the effort to greet every single guest that has attended your wedding, (this can be an overwhelming task if you have 200+ guests). However, this can often lead to couples not getting the chance to dance with their favourite uncle or pop into the photo booth for some fun happy snaps.
Enjoy the fact that this special night allows you full control to do whatever you see fit, and you can make your own rules! If that means greeting all your guests, then do your thing. Or perhaps that means tearing up the dance floor all night, or taking some selfies with each other and your bridal party. Do whatever feels right and make the most of it.
At the end of the night
When it's all over and he's picking confetti out of your hair, you can take a moment to rest, laugh, cry and talk about all the wonderful things that just happened. Whether you're on your way to a fancy hotel, going home, or maybe headed straight to your honeymoon, this is the moment you can finally connect with your new spouse and discuss the day's events. Be present in the moment as you will no doubt cherish these memories for years to come.
Planning your weddings? Find some great local wedding suppliers here.
Have a wedding question? Ask a professional wedding suppler.