Now we've established who's in the top 10 most popular marriage celebrants in Brisbane, QLD as ranked by their customer reviews on Easy Weddings, it's time to give some love to the celebrants with fewer reviews but just as much sparkle. So without further ado and in no particular order, here are 6 Brisbane celebrants with something special, as selected by the editor (me) by how entertaining their storefronts are.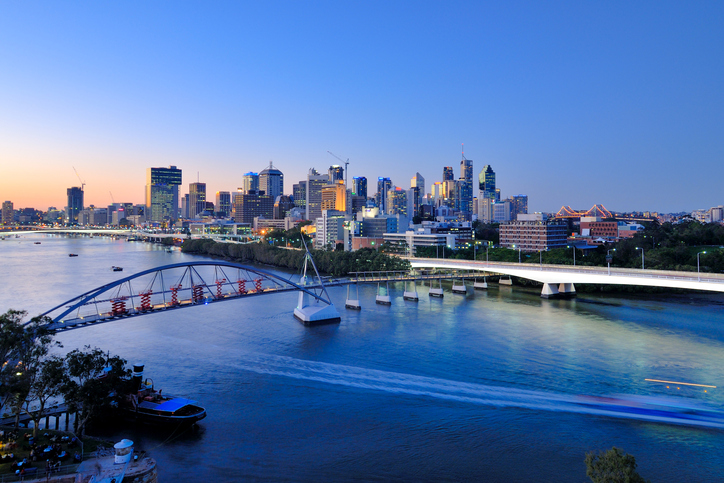 With her warm, friendly personality, Roxy Hotten promises to create a modern, fun, and creative wedding ceremony to cherish for years to come! An ex-journalist, Roxy loves writing bespoke and memorable ceremonies and has experience officiating marriages since 2011. Roxy encourages you to check out her storefront to learn a little about her dog, her frocks, and her experience as a celebrant.
"We strongly recommend Roxy as a celebrant or officiator for an event. Roxy really cares about your day and takes the time to understand exactly what you're looking for. Roxy helped make our day so much more special, personalised, and meaningful, and we can't thank her enough." – Hannah L.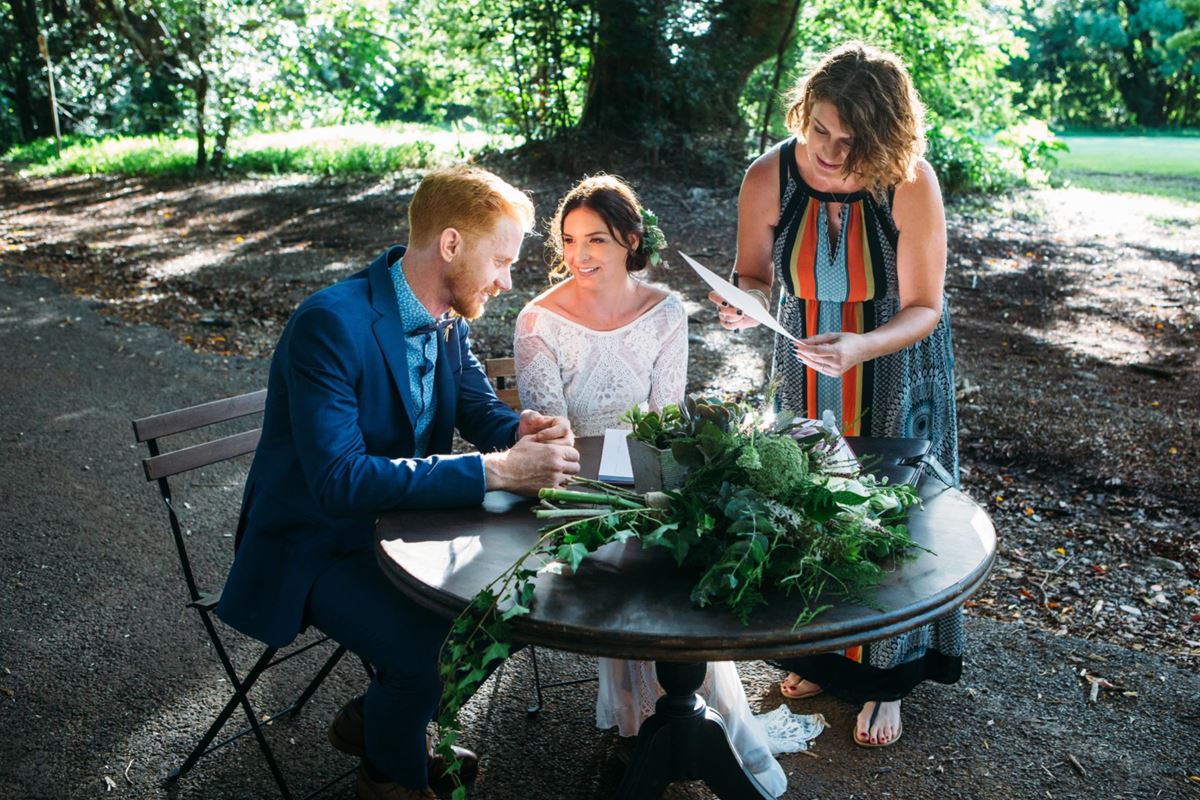 Describing herself as young, energetic, and "generally wearing this century's fashion", Laura Kidd only draws the line at nude weddings! Aiming to never be part of a boring wedding Laura loves to help couples create unique, memorable ceremonies to cherish for a lifetime. Check out Laura Kidd's hilarious storefront today, and find out why so many couples loved their experience with I Kidd You Knot.
"Laura is a funny, vibrant, and down to earth celebrant. Exactly what we were looking for in our wedding celebrant. Laura gave us free reign to write the ceremony we wanted, providing examples of various ceremony styles and lengths, and was highly supportive of all our ideas. She was on top of all the legal side of the marriage and guided us through the full process. On the day, Laura did a great job to deliver a genuine and heartfelt ceremony. Thank Laura for being an awesome part of our wedding." – Monica J.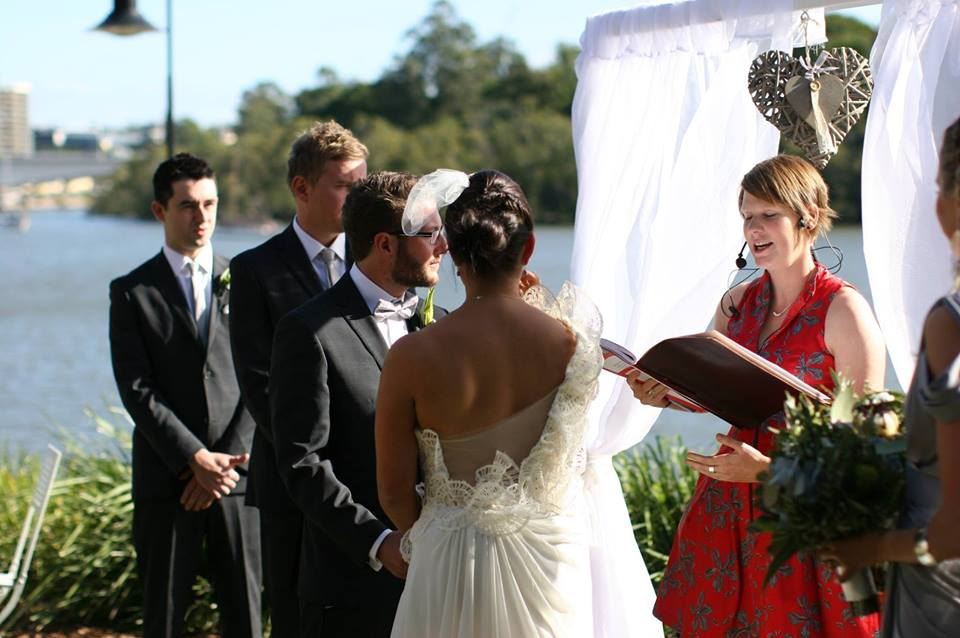 Hayley Belle confesses she's obsessed with wedding planning on pinterest, even though she's already had her wedding! With 12 years experience in radio, you can rest assured Hayley Bell is comfortable with public speaking and hosting, and won't put on a strange voice when handed a microphone. Not your average celebrant, Hayley (full sleeve tattoo and all) loves people, and can't wait to share your story with your dear family and friends at your wedding ceremony! "Coffee, tea, banana smoothie? Let's meet up and discuss your needs and wishes," Hayley says. "Whatever you drink, it's on me."
Click here to begin planning your dream wedding ceremony with Hayley Belle Marriage Celebrant!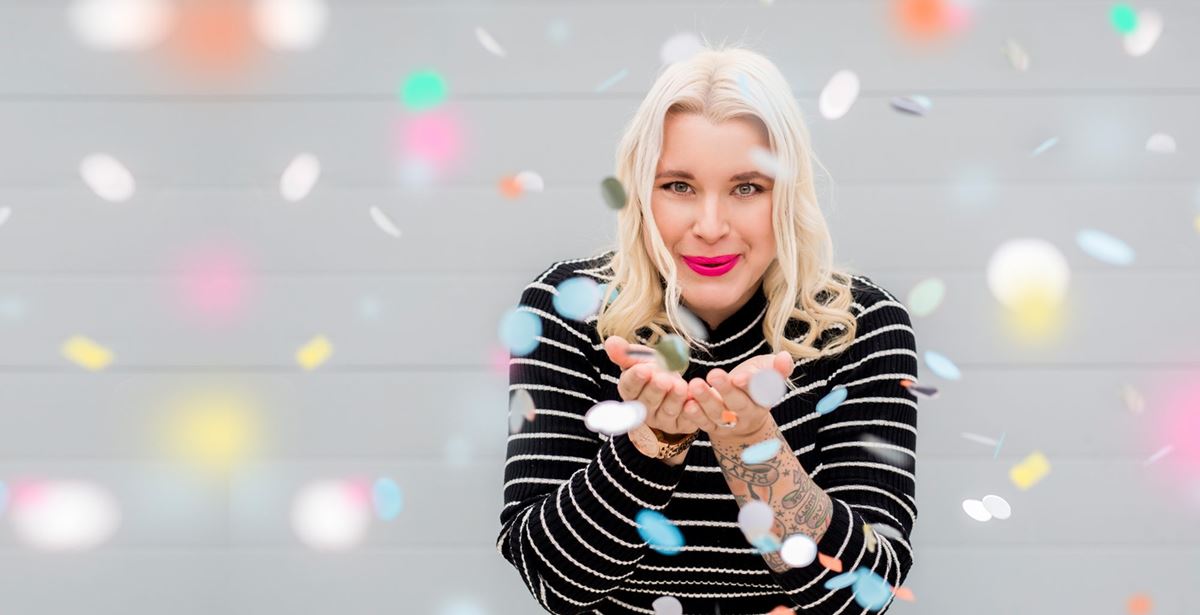 Committed to creating personalised ceremonies, Sally Corfield promises a light-hearted, relaxed, and intimate wedding ceremony to celebrate your love for one another. Her packages are all-inclusive, and there's something to suit everyone's preferred ceremony style and budget. Whether you're after something short and sweet, a basic legal ceremony, or even a civil partnership or same-sex ceremony: Sally Corfield's your girl! Check out her gallery and reviews today, and find out why so many happy couples adore Sally Corfield!
"Sally was really cool and easy going. We were very organised and she went along with our kind of vibe. She was much more organised than us. I felt comfortable with her. She was great! All the guests commented on her and how great and relaxed she was – everyone loved her." – Irit S.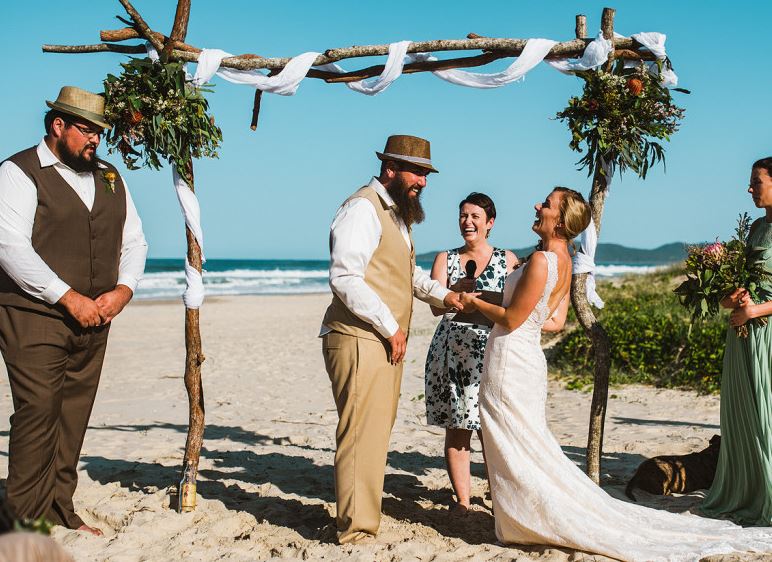 Abbee's love for weddings started at her own wedding when she saw firsthand the impact a great celebrant can have on your special day. She then became a celebrant to help share the magic of wonderful wedding ceremonies with other couples. Always Love Ceremonies with Abee tailors ceremonies to suit her clients and their wedding theme, and she's more than happy to include rituals or any fun additions. Check out her storefront today and find out if Always Love Ceremonies with Abbee is the one for you!
"Amazing. Abbee is a celebrant who will make your ceremony memorable, enjoyable, and most of all – your own! She was responsive and supportive throughout the whole process and provided any advice or ideas as needed. Abbee facilitated our ceremony just the way we wanted it – we can't recommend her enough!" – Amanda S.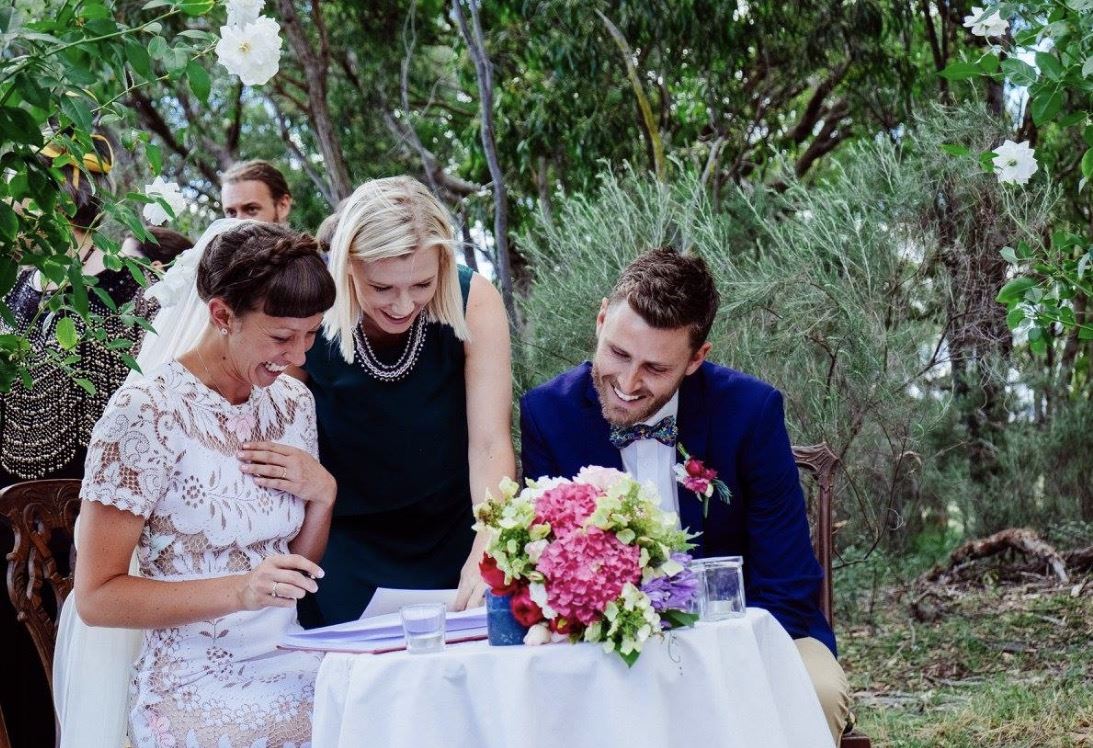 Promising stress-free weddings tailored to you, Joshua Bretherton Celebrant takes pride in getting to know his clients on a personal level. Whether you already have ideas in mind or are generally unsure where to start, Joshua Bretherton Celebrant is here to help create your dream wedding ceremony! Check out his gallery and reviews today, and find out if Joshua Bretherton is the marriage celebrant for you!
"Josh was the most perfect celebrant – we just adored the ceremony he arranged for us! The planning process was a breeze; he was professional and friendly, was prepared with necessary documents, and had timely communication. We loved that he tailored the ceremony to suit us – which included our doggy too!" – Elyse D.