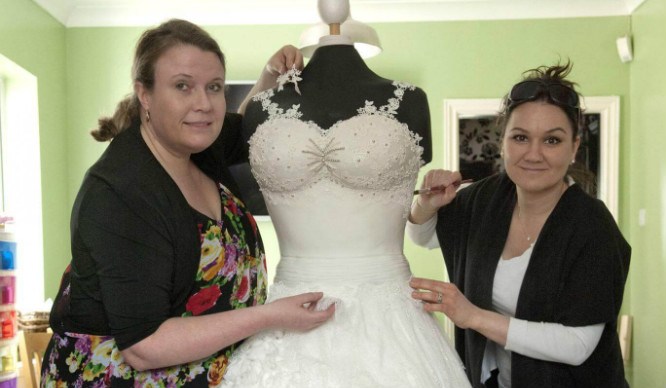 Award winning cake designer, Sylvia Elba, has created a spectacular 75kg wedding dress cake that is 100% edible. The dress will be featured in next week's Cake International in London.
Sylvia, with the help of two assistants, took more than 300 hours to build and bake it – at a cost of several thousand pounds.
While the centre is a polystyrene base, the edible dress portion is made from 64kgs of fondant, seven kgs of chocolate fondant, seven kgs of cake lace and about 1,500 sheets of wafer paper, all glued together with 25 bottles of fabriliquid, a vanilla flavoured spray used for cake sculpting.
While the cake sure is impressive, this is not the first time Cake International has featured a wedding-related sculpture of such grand proportions. In 2015, they featured a life-sized wedding cake created of a bride and a groom, created by the bride herself. Read the full story here.
Hungry yet?
Also being featured at Cake International's 2016 festival will be life-size replicas of Batman, Superman and Dobby the house elf from Harry Potter.
Find a great range of  local wedding cake suppliers here.