Did that get your attention?
We all want a little bit of time to recharge and relax. And your honeymoon is the perfect time to do this. Wedding planning can sometimes become overwhelming. And it's no wonder when the average couple puts 360+ hours into planning their wedding day.
Thanks to our sponsors at Heritance Aarah Maldives you could not only be rewarded for planning your wedding, but also save time by not having to plan a honeymoon!
We're offering one lucky couple the chance to win 6 nights in the Maldives. Be pampered with an all-inclusive accommodation package at Heritance Aarah, one of Maldives' newest luxury resorts. Plus receive a $2,500 cash travel allowance from Easy Weddings Honeymoons.
The best part is that it has never been easier for newlyweds and couples-to-be to go into the running to win a honeymoon. What's more, you can also be rewarded for leaving reviews for your suppliers after the big day. So if you've already planned a honeymoon consider this a bonus!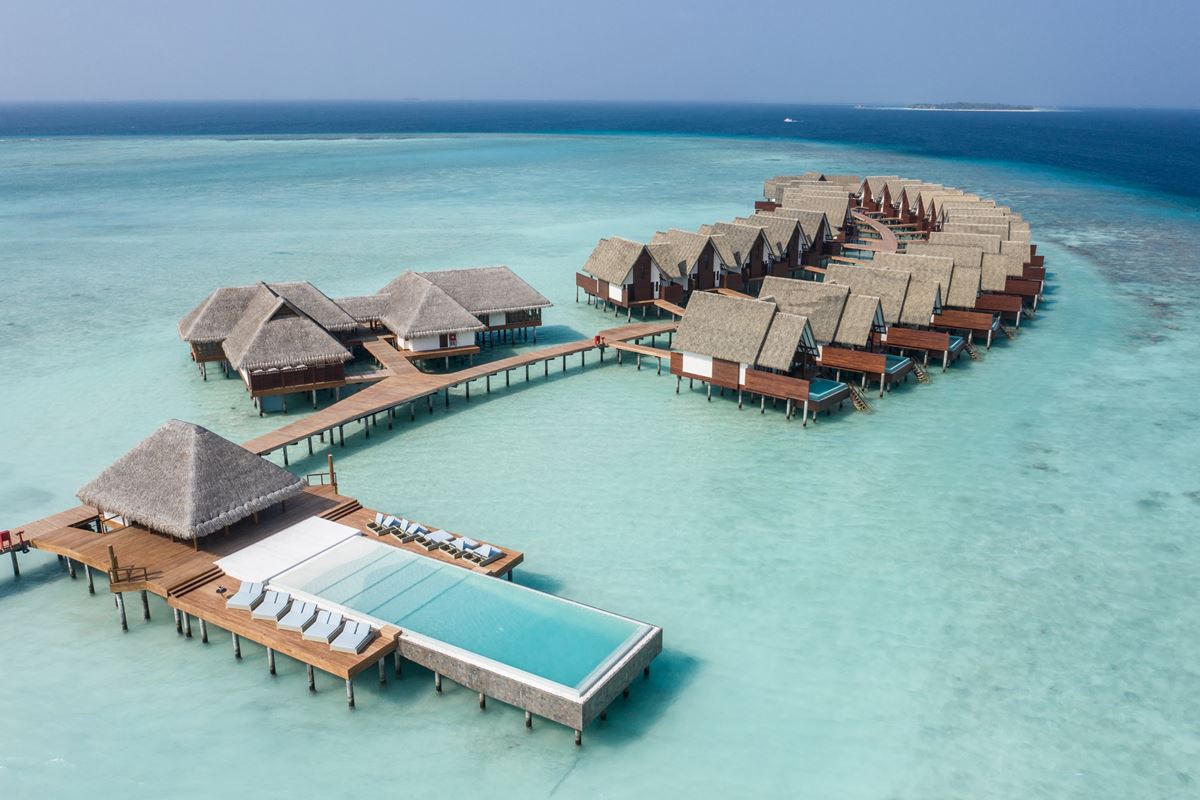 So how do I enter?
There are two ways to enter the competition – by booking suppliers through Easy Weddings and by leaving reviews through Easy Weddings. Every supplier booked will gain you 10 entries into the competition, while every review will gain you 5 entries. The more entries you have the more chances you have to win!
Book suppliers to enter
Entering the competition with your suppliers is a simple three steps:
Enquire with your favourite suppliers
Manage your bookings
Confirm your bookings
So you really are eligible just for doing what you would be doing anyway, planning your own wedding. And everything can be managed in the one place, in the My Suppliers Tool in your Easy Weddings account.

Enquire with your favourite suppliers
The first step is to find the suppliers you're interested in working with on your big day. This can be done through the Easy Weddings directory, where you can search for every category from your wedding venue to your photographer and even your wedding dress!
Once you enquire with a supplier they'll appear under the 'Enquiries' tab in your My Supplier tool. Not only is this a great way to manage which categories and suppliers you've already touched base with, but it's also the first step to entering the competition.

Manage your bookings
Once these suppliers have got back to you and you've booked with your favourites, it's time to manage your bookings. By heading back to 'Enquiries' in the My Supplier Tool you can mark your supplier as 'booked'.
This will move your supplier from 'Enquiries' into the 'Booked' tab where you now have the option to get your entries into the wedding competition.

Confirm your bookings
The third step is simple and can be done as soon as you've completed step two, and that's confirming your bookings to redeem your entries into the competition.
Head to 'Booked' in the My Supplier Tool and click on 'Get Entries' on the suppliers you want to enter the competition with. You can enter two suppliers from every category, so if you've got a different venue for your ceremony and reception you can get competition tickets for both!
When you click 'Get Entries' there is a short form for you to fill out with your wedding details and a photo of yourself and your partner so that your suppliers can recognise you easily. Your supplier will then confirm that you are a legitimate booking on their end, and that's it! You are in the running!
This is also a great way for you to double confirm your bookings with suppliers ahead of the big day.

How can I see whether my bookings have been confirmed?
Once you've sent your entries for confirmation from your supplier you can track whether they are 'pending', 'approved' or 'not eligible.'
You can also head to the 'Competition' tab in the My Supplier Tool to see all of your entries together. You can also check out the leaderboard to see how many tickets you have compared with other participants. The more tickets you have, the more chances you have to win!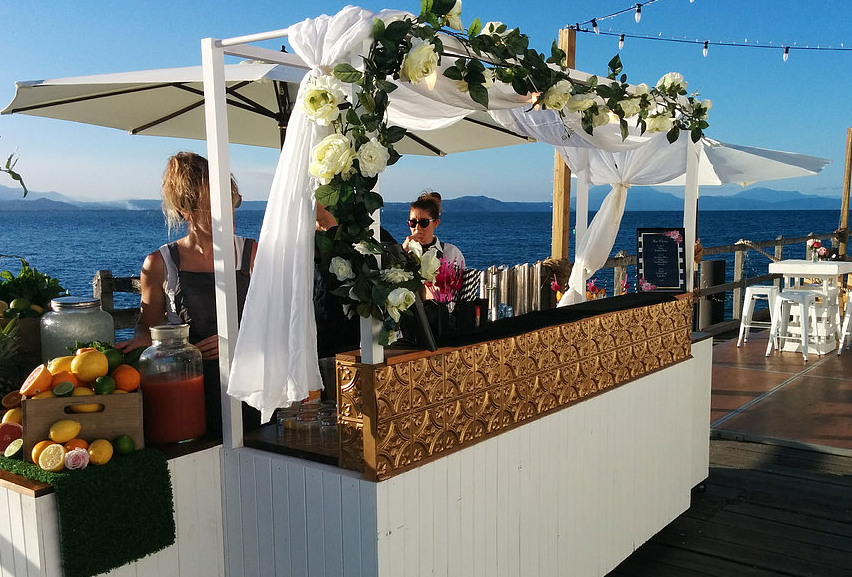 What if I find my suppliers on Easy Weddings but I've already booked with them elsewhere?
Don't worry, if you've booked with an Easy Weddings supplier but you haven't booked through the Easy Weddings platform you can still enter the competition. All you need to do is head to the 'bookings' tab and click 'add a supplier.'
From here you can find your supplier, mark them as booked, and then head to the competition page to get your entries in the same way as you would normally.
As long as your supplier is listed with Easy Weddings you can join the competition.

Leave reviews to enter
If you've already had your wedding day you can also gain entries for reviewing suppliers through the Easy Weddings platform.
There are two ways to do this.
Review an individual supplier
If you've worked with a specific supplier they may have sent you a single review link to review them on Easy Weddings. This is a unique link to each supplier and will allow you to leave them a single review on the platform.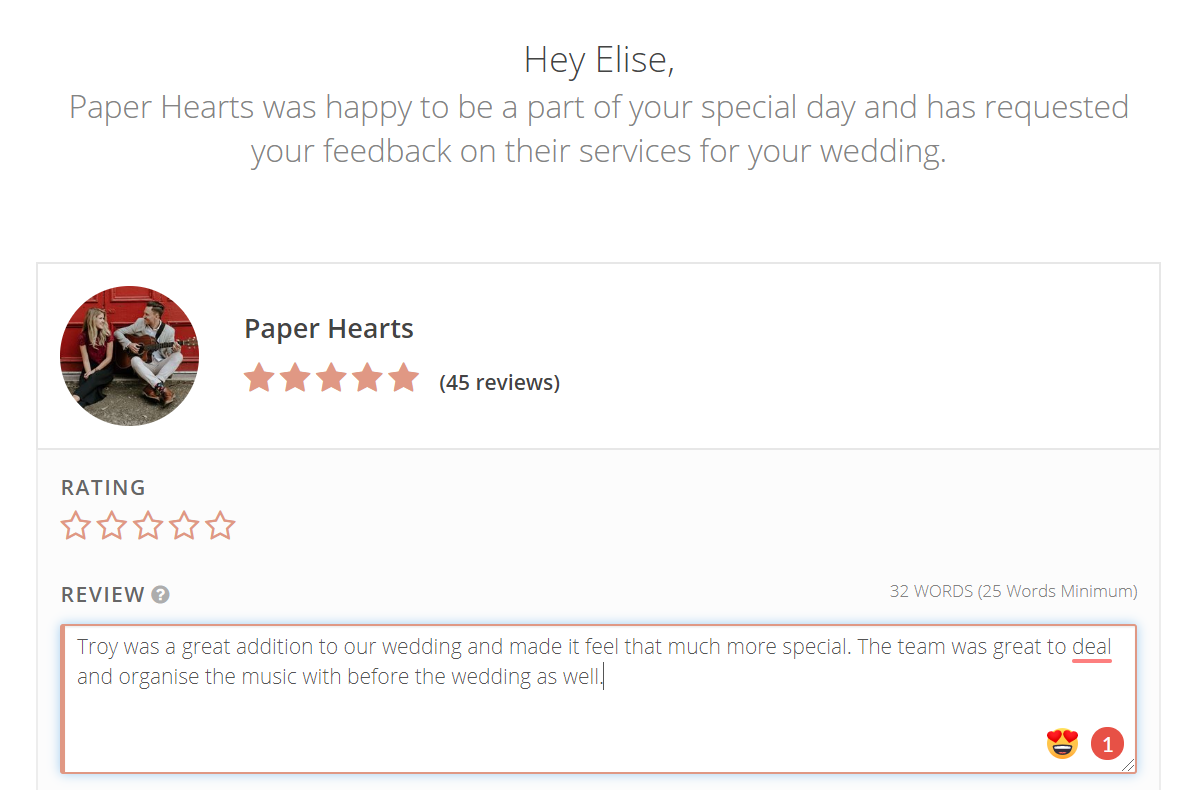 Review multiple suppliers
An easier way to get yourself more comp entries is to review several suppliers at once. In fact, there's a bonus if you do!
Head over to our review link to get extra entries for the competition just for a few more reviews. By using this link you can double the number of entries you get into the comp. 5 reviews will get you 50 entries while 10 reviews will get you 100 entries!
This link will allow you to review a minimum of 5 suppliers, getting you at least 50 entries into the comp. If you have more suppliers to review you can keep adding reviews until your heart's content!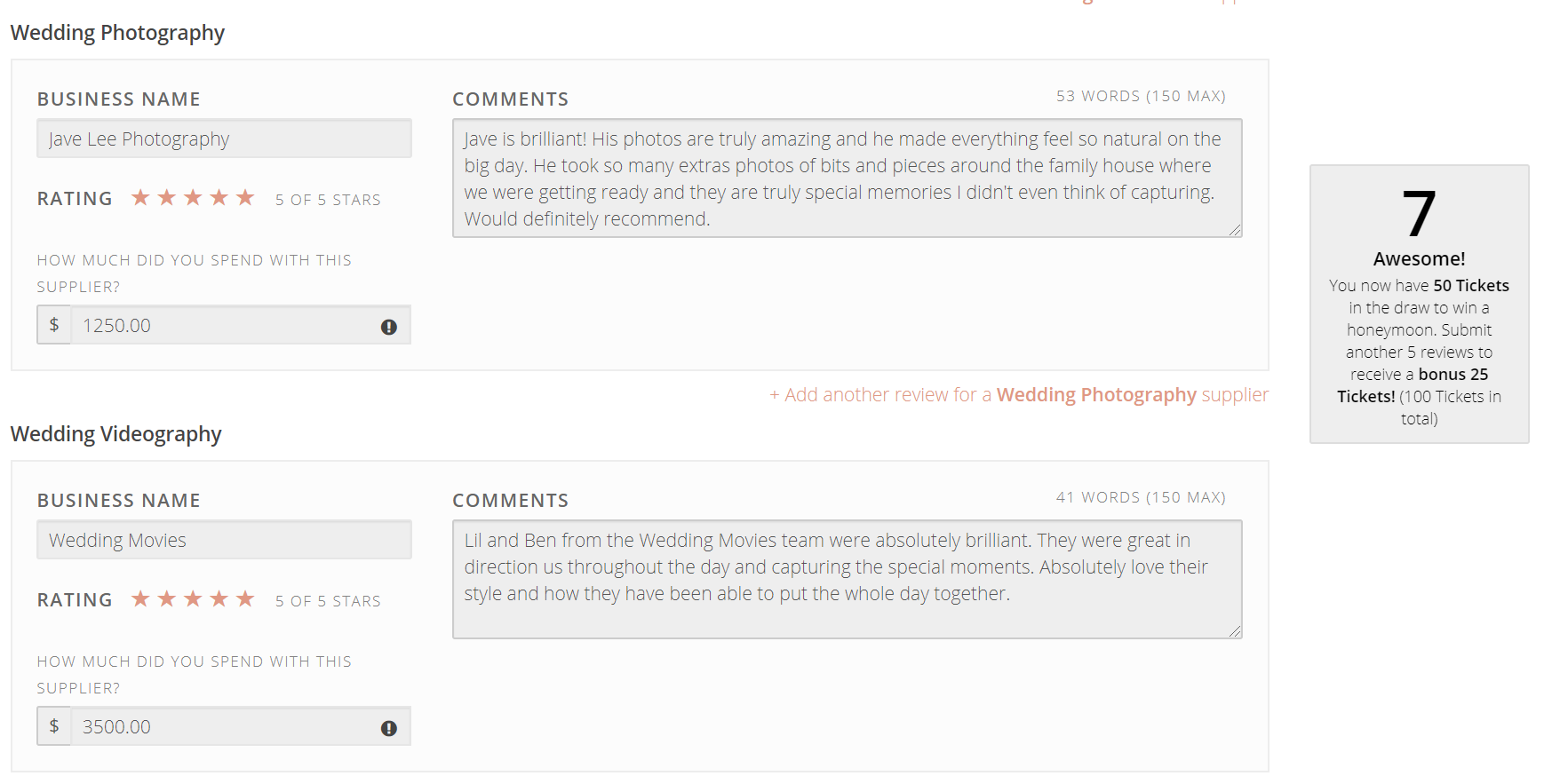 Do the suppliers I leave reviews for have to be listed on Easy Weddings?
To gain entries for leaving reviews you must review an Easy Weddings supplier. You can review non-Easy Weddings suppliers, however, you will not gain competition entries for these reviews.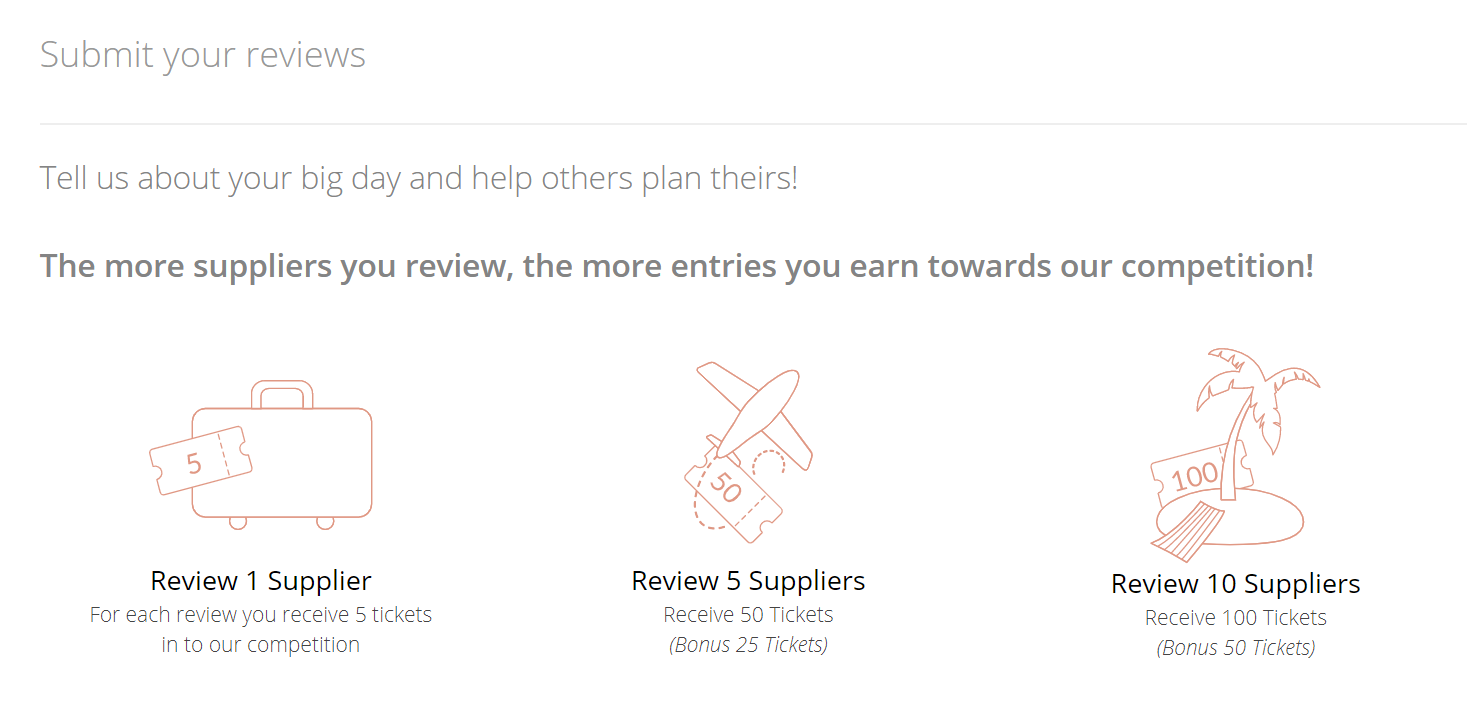 Can we enter if we've already had our wedding?
YES! Even if you've already had your wedding you're able to enter the competition. Just go through the same processes with the Easy Weddings suppliers you worked with on your special day and they can approve your booking so you can get your competition tickets. Or leave some reviews for the suppliers who made your day even more special. You've got to be in it to win it after all. Good luck!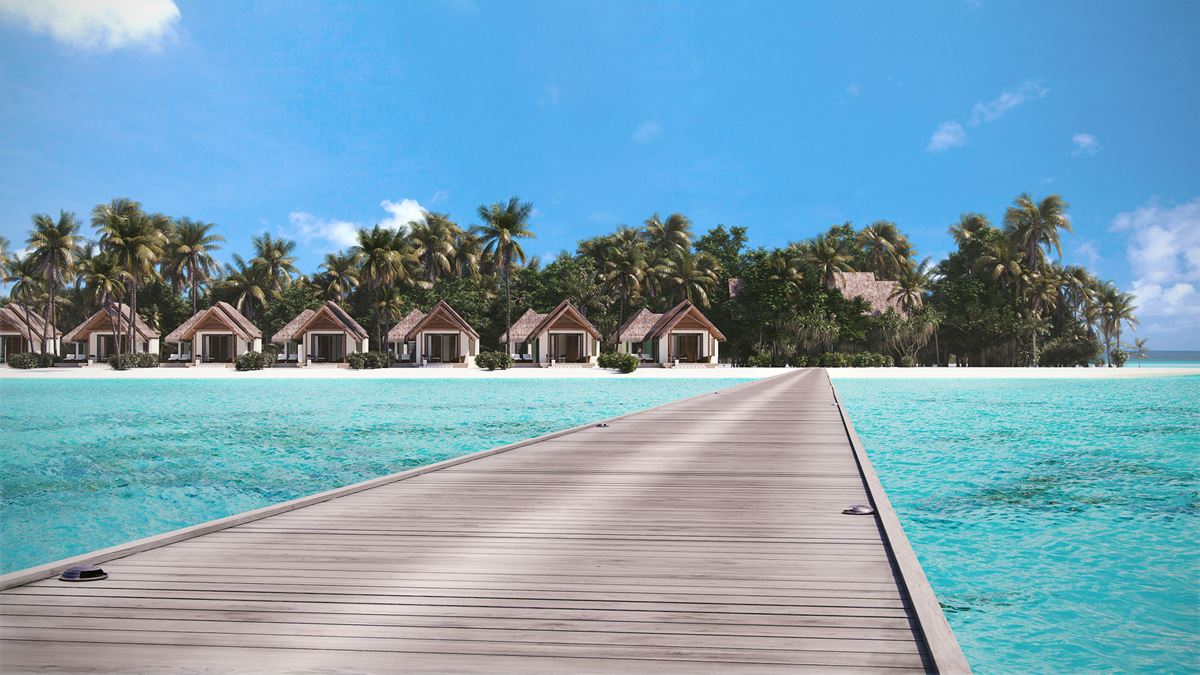 * Competition terms and conditions apply. LIC # NSW: LTPS/18/25731 SA T18/432. Excl. ACT.