Couples fear them, rom-coms are built around them, and wedding experts plan around them. These common wedding day disasters are totally avoidable.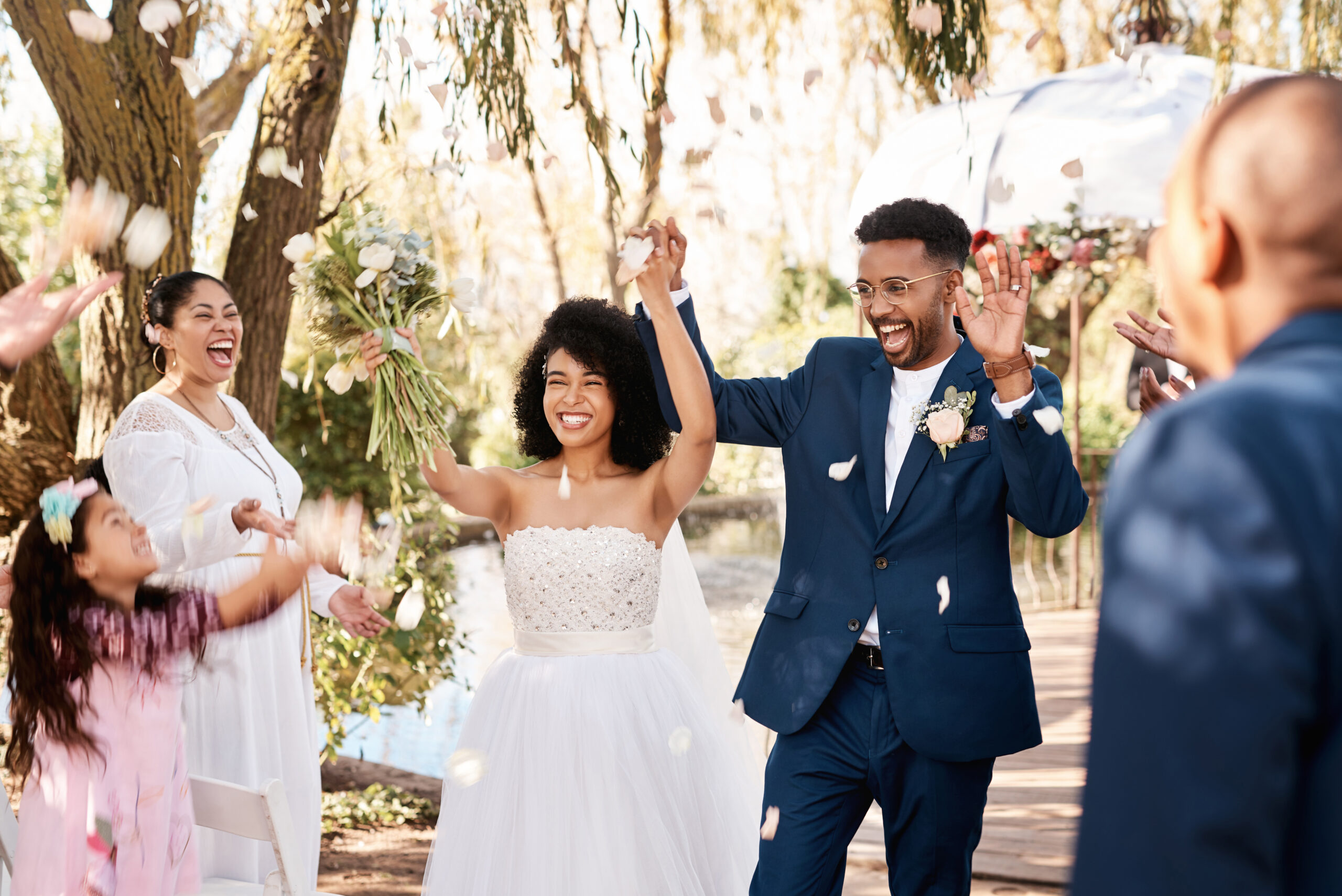 Wedding day mishaps and mistakes often spark up for even the most organised couples. Though they can be a blow to your carefully crafted Pinterest board vision, finding quick solutions is easy with an open mind, a positive attitude, and an emergency toolkit.
Here, our in-house wedding experts share some of their wedding day horror stories alongside their tips on planning to avoid some of the more common wedding disasters.
Hire a wedding expert
Wedding Day Disaster: Flower Failure
When you're working with something time-sensitive and details-heavy, it's understandable that small (and large) errors can occur. Floral arrangements fall right into this category, especially if you're working with fresh blooms that need to be transported and handled carefully if they're going to make it through to the reception and you don't have a professional helping to bring it all together.
The worst-case scenarios:
"I worked on one wedding where the florist forgot the rose petal order for the ceremony!"
The fix: Someone from the venue ran to the nearby Safeway to pick up roses that could be quickly shredded for the aisle.
"Another bride forgot her bouquet in the limo, which had already left…"
The fix: Luckily, the venue had a backup artificial bouquet.
"The wind blew all the floral arrangements for the ceremony backdrop over, and they smashed everywhere!"
The fix: We were able to call the florist to come back and fix up the flowers 30 minutes before the ceremony started.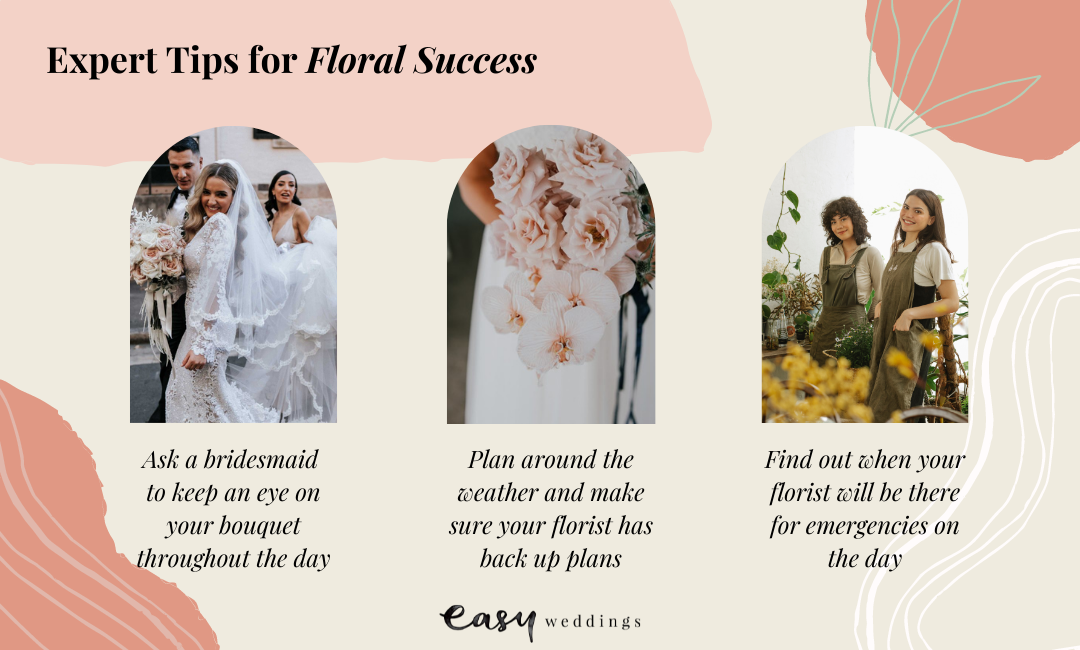 Wedding Day Disaster: Imperfect Weather
Most couples pray for a calm, clear forecast for their wedding day, especially if the ceremony or reception is located outdoors. Overcast weather comes with the benefit of beautiful photography lighting, but when you see rainclouds on the horizon or blistering heat setting in, you might be hitting the panic button.
Luckily, most venues are totally prepared for inclement weather, and event planners know all the tricks to keep the couple and their guests dry, warm or cool, and comfortable.
The worst-case scenarios:
"Wet weather ALWAYS feels like bad news, so we always recommend having a backup plan just in case something unexpected happens with the weather.
The fix: For one wedding, we stocked up on clear umbrellas, which look great in photos. If it's a really dark day that isn't suitable for any outdoor wedding photos, we suggest working with your photographer to find an indoor location for photos at the venue or nearby.
"We had a 40-degree day for an outdoor wedding!"
The fix: Set up a heat management station with iced drinks, handheld fans, sunscreen, and parasols for shade cover.
"Our venue got a leak in the roof of the ceremony location."
The fix: In this case, the only solution was to change ceremony spots. The venue was able to use the floral table centrepieces at the start and end of the new aisle to decorate, as the new space was a completely blank canvas.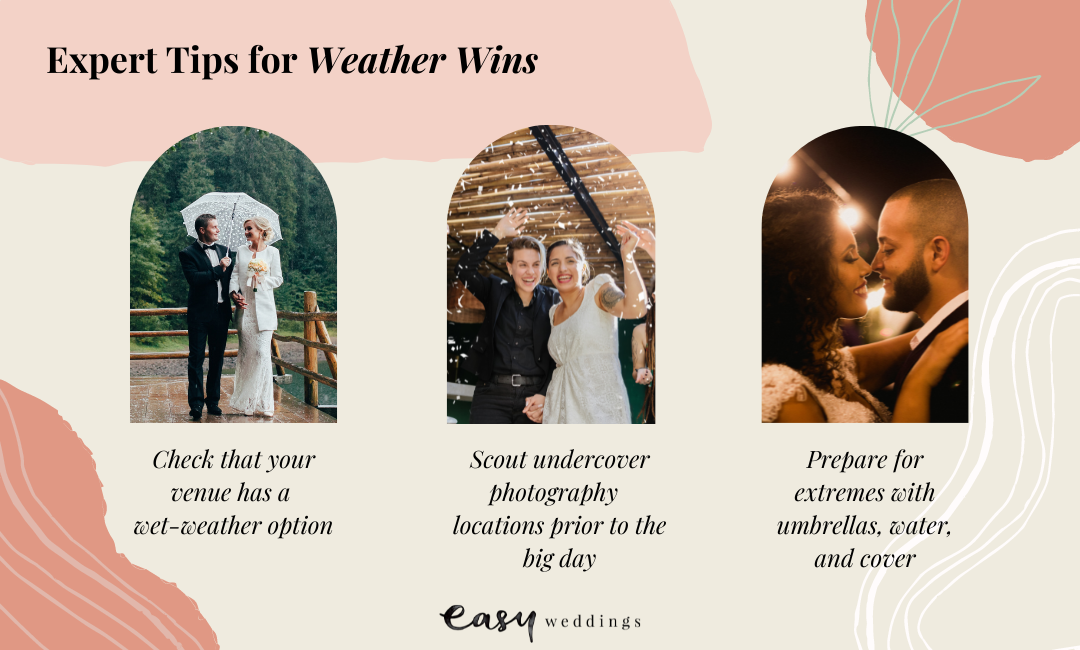 Wedding Day Disaster: Wardrobe Malfunctions
When you dedicate a decent portion of your wedding budget towards your attire, you'd certainly hope there's no margin for error when it comes to getting dressed on the day. However, some garments choose those precious minutes before the ceremony or standing up for speeches to feel a little loose in the seams, catch that drop of red wine, or let the zip go off the tracks.
So what can you do to prepare? Have a mini-emergency kit on hand. It might include stain removers, needle-and-thread, extra hair accessories, safety pins, a couple of rags, adhesives, deodorant, and more.
The worst-case scenarios:
"It was a windy day, and the bride's veil blew off during the ceremony."
The fix: We ended up tucking it through the back of the bride's dress, which had a corset tie.
"The mother of the bride's corsage flower fell off right before the ceremony, and there wasn't a backup."
The fix: Superglue, of all things!!
"Stains and spills are almost inevitable on wedding gowns…"
The fix: We always recommend bringing soda water and a clean (non-coloured) cloth. They will remove most stains entirely or reduce them so they're almost unnoticeable.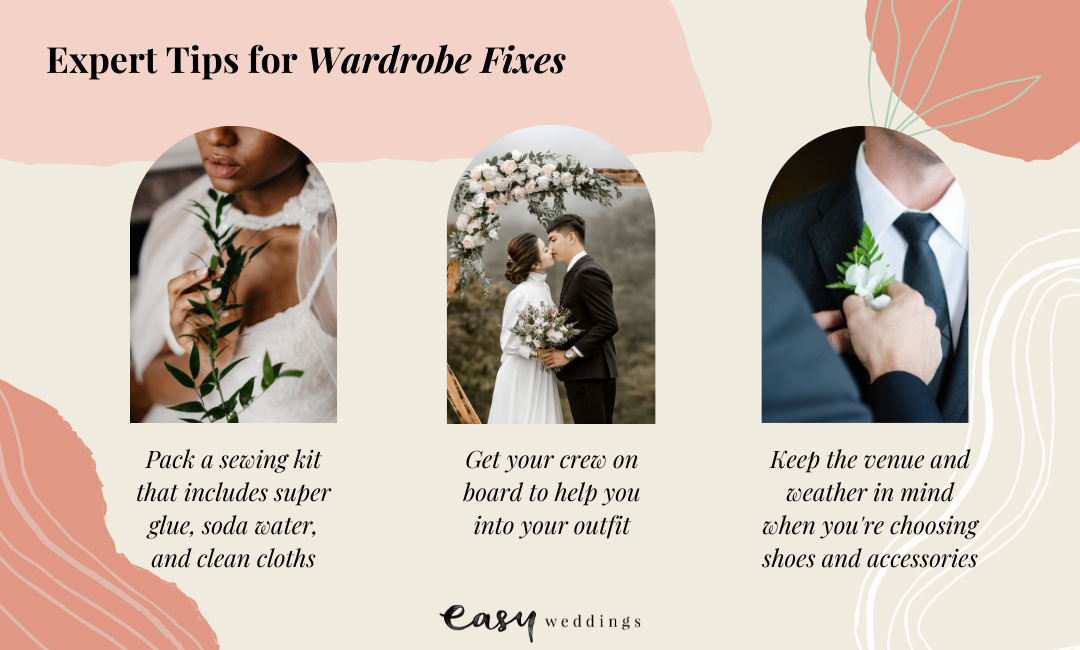 No matter what kind of issues you face on your wedding day, having a supportive crew around you will ensure everything stays on track. You can't prepare for every scenario, but with some resourcefulness and an open mind, you'll still have the best day ever!
---
If you're feeling overwhelmed by the wedding planning process, our bespoke wedding packages are designed to take the pressure off.
Learn more about wedding packages