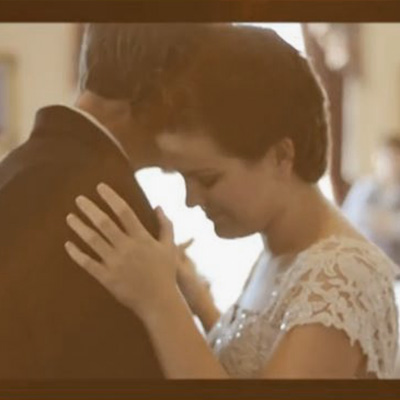 One of the most special and truly emotional moments at any wedding is when the bride takes to the dance floor with her Dad. Here are 10 absolute classic father-daughter dance songs you can't go wrong with.
We've provided links to the original versions, which you can ask your DJ to pump out or, better yet, have your live band sing/play! 
Butterfly Kisses
An oldie but a goodie from 2009, Bob Carlisle's Butterfly Kisses is guaranteed to have the crowd in tears – as well as you and your dear old Dad so ensure you wear waterproof mascara.
[ew-supplier-carousel]
Unforgettable
You can't beat a father-daughter dance sung by a father and daughter! That's why this version of Nat King Cole's classic song Unforgettable is so special and apt. It was recorded in 2012 with Natalie Cole singing along with her legendary father, Nat, who passed away in 1965.
I Loved Her First
If you're after a soft, country-style father-daughter dance song, then this 2012 recording by Heartland will be perfect. It's about a father who reminds his new son-in-law that though "I prayed that she'd find you someday… I loved her first."
Isn't She Lovely
Stevie Wonder's Isn't She Lovely from 1976 stands the test of time and it's guaranteed to tug at your guests' heartstrings without being too slow or overly emotional.
When You Need Me
Bruce Springsteen's usually rich and booming voice doesn't at all detract from this sentimental tune about a father reminding his little girl that no matter how much she goes through or how old she gets, he'll always be there. She just needs to call…
My Little Girl
https://www.youtube.com/watch?v=9I5UV4VWCSk
Another country song, this sweet Tim McGraw tune featured on the soundtrack to 2006 film Flicka and it's a lovely homage to the love between a father and his beloved daughter.
My Girl
The Temptations' classic My Girl is a little funkier than the other songs in this list, but no less wonderful – and offers lots of room for a few equally funky dance moves even if you both have two left feet!
The Way You Look Tonight
Ah, Old Blue Eyes' version of The Way You Look Tonight is timeless, classic and so, so elegantly. With its big band tones and old-world feel, this would be amazing if played by a live band! 
Daddy's Little Girl
If you're after something suitably warm and mellow, The Mills Brothers' Daddy's Little Girl is about as soppy as you can get. It's perfect!
Your Song
Ah, Elton John's Your Song is an oh-so-sweet staple father-daughter dance and is doubly fun if the bride and her Dad want to bust out the dance moves.