Many couple are surprised how much a simple wedding cake can cost when they sit down to put together their wedding budget.  If you're looking to reduce your wedding costs, the wedding cake can be a good place to start.
The following budget wedding cakes ideas can make sure your wedding cake doesn't break the bank.
Have cake for dessert
If your wedding budget won't run to a dessert and a cake, just have the wedding cake as part of the meal. You don't have to have a traditional cake; anything than can be displayed at the reception before it is served can serve the same purpose. White chocolate is currently a fashionable wedding cake ingredient, and stacked layers of white chocolate torte decorated with fruit or flowers will make an elegant centrepiece.
Buy a simple iced cake
Many cake makers sell reasonably priced, ready iced cakes that you can decorate as you wish.  You can buy two or three different sized cakes with plain white icing and use cake stands to stack them. You don't even have to stick to one flavour as you can buy fruit, sponge or chocolate layers and stack them together. Decorating the finished result with ribbon or iced figures can provide a classic but inexpensive effect.
Decorate with flowers
When you are ordering your wedding flowers, see if you can order some small co-ordinating arrangements to decorate your wedding cake.  Buying cake flowers as part of your overall order will be cheaper than buying decorations on their own, and fresh flowers are a beautiful way to tie your cake in with your wedding theme.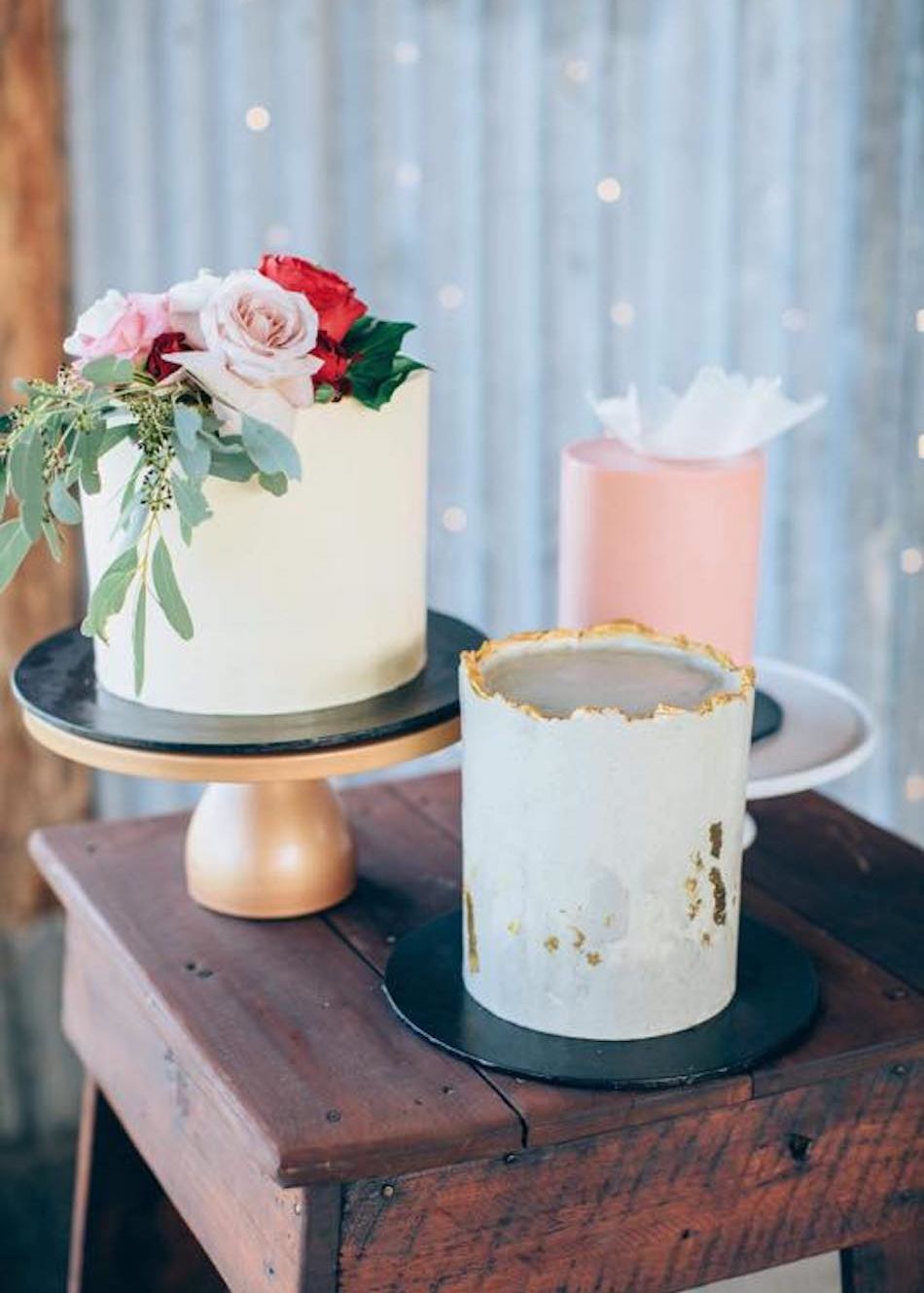 Fake the cake
Are you having a small wedding but wanting a large cake?  A cake that serves thirty people might be enough to feed your guests, but you might think it won't make enough of a centrepiece for your wedding reception.  In this case it is perfectly fine to have a couple of fake layers to increase the size of your wedding cake without significantly increasing the cost. Nobody at your wedding is going to poke the cake so if you are worried that having fake layers might seem tacky, don't worry, nobody will know.
When you are budgeting for your wedding cake, don't forget to decide when and how you are going to serve it.  If you are giving your guests a piece to take home with them, or are sending cake to guests who couldn't make it, you will need to consider the cost of cake boxes as well as the cake itself.  You might also want a special knife to cut the cake, although most venues or caterers will provide this if requested.