Your wedding music can be one of the most important elements of your day to help set the mood.
It can create a romantic atmosphere for when you walk down the aisle, a nostalgic moment for dancing with your parents, or start the reception off and get people up on the dancefloor with some more upbeat tunes.
When it comes to their wedding music, most couples seek entertainers who are flexible and able to tailor their music to suit the audience. There's nothing worse than having everyone up on the dancefloor for one song and then being cleared out for the next.
So whether you're after an acoustic artist, swing band or something to get the dance floor pumping, here are some of the best wedding song covers and wedding artists we've come across.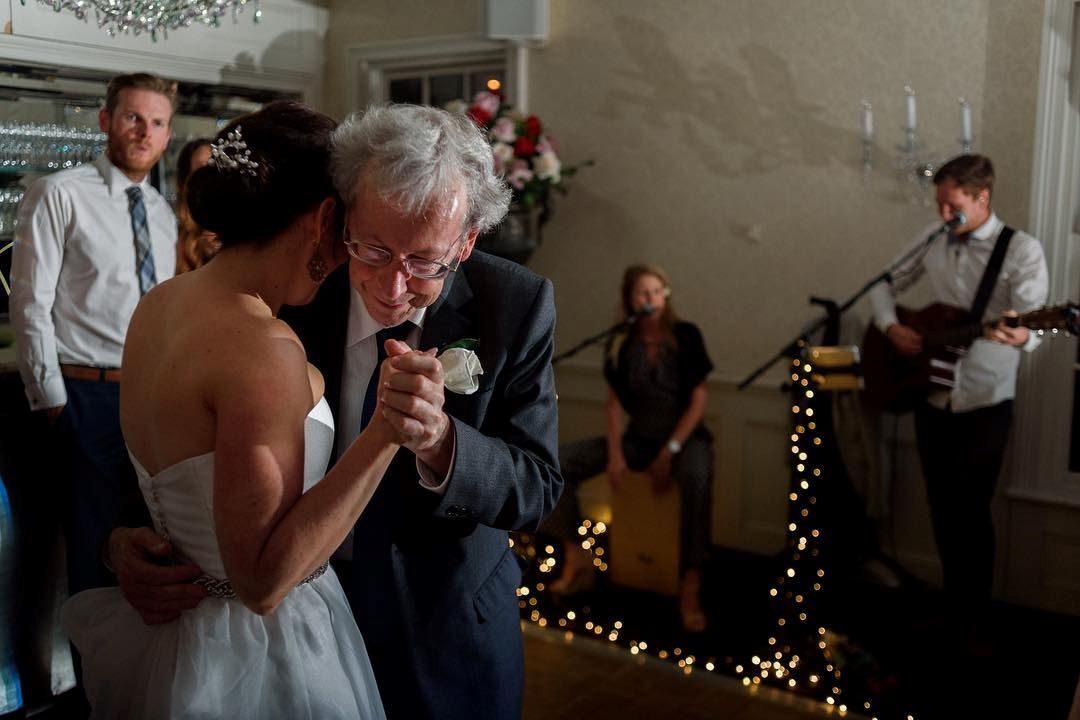 Sometimes there are instances that you can only explain in emojis, and White Clover Music's rendition of Etta James' signature 'At Last' has got the heart eyes emoji all over it. Can somebody say voice?
We love the smooth and slow acoustic cover of this traditional track and the way Kate's vocals really take the tune and make it her own.
The perfect choice to pair with your first dance.
This jazzy rendition of Maroon 5's traditionally pop tune is a great way to start the night off. Paired with flagship act the Adelaide Big Band, Bill's vocals bring the music to life. For the couple who are looking for something a bit different, the saxophone solo is also truly divine.
Jazz truly is the best genre to set the mood.
Not even external noise around a live performance can dull the silky smooth voices of this R&B Motown group. Pair it with coordinated dance moves and one of the sweetest songs of all time and you have yourself some truly A+ wedding entertainment.
We love the way this group takes the song on as their own without dulling the nostalgia, romance or meaning behind the track. 'My Girl' is a great song for your first dance or to dance along to with your parents.
For those looking for something a bit more modern, then a traditional wedding band who can make your favourite songs come to life are your go to. We love this cover of Daft Punk's 'Get Lucky' to kick off the night and get the dance floor pumping.
Honey and Stone take their own interpretation of the track without deviating too much from the original, meaning you can still sing and dance along without a care in the world.
It is your wedding day, after all, so dance like there's no one watching!
Tracy Chapman's 'Fast Car' is one of my favourite songs of all time so I'm pleased to say that Luke Dewing Music gives it justice.
An acoustic artist for your wedding can take your choice of wedding songs and take them on to transform them for your day. Whether it's a punk or a pop song you want to transform into an acoustic track, chat with a solo artist about what they can do for your day. It beats just playing the original from iTunes or Spotify on the day.
Give me another track that can get people up to dance like 'Uptown Funk' can. I'll wait.
This funky tune paired with the clean vocals and jazzy brass of Something Borrowed is the perfect combination for your wedding day. If you're looking for a band to set the mood then choose a group who can take on modern and older tunes and do all different types of genres justice.
If you're looking for a bit more of a classic feel to your wedding then why not go all the way back to swing? These old-fashioned tunes are ideal to get even your grandparents up dancing and have fortunately been made more popular with our favourite modern crooner Michael Buble.
Of course, it was the original crooner Frank Sinatra who originally brought 'The Way You Look Tonight' to life, and the smooth vocals of Swing Central hark back to the OG.
Swing is the original music of romance and will give your wedding that little bit of uniqueness that your guests will remember for years to come.
It's a yes from us!
You could be forgiven for mistaking this cover of 'Locked Out Of Heaven' to be Bruno Mars himself, with One Fun Band taking this tune on and perfecting it.
We love this modern pop track to get the party going and get your friends and bridal party up on that dance floor.
But remember, the sign of a good wedding band is not only to play brilliatly, but to also read the mood and follow one great track with another.
There are few people who don't love Hallelujah and it is a gorgeous song in and out. But you've never heard it played like this before!
Simon and Funkle don't just offer solo and band packages for your wedding, but they also specialised in Jewish Weddings.
Cue the gorgeous acoustic tones of Hallelujah sung in Hebrew. You might not be able to understand exactly which chorus Simon is singing but his voice brings this powerful song to life regardless.
Definitely worth the listen. Actual chills.