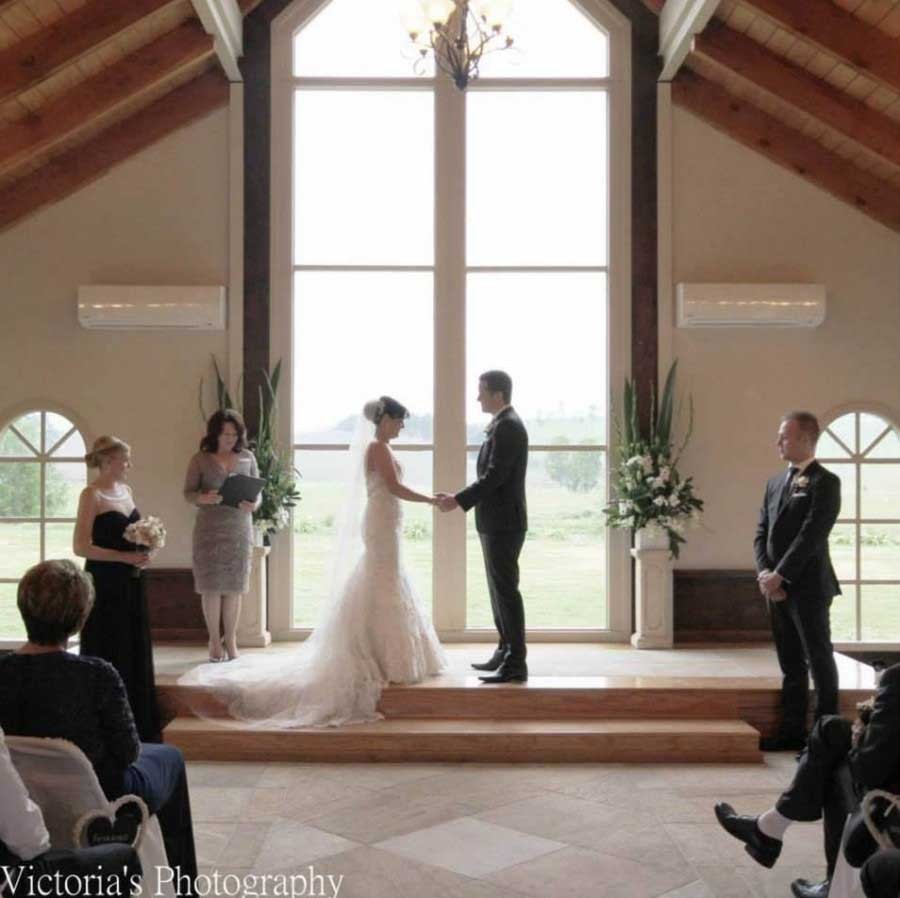 From caring for each other in sickness and health and declaring your undying love to promising to take out the rubbish bins and limit your credit card spending, trying to put into words exactly how you feel in your wedding vows can be quite overwhelming.
Celebrant Cheryl Warry from Once Bitten Twice Smitten in Melbourne has heard her fair share of vows in the 187 weddings that she has officiated since she first began working in the industry four years ago. Prior to that, she had worked as a facilitator, presenter and public speaker both locally and internationally.
The very first wedding that Cheryl performed came as a surprise at her son's wedding, when his celebrant became sick halfway through the ceremony and handed her the book and microphone as she walked off, about to throw up.
"It was a baptism of fire…I had to deliver it with as much professionalism as I could gather, and even though you do role-plays when you're becoming a celebrant, nothing ever prepares you for the reality. The upside was I didn't have enough time to get too nervous about doing my first wedding. It was a mind rush!" she recalls.
"There was a lot of emotion attached to it and it was funny when I was reading their vows, because I didn't know what was coming, like when he promised to not leave his underwear on the floor or kill her pet guinea pigs!"
Cheryl has come a long way since that first ceremony – and she's learned a thing or two about writing wedding vows. Below, she shares her top six do's and don'ts for writing the perfect vow for your loved one on your wedding day.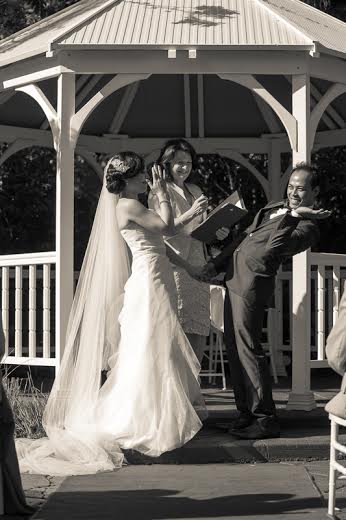 Do speak from the heart
It's ideal to have some prompt cards on hand when you read your vows, but don't feel the need to read from them word-for-word. Why not let go a little, focus on sharing the moment with your partner and look at him or her in the eye when you speak?
"No-one will know if you've gone off-track and haven't read your vows out word-for-word," says Cheryl. "But you can be passionate and speak from the heart. They're your words for your partner. It's not about what you wrote down. And if you get partway through the vow and want to add more, go for it. It's your ceremony."

Do make it personal
A good celebrant will help you put together your vows by offering lots of resources for inspiration. Some will even have a folder crammed with vows that you may be able to select from or, at the very least, draw inspiration from.
However, do consider adding a few sentences of your own to make it just a bit more special, suggests Cheryl, who particularly loves the funny vows couples often make to one another.
"I've heard vows where one partner has said, 'I promise to allow you to be the financial advisor, if you promise to allow me to exercise my shopping ability'," she says. "Or 'I'll allow you to have your garage of boys' toys and I promise not to kill our wardrobe with all my shoes'."
Cheryl has also heard people promise to leave the toilet seat down, to regularly take the dog for a walk or to always leave a cold beer in the fridge for their loved one.
It's a sweet idea to keep your vows to yourself right up until the ceremony, when you finally share your words with your partner. In fact, that lovely element of surprise is what Cheryl considers to be the best part of the wedding vows.
However, make sure that both of you do share your vows with your celebrant, who will be able to give you constructive feedback and judge whether the two vows are balanced (for example, it's ideal if both are around the same length in duration). He or she may want to keep your notes and hand them over to you when you're ready to speak on the day, so you don't have to worry about carrying them around with you.

Do remember that it's a vow, not a roast
By all means, add elements of humour and cheekiness to your wedding vow to put a smile on your partner's face, but now is not the time for passive-aggression or making a dig at the love of your life.
The last thing you want at your wedding is hurt feelings, after all.
"Your vows are supposed to be what you promise to do for your partner for the rest of your life. It's not an opportunity to take a swipe at them," warns Cheryl. "Yes, share the humour if that's what your personality is, but share it in a way that highlights the love you have for each other."

Don't forget to practice
Now is not the best time to adopt a fly-by-the-seat-of-your-pants mentality and choose not to practice saying your vows beforehand. Say them in front of the mirror and read them out loud to yourself.
"Some people write their vows, then walk away and forget about it because they think they'll be all right. But on the day, it's a huge rush of emotion and by not practicing, you'll just lose your way because you're nervous. You'll see all the emotion on your partner's face and you'll worry about getting it right," says Cheryl.
Of course, your celebrant will help you put your vows together and take control of the ceremony, but the actual reading of the vows will come down to you – and only you!
"Suddenly your tonsils might swell up and you might feel constricted, because people really get that element of fear if they really struggle with public speaking, so if you haven't practiced, trying to read it for the first time at the actual ceremony is hard. It's really the first time a lot of people have had to speak in front of all their friends and family. It might only be a few sentences, but when you have to finally say them, it's a big deal."
Don't get drunk beforehand
Of course, it's tradition to, perhaps, enjoy a glass of celebratory champers on the morning of your wedding with your bridal party, but try to keep a tab on how much you're drinking. The last thing you want is to be feeling queasy as you're walking down the aisle. If you're feeling nervous, perhaps turn on some relaxing music while you're getting ready, rather than turning to a bottle of wine.
Also, it's not a good idea to write your vows when you're a wee bit tipsy, either.
"At the time your words might sound brilliant, but on the day, vowing to always love your partner's odd shaped little toe may not seem such a good idea," says Cheryl.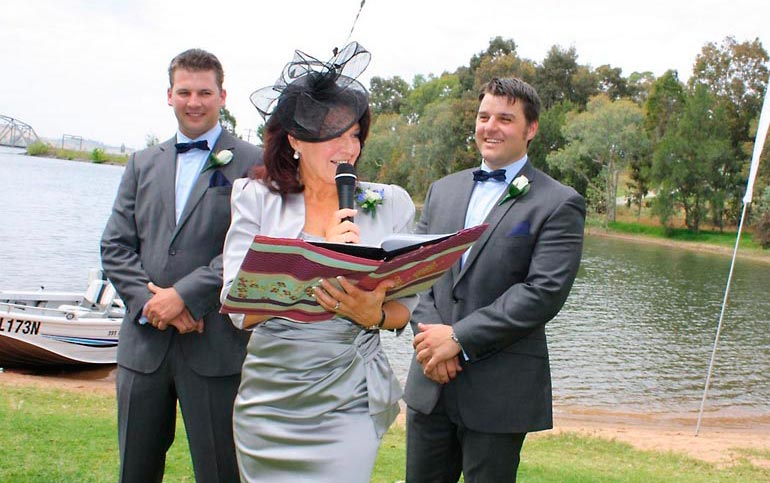 Don't over complicate matters
One of the biggest mistakes Cheryl sees people make when writing their own vows is trying to fit too much in and over complicating things. Keep it simple. Sometimes if vows are too lengthy, the meaning behind your words can get lost.
"Don't write a novel – sometimes less is more," suggests Cheryl.
You don't need to put absolutely everything into the vow – after all, you still have the opportunity to make some promises to your partner in private, too, she says.
"Ask your celebrant for inspiration and guidance. You don't have to do it on your own! It's all about making some key points about you want to promise your partner. It can be traditional, unconventional, quirky, spiritual – it can be anything you want."