Imagine every feeling you ever had rolled into one. That's how Tweed Heads bride Zoe Gustafson describes the heady moment before floating down the aisle to meet Maori beau Kimi Kahika.
Says Zoe, "On a perfect Friday afternoon, with not a cloud in the sky, in the lovely grounds of Mantra [Salt Beach], I married my love, my soul mate, my best friend."
The wheels of a romantic beach wedding were set in motion with 100 strawberry scented candles. After eight whirlwind months of meeting and falling in love, Kimi devised a proposal destined for just one answer.
Zoe recounts, "I had decided that today wasn't the day he was going to propose… However much to my extreme surprise, delight, excitement, joy and every other amazingly happy emotion you can feel, I opened our hotel room door to something out of a movie.
"Kimi had his sisters transform our apartment to the most romantic place I have ever been. There were over 100 strawberry scented candles everywhere… along with hundreds of rose petals, chocolate dipped strawberries, rose Moet and they'd even filled the bathtub.
"Kimi put on a playlist of songs in the background and dropped to one knee as he read out a speech he had prepared for me, while I cried and smiled with extreme happiness and joy."
One year later, the pair wed in a deeply spiritual ceremony officiated by Kimi's cousin and uncle – both Maori pastors – in which a three-wicked candle was lit to signify the couple's union with God.
Later, X Factor finalists Jade Louise and Nuz (aka Straight Up) set the vibe to party mode, kicking off with the infectious Black Eyed Peas hit 'I Got a Feeling'.
The overjoyed newlyweds honeymooned in a luxury campervan, touring the picturesque south island of New Zealand before a total change of scenery, feeding baby elephants in Phuket, Thailand.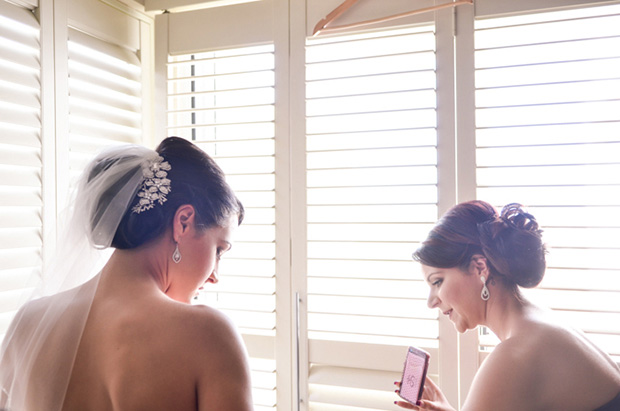 Zoe's dazzling amethyst shoes were purchased online from the UK. "It was the only place I could find my purple glam shoes," she says. "Purple is clearly my favourite colour!"
To be guaranteed of the type and colour of her Flowers by Corrina teardrop bouquets, Zoe opted for real-touch fake flowers. "You couldn't even notice, they looked amazing and now I have them forever," she smiles.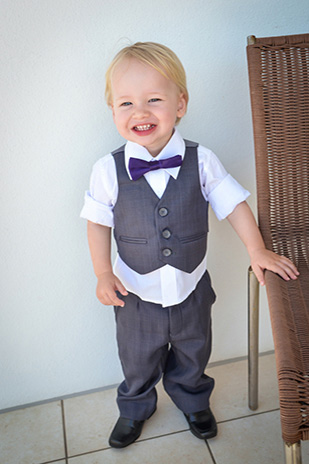 Zoe's Luv Bridal gown was a strapless sweetheart vintage lace and organza creation with embellished feature belt.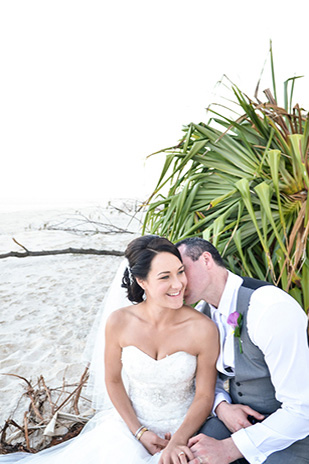 "The room was decked out in white and purple with lots of sparkle, by the fantastic Maggie-Ann at Bam Events," praises Zoe.
"The daddy-daughter dance went off," laughs Zoe, "with Dad and I breaking out into a musical mix-up dance much to everyone's surprise and amusement."
Photos courtesy of Pineapple Images.
Featured Suppliers:
Bomboniere: DIY lolly buffet & scented candles / Brides Accessories: Jubilee Jewelz, Pierre Andre Jewellers / Brides Gown: Luv Bridal / Brides Shoes: Online / Bridesmaids Accessories: Colette by Colette Hayman / Bridesmaids Dresses: Jen Jen House / Ceremony Music: Dave Baker Music / Entertainment: Jade Louise & Nuz AKA Straight Up / Flowergirl Dress: Target / Flowers: Flowers by Corrina / Gift Registry: Wishing well / Grooms Attire: Connor / Grooms Shoes: Connor / Groomsmen Attire: Connor / Groomsmen Shoes: Connor / Hair: Anna Mickelborough Hair / Honeymoon: Travelscene Twin Towns / Invitations: Sarbe Invitations + Paper / Makeup: The Touch Up Team / Pageboy Attire: Online / Photobooth: DIY / Rings: Pierre Andre Jewellers / Venue: Mantra Salt Beach / Venue Decor: Circle of Love and Bam Events / Wedding Night Accommodation: Mantra Salt Beach