They may have been there to photograph the gorgeous new chalet accommodation at Rainforest Gardens' dreamy Mount Cotton wedding venue, but in this romantic styled shoot – it was the resident alpacas who stole the show.
Brisbane wedding photographer (and confessed romantic) Renee Rametta of Two Wild Hearts tells us about the inspiration behind the photoshoot and the latest addition to the garden wedding venue – chalet accommodation in the most serene setting.
Rainforest Gardens is a beautiful wedding venue based in Mount Cotton, halfway between Brisbane and the Gold Coast. The venue caters for small and large weddings with everything you need to hold your ceremony and reception.

When we started discussing an editorial shoot they were in the middle of building their new chalets. I was excited to incorporate these to show potential couples how amazing they are for getting ready on your wedding day. The chalets are nestled away on the high side of their stunning property with full views right out to the bay.

On the day of the shoot, we were relaxed, unrushed, and we got to play with the alpacas that live at the venue.

Highlight of the day!
Stunning photos courtesy of Two Wild Hearts Photography; shot on location at Rainforest Gardens Mount Cotton.
VISIT TWO WILD HEARTS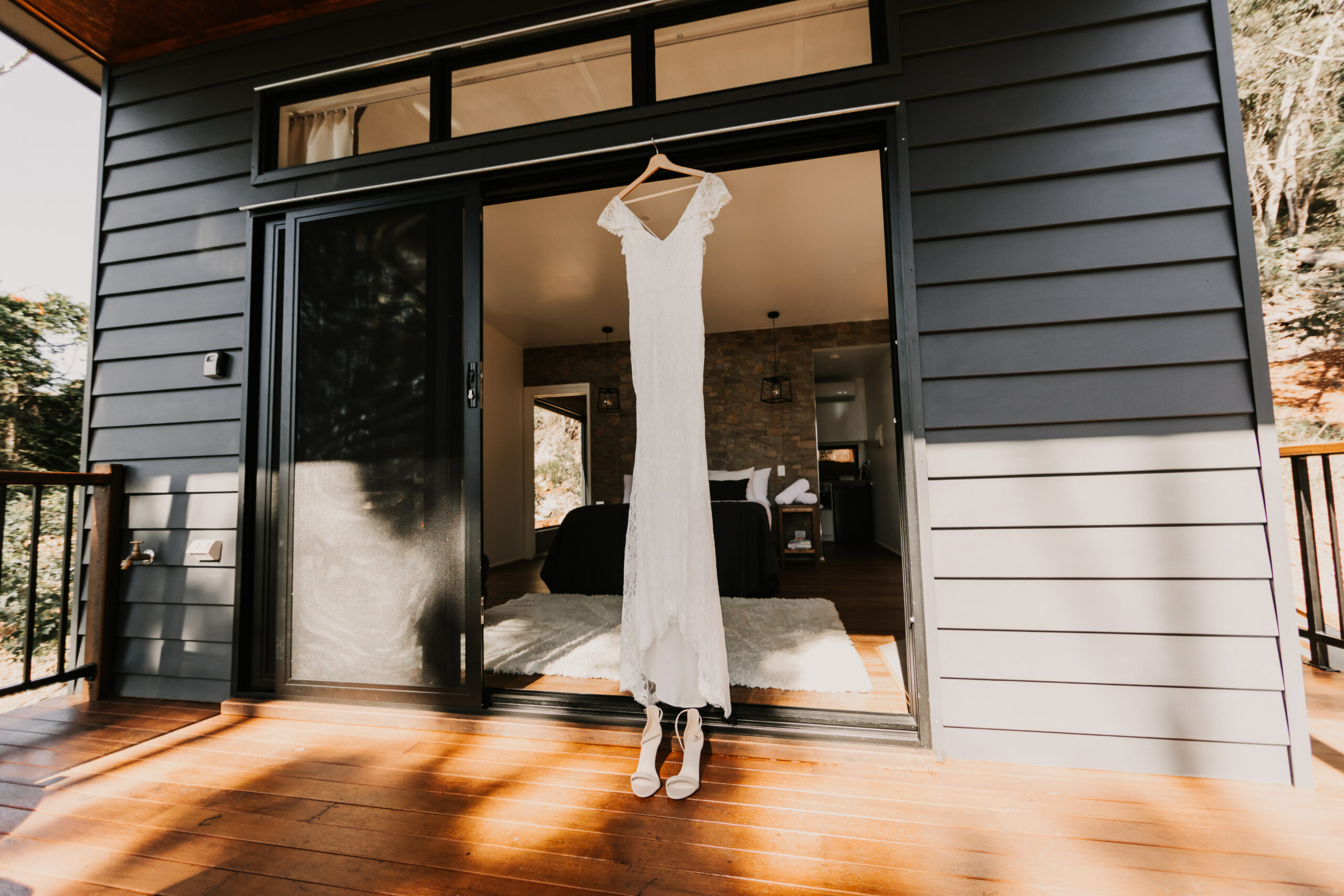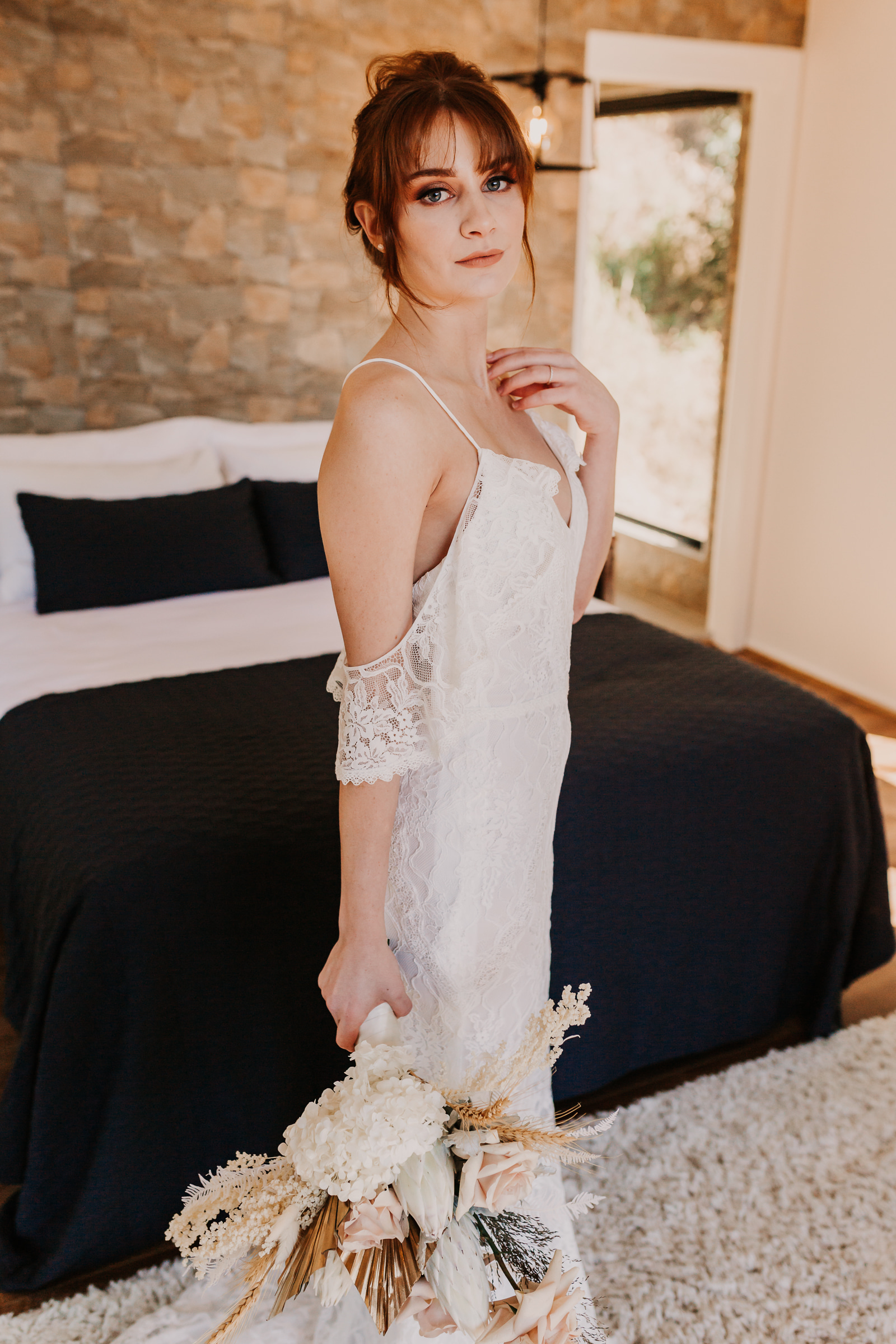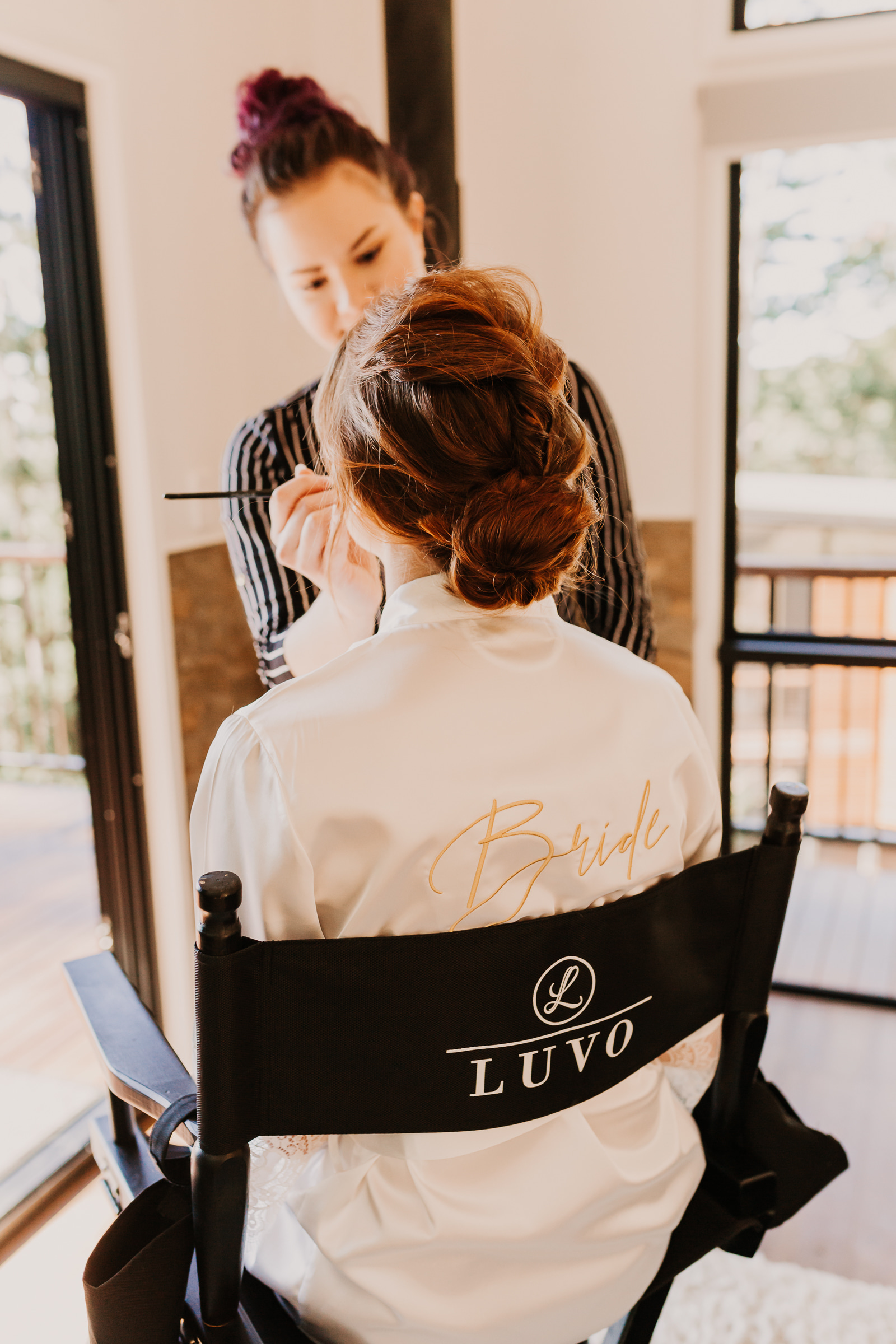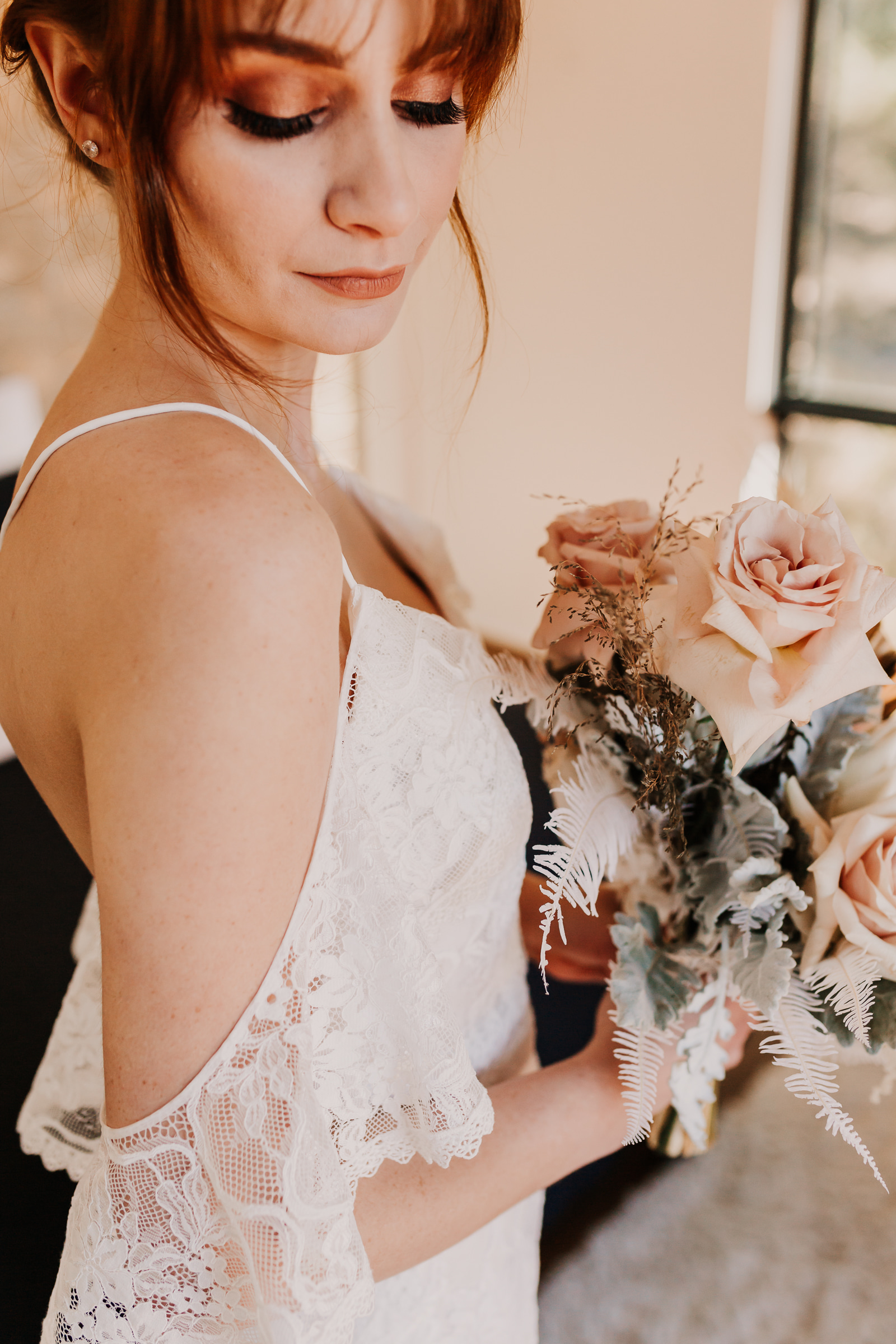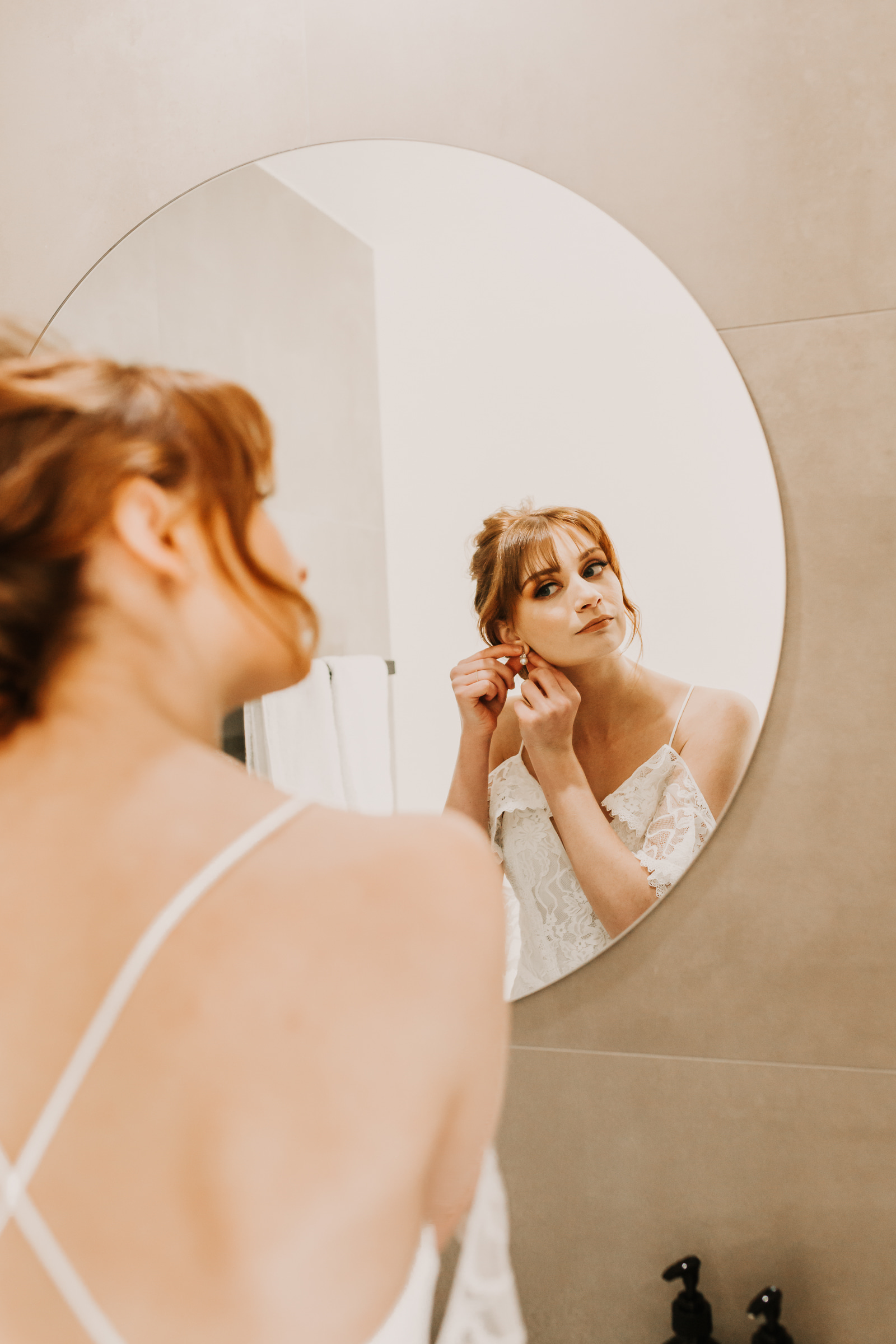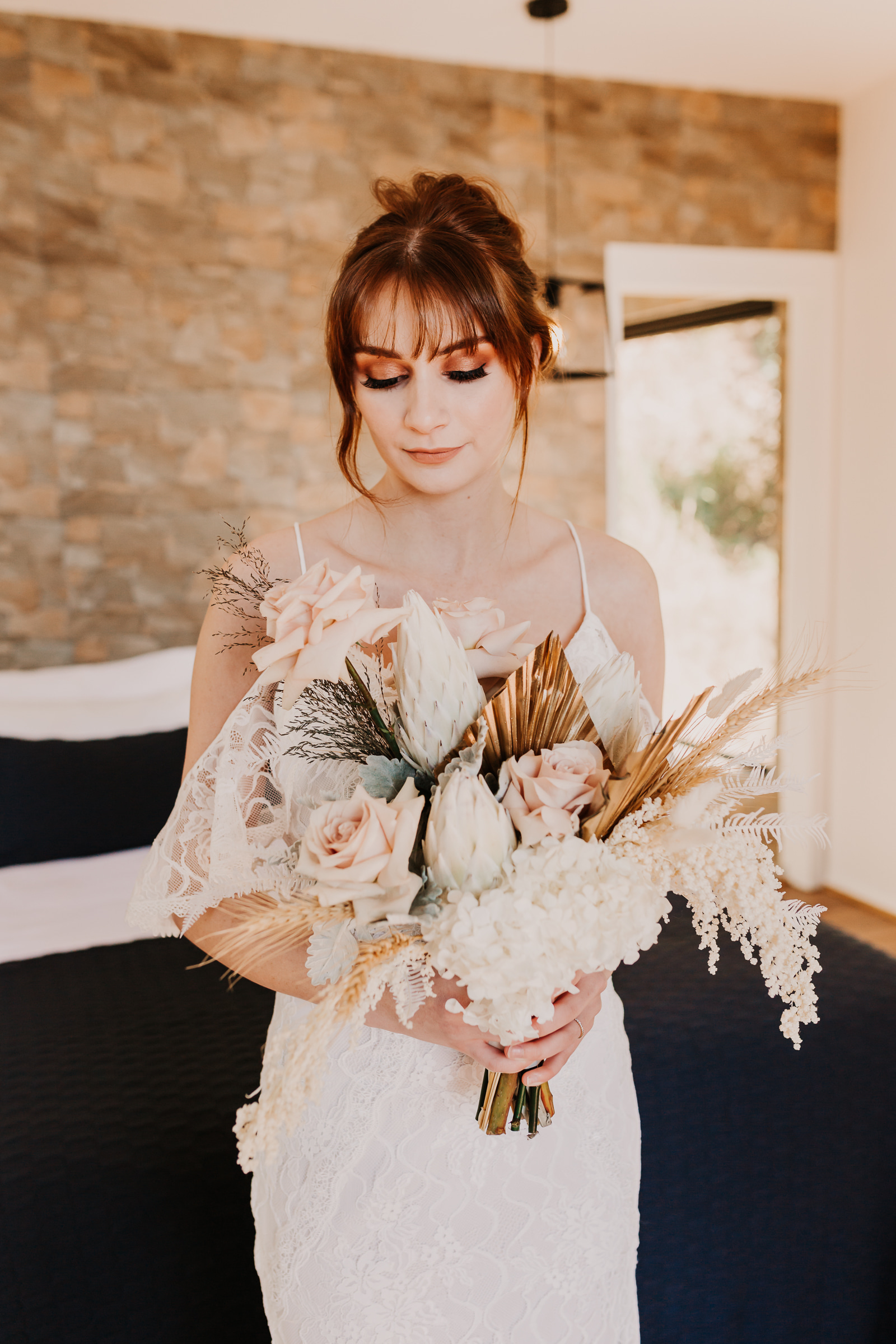 Working with Rainforest Gardens' own wedding planner and florist, the inspiration shoot showcased modern romance using blush, creme and metallic tones.
"We wanted the shoot to have a romantic, soft feel," comments Renee. "With dried flora being so in style this year we wanted to incorporate that into the bouquet. The team at Rainforest Gardens put together the most stunning arrangement just based on that brief."
BROWSE WEDDING FLORISTS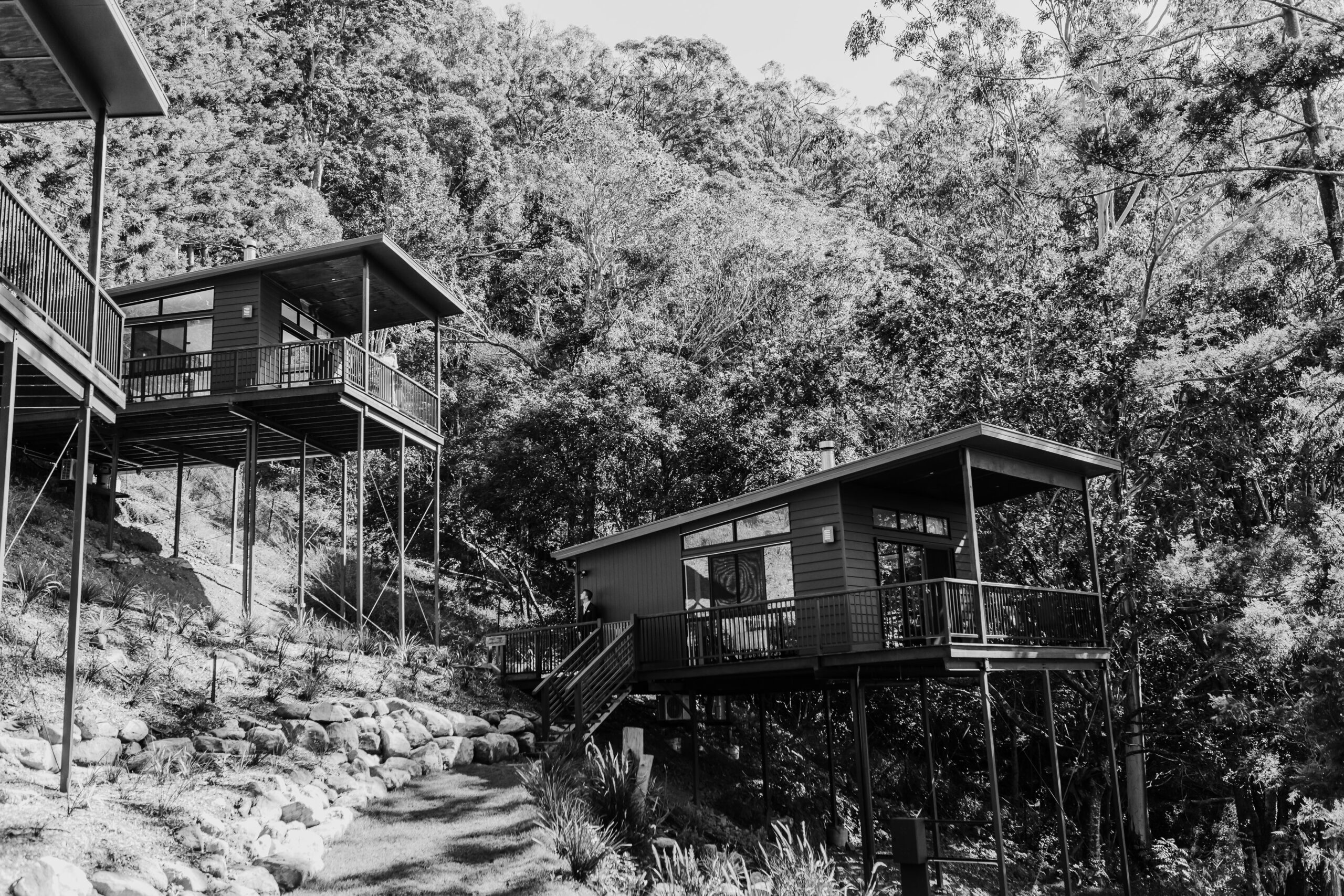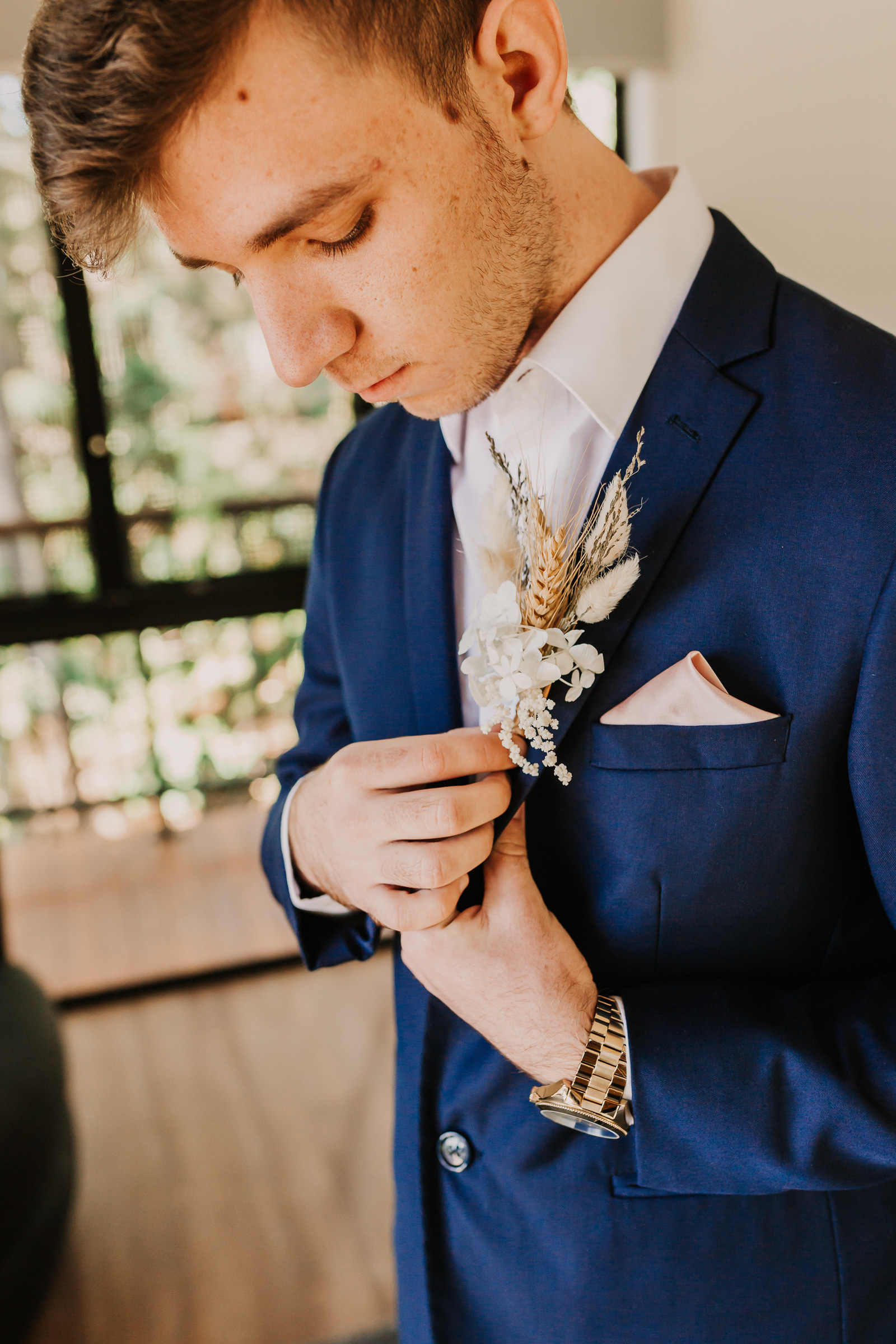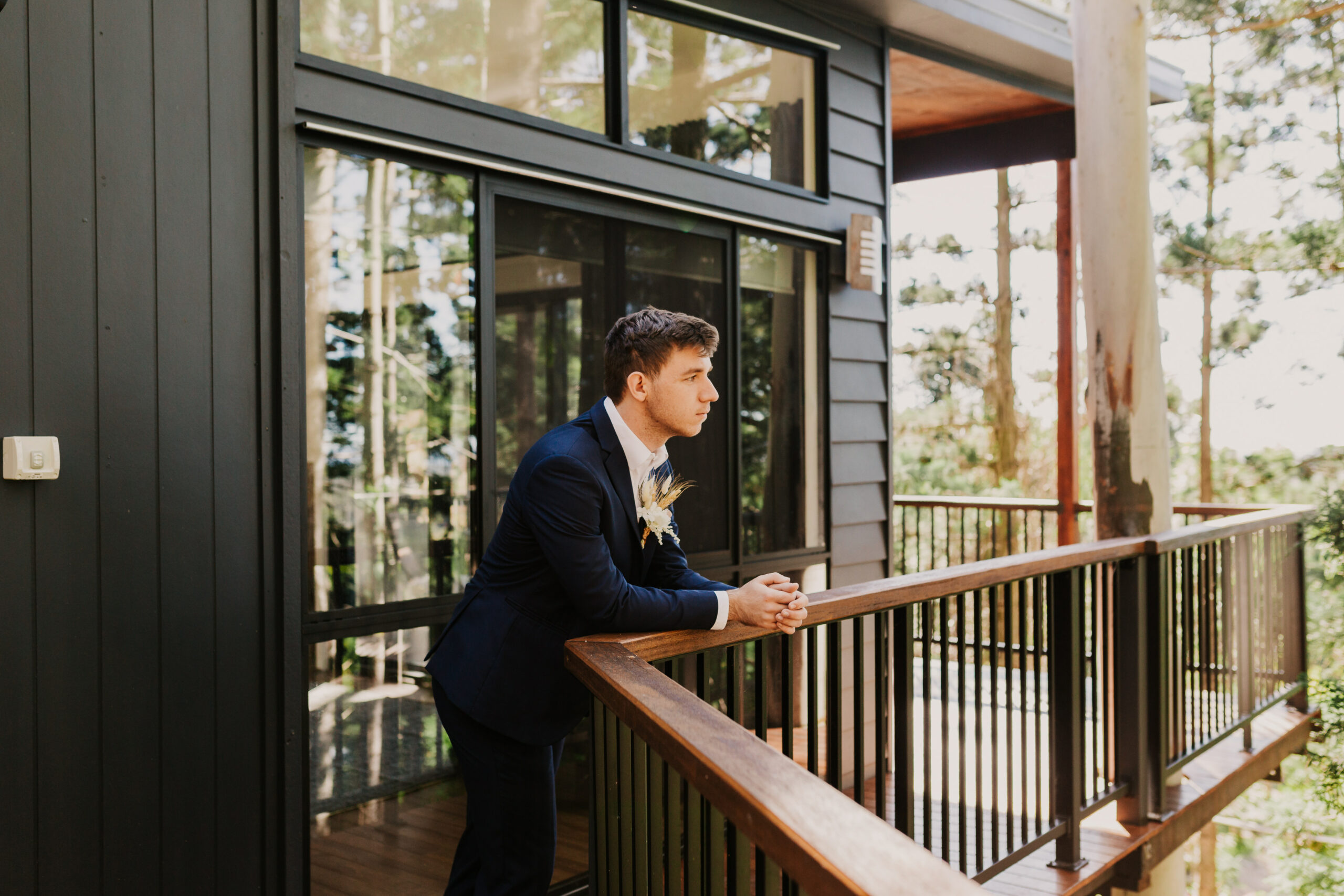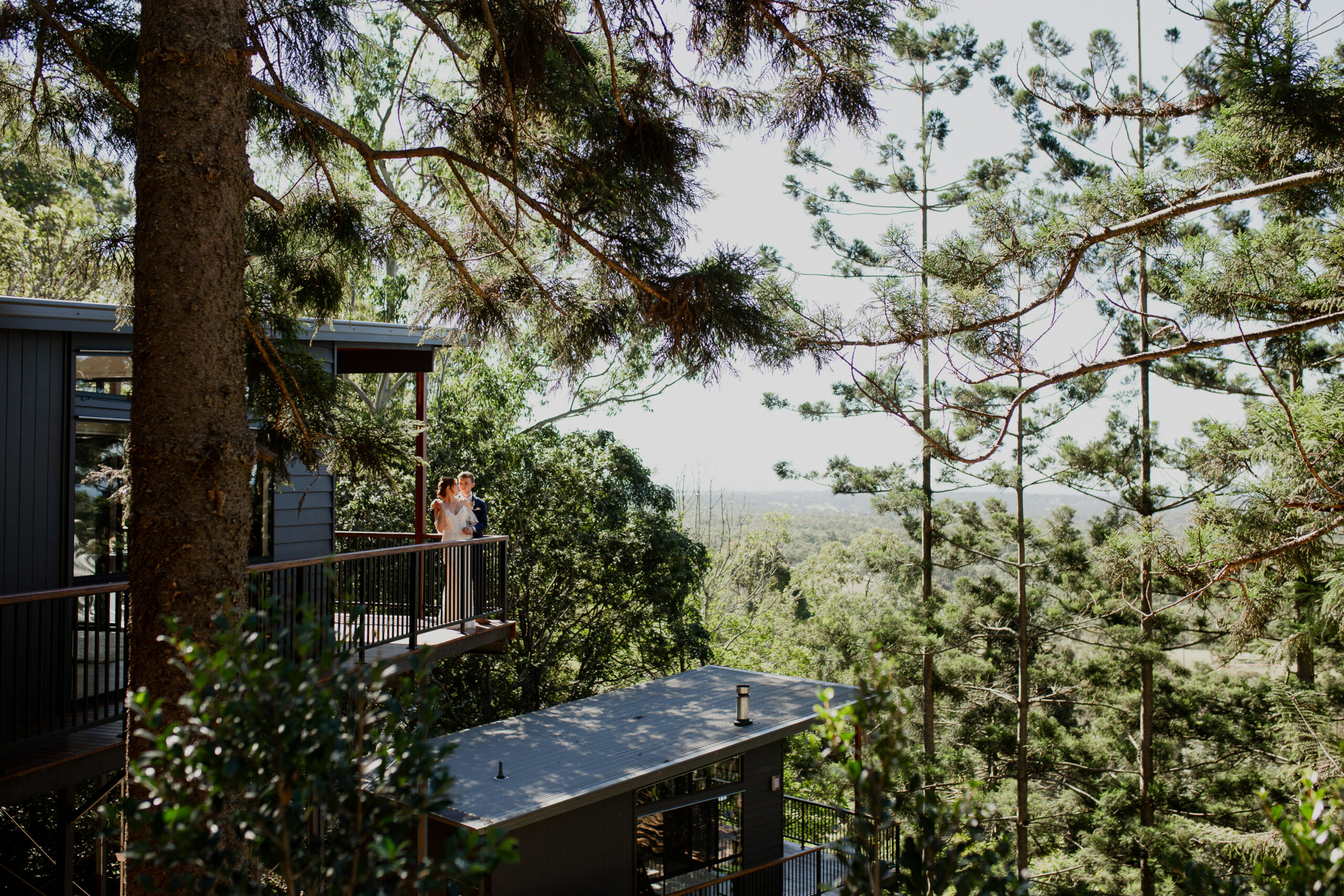 The eco-accommodation chalets at Rainforest Gardens Mount Cotton sit amid the tranquillity of the neighbouring decades-old pine forest and Moreton Bay vistas.
"All of the chalets have uninterrupted views so you can catch those amazing sunrises right from the comfort of your bed," says Renee. "The editorial shoot was right in the middle of winter, so we made use of the chalets' pot belly fireplaces and got nice and toasty.
BROWSE WEDDING VENUES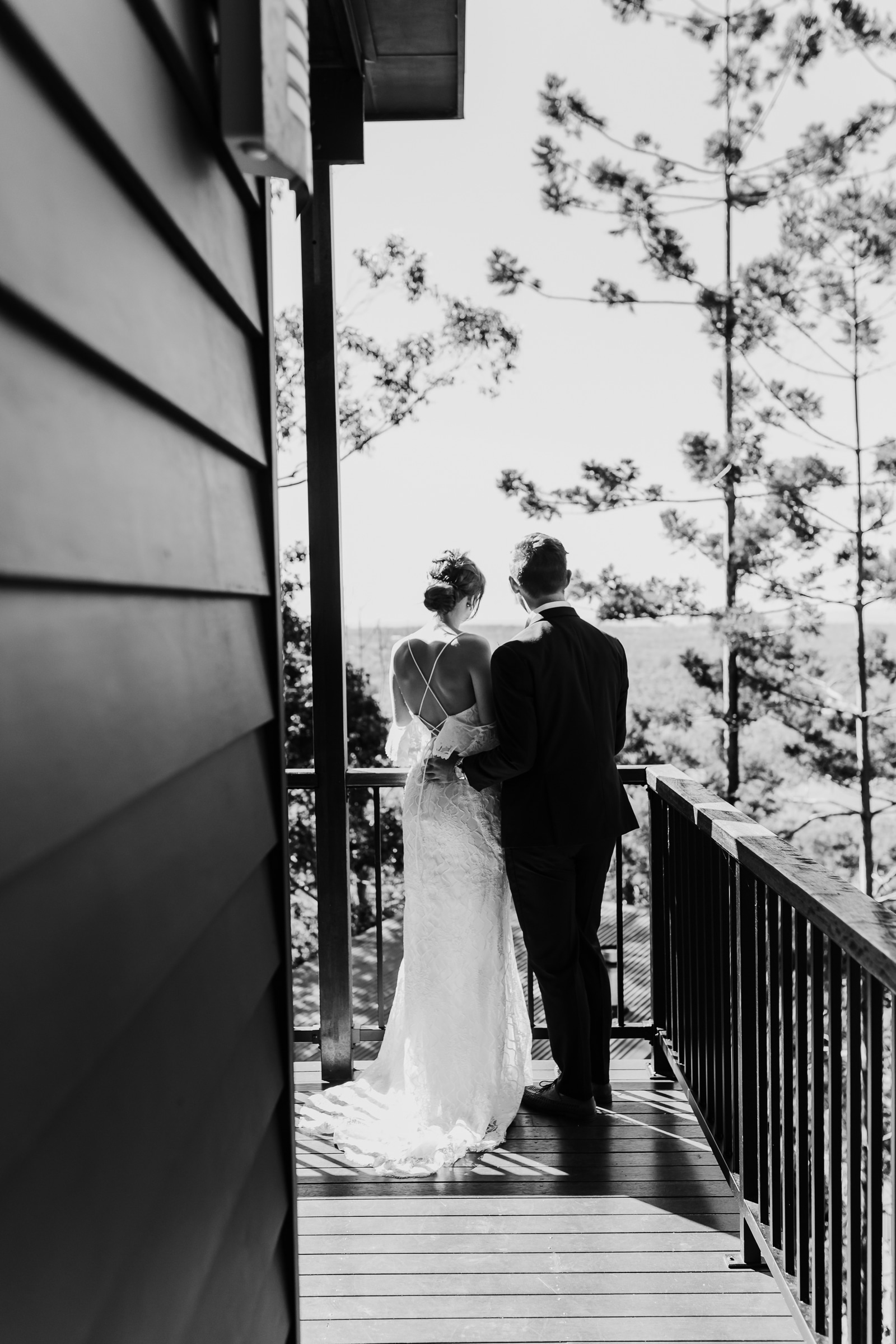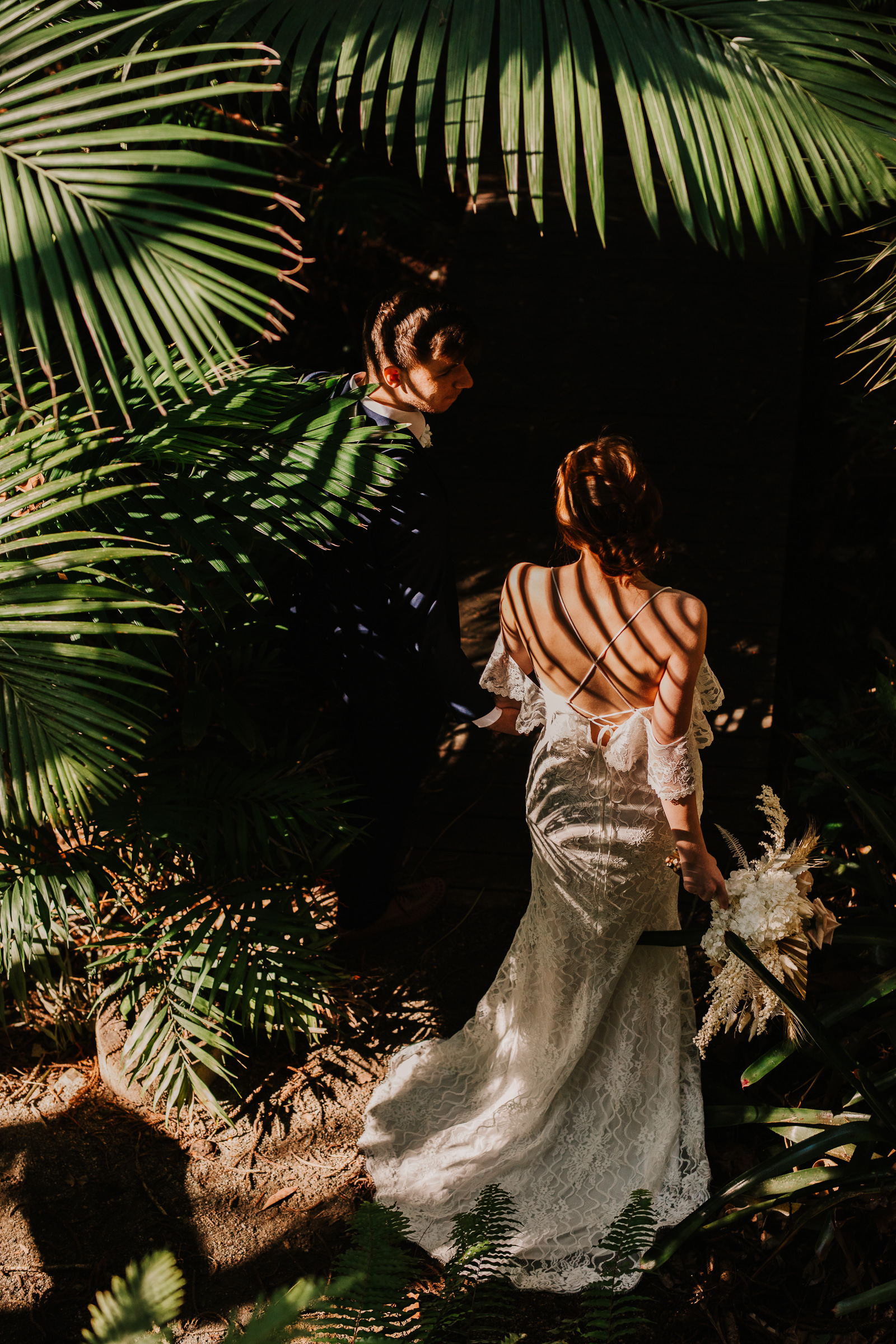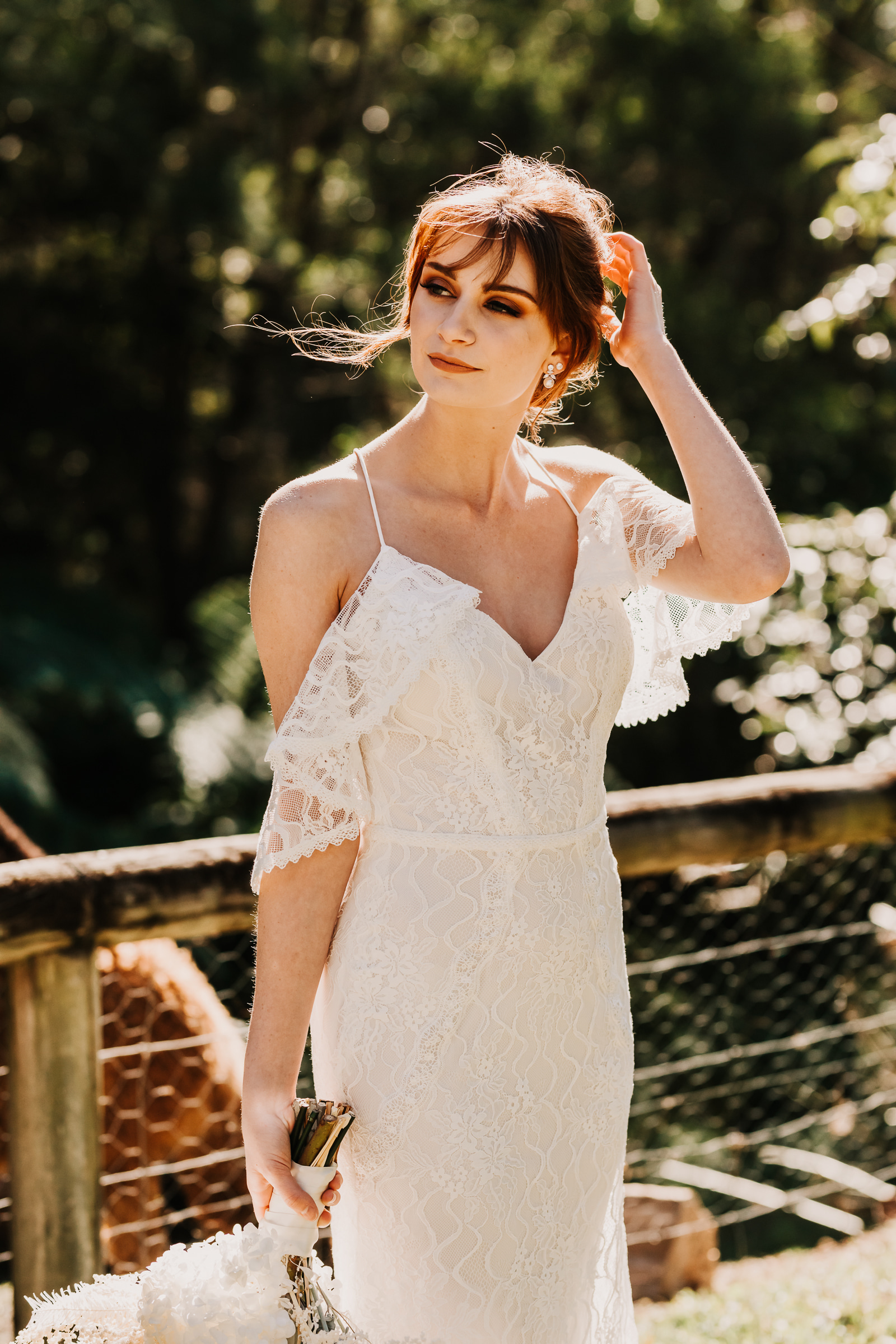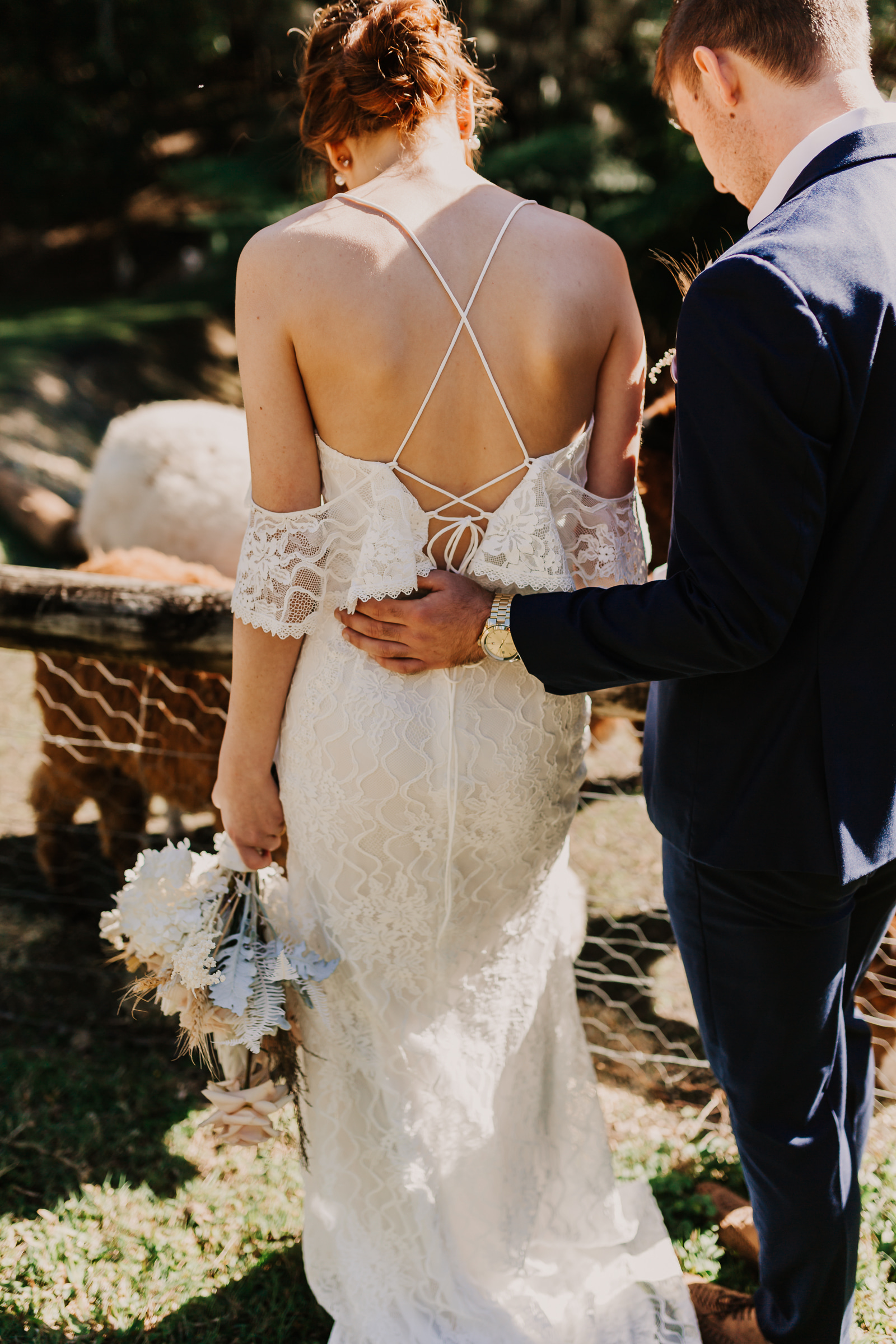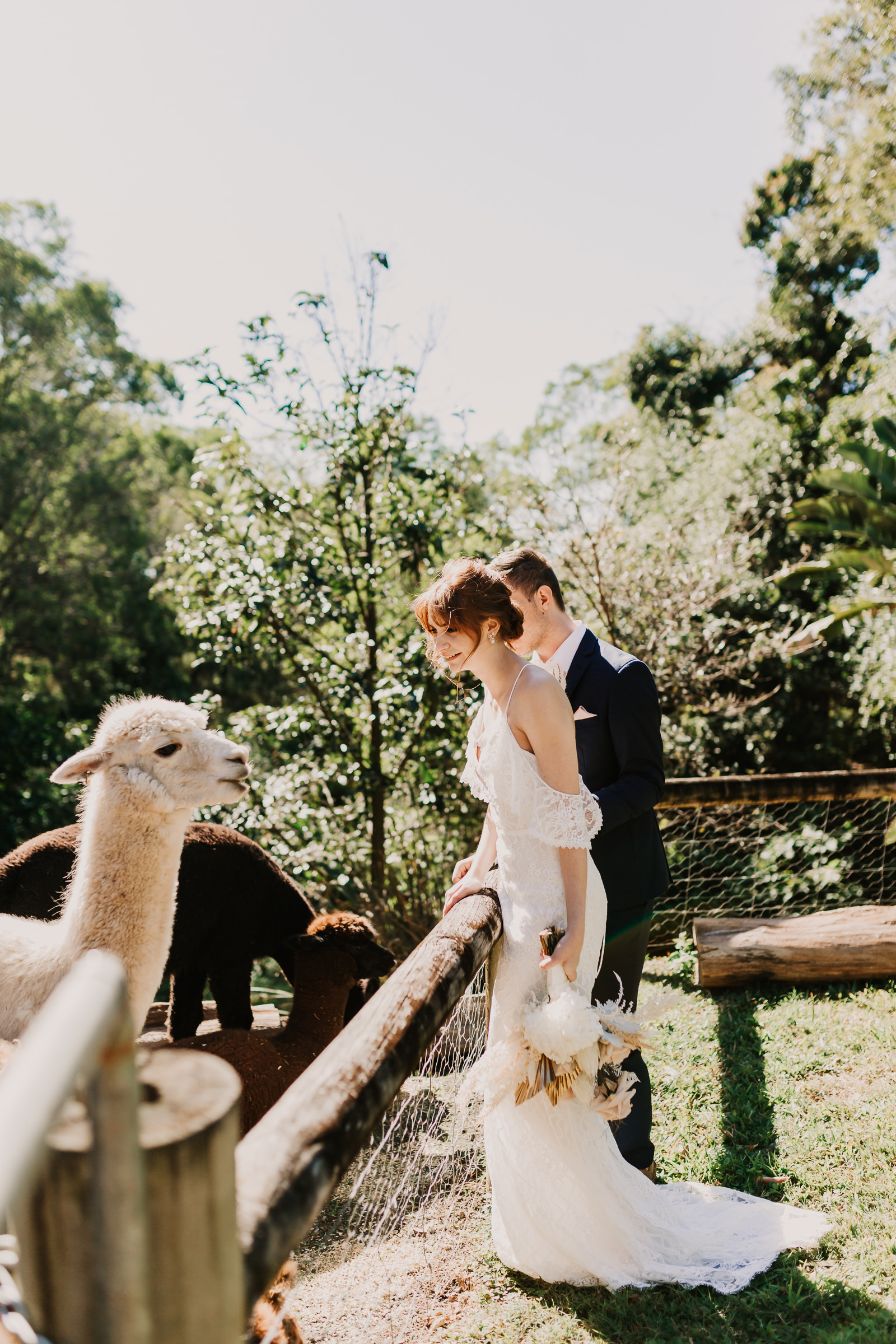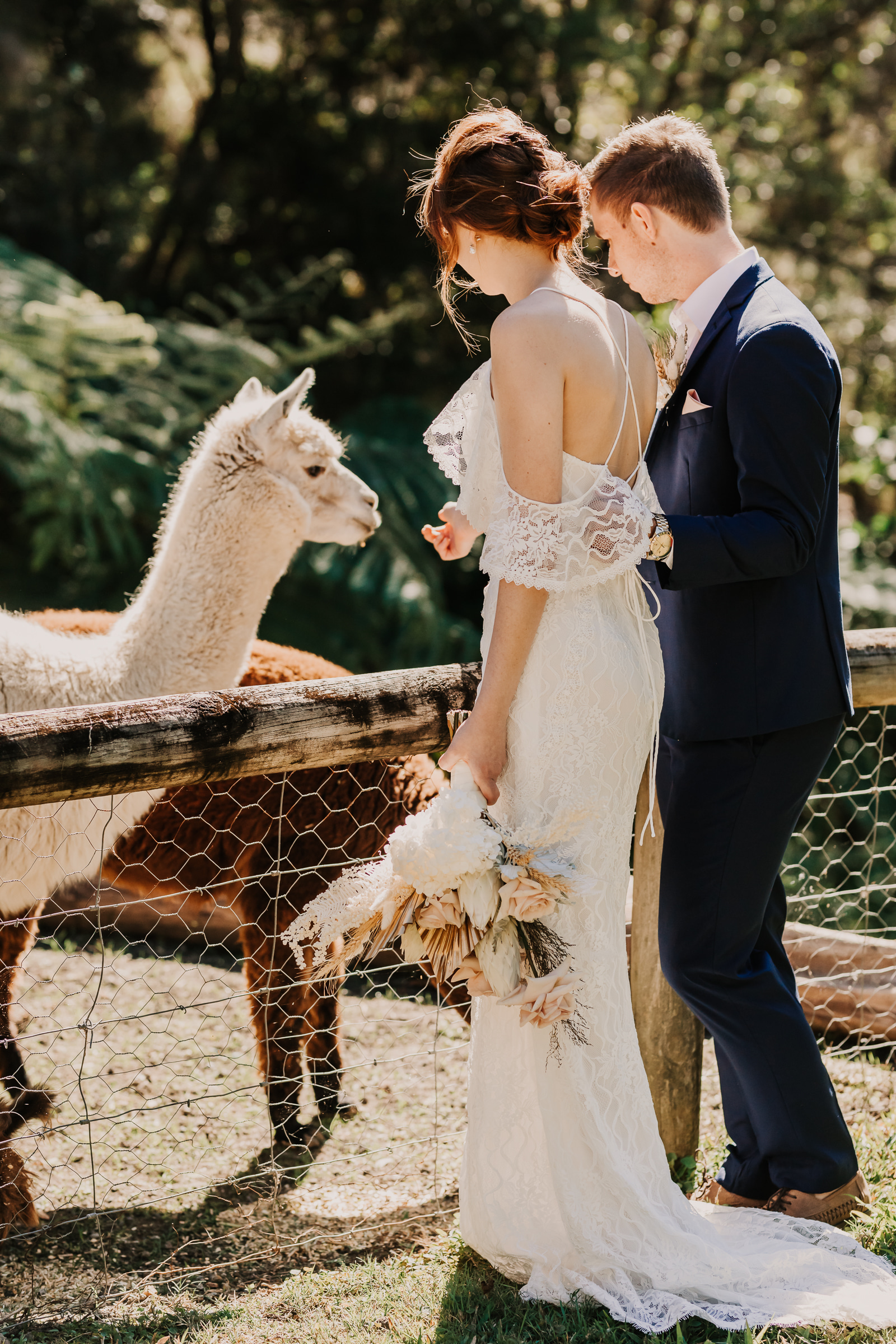 Models Lucinda and Troy, wearing Oleg Cassini and Suits Direct, were captured with the venue's adorable alpacas; available to couples for their wedding photos at Rainforest Gardens.
As animal lovers, the venue also states that pets are welcome at your wedding ceremony. "We just ask that we know in advance, your pet is well behaved and you pick up any droppings!"
VISIT TWO WILD HEARTS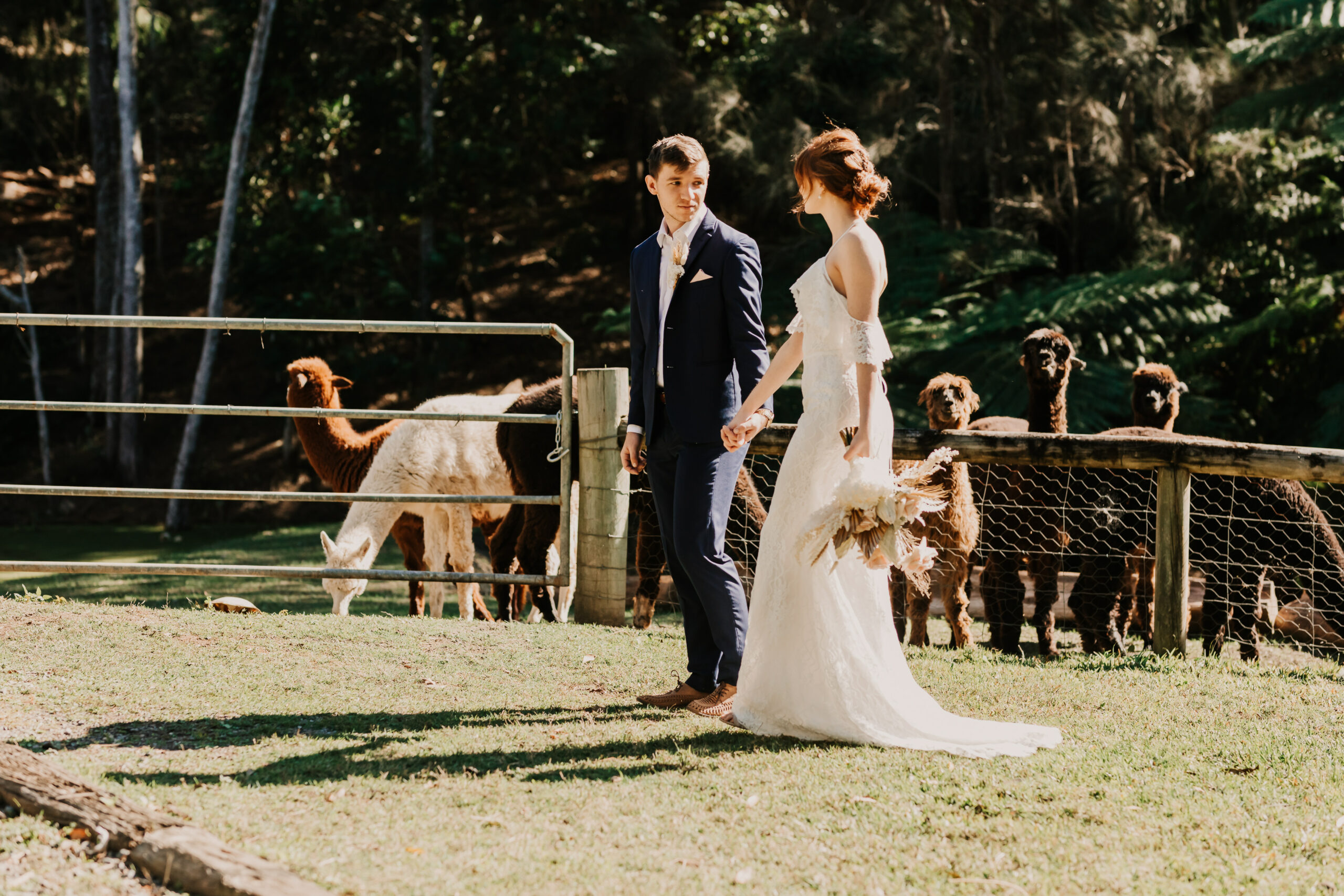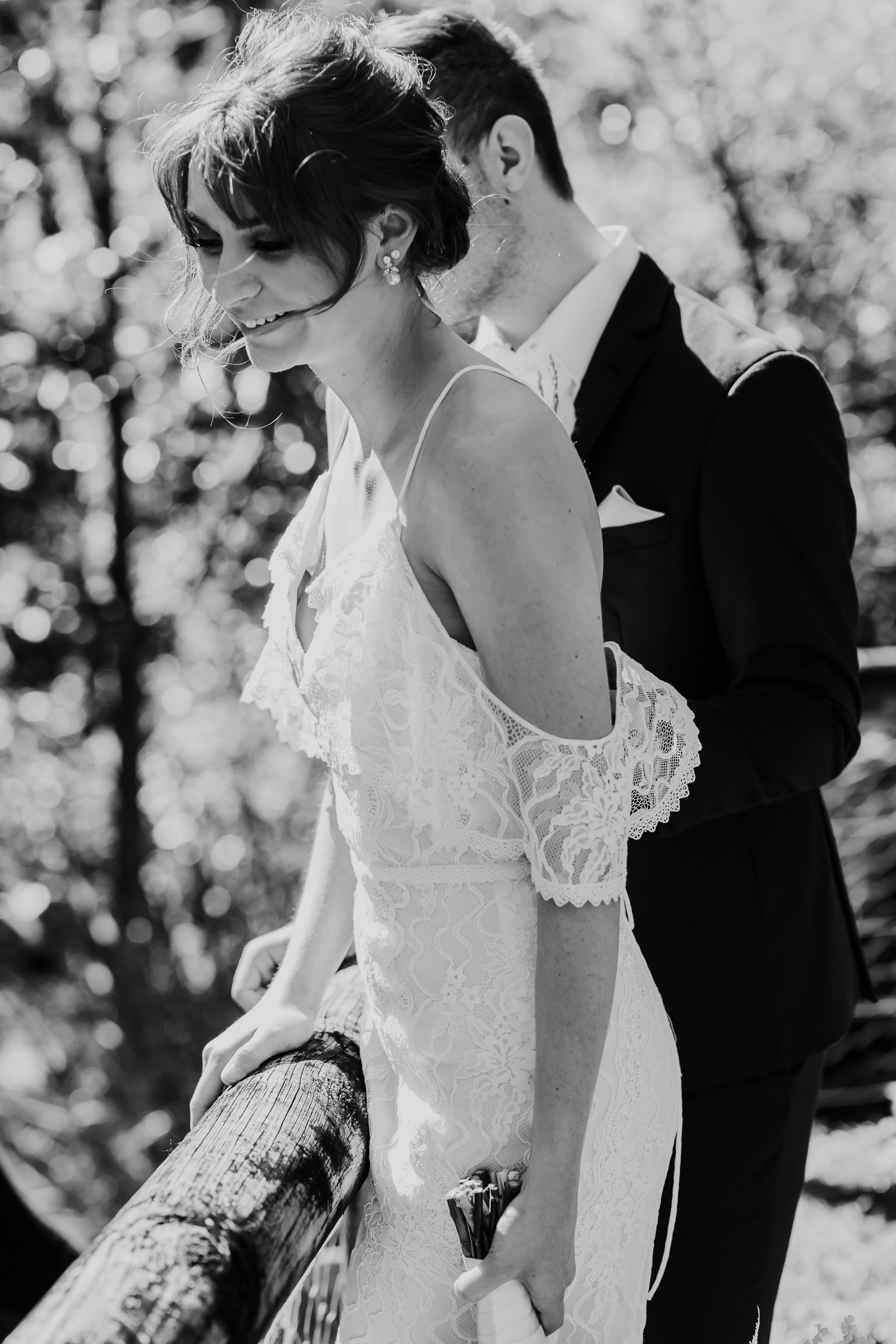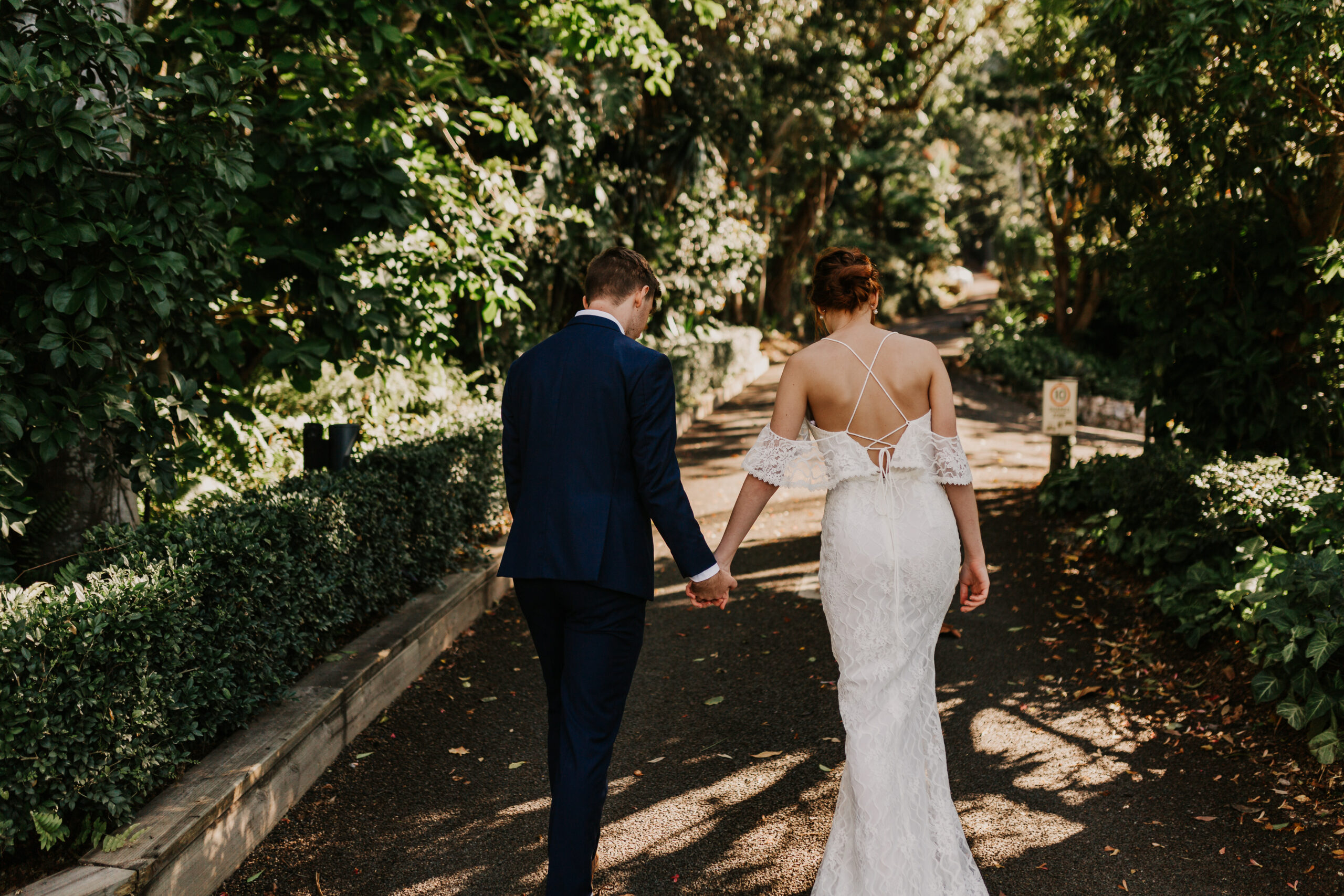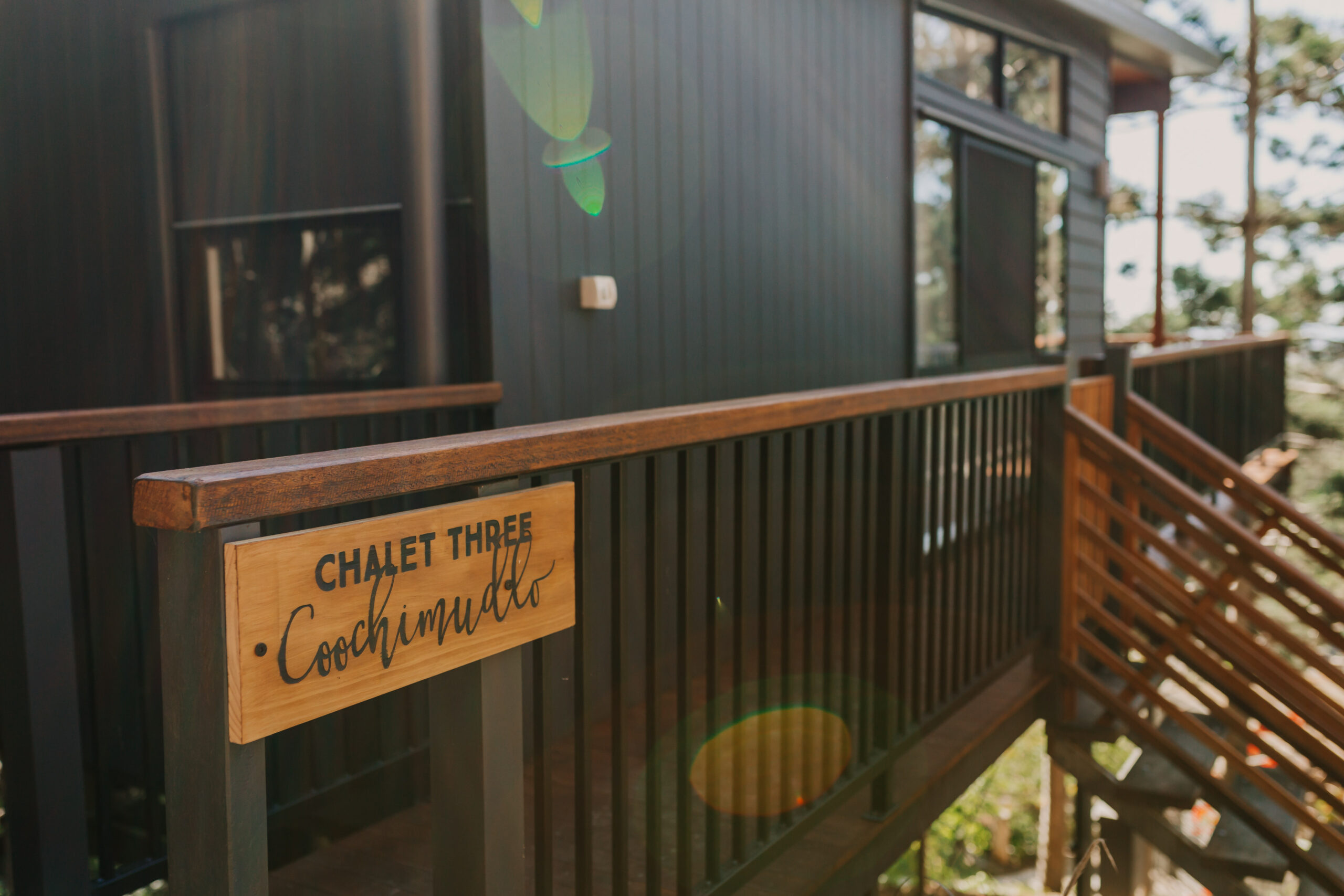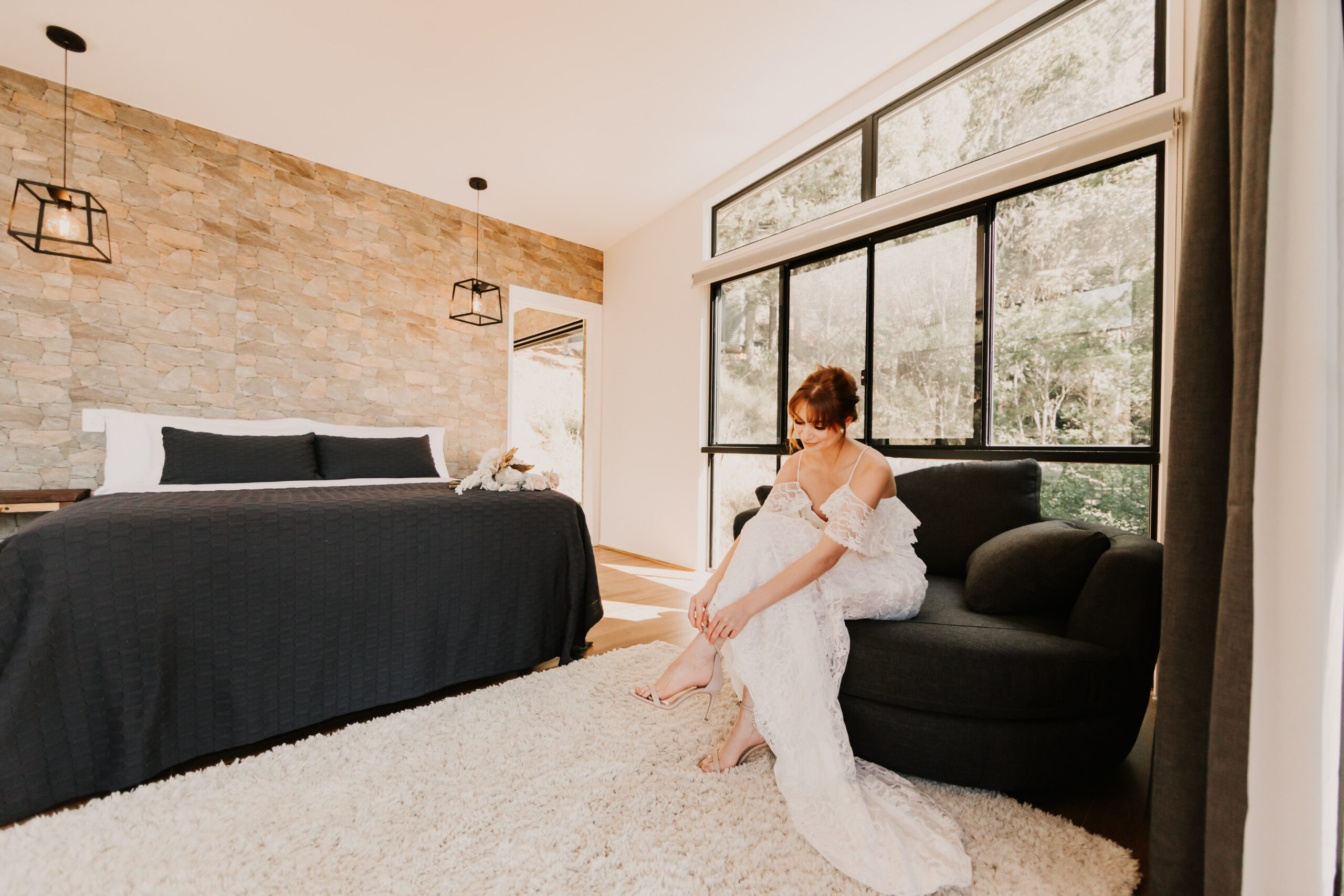 Model bride Lucinda was dressed in a delicate lace backless wedding gown and hair styled in an elegant up-do.
"Because the main goal was to feature the chalets we kept this editorial shoot quite small," says Renee. "Rainforest Gardens venue has their own inhouse florist and planner so all of the styling and flora was provided by the venue themselves.

We had the incredible Sascha Williams providing hair and makeup on the day while Lucinda wore her silk bridal robe by Bridesmaid Boxes. Oleg Cassini provided the stunning wedding gown plus the earrings and Suits Direct generously provided the custom-fitted suit you see Troy wearing."
BROWSE WEDDING DRESSES