Imagine not knowing if you'll be able to walk down the aisle on your big day? That was the first thought that raced through the mind of Brisbane Broncos player Aaron Whitchurch when he was told by his NRL club that he needed major spinal surgery – and he needed it immediately.
The surgery couldn't wait until after his upcoming honeymoon, nor even for one day after his wedding day which was just two weeks away!
It had to be done and it had to be done now.
Worse still, there was a very real chance he wouldn't be able to walk for many weeks after the surgery, leaving him and his fiance of six months, Amy Porter, with few other options than having Aaron wheeled up the aisle.
Born with spinal stenosis (which causes pain and numbness in the back and legs), 21-year-old Aaron always knew that surgery was on the cards but he didn't know when it would happen.  He certainly didn't expect it two weeks before his wedding day.
The couple were already under pressure, having decided not to have a long engagement but to marry within six weeks. Yes, they only had six weeks to plan their whole wedding when news of the surgery dropped.
The surgery would mean that Aaron wouldn't be able to walk and would have to re-train his legs, something that would take weeks, if not months, to achieve and only then with intensive physiotherapy, painful exercises and lots of painkillers.
However, determined to walk down the aisle on his wedding day, Aaron worked day and night to retrain his legs to walk.
He struggled and fell time and time again – but each time, no matter how much pain he was in, he got up and tried again.
Progress was slow and painful, but Aaron wanted to walk towards his beloved Amy on their big day and this is what he had to go through to do it.
There was no way he was going to be pushed or hobble down the aisle in crutches.
Amy says, "I was in and out of hospital, trying to plan a wedding. Aaron even had to learn how to walk properly again. I thought, you're not going down the aisle in a wheelchair!
"A week after the surgery the nurses got him up moving with walking frames and, once home, he started recovering more quickly.
He pulled through, but he could hardly sit down on our wedding day and it took all the groomsmen to help him sit and stand back up again. He was on a lot of pain killers."
She adds, "Never plan a wedding in six weeks. It's just ludicrous! But we had one of the best moments of our lives. It doesn't get much better than marrying your best friend. We are so happy and blessed."
Blessed they are, indeed.
Their heavenly wedding photos, captured by Milque Photography, paint a picture of a wedding planned to perfection and you'd never know it was all done in just six short weeks.
Thanks for sharing your story with us, Amy & Aaron. Oh, and three cheers for Aaron – he turns 21 today! Happy birthday.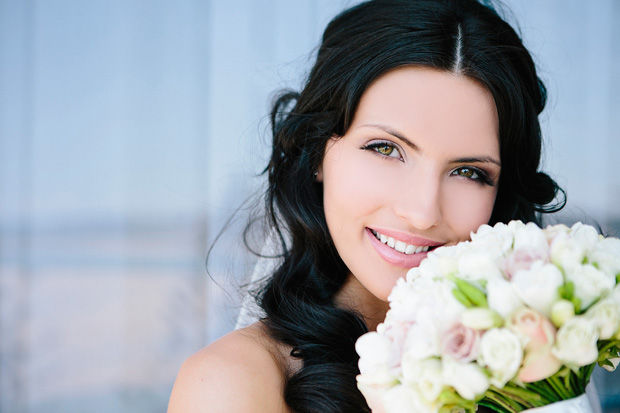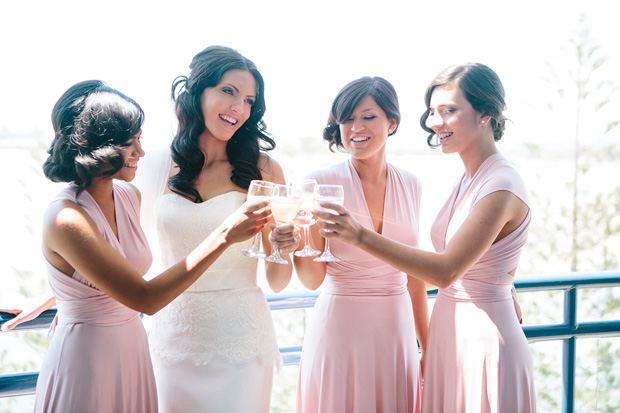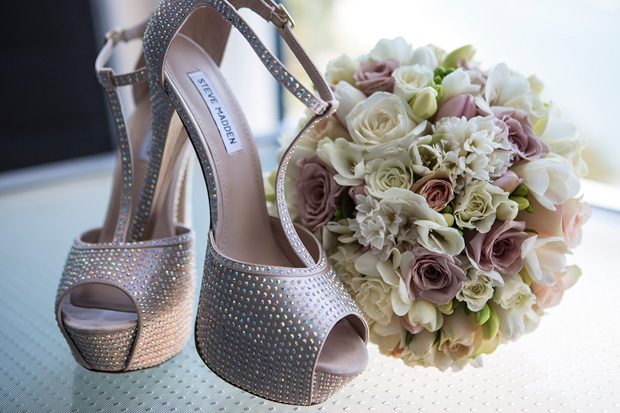 Amy's spectacular shoes were by Steve Madden; nude coloured platform peep-toes covered in dazzling crystals.

The bride and bridesmaids all carried the same style flower arrangements; soft feminine bouquets from Wedding Flowers Maleny.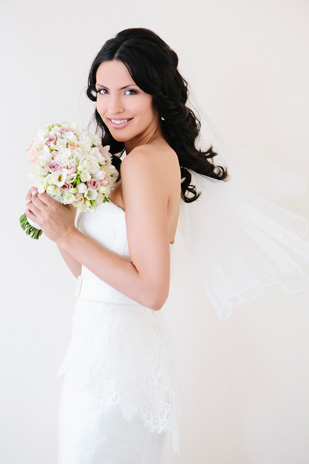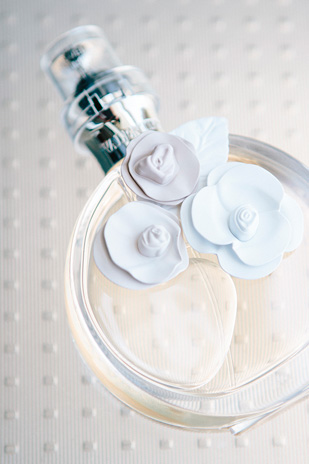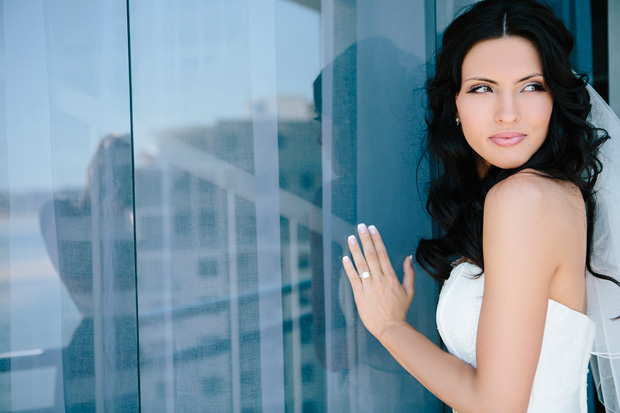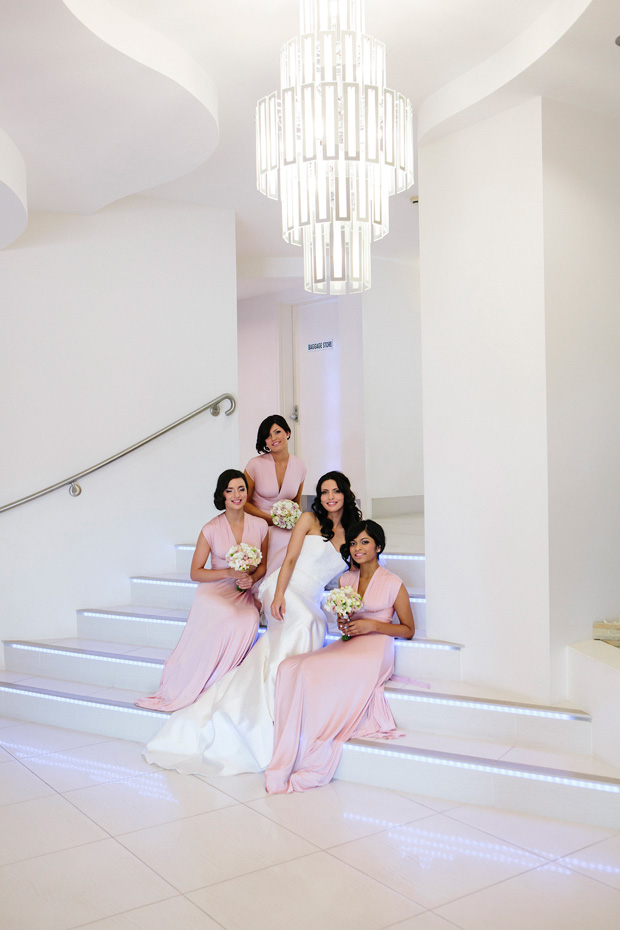 Amy's bridesmaid dresses were lovely soft pink multi-way wrap gowns that she sourced from Bulgaria (of all places). "It was the only place I could find to make and deliver them on time!" she explains.

Included in the bride's party were Amy's sister and her two best friends from high school.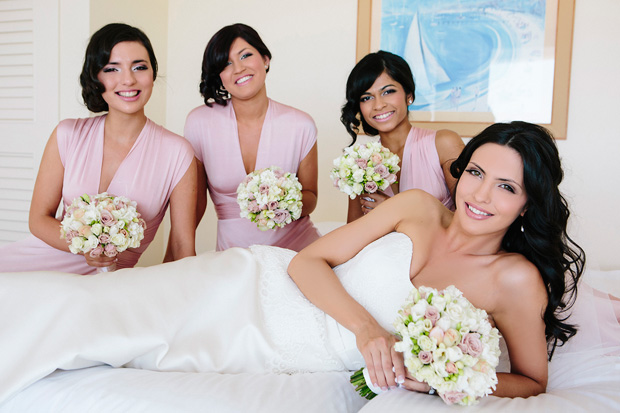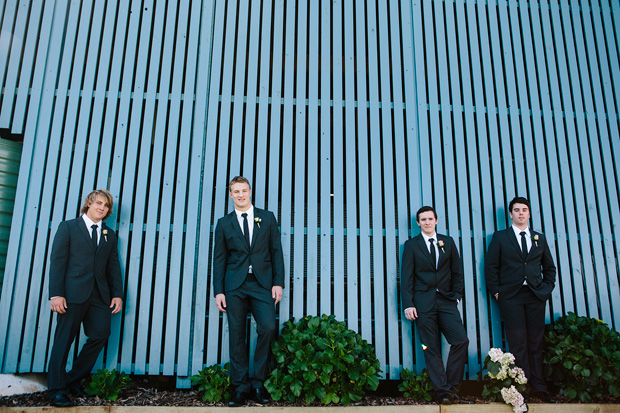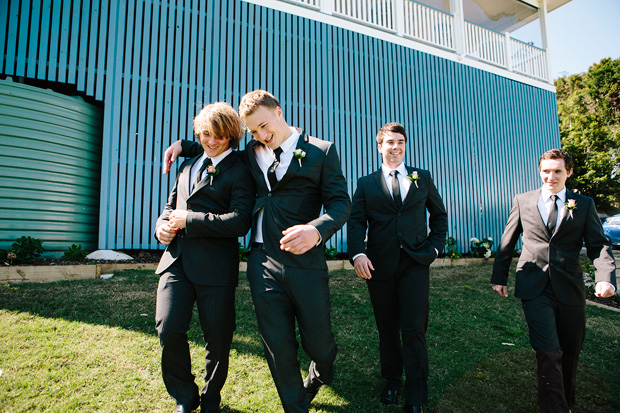 Aaron and his groomsmen – his 18-year-old brother and two childhood friends – wore charcoal and black-trim lounge suits from Roger David with white shirts and slim black ties.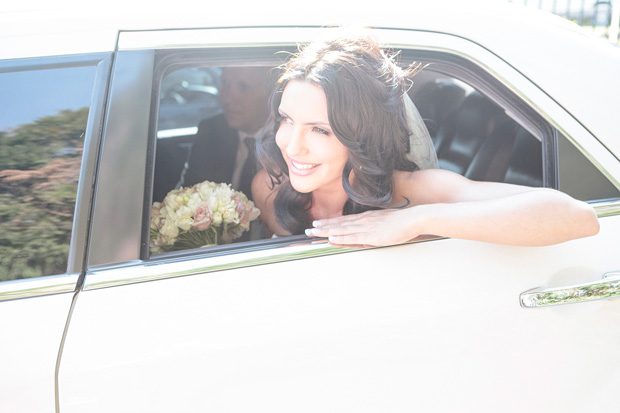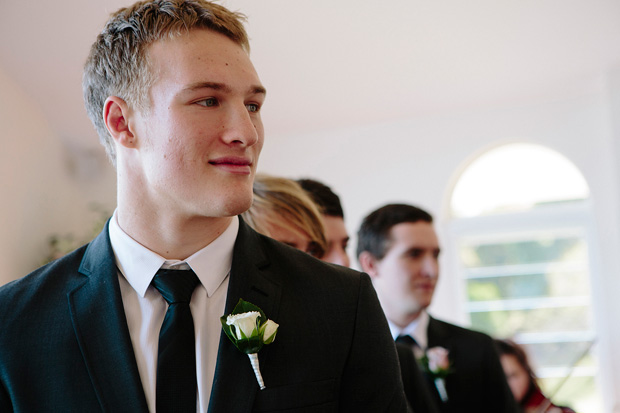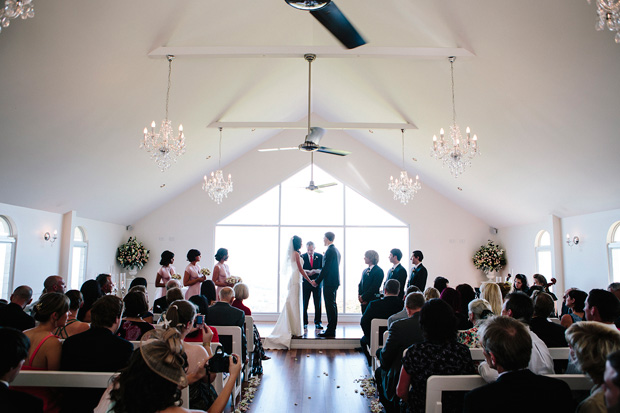 Amy was privileged to have her grandfather, Reverend Barry Berghan, officiate the wedding. The Broncos' team chaplain, Jason Fiddes, was the couple's MC.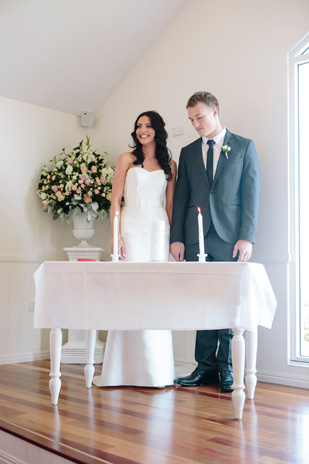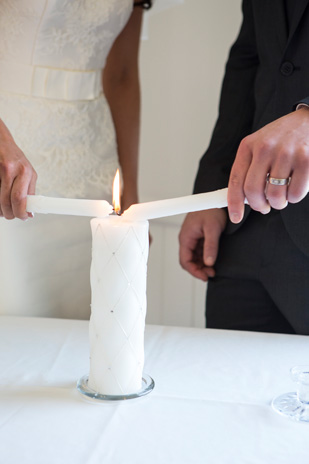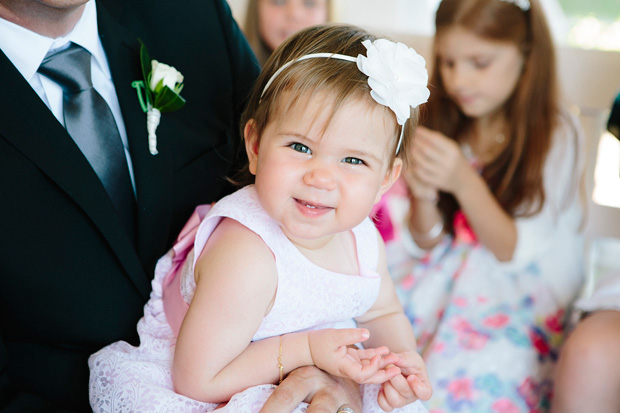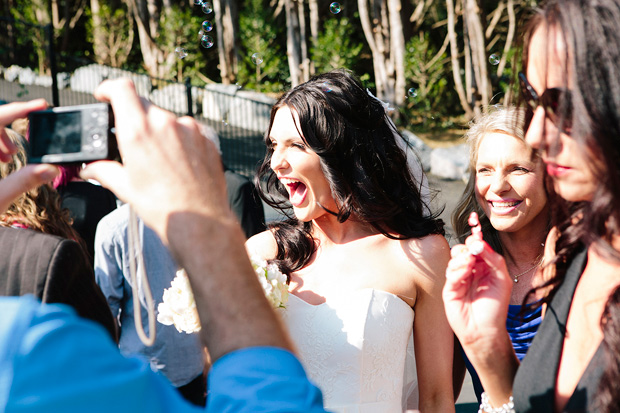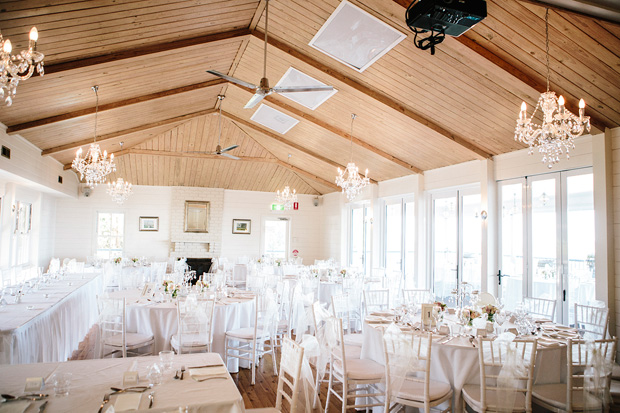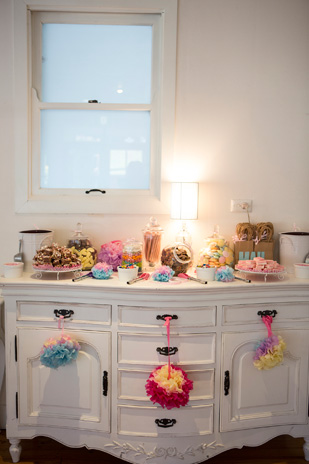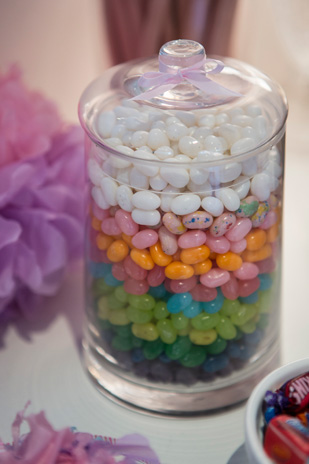 Amy's bridesmaid, Tonya, created the pretty pastel lolly buffet for the reception.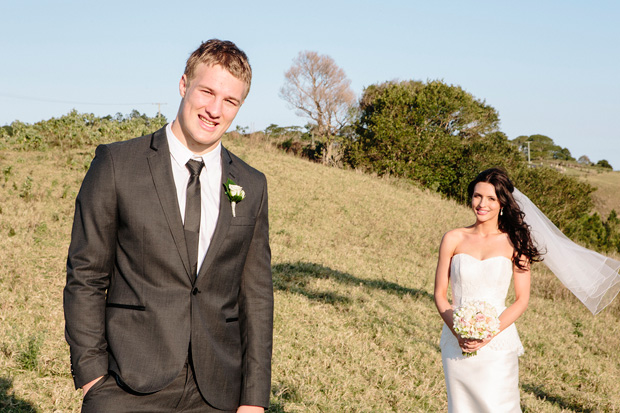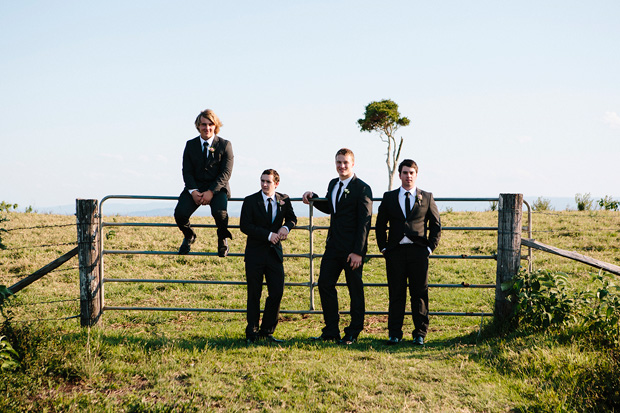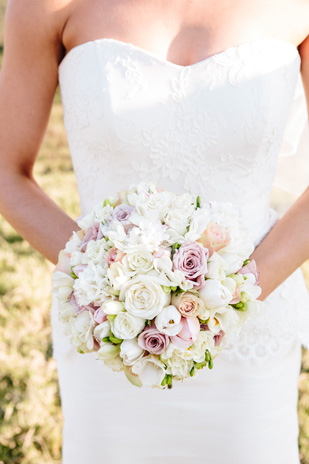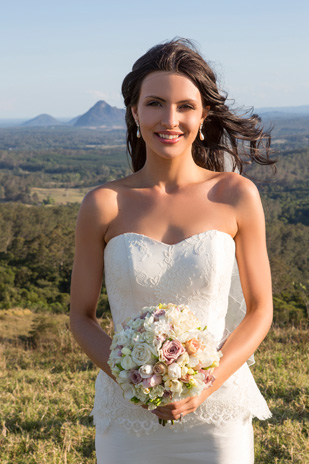 Dress shopping was a crazy time for Amy with only six weeks to find something. After buying two gowns impulsively that were not quite right (she dropped two dress sizes due to stress), she came across a Wendy Makin design that she absolutely loved. "Wendy put a rush-order through for me and I had the dress made to my exact measurements, says Amy. "They were so helpful and brilliant and I absolutely loved the dress."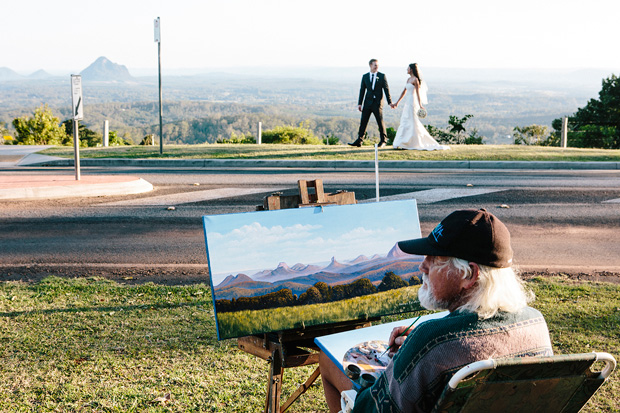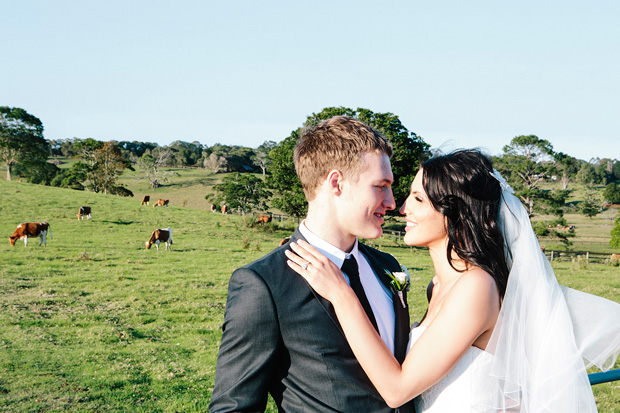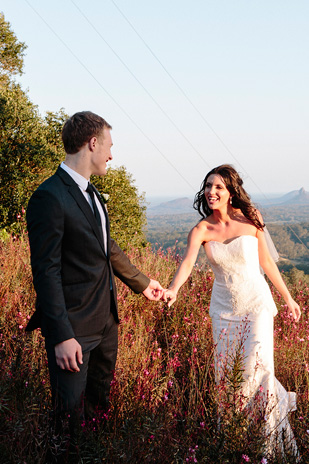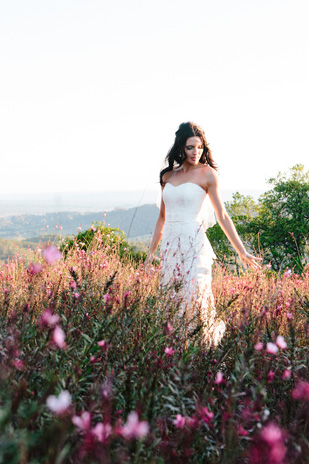 In search of a wedding photographer, the couple contacted Milque Photography, who they'd remembered from a bridal expo earlier in the year. Amy says she loved their natural style of photography "and their photos are just so pretty," she praises. Owner, Nat Lynn, was the photographer to beautifully capture this gorgeous NRL wedding.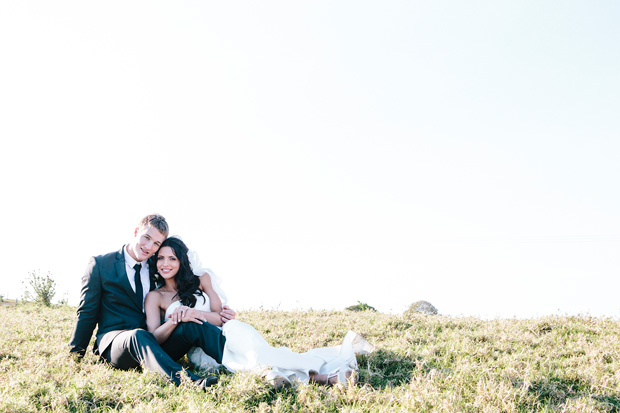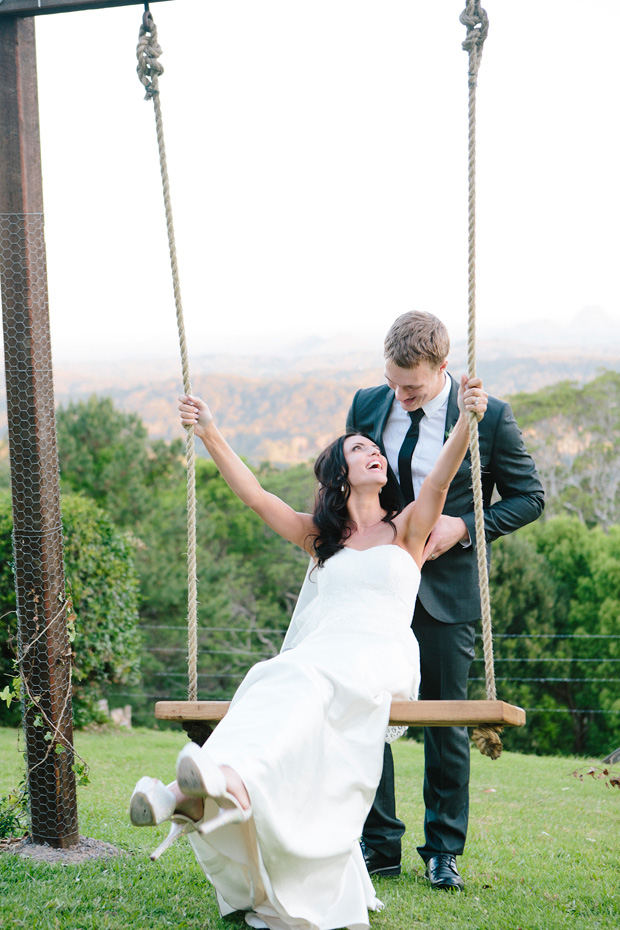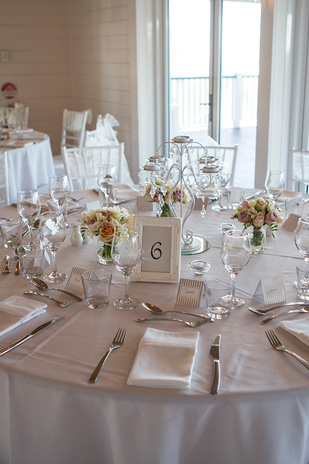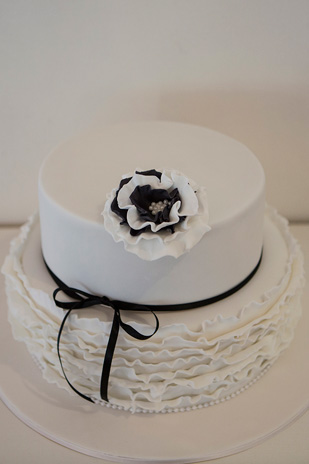 After contacting five venues about their impending wedding date, the couple were fortunate to book Weddings at Tiffany's who'd had a recent cancellation. The stunning venue is located at Maleny, QLD, in the Sunshine Coast hinterlands, with an onsite chapel and breathtaking views across rolling hills and lush rainforests.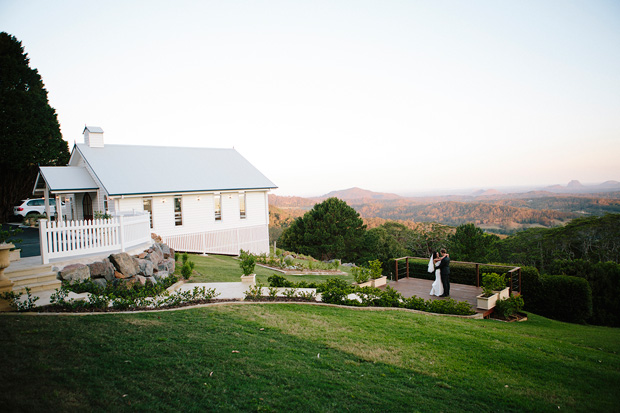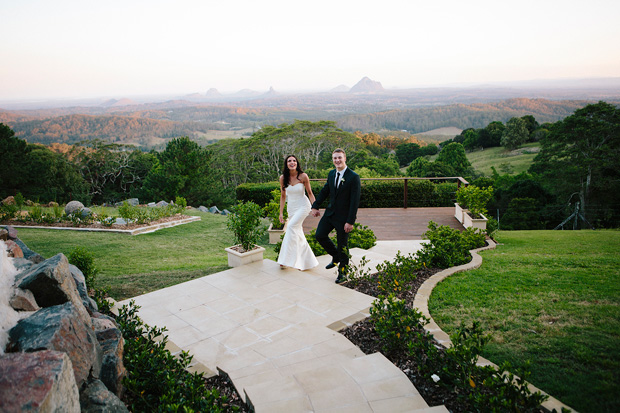 Amy and Aaron shared their nuptials with around 200 guests in the little chapel at Weddings at Tiffany's, however with so many family members on both sides (Amy's dad is one of seven), not everyone was able to be invited to the reception. As a token of their appreciation however, the couple held an afternoon tea with the entire congregation straight after the ceremony – catered for by the groom's parents – for about an hour before heading off to have their professional photos taken.
Photos courtesy of Milque Photography.