Wow. The backdrop to this wedding is pretty spectacular. And so very Melbourne.
Event manager Kate Warren and helicopter pilot Adam Chamberlain held a sleek and modern, racecourse wedding at iconic Flemington. Not wanting to get too caught up in themes and details, this busy couple let the breathtaking venue – The Event Centre (catered by Peter Rowland) – speak for itself, with its floor-to-ceiling windows and awe-inspiring city views.
The racecourse holds special meaning for these social butterflies – it's the place where they first met only 18 months earlier. Kate tells their story.
"We met at Derby Day, 2010, on what started out as a very hot Melbourne morning and quickly turned to unrelenting rain. I'm a member at the Victoria Racing Club and love entertaining so every year I host a car park on The Rails at Flemington.
This particular day a friend brought Adam along and I noticed him from a distance because he has the most incredible blue eyes. When he offered to help me move a market umbrella, well, I knew he was perfect!
Due to the rain everyone had to be huddled in together. There wasn't a lot of betting going on but we had so much fun talking, and drinking one-too-many glasses of champagne!
Adam was living in Newcastle at the time so between Derby Day and him flying back to work on the Wednesday we fit in as many dates as we possibly could."
Six months later, Adam moved to Melbourne to be with Kate and by that Christmas they were engaged. Their wedding was organised in just a short three months.
"Flemington was the perfect venue for us," beams Kate. "It truly was the best day of our lives."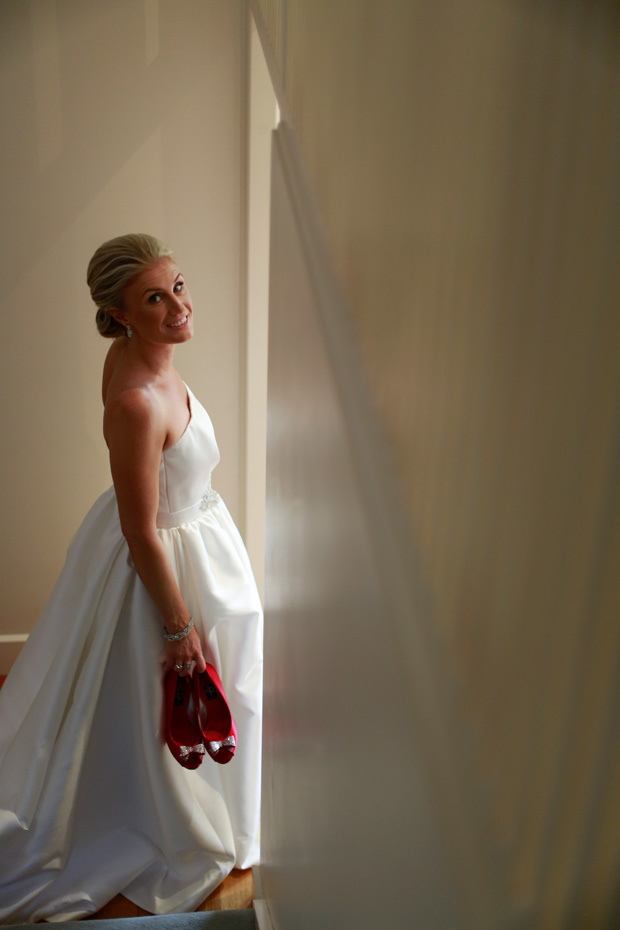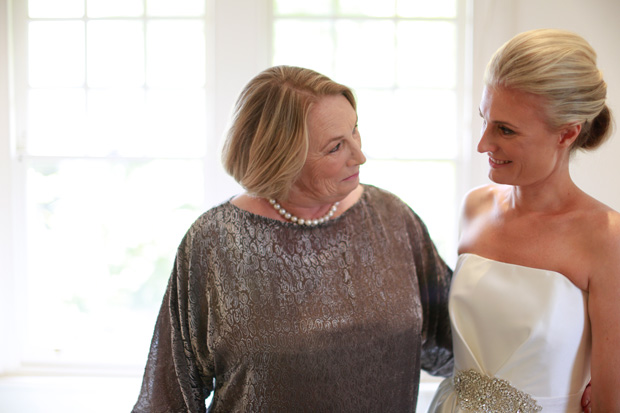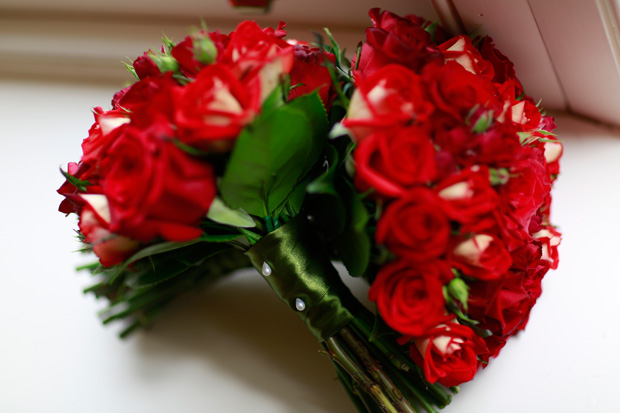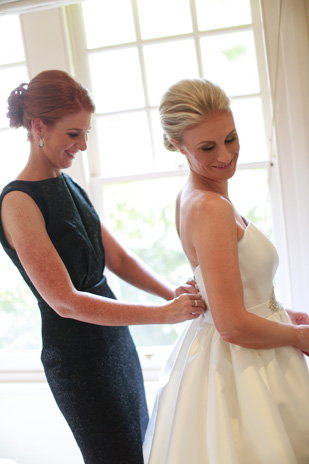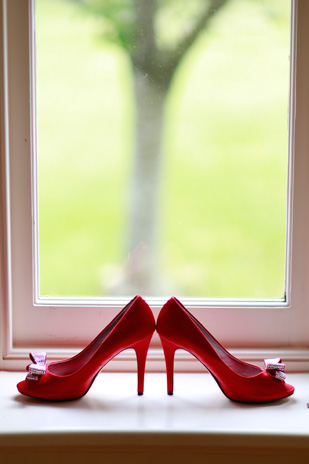 Kate's gorgeous red shoes were by Alan Pinkus. She tells, "I was looking for the perfect pair of red shoes and couldn't find them anywhere. It was at my hens' day that my girlfriends saw a bride with the perfect pair of red shoes so I called out and asked her where she got them from and went to the city the next day (with a slight hangover!) to purchase them!"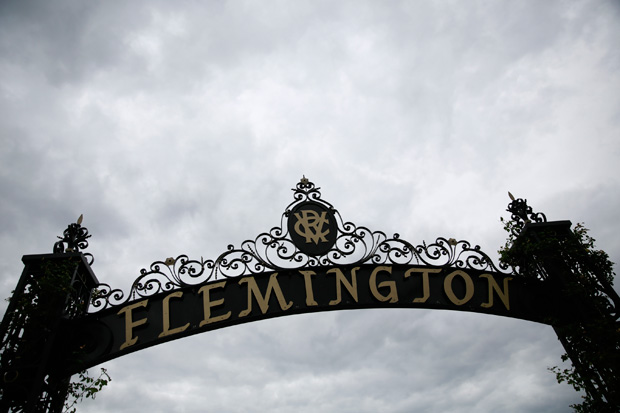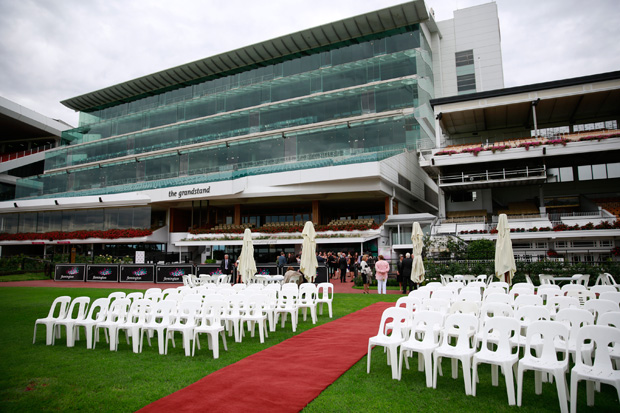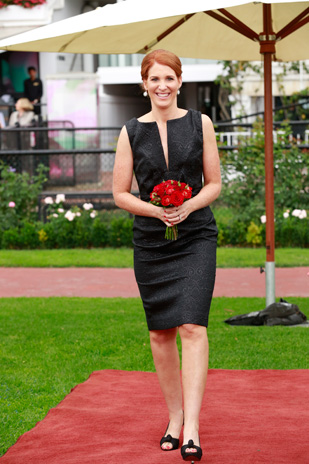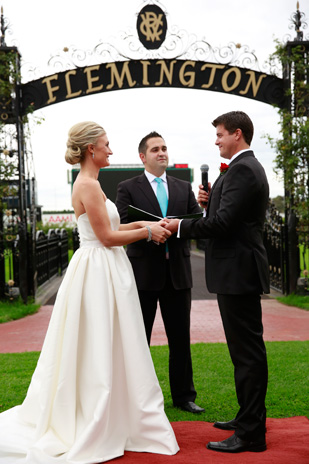 Kate's matron-of-honour, Bec, wore a smart, fitted, black brocade dress by Alex Perry. "I had so much fun pulling out dresses and getting her to try them all on," says Kate. "We saw heaps that we loved but this one was perfect. When we asked the girl in the department store to put it on hold for us, she wouldn't, so we hid it behind other clothes to make sure no-one else snapped it up!"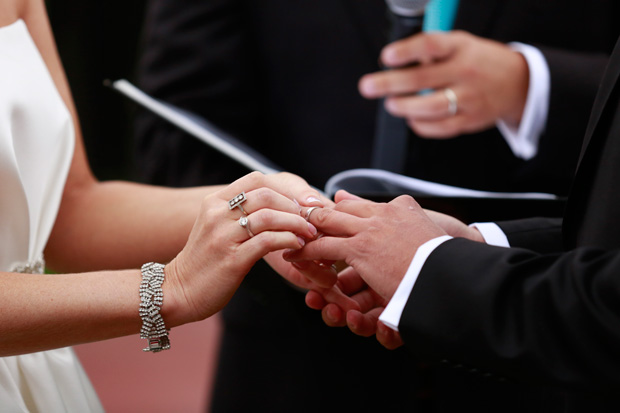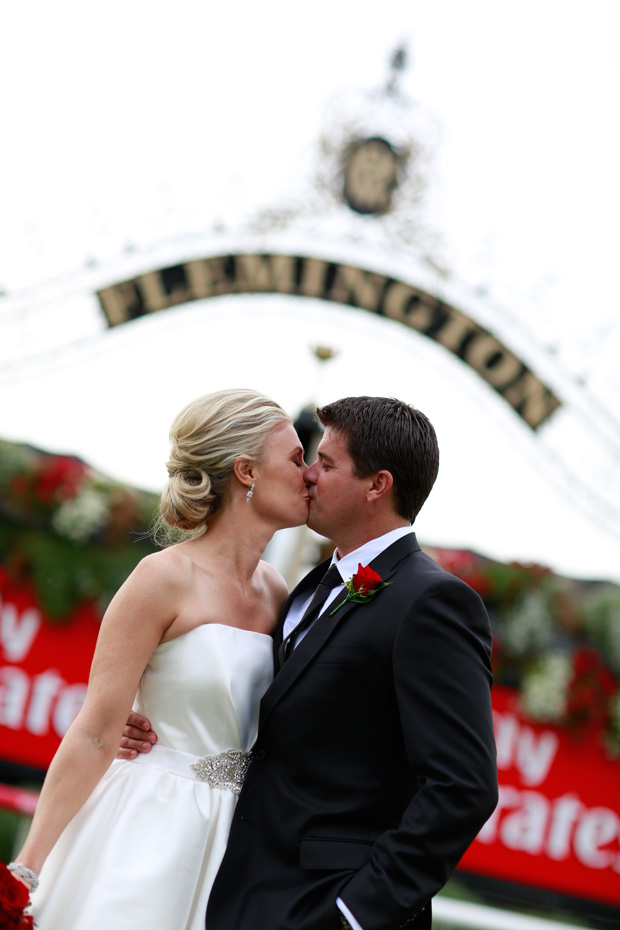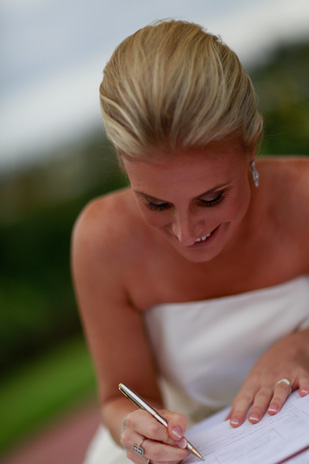 "I knew the minute I came out of the dressing room and saw my mum's and matron-of-honour's expressions, that this was the dress," says the bride, of her modern strapless gown by Karen Willis Holmes.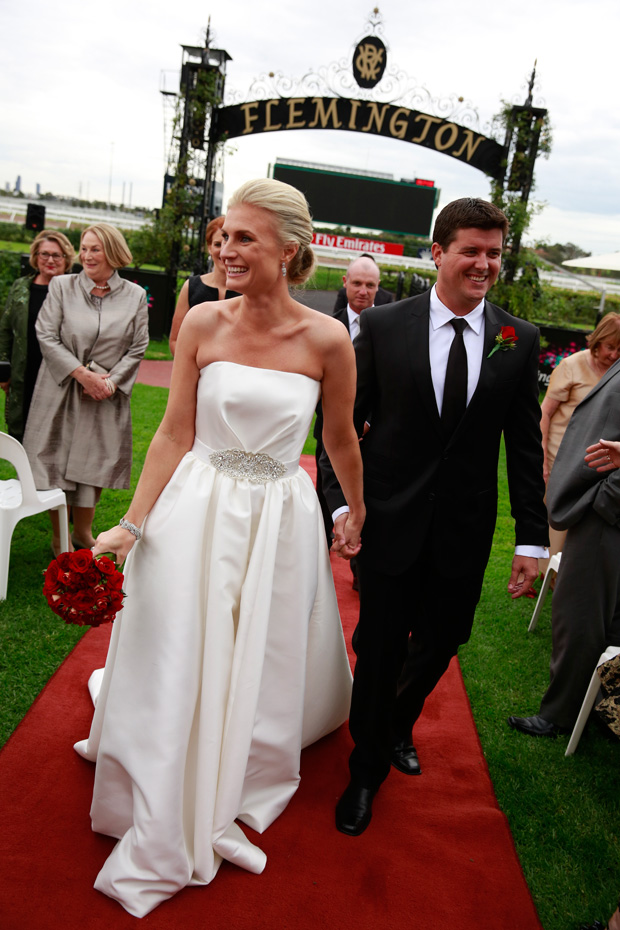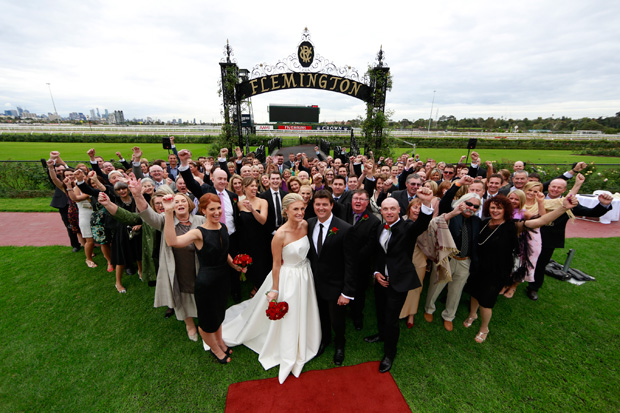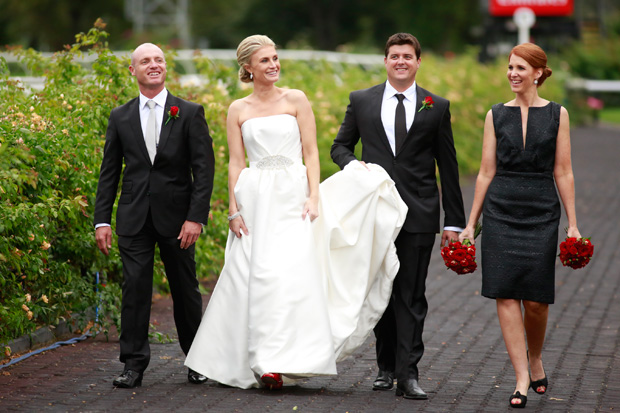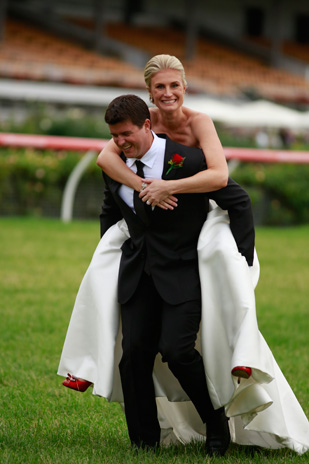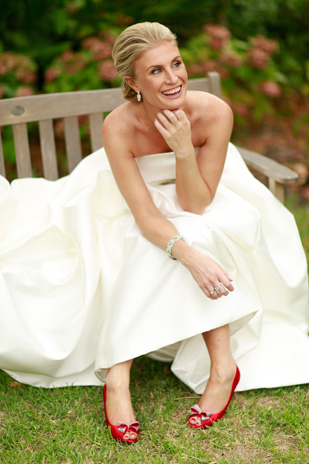 The boys wore black wool lounge suits by Travellers Apparel each with a red rose boutonniere.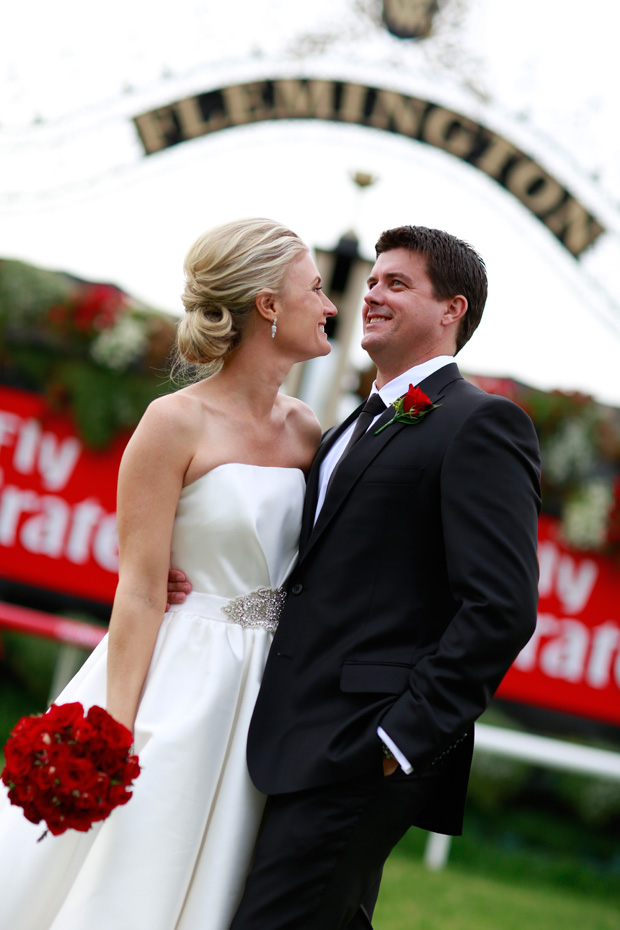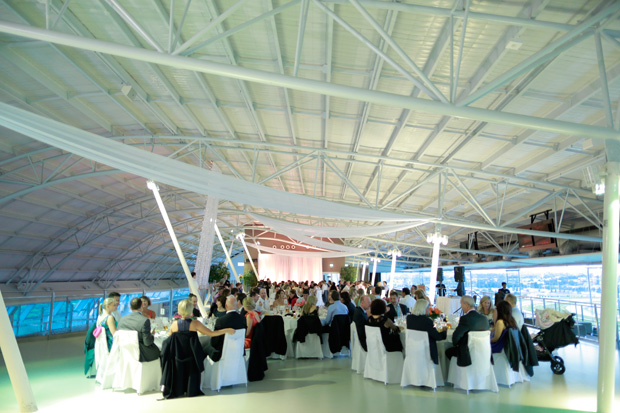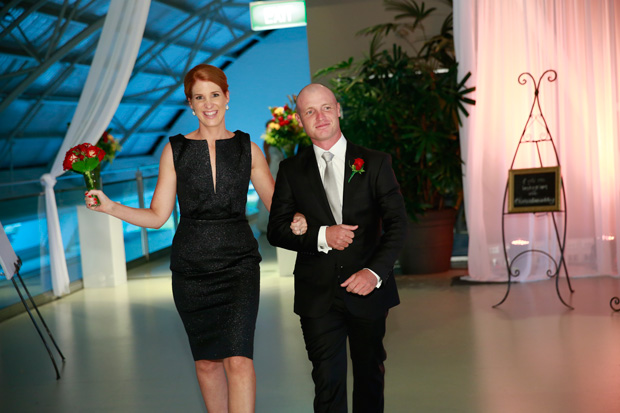 "People remember three things about a wedding; the food, the speeches and that they danced all night long," says Kate. "I wanted to see people dancing, and they were!" Mission achieved by Rutherford Entertainment.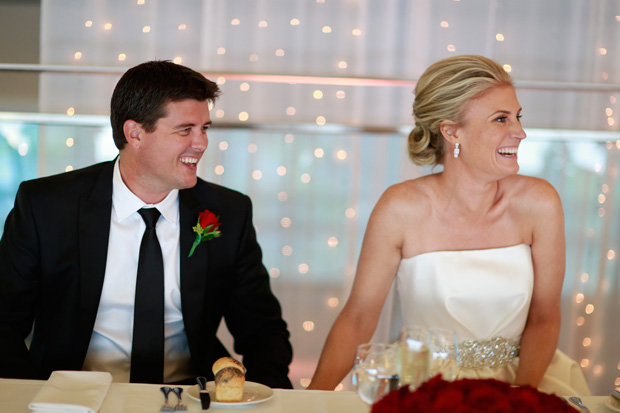 Kate explains, "I work in events so I know the benefits of using the best people to do the things that they excel in for you. I didn't want to stress about things that needed to be done on the day, I just wanted someone else to take care of all that so we could have fun. Nerina at Peter Rowland was awesome."
Photos by Life Times.