"Good things come to those who wait."
This was the catchphrase often bandied by Perth groom Nick Bavaro who finally proposed to Kara Wylie on their ninth anniversary as a couple.
A joker at heart, the cabinet maker, 28, placed a nine-diamond ring – each diamond representing a year Kara waited – in the fridge, with a sign that said his personal motto along with 'Will you marry me?'. Through giggles and shock, Kara, also 28, managed a yes.
Despite their long courtship, Kara, a teacher, decided not to rush the engagement, taking two years to plan their classic wedding on January 11, 2014, themed in navy, white and silver.
The generous pair gifted their flower centrepieces by Pick Me Function to loved ones on the night and exchanged presents with each other on the eve of the big day.
"I got [Nick] cufflinks of his beloved Fremantle Dockers team, a bottle of Blue Label Johnny Walker and arranged a Showtime Limousines' yellow Transformer Camaro to take them to the ceremony," says Kara.
Comical as ever, Nick's wedding gift to Kara was… a screwdriver! "You'll need this later," he said. On the morning of the wedding, the punchline to the joke revealed itself when Nick's mum delivered a large wooden box secured tightly with screws. "I had to undo [them] one at a time, by hand!" laughs Kara.
"Inside was a large wooden caricature art-piece of the two of us on our wedding day. It was beautiful."
"It was an amazing feeling stepping out of the limo and seeing all our family and friends," says Kara. "You could not wipe the smile off my face."
Nick and the groomsmen suited up in charcoal three-piece suits by Ferrari Formal Wear with navy ties to complement the bridesmaids' strapless evening gowns.
Football was a secondary theme to the event's classic colour palette, with the couple's favourite teams represented proudly throughout.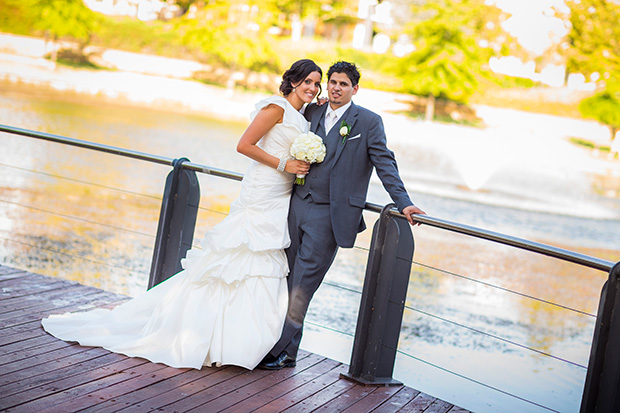 "Although it was the hottest day in Perth in 23 years [a stifling 44 degrees], nothing could have spoilt this amazing, fabulous day spent with our favourite people," smiles Kara.
Photos courtesy of Fotografia Coppola.
Video by Launch Film Productions.