Rising at 4.30am might not be the case for many brides, but when you've booked a morning ceremony it is!
Lillian Leung, 27, and Staunton Li, 31, were married on December 2, 2013 at 11am with 200 guests. The black tie wedding was styled in hot pink and white and after exchanging vows at Brisbane's Graceville Uniting Church, celebrations were held at Parkland Chinese Restaurant.
"My day started at 4.30am when Nadia and Junella turned up for our hair and make-up – we didn't know if we had enough time as we had to be out of the hotel by 10.15am at the latest," recalls Lillian.
After running a little late, Lillian arrived at the church to be greeted by an emotional Staunton. "As I walked down the aisle, Staunton looked like he was going to cry…I quietly told him 'don't cry' or I would too," she says.
The couple decided to use every opportunity to capture photos (by Southern Base Photography) of their day. There were family photos pre-ceremony, then afterwards in the church yard, followed by a shoot at the botanic gardens and the hotel where Lillian had prepared for her day. "As our ceremony and reception were in separate locations we decided to take pictures between each event," says Lillian.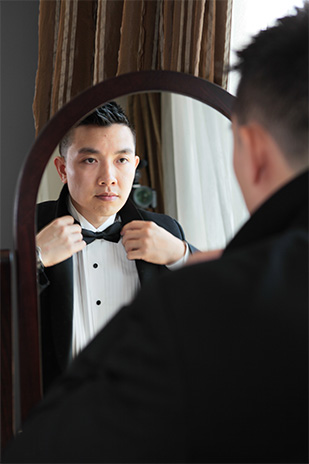 Staunton's classic black tie look was achieved with the help of suit experts, Spurling Formalwear.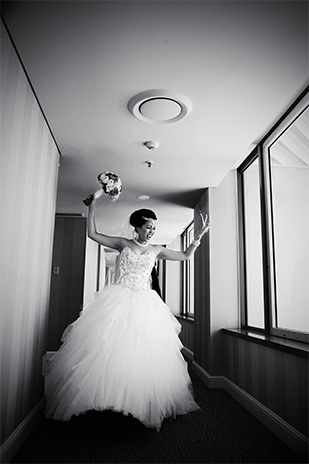 Lillian was deciding between a princess style gown or a fish tail. "In the end I went back [to Luv Bridal] with my mum and she also thought the princess style was better for me," says Lillian.
Lillian describes her reception as perfect – a highlight being a champagne tower. "We poured champagne into a tower of glasses with dry ice in them. It looked amazing, our guests went wild," she laughs.
Photos by Southern Base Photography.
Featured Suppliers:
Bomboniere: The Little Things That Count / Brides Accessories: Lovisa, David Jones / Brides Gown: Luv Bridal / Brides Shoes: Novo / Bridesmaid Shoes: Novo / Bridesmaids Accessories: Lovisa / Bridesmaids Dresses: Overseas / Ceremony Music: Graceville Uniting Church / Ceremony Venue: Graceville Uniting Church / Entertainment: DJ Echo / Flowergirl Dress: Overseas / Flowers: Jacqui M Designs / Grooms Attire: Spurling Formalwear / Grooms Shoes: Myer / Groomsmen Attire: Spurling Formalwear / Groomsmen Shoes: Myer / Hair: Nadia Hettig / Invitations: The Little Things That Count / Makeup: Nadia Hettig / Pageboy Attire: Overseas / Photographer: Southern Base Photography / Reception Venue: Parkland Chinese Restaurant / Transport: VIP Limousines / Venue Decor: GM Events / Videographer: Southern Base Photography / Wedding Night Accommodation: Royal on the Park / Wedding Planner: GM Events