Oooh, how pretty is the autumn backdrop to this vintage country wedding held at Potters Receptions in Melbourne? With the help of Two Birds Event Design & Management, Katie and Adam's May wedding was romantic and sophisticated and the attention to detail impeccable.
The Melbourne couple met working in communications together at Yarra Trams. A close friendship formed over two years and it wasn't until Katie, 32, resigned that they realised how much they were going to miss each other – and what they meant to each other. With her upcoming farewell, Adam decided to finally ask her out, Katie explaining, "It didn't happen but a week or so later we went on our first date to visit a colleague in hospital. So I wasn't sure if it was a date or not!".
They were together for 18 months when Adam, 31, whisked Katie off to Daylesford for a surprise weekend away. In keeping with their connection to trams, Adam booked them into a quirky bed and breakfast – End of the Line Railway Accommodation. Their room was a refurbished train signalling box!
Katie tells, "When we arrived, a huge bunch of flowers was waiting for me and then Adam handed me an imitation staff announcement from Yarra Trams that he'd done up. It read, 'So I thought it was only appropriate that I used one of the documents that brought us together to ask you something very important… (Surely you know where this is going by now?)'
"Then he got down on one knee and proposed. I said, 'I don't know what to say!' He said, 'How about yes?!' So I said yes!"
Whilst Katie loves Adam for his quirky sense of humour that keeps her on her toes, Adam says, "Katie is the kindest and nicest person I know. My life has been significantly better since we have been together and I credit her with turning me around in many ways."
This is why I love what I do. Congratulations.
A stunning contrast to the orange maple leaves, Katie's bridesmaids wore gorgeous royal blue tea-length frocks from Review which featured a high lace neckline and 50s style satin skirt. They carried lovely vintage-style bouquets from Functional Elegance.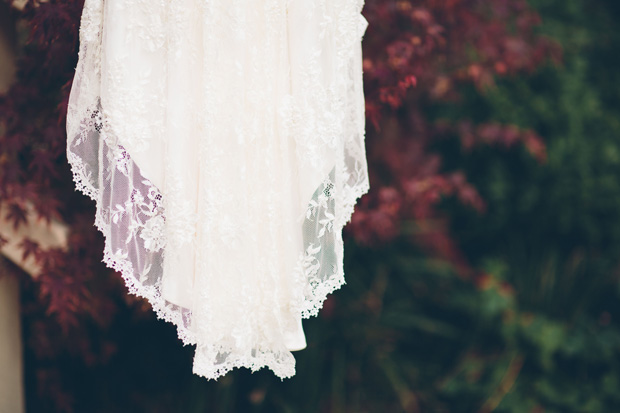 Katie chose an exquisite lace gown with sweet cap sleeves from Brisbane designer, Hilde Heim. "It was my dream wedding dress," says Katie. "It is certainly a dress I would love to keep and pass on one day." Adam and his groomsmen wore satin lapel suits from Trevor West Formal Wear & Hire.
"We decided to have a first-look before the ceremony," says the bride. "Not only did this calm our nerves, it was really precious to have this time together before the day began."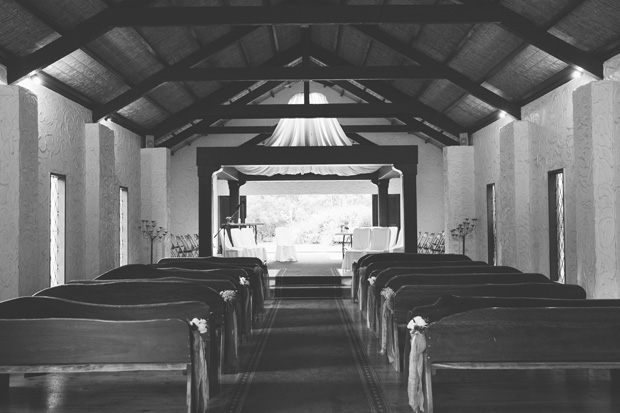 Father Jack Brady was a special choice for the couple. He married Katie's parents 37 years ago and has conducted many other ceremonies for her family members over the years. He is her dad's cousin.
While they waited for the service to begin, guests enjoyed reading all about the bride and groom in this unique magazine-style 'wedding record' which Adam designed himself.
The venue was the rustic Potters Receptions in Melbourne's outer east and the glorious autumn leaves were a spectacular backdrop to the newlyweds' wedding photos.
Katie says, "We hosted a champagne afternoon-tea between the ceremony and reception, inviting additional guests who could stay on for some refreshments."
Two Birds Event Design & Management were commissioned to create the couple's country vintage wedding theme. "The venue was designed to look like the grounds of an old homestead," explains Katie. "Old photographs of our families were placed around the room with candles in tea cups and a mix of roses and baby's breath in jars and vases." Two Birds also assisted with the invitations, bomboniere and lolly buffet.
Cakes to Your Taste, who catered the delicious afternoon tea, also made the beautiful raspberry ripple wedding cake with butter cream icing. Katie says, "Adam organised the cute chicken cake-toppers which came all the way from Greece. If you look closely you can see which footy team he barracks for!"
Photos courtesy of Mihaja Photography.