The Easy Weddings website is viewed more than 10 million times every year, so you want to stop couples scrolling by making your storefront stand out from the crowd.
You may have set up your profile when you were first starting out in business and didn't have much content to add. Perhaps you have done some gorgeous weddings recently and you hadn't thought of adding them to your Easy Weddings storefront.
This article will help provide inspiration on giving your storefront some TLC and measuring its success.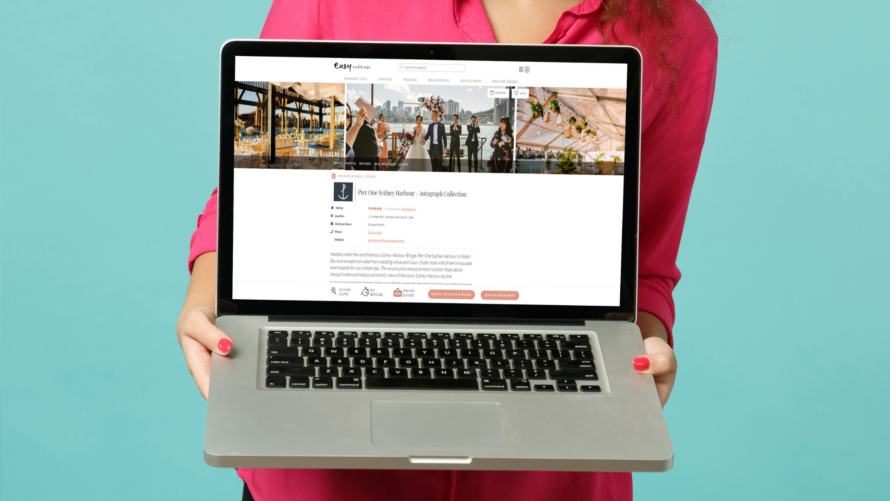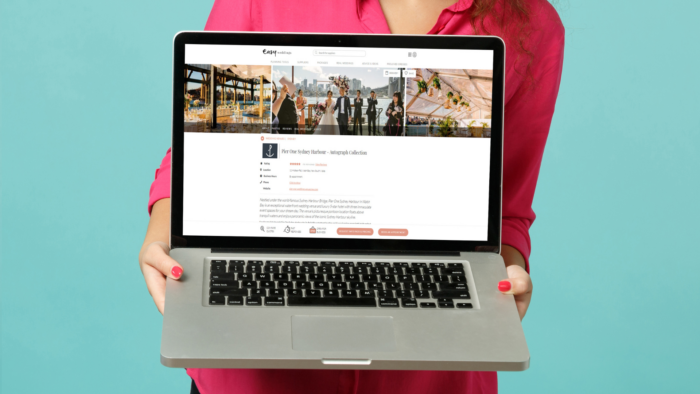 Why should I update my Easy Weddings storefront?
Don't just set and forget —add new images and package info to your storefront as you update your website and socials.
If you need inspiration to freshen up your storefront content, look at what other suppliers in your category are doing. How do you stack up against your competition?
Reasons your Easy Weddings storefront may not be converting to bookings:
Lack of information
Spelling and grammar errors
Missing keywords
Missing a personal connection
No package or pricing information
Not enough reviews
Low-quality or outdated images
Giving your Easy Weddings listing a refresh is simple, and you can do it through your wedCRM.
We explain the key features of a successful Easy Weddings storefront that you might be missing out on.
1. Lack of information
If you're not conveying your key selling points well enough or lack the information couples are searching for, they'll probably look elsewhere. Grab the couple's attention by including compelling and well-written content.
Take advantage of the 400-character length and include your unique selling points. Is there something about your personality that resonates with couples or a particular style you are known for? If so, be sure to include it (in bold font).
Breaking down your copy with dot points and key selling points in bold makes it easy for couples to skim-read. Potential clients will be looking at dozens of supplier profiles, so you want your unique selling points to stand out.
2. Spelling and grammar errors
This might sound obvious, but spelling and grammar errors will hurt your credibility. Give your copy a proofread and run it by a second pair of eyes. It's also worth copying your text into Grammarly — a free website that can help pick up typos (it's the Easy Weddings content team's best friend!).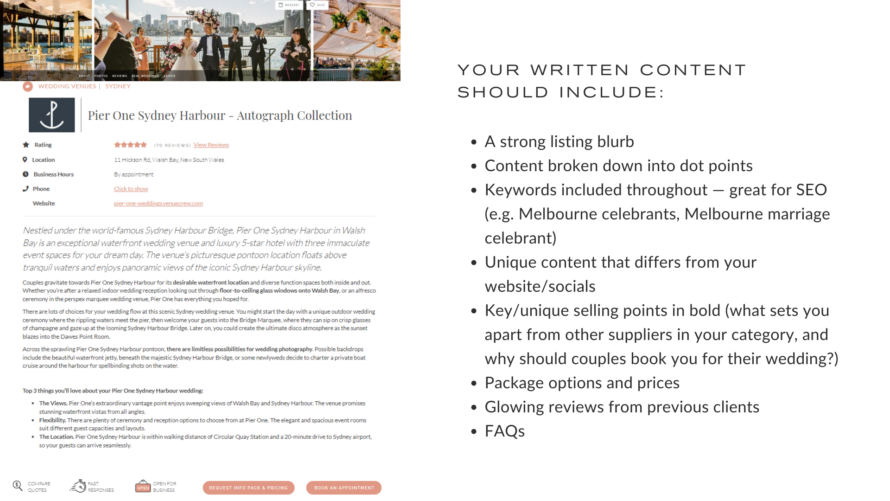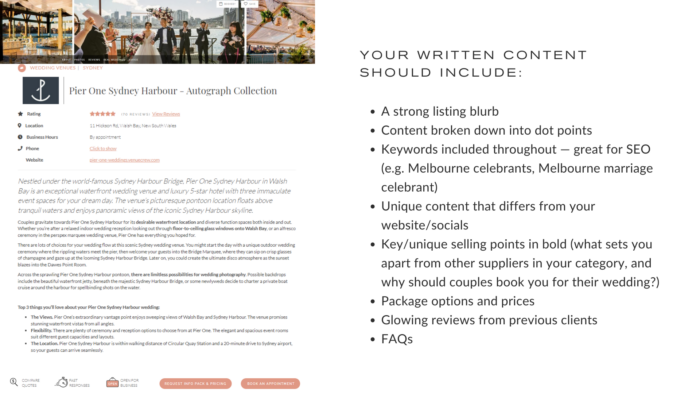 3. Missing keywords
Keywords are a big advantage for Search Engine Optimisation (SEO) — which is what helps your listing rank high in Google search results. Be sure to include all of your key selling points in bold font.
Mention what sets you apart from other suppliers in your category and why couples should book you for their wedding.
While we're on the topic of SEO, it's important that your copy is unique and differs from what's on your website and your socials, as this can create a red flag for Google.
4. Missing a personal connection
Couples look for personal connections in their wedding suppliers, so add some personal details in the Business Owner section, on the top right-hand side of your Easy Weddings profile. That little blurb can actually make a difference in inquiries.
"I've seen people pop in that they're a mum of three kids, or that they come into this industry because they planned their wedding themselves," says Easy Weddings Partnership Manager Chelsea.
"I've seen people say that they love a beer by the fire and they are a country kind of bloke – that's all good content to use because it builds a personal connection on another level."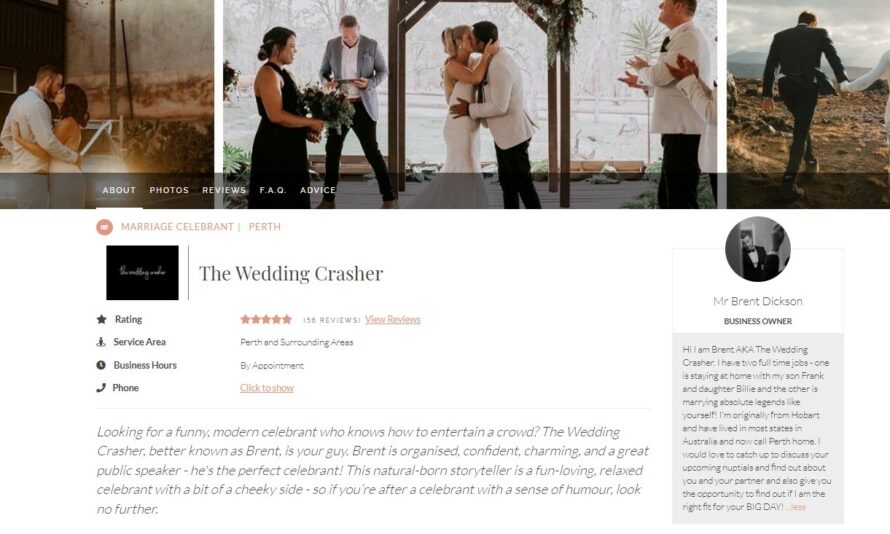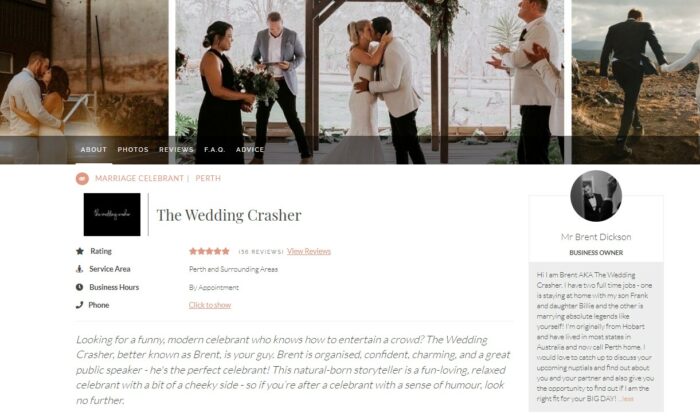 5. No package or pricing information
Most couples will have a budget in mind, so package information or pricing can help filter out the couples who are out of your range (and improve your conversion rate).
If you're not comfortable listing your specific prices or your detailed package information, providing an average price, a price range, a pricing tier, or even a 'from' price are some good ways to go about that.
Chelsea says: "I recommend listing your average price as the price that you would most likely book, or most want to book. It means that when a couple is inquiring and they might be asking for a package slightly less than that, they're thinking they're getting a good deal."
Having a price range helps couples manage their budget expectations before they enquire.
Including a special offer is an incentive to get a potential client to enquire with you.
"I know when I was enquiring about my cake for my wedding, I went to two suppliers. One offered 50% off a tasting box with every Easy Weddings inquiry, and the other one didn't have any special offer.  The cakes were relatively the same price for what I was wanting, but I ended up going with the person that offered the discount tasting box because my partner put more value in that – he said tasting the cake is the best bit about wedding planning!
"A special offer could be the difference between someone booking you and booking someone else if they're coming down to price as well," Chelsea advises.
6. Not enough reviews from previous clients
Your storefront includes a section for customer reviews. You can even pick your best reviews to pin at the top of your Reviews section at all times.
A single customer review increases your chances of a booking by 25%, however, 11+ reviews can increase your results up to 200%, and 40+ reviews skyrockets your chances to 300%.
Asking once for a review will get a response one in five times, but asking the same people twice will improve your odds to one in three, so don't hesitate to ask more than once.
Read our article: How to ask for reviews and why they add value to your business for a template email to send your coupes after their wedding day, and to learn more tips about customer reviews.
Publicly responding to your Easy Weddings reviews is a great way to demonstrate credibility, because it shows couples you care, even after the wedding. Another way is copying a review, as a quote, into your storefront copy.
7. Low-quality or outdated images
Images are the most important tool for telling your brand story visually. The banner (or hero) image up the top of your page, is the main image that a potential customer is going to see as they click into your storefront. So, make sure that it's a really strong image that tells couples what they need to know about your brand.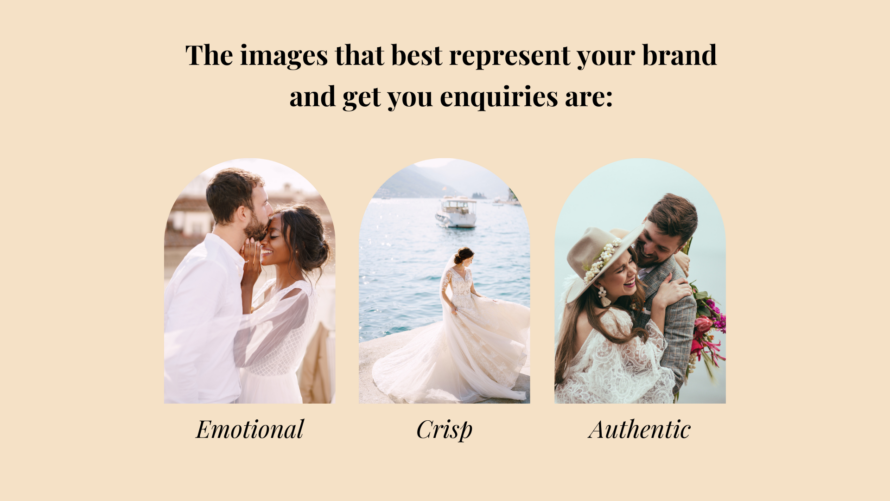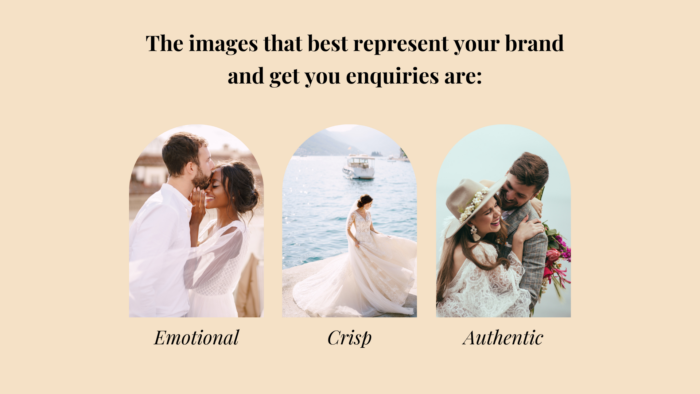 Also consider freshening up your image gallery by aiming for around 24 clean, crisp, high-quality photos. Try to avoid outdated, lower-quality images or pictures from stock sites.
A great way to bring new life to your image gallery is by partnering with a talented local photographer for a styled shoot, or simply asking the photographers and couples at your weddings for permission to share their photos on your platforms.
Weddings are emotional events, so couples want to get a feel for how their suppliers are going to make them feel on their day. You want your pictures to demonstrate that emotion. Capturing that emotion demonstrates authenticity, so choose images from real weddings showing happy, laughing couples.
Your storefront should act as a wedding day vision board, so your images should paint a picture for the couple and clearly convey your style. Draw the potential customer in by displaying exactly what they want to see for their wedding day. Include elements of trending themes like soft, romantic fabrics and colours; or those rustic elements that have also been on trend for the past few years.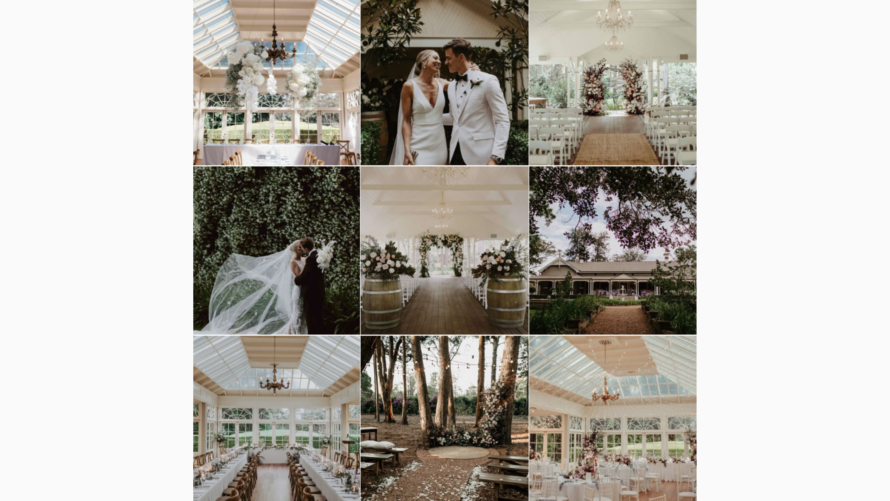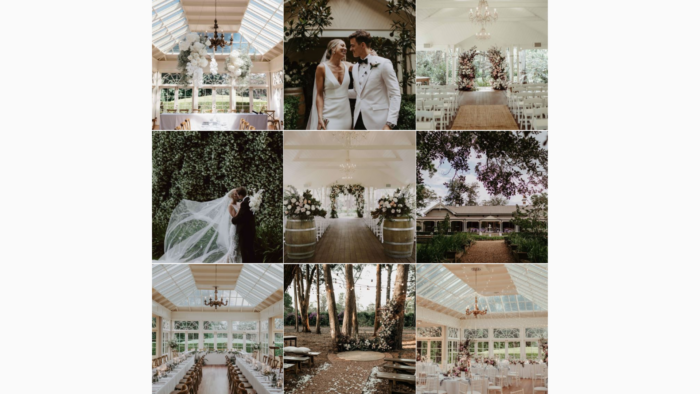 Draw a customer in by displaying exactly what the client wants to see for their wedding day, Chelsea advises.
"It's a bit like that where you're creating a Pinterest mood board of exactly what they want to see on their wedding day. Now if they see you and they fall in love with you and then you give them the price and it's slightly out of budget for them, I guarantee you they will still book you anyway because you've created the vision they want for their day."
Your imagery should also target the type of inquiry or couple you are looking for. So if you want to attract luxe weddings and imagery looks like the 'before' pictures below, you're going to struggle to land those bookings.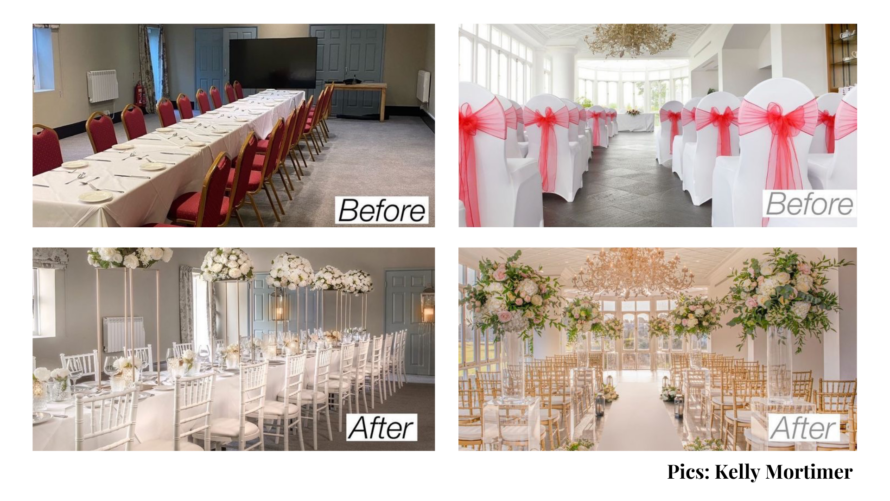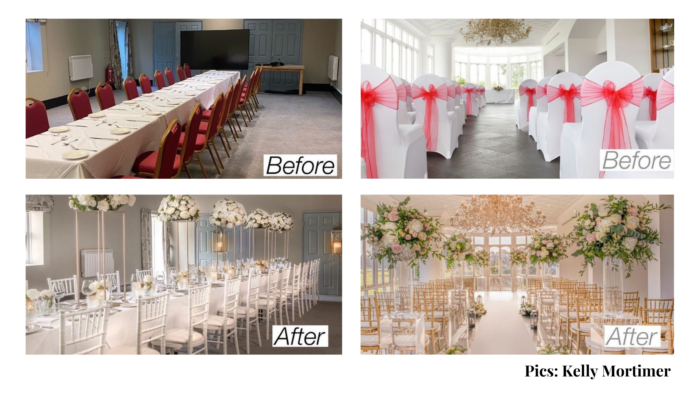 Our storefront allows not just photos, but videos too. If you have two to four good videos showcasing your product or service — add them. Videos are particularly important for suppliers like bands, DJs, celebrants and MCs that rely on audio/visual components.
How to measure your storefront success
Your Easy Weddings wedCRM has a few key features to help you measure your storefront success, so engage with it.
The Dashboard tab is the landing page of your wedCRM. You will see 11 tick boxes at the top, where you should be aiming to tick off as many of those features as possible to improve your profile strength. The closer your Business Profile Strength is towards 100%, the better your profile will perform.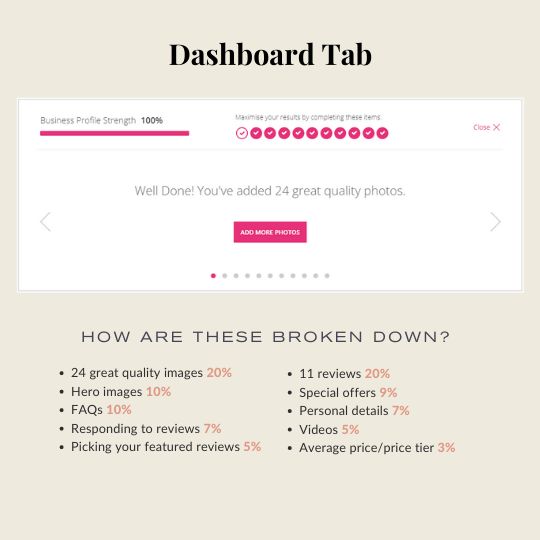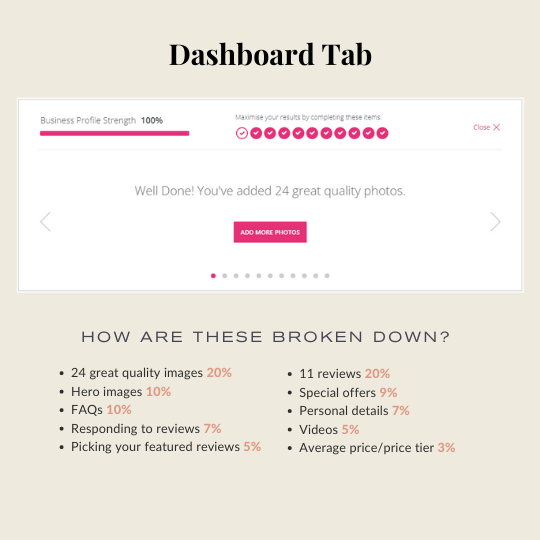 Statistics and conversions
Typically, a good storefront converts at around 10%; but a great storefront converts at 15-20%. If you're on the lower end of the scale, think about giving your storefront a refresh.
You can find out how you're tracking by visiting the Statistics tab of your wedCRM Card file.
There, you can see your Listing to Storefront Conversion rate and your Storefront to Enquiry Conversion breakdown from month to month. This tab also shows you how many direct enquiries (Specific Requests) you've received through Easy Weddings.
The Sales Leads tab helps you manage the outcomes/statuses of each of your leads to indicate your conversions.
Test a few things
At various times throughout the year, it can be helpful to test a new hero image or change up your gallery images, Chelsea advises. "What works now may not work in a year's time."
Set it for a couple of weeks, then see how it performs against the statistics in your wedCRM.
"I see people do this all the time on their social media, with 'this or that' posts. That's a fun way to pick which photo sells really well for your product, so give it a go — and I look forward to answering them!" Chelsea says.
If you need a hand with your storefront, contact the Easy Weddings customer service team on 1800 155 122, or email service@easyweddings.com.au. We're here to help.