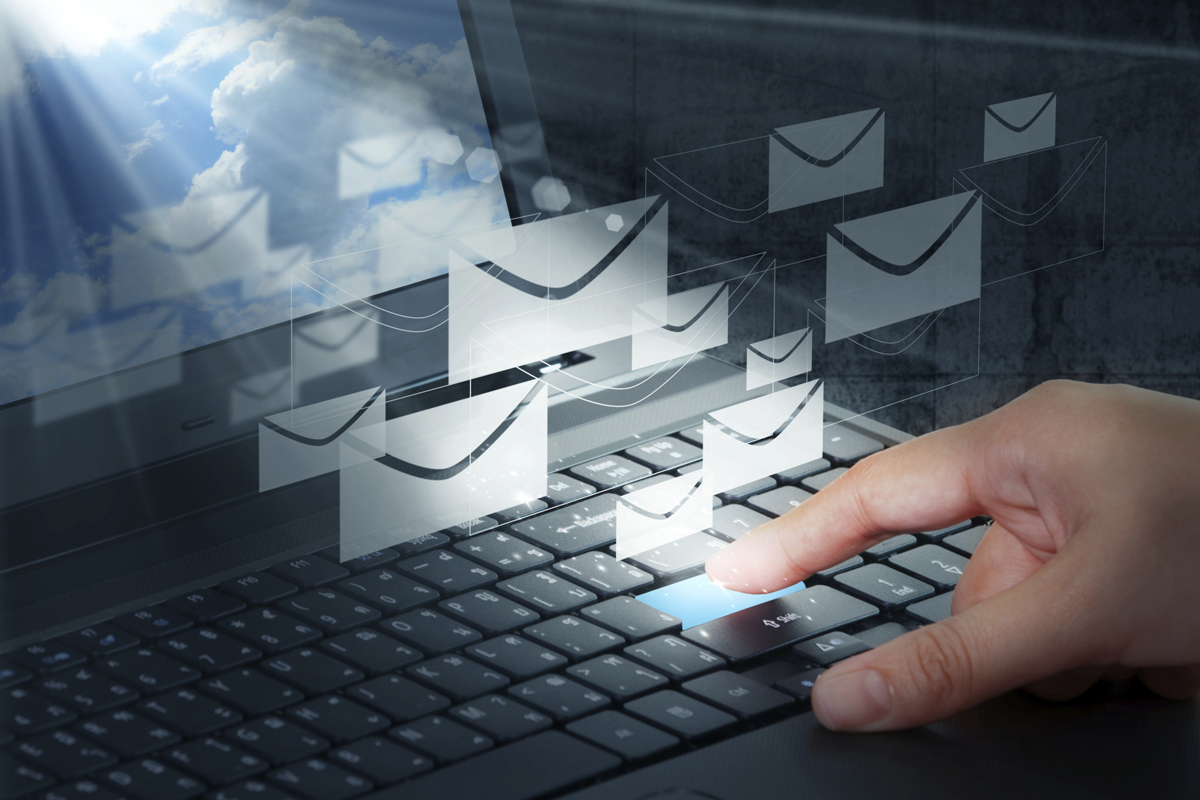 Since organic social media reach began its steady decline into paid advertising, email marketing has once again reigned supreme as a highly valuable marketing tool for small business. Unlike social media, you can be confident email marketing messages will actually reach their destination, leaving prospects to decide for themselves whether to read or not. Follow these tips for make sure you're producing killer email marketing campaigns that entice people to open, read and respond, helping you make the most of every send:
Subject lines
Convince&Convert reveal that 35% of recipients open emails based purely on the how compelling the subject line is – and don't you? As well as making them interesting, try to avoid using spam-triggering words like free and cheap, unnecessary OVER capitalisation and shouty exclamation marks, which are all likely to flag your email as junk. Likewise, using too many symbols can cause your subject line to blend in with spammy trash like: BUY 1/Get 1 FREE~Genie~Bras~$250 (**) Tod@y ONLY! 
A MailChimp study found that three seemingly inoffensive words/phrases can also negatively affect open rates: help, percent off and reminder. And if the research undertaken by MailerMailer tells us anything, lengthy subject lines with 50+ characters attract lower open rates, so keep yours punchy and – as MailChimp suggests – remember to tell, not sell! Stuck for ideas? Try a provocative question to inject some personality into your subject line and positively affect your open rates.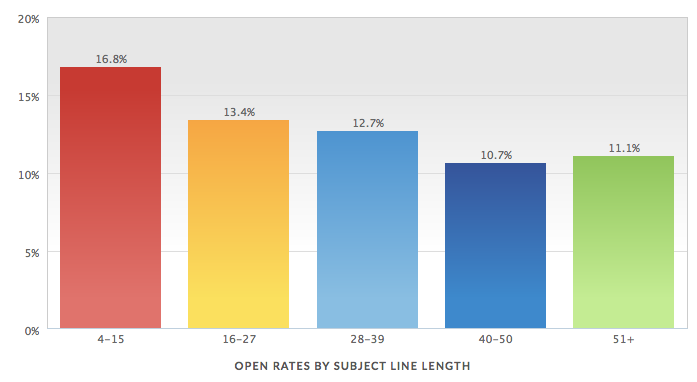 Merge fields
Creating merge fields in email marketing allows senders to include personal information about recipients, including first and last name, city of residence, business name, job title and any other information fields you've gathered from your newsletter sign up form and manual submissions.
Merge fields can be added in the email body or subject line, however the latter has proven not to significantly increase open rates. MailChimp found that referring to customers' towns or cities on the other hand has a positive impact on open rates, so drop in customers' locations occasionally and compare the results.
Merge fields can be effective if done well, but if overused or clumsily configured can have the opposite affect, feeling forced by sales-driven objectives, rather than personal, genuine communication…Any more than two name mentions in one email is probably pushing the friendship!
Tone, style & content
People are exposed to thousands of ads every single day. They don't need another ad; they need help, entertainment and education. They want to be informed about the best solutions to their individual problems by referring to trusted and objective information. If you can provide that information in your email marketing, you may not make the sale then and there, but they'll flag your brand for future reference, and when the time comes to purchase, you'll be top of mind.
Unless your offer is too good to refuse (which can also be perceived as too good to be true), then you may be better off sending clients helpful information about 'Top 10 Questions to Ask a Wedding Photographer Before Signing on the Dotted Line', which drives them to your website blog filled with examples of your work and powerful testimonials, rather than '50% Off Wedding Packages Today Only for Local Clients'. And refrain from getting hyperactive with hyperlinks; any more than one link per sentence is overkill.
Images
Just as copyright laws dictate the kind of images you can use in your social media marketing, photos used in commercial email marketing to promote your own products or services must also be used in accordance with image copyright restrictions. If professional photography is out of the budget, take a look at these 10 royalty-free image websites giving away unrestricted pics for free. However you source images, they need to be relevant, high resolution and professional quality. Sometimes it pays to invest a few dollars for the more beautiful image, rather than use the free stock pic that competitors' have probably done to death.
Coupon codes 
Blue Kangaroo research found that 70% of consumers admitted to using coupons and discounts from marketing emails. When rewarding customers and prospects with a discount or offer using a promotional code, make sure it's time-limited and/or quantity-restricted to create a sense or urgency and exclusivity. You can even team up in a cross promotion and give partners discount codes to distribute to their database on your behalf, offering them a commission for every sale made as a result of that coupon code.
Call to action
Before writing your email copy, decide what the purpose of the email is; get recipients to forward to a friend; redeem an offer; follow social media accounts; or call to book an appointment? Don't confuse your reader with multiple calls to action. Sure, add your social media links to the footer and include a small READ MORE button directing readers to your weekly blog post, but if your primary focus for the email is get them to book an appointment, make that button the most obvious and clear instruction in the template. S-P-E-L-L it out for people and tell them exactly what you want them to do next and make sure they understand what the result of that action will be:
Rub shoulders with the bridal industries' most esteemed couture designers at our winter 2015 collection launch party! 
Call 1300 XXX XXX now to receive your FREE ticket before Friday June 26.
Send times
According to MailChimp, peak email opening times are work days between 9am and 12pm, with another peak between 1pm and 5pm. Unfortunately after 9pm, people are too busy watching MKR to open emails, so restrict your sends to business hours. Tuesdays and Thursdays are the most popular day for opening emails, while on Saturdays and Sundays people are more likely to be getting married (or attending weddings) to be opening your email marketing. Choose your times wisely based on your own individual send reports.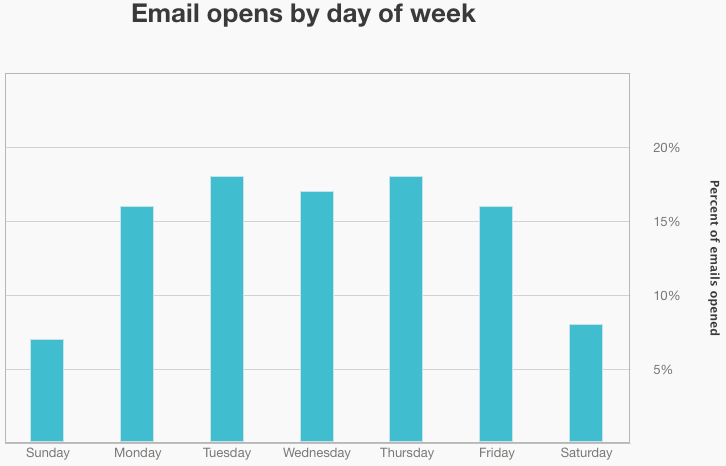 Two-way communication
Email marketing should position you as available to help customers when they need you, so include a return address for people to reply directly to your email, rather than having to search your website for a return address. Include other contact details like phone numbers and physical address where applicable, and add social media icons to allow customers and prospects to choose their preferred method of contact for asking questions and seeking support.
Test & measure 
The key to email marketing is testing a measuring every variable to ensure you're giving your customers what they want in a language they understand, with clear calls to action for maximum conversion. Popular email providers like Campaign Monitor, MailChimp and Aweber offer A/B testing, which allows businesses to test the effectiveness of two slightly different campaigns by making tweaks to wording and design. Using two different subject lines for example may highlight the type of content your readers are more interested in if one campaign attracted far greater opens than the other. Other metrics and campaign analytics to test are click rates, forwards and unsubscribes. Speculate and replicate; find out why you think one version was more effective and reproduce similar content for future sends.
Direct Marketing Association reveals that 66% of consumers have made online purchases thanks to email marketing messages. Now that's a market portion you're crazy to ignore! Follow these tips for killer email marketing campaigns and commit to producing relevant, regular, helpful and read-worthy content and you're well on your way to building lasting relationships with consumers and prospects through strategic email marketing.