Who is the average engaged Australian couple in 2023? When are they getting married? How much will they spend on their wedding? And what motivates them? We've surveyed 3.5k+ couples to answer all those questions and more.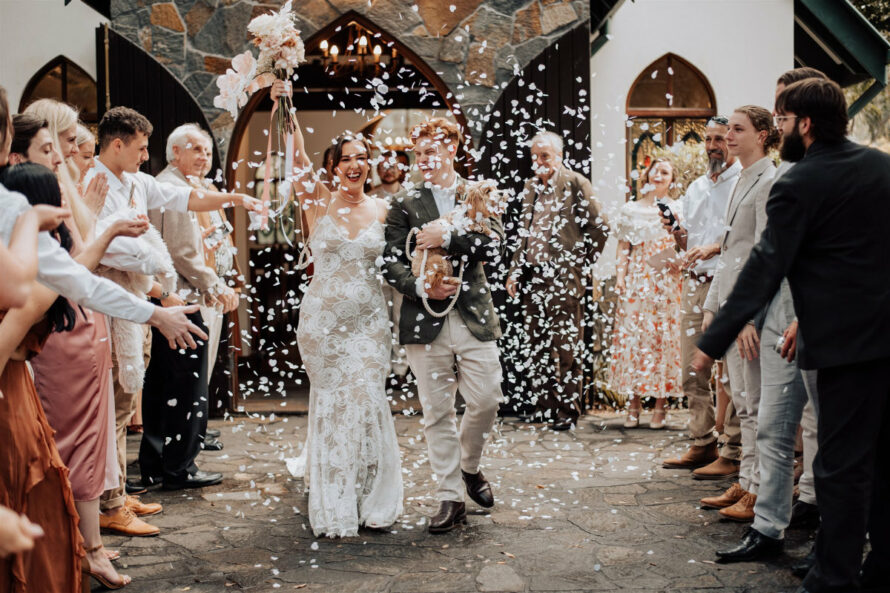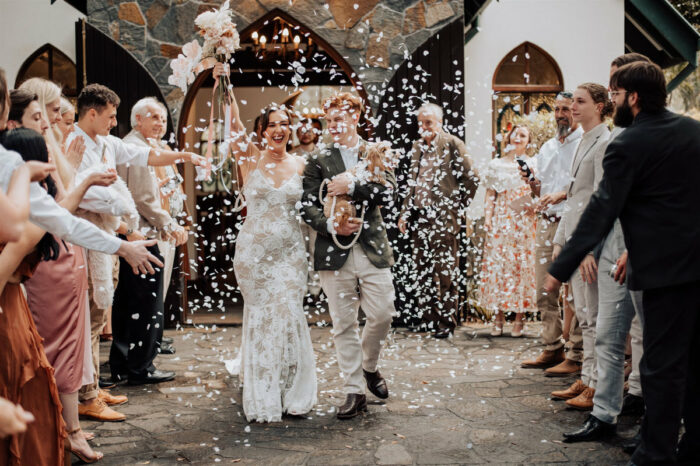 Each year, we conduct an extensive survey of thousands of engaged and newly-married couples across Australia, collecting as much info and insight as possible into what today's typical couple is really like. This helps our entire industry make decisions about things like what to charge for popular wedding dates, how to set up wedding packages and pricing for the year, and branding and marketing based on what's most appealing to modern couples.
Last December we released the eighth edition of our annual Wedding Industry Report. We compiled insights from Australia's largest survey of 3,500+ engaged and newlywed couples, plus almost 600 wedding businesses, to share industry trends and forecasts for the upcoming year.
The result was 55 pages of intel on today's average wedding couple.
In this article, we'll cover:
If you'd like to read more industry insights broken down by state or vendor category, please download our Annual Wedding Industry Report.
Download Wedding Industry Report
Who is the typical engaged Australian couple?


The average age of both a bride and groom is 31 (in male-female unions). In same-sex couples, the average age of a bride is 33 compared with 36 for grooms. This is slightly up from 2019, when the average couple was a 28-year-old bride and a 29-year-old groom. The marrying age of today's couples has followed an upward trend since pre-COVID times, with postponements being the most significant factor in couples waiting to wed.
The average Australian couple is engaged for 22 months. This means almost two years of planning time, with months of making enquiries with wedding suppliers early in the journey before getting to the booking stage. For 71% of couples, it's mostly one partner making most of the plans.
An overwhelming majority (92%) of Australian couples are getting married for the first time. This has remained steady for years. What does that mean for suppliers? You can safely assume that most of your clients have never seen a wedding quote or contract before. They're counting on you to build a trusting relationship with them and guide them through every detail.
More than half (52%) have attended 1-3 weddings in the past year. There's a good chance other guests have been talking with friends about good and bad vendor experiences they've encountered. Just because weddings are generally a one-time transaction, don't forget that every guest has the potential to bring you at least one personally vouched-for referral.
Most couples will opt for a wedding party, typically made up of about 8-10 people including the couple themselves. The tradition of matching bridesmaids continues to be the most popular choice, with just under half of bride-squads wearing the same style and colour dress; while others opt only for matching colours. We're also seeing a rising trend in pantsuits in favour of a traditional bridesmaid dress, particularly with gender-diverse bridal parties.
Hen's and Buck's parties are still on trend for 88% of couples.
How do couples communicate with wedding suppliers?
Almost one in five couples (19%) booked the first supplier that got back to them, while almost two-thirds (62%) booked suppliers based on the information they received within a reasonable time frame.
Most couples (82%) preferred communicating with wedding suppliers via email. As we have seen in recent years, modern Millennials (and now older Gen Z) are not too fond of telephone calls! We recommend suppliers respond to enquiries in the same way that the couple made contact with them, and ask couples from that first interaction how they would prefer to communicate with you moving forward. Have several email templates set up and ready to go once an enquiry comes in – which you can do in the Easy Weddings WedCRM.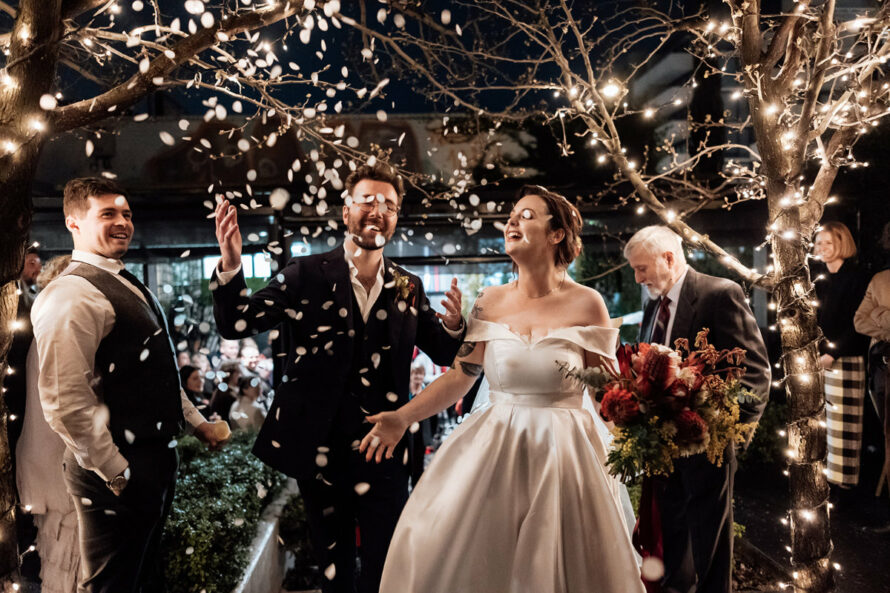 What's the average Australian wedding budget?
In 2022, the average expected wedding budget started at $27,550 and came in closer to an actual average cost of $34,715 (or 26% over budget).
Overall wedding costs have increased 5.4% since pre-COVID times, with the industry feeling the pinch of cost-of-living and supply chain pressures. The average wedding price is now $34,715 — up from $32,940 in 2019.
Spending took a dip during the peak pandemic (2020) when many Australian couples opted for micro-weddings and scaled back guest numbers. By 2021, spending quickly surpassed 2019 costs in all states except Tasmania. A year on, the average cost of weddings has eclipsed pre-pandemic spending nationally.
Likewise, the average cost of an engagement ring has increased on post-pandemic prices — by 11.8% in fact. Couples are now spending an average of $6,000 on an engagement ring, up from $5,367 in 2019.
So, where does the money for most wedding budgets come from? Fewer of today's couples are relying on families to contribute to their wedding expenses than in recent years. Just over half (52%) are paying for their wedding on their own, up 7% from last year. Less than a third (31%) are combining funds from the Bank of Mum and Dad (down 14% on last year).
With the pressures of increasing supply-chain costs on vendors, coupled with inflation and rising cost-of-living pressures, it is unsurprising that 'sticking to a budget' is the number one wedding stress for 2023 couples. To mitigate this, 9% are cutting guest numbers, while 23% are scaling back in other areas. The average couple is inviting 92 guests to their wedding, although they wish they could invite 122. 
We expect to see a rise in budget-conscious couples, so wedding suppliers should be upfront about pricing from the outset. Include a price or price range (or a downloadable brochure with a price list) on your Easy Weddings storefront; and offer price options or packages to accommodate various budgets. Also, consider offering more affordable weekday pricing options to appeal to budget-conscious couples.
To get realistic about how to price your services as a wedding supplier, we'd encourage you to take a look at the state-by-state average wedding budget and dive into your specific category so you can get to the most competitive pricing or the pricing that works best for you and your business. All this info is available in our Wedding Industry Report.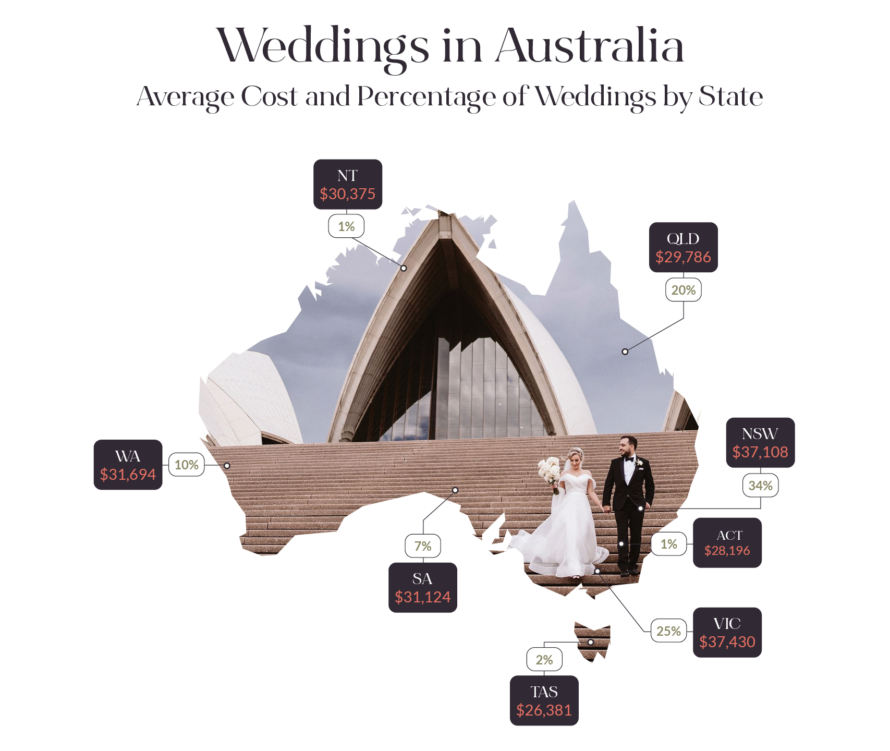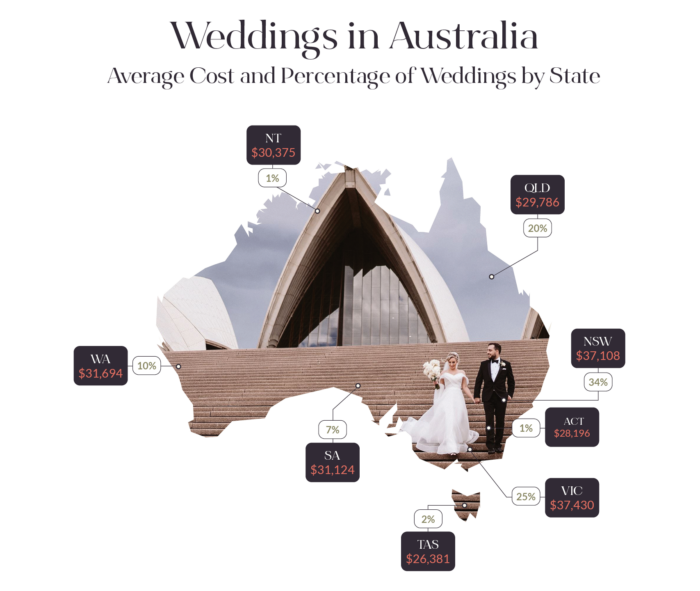 Get average state-by-state pricing in our Wedding Industry Report.
Download Free Wedding Industry Report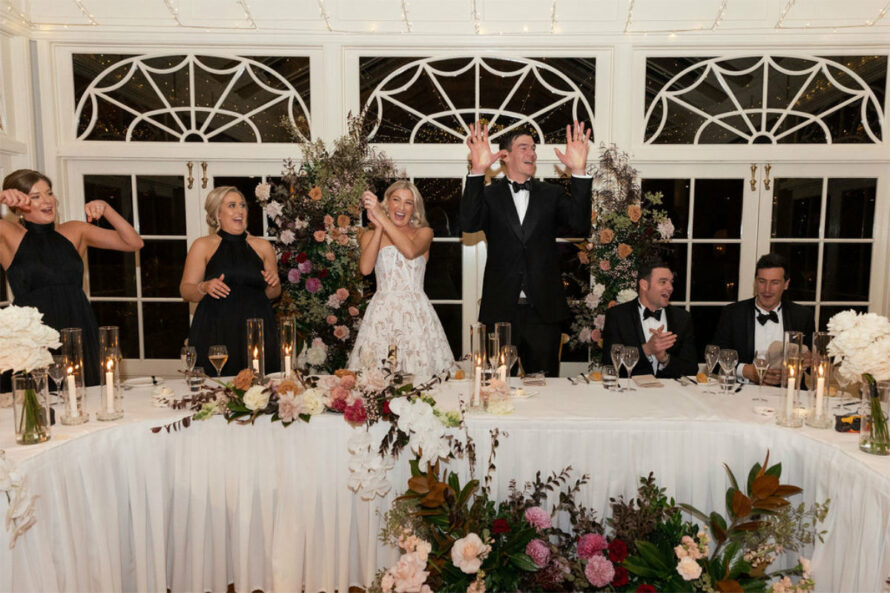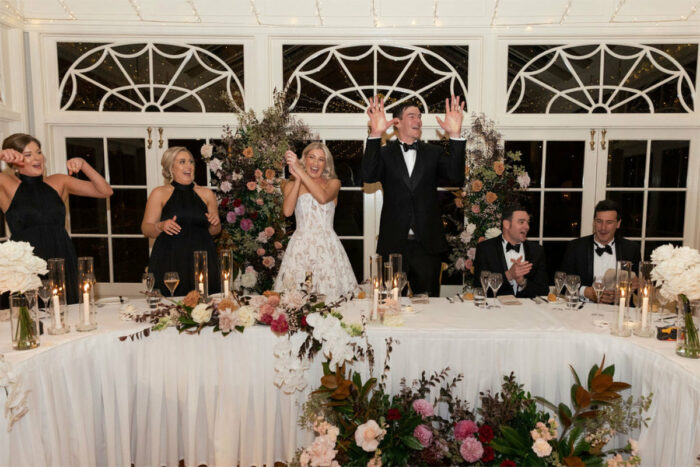 When do most couples get married in Australia?
As most of Australia's COVID-postponed weddings have now been rescheduled, most wedding planning has reverted to pre-pandemic times. Couples still prefer Saturday weddings, with wedding vendor availability becoming less competitive than we saw in 2021-22. Fewer weekday weddings are expected in 2023 and beyond than in 2021-22 — although the option is still attractive, particularly to couples planning lower-budget weddings.
In 2023, September looks set to be the busiest month of the year with five coveted Saturday dates for couples to choose from.
Spring and autumn remain the most popular wedding seasons, coming in at 34% and 31% respectively. We saw a big drop in the number of winter weddings last year (just 13% of weddings), largely due to pandemic restrictions on indoor events. Summer remains steady with 22% of all weddings taking place on those long summer days.
When it comes to pricing your services in these months, it's all about pricing to match the demand.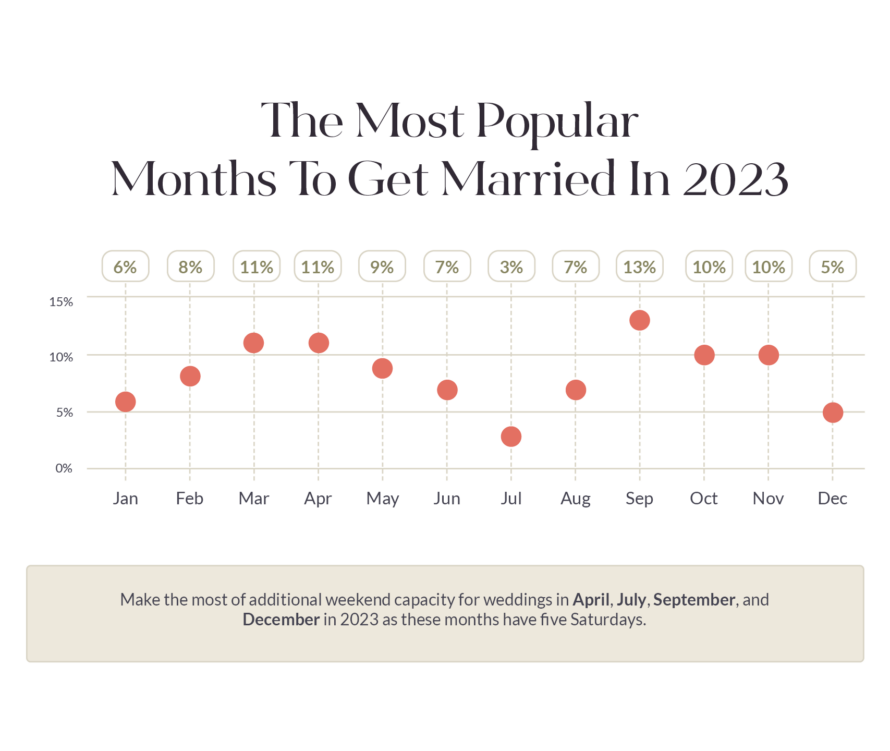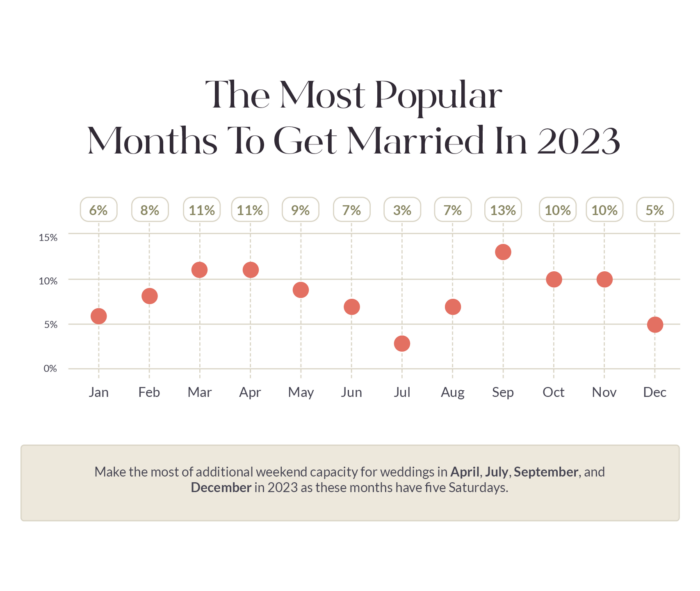 Get detailed state-by-state information about popular wedding dates in our Australian Wedding Industry Report.
Download Free Wedding Industry Report