In time for wedding season, Easy Weddings has launched the 2024 Australian Wedding Industry Report. It's packed with invaluable insights to help wedding businesses better understand their target market, to thrive in the ever-changing industry.
Drawing from survey responses from more than 4,200 engaged and recently married couples and nearly 600 wedding businesses, the report is the ultimate guide to understanding the 2024 wedding planning trends and consumer behaviours that will shape the industry. We break down the key findings in this article.


Couples in 2024-25: Evolving Trends
The 2024 report paints a portrait of the average Australian couple tying the knot in 2024-25. With a bride at 32 and a groom at 35, the marrying age has been steadily increasing over the years.
An overwhelming 91% of respondents are getting married for the first time, staying engaged for an average of 22 months, and inviting 89 guests. It's worth noting that this guest count has seen a slight decrease in recent years, influenced in part by the pandemic.
However, couples' guest lists reveal an interesting trend — they're inviting 30 fewer guests than they would ideally like, primarily due to tightening budgets and rising supplier costs.
Bridal parties remain largely consistent, with eight members (including the marrying couple) being the most popular choice, followed closely by 10.
When it comes to the average cost of a wedding in Australia, it sits at $33,810, excluding the honeymoon. While the report notes a slight decrease compared to previous years, couples are opting to spend more on individual services, even though supplier prices are rising. This shift in priorities has been triggered by budget constraints and the impact of rising living costs.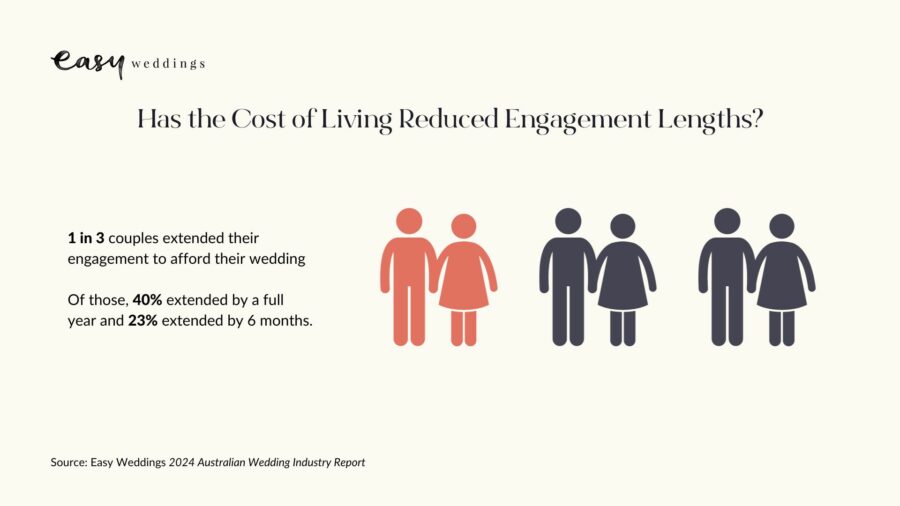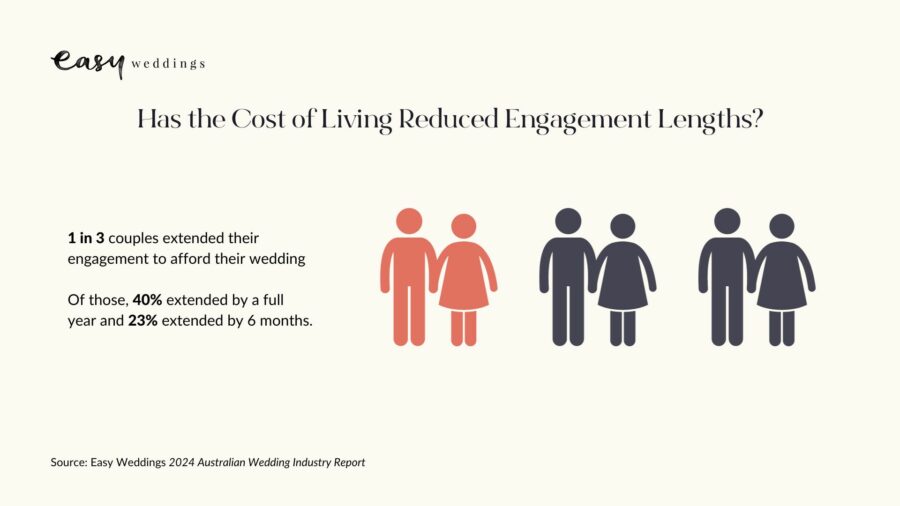 Changing Ways Couples Meet and Engage
An interesting shift in the way couples meet is highlighted in the report. The data reveals that dating apps, such as Tinder and Bumble, are now the most popular means of meeting, accounting for 28% of engagements. This trend reflects the growing tech-savvy of the marrying demographic — younger Millennials and older Gen Z couples.
Wedding businesses must adapt their marketing and communications strategies to cater to these tech-savvy couples.
We ask couples their preferred method of communicating with suppliers, and each year, an overwhelming percentage prefer email. This year, 4 in 5 couples (81%) said email was the preferred communication method, way ahead of phone calls, texts and other forms of direct messaging.
Having said that, it's best practice to communicate with your couples how they contacted you. And that's not to say you can't then incorporate other communication methods like phone and SMS as part of an integrated communications strategy.  We recommend adding a second touchpoint like a follow-up SMS after the initial email goes out, alerting the client of the email and asking them to check their spam folder if they don't see it.
However, remember that the overall preference for your target market is email, so prioritise setting up email templates to avoid delaying your response time.
Engagement Seasons: A Critical Opportunity
The report identifies key engagement seasons, with 6% of all engagements taking place between Christmas and New Year. December proves to be a popular month, accounting for 13% of engagements. The timing of engagements is often influenced by long weekends, holidays, and special dates, such as the King's birthday.
Therefore, wedding businesses should prepare for a surge in inquiries and be readily available during the post-peak engagement period, especially in January.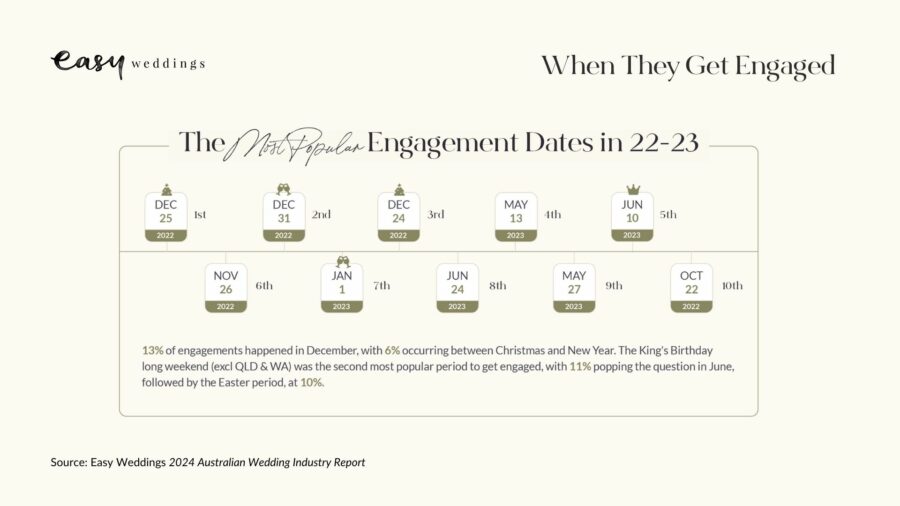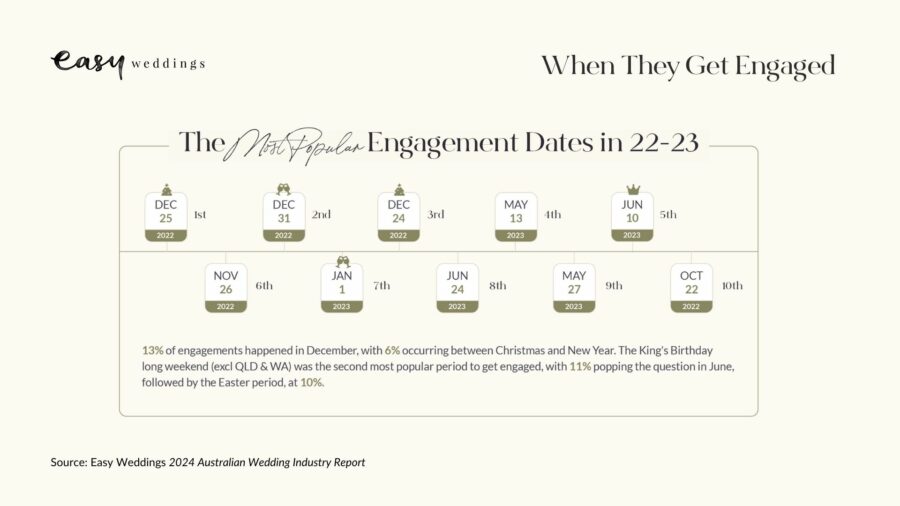 Venue Selection and Wedding Dates
The choice of venue plays a pivotal role in determining wedding dates, with availability being the primary factor. Spring and autumn remain the most favoured seasons for weddings, while some couples opt for significant dates, such as the day they met or their parents' wedding anniversary.
More than half of the couples in 2024 will choose to get married on a Saturday, representing 57% of weddings on just 29 dates of the year. In 2024, March is expected to be the busiest month, with five Saturdays, followed by October.
Saturdays continue to be the most sought-after days to get married, so wedding businesses should consider premium pricing for these peak dates, as well as offering incentives for mid-week or off-peak season bookings.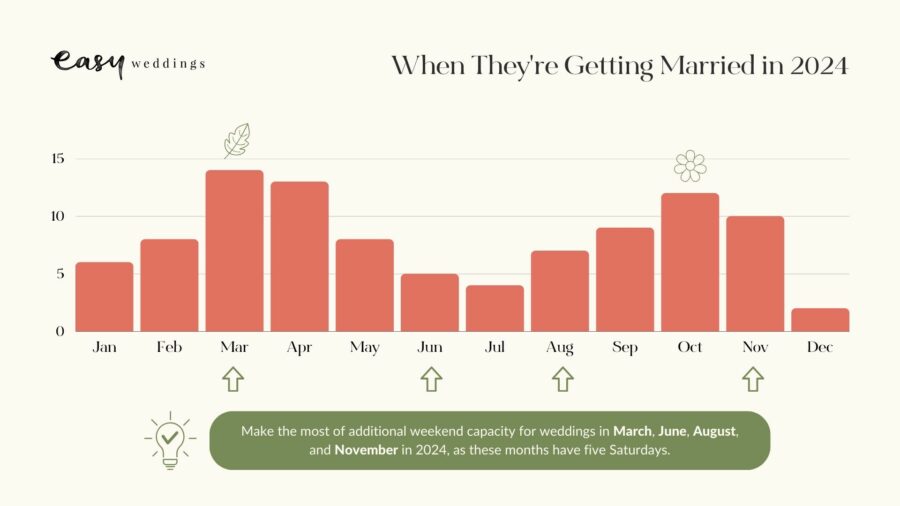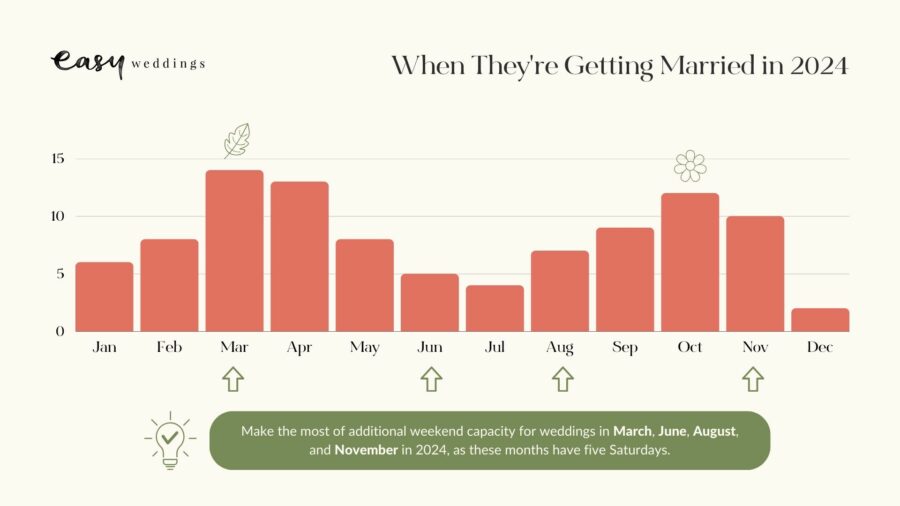 Finding Wedding Suppliers: Easy Weddings Still Dominates
Easy Weddings continues to be the number one source for couples planning their weddings, with 31% of couples beginning their wedding supplier search on the platform.
Social media follow s at 21%; then Google and other search engines; ahead of recommendations from friends, family, planners, venues, and expos.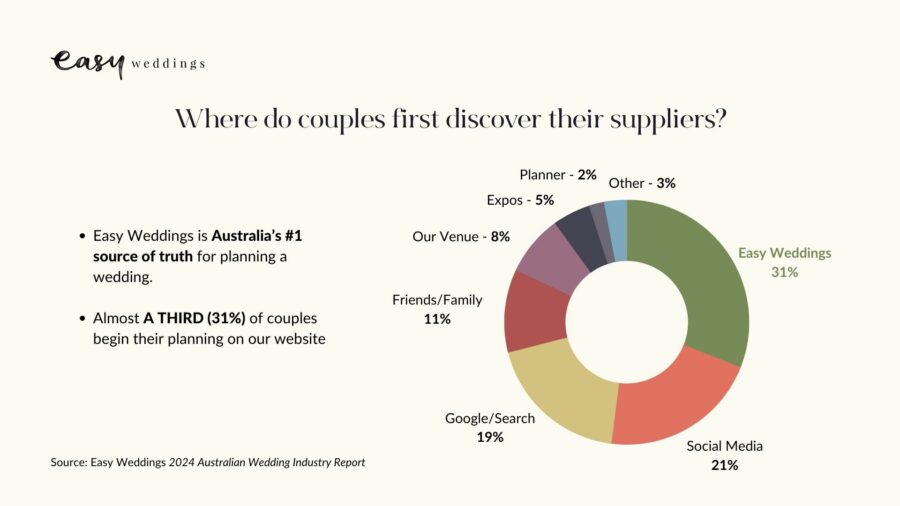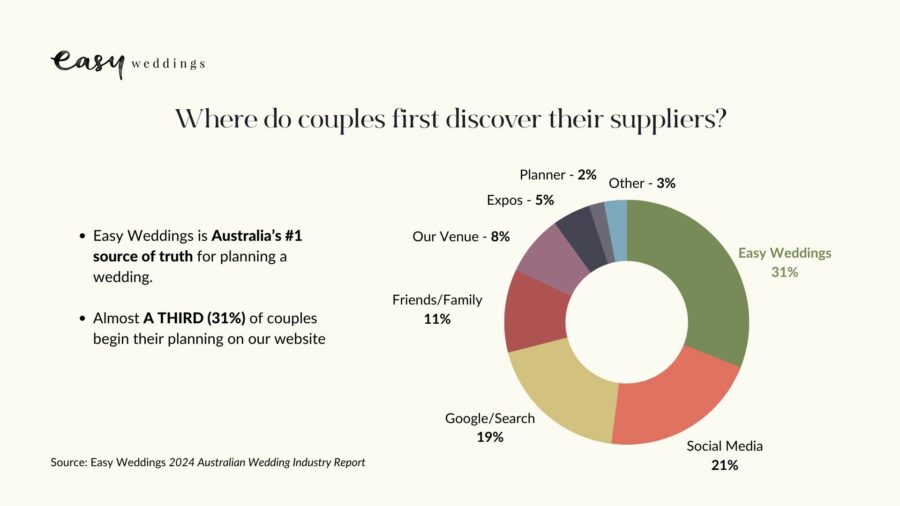 4 Factors Couples Most Value in Their Wedding Suppliers
When choosing their wedding suppliers, couples place great importance on upfront pricing to ensure it aligns with their budget.
Next, they also consider whether a supplier's photos match their vision.
However, the most significant change in priorities from last year's results, is the value of a supplier's personal connection. Couples are looking for suppliers who match their vibe and connect with on a personal level — a value that supersedes last year's number 3 spot which was having positive reviews and social proof (which bumped down to the fourth spot this year).
Adapting to Changing Budgets and Consumer Behavior
Despite the 2.5% decrease in the average wedding cost compared to the previous year, the report shows that suppliers have increased their prices due to inflation and other factors. However, couples are becoming smarter in their spending, choosing to prioritize essential services over optional ones.
Couples are also exploring ways to include DIY elements in their weddings, which they might have traditionally outsourced. The report reveals that second-time weddings have an average budget of $16,229, focusing on elopement-style, micro-weddings, or destination weddings with fewer guests and elements.
Top Stresses for Couples: Sticking to the Budget
The report shows that the primary concern for couples planning a wedding remains sticking to their budget.
This is closely followed by concerns related to the guest list. Cost of living pressures are a significant factor affecting wedding budgets, with almost 80% of couples stating that these concerns have reduced their budget.
Cost of Living Impacts on Wedding Budgets
A noteworthy 79% of couples say the cost of living pressures have affected their wedding budget. While couples still tend to overspend their budget by 22%, they are becoming more mindful of their spending and are opting for solutions like reducing guest numbers.
To afford their wedding, one in three couples has extended their engagement. This behaviour is expected to influence engagement lengths in the coming years.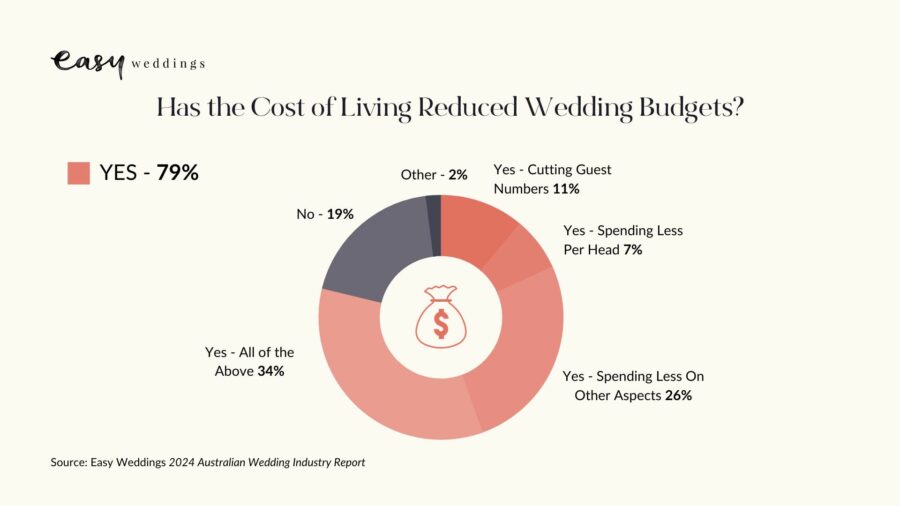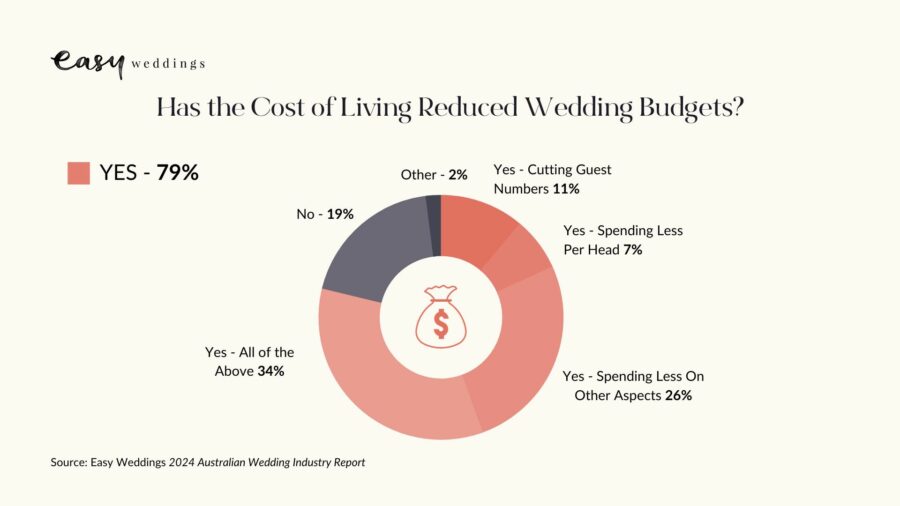 7 Key Takeaways: Preparing for Success
The 2024 Australian Wedding Industry Report is a goldmine of insights for wedding businesses. Here are our key takeaways to help your business thrive in 2024 and beyond:
Leveraging Easy Weddings: Ensure your presence on Easy Weddings, as it remains the top platform for couples to discover wedding vendors.
Cohesive Online Presence: After finding you on Easy Weddings, couples will research further on your website and social media. Maintain cohesive content across all platforms.
Spending Smarter: Couples book fewer suppliers but are willing to spend more per category. Understand their priorities and adjust your offerings accordingly.
The Personal Connection: Couples are looking for suppliers they connect with personally. Building rapport and resonating with their vision is crucial.
Adapt to Communication Styles: Respond with the same method couples communicate, and have email templates ready once an enquiry comes in.
March & October are 2024's busiest months. Consider premium pricing (and incentivise low-peak or mid-week bookings)
Ask for reviews (more than once). For tips, read our article: How to Ask For Reviews and Why They Add Value to Your Business
Learn more about 2024 couples in this article, 'Leveraging 2024 Wedding Style & Venue Trends to Elevate Your Brand'.
Want to learn more about what inspires 2024 couples? Click the below button to download the 2024 Australian Wedding Industry Report.
Download the 2024 Wedding Industry Report
Stay tuned to Easy Weddings for more updates and insights as we continue to uncover the ever-evolving world of weddings in Australia.
Are you advertising on Australia's no. 1 wedding business advertising platform? If not, learn more today about what Easy Weddings can do to help you grow your business.