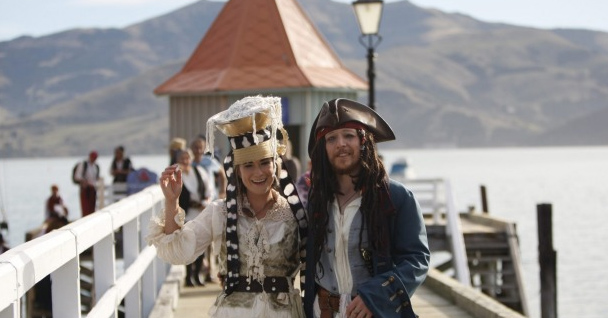 The world's first legally recognised 'Pastafarian' marriage has taken place in New Zealand between members of the light-hearted Church of the Flying Spaghetti Monster.
Pastafarians believe humans are all descendants of pirates and members Toby Ricketts, 35, and Marianna Fenn, 33, married over the weekend in a ceremony which was, of course, pirate-themed.
The ceremony took place on a 'pirate' boat and the couple wore complete pirate costumes, as did their celebrant or 'ministeroni' and their wedding guests.
Toby, who is a voiceover artist, and Marianna, who is a lawyer, are both members of the Church of the Flying Spaghetti Monster, which is legally recognised as a religion in Poland, The Netherlands and New Zealand.
The movement claims the world was created by a giant flying spaghetti monster and there is a beer volcano in heaven. Some members even choose to wear colanders on their head as a symbol of their belief.
Marianna told BBC news, "I would never have agreed to a conventional marriage, but the idea of this was too good to pass up."
During the ceremony the pair exchanged wedding rings made from pasta, before Marianna wore a colander filled with noodles on her head, and the couple shared their 'first kiss' by chowing down on either end of a spaghetti noodle until their lips met.
Wedding officiant and 'ministeroni' Karen Martyn told the BBC, "It's a formal recognition that we are a church and that's just great."
Karen, who only a month prior to the pasta-filled affair received approval from the New Zealand Department of Internal Affairs to practice as a Pastafarian marriage celebrant, went on to explain that more Pastafarian weddings have been planned in New Zealand, including same-sex ceremonies. "We will marry any consenting legal adults who meet the legal requirement," she said.