Wishing wells are becoming a popular addition to may wedding receptions, and can be bought or hired for the day, and decorated to match your wedding scheme. They are intended as a safe place for guests to put greetings cards and wedding gifts of money or vouchers, whilst making a wish for the future of you and your new husband.
Announcing your wishing well
It can be difficult to know how to tell your wedding guests that you will be having a wishing well as it is considered rude to mention it on the actual wedding invitation itself. However it is ok to include a small card with the invites to let people know there will be a wishing well at your reception.
Many couples choose just to include a small card with a picture of a wishing well as this saves them from actually having to ask for a gift with words. Others make use of a fun poem to soften the blow of asking for money. Here are two popular poems to give you some ideas on wishing well wording.
Poem 1
Now we are to be Mr and Mrs (or Mrs and Mrs would work)
We don't need a wedding list full of dishes
We have two kettles, two toasters, and one microwave
Which all need a house for which we must save
If you would like to give us a gift,
Some cash or a voucher would give us a lift
At the wedding there'll be a Wishing Well
Which will be filled with your love, we can tell.
Poem 2
To save you looking, shopping or buying
Here is an idea, we hope you like trying
Come to our wedding, to wish us both well
And bring this small sack, for our Wishing Well
Fill it with paper any colour will do
Gold is our favourite but silver is too.
Now that we have saved you, all that fuss
We hope you will come, and celebrate with us.
The second poem works best when printed on a pretty envelope designed to match the rest of your wedding stationery. Guests can put their gift into this envelope and place it in the wishing well. It is a nice touch to design the envelopes so that there is an area for guests to write a wish for your future.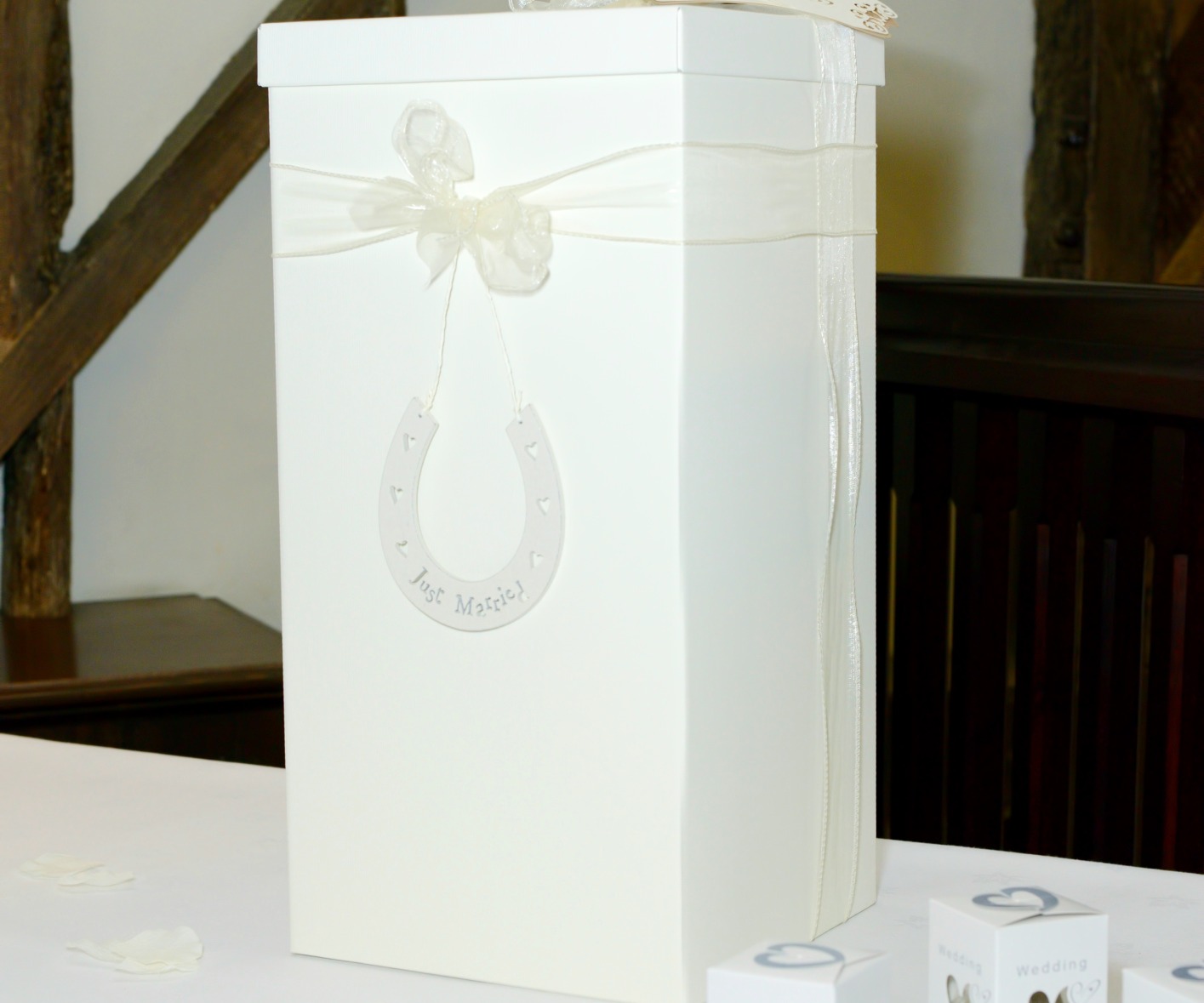 Explaining your wishing well
It is one thing mentioning your wishing well when you send out invitations, but it is another to actually explain to guests on the day what they are supposed to do. Many couples print a sign to place near the wishing well, letting guests know that gifts should be placed there. You could use the same wording or poem as you chose for your invitation cards, or you could come up with something new. One popular poem to print out for the wedding days itself is:
Poem 3
More than just kisses so far we've shared,
Our home has been made with love and care,
Most things we need we've already got,
And in our home we can't fit a lot!
A wishing well we thought would be great,
But only if you wish to participate,
A gift of money is placed in the well,
Then make a wish but shhh don't tell!
Once we've replaced the old with the new,
We can look back and say it was thanks to you!
And in return for your kindness, we're sure,
That one day soon you will get what you wished for.
Please don't be offended at this type of request,
As our day is complete having you as our guest.
However if you think this is a little long, and your wedding guests will be uncomfortable hanging around the wishing well long enough to read it, you can try something simpler:
Poem 4
This wishing well is here today for all of you
To make a wish that you'd like to come true
A token for the couple would be welcomed too
Please make a wish before the day is through.
This short poem is popular because it puts the emphasis on the wish rather than the money. Leaving postcards for guests to write their wishes on is a great way to show that you care more about their love and support that their gifts.