Let's face it, this is a topic very close to our hearts. Because we LOVE cake! Cake brings people together to celebrate a moment in time. And if that moment in time is your wedding day, then we are big fans of getting a cake out!
When it comes to your wedding cake there are a few things to consider. Of course, there's the fun part which is the taste testing! Cake tasting is one of the most fun activities during wedding planning. Mud cake is a big winner with modern couples, from chocolate to caramel to vanilla.
But another big factor of your cake is what it's going to look like, and how many people it needs to cater to. This comes into your wedding cake design.
Your wedding cake doesn't just have to be something that can be eaten on the day. It can also become a part of your wedding decor. In fact, modern couples are now focusing more on the aesthetics of their wedding cake as opposed to just considering it for the taste. 16% of couples will tie their wedding flowers into their cake design. Many couples are also looking for a cake designer who can provide proof of their experience and designs through a photo portfolio. (Find wedding cake suppliers in Melbourne, Sydney, or browse all cake suppliers.)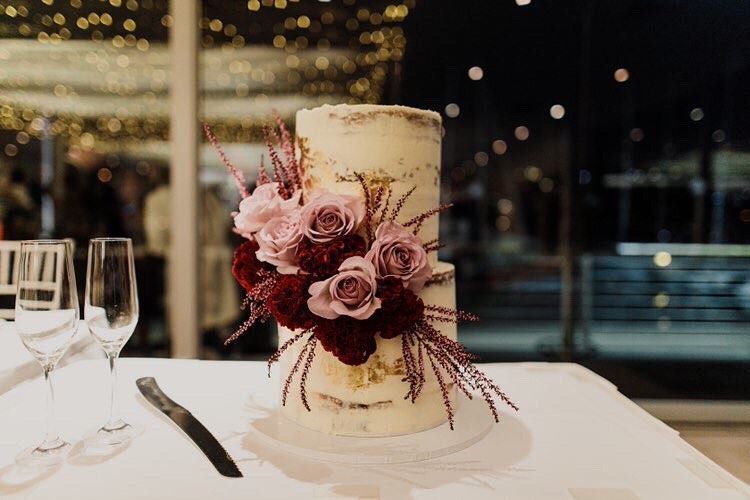 How many tiers should my wedding cake have?
While you should consider the number of guests you are having, the number of tiers your wedding cake has is ultimately going to come down to what you want it to look like.
Cakes with multiple tiers are traditionally more popular than single-tiered cakes. 46% of couples choose a wedding cake that has two tiers while another 34% opt for three tiers. Just 11% of couples will have a wedding cake with a single tier, while 9% will have 4 or more tiers.
There are ways of both getting more tiers than you need to serve and having fewer tiers than what you want to serve. Double-barreling, changing portion sizes and sheet cakes are all options for getting more out of your cake without compromising on how many tiers you've chosen.
In comparison, foam tiers can add extra tiers without paying for, or wasting, the actual cake. Ever seen those perfect wedding cakes in the store window that never budge?  Those are perfectly decorated foam tiers.
Once you've decided what you want your cake to actually look like and how many people it will serve there is one more question to consider; do you want to keep a layer for yourself?
Traditionally, couples used to keep the top layer of their wedding cake to celebrate on their first anniversary. If this is on the cards for you, consider what it means for the number of tiers your cake has. Bear in mind that this is also a tradition when the cake used to be fruit cake and could be stored in the freezer. So, if you're keeping your cake make sure you chat with your baker about the longevity of the cake you've chosen as well as proper storage methods.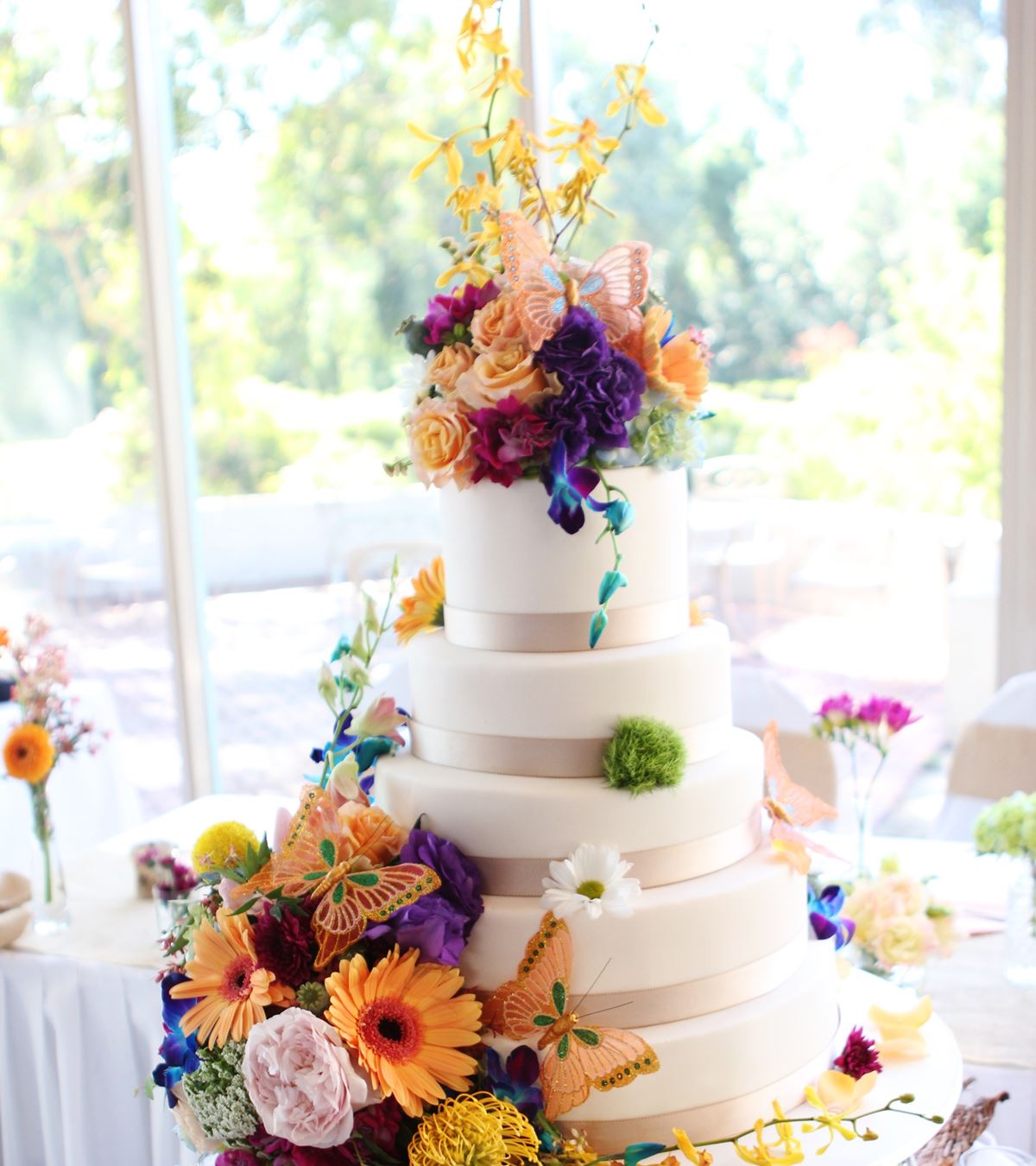 What is a double-barreled cake?
Double-barreled cakes are incredibly popular at the moment and are made by almost every baker.
A double-barreled cake effectively doubles the number of tiers a cake has, without doubling the visual effect. A double-barreled cake is when two cakes of the same size are stacked on top of one another to create the effect of a single, tall tier. This means you can effectively have a two-tier cake visually, but have four-tiers of cake included. You can even triple stack cakes to have a cake with a 'single-tier' that will include three tiers of actual cake.
This is a great option if you want to want to have fewer tiers on your cake but need to serve more guests. Or, if you just like the style.
If you want to keep the top layer of cake for yourself on your anniversary, you can halve the 'top tier' of a double-barreled cake while still serving the bottom half.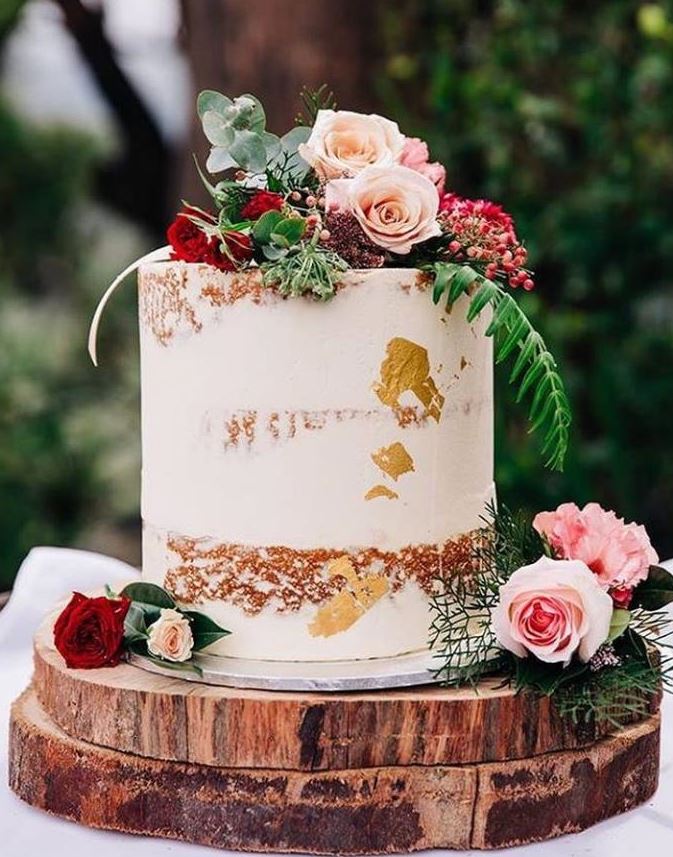 What is a sheet cake?
What's better than having one cake? Having two cakes! Sheet cakes are effectively backup cakes and are particularly suited to weddings with a large number of guests.
A sheet cake is a non-decorated, single-layer cake baked in a large, flat tin and stored by your venue until it's time to be served. You can choose it to be the same flavour and have the same basic icing as your wedding cake so that no one misses out on the taste.
When it's time for cake, your venue will cut the sheet cake up to distribute with your main wedding cake. This way, you can serve cake to more people even if you choose a visual wedding cake that might not have served everyone.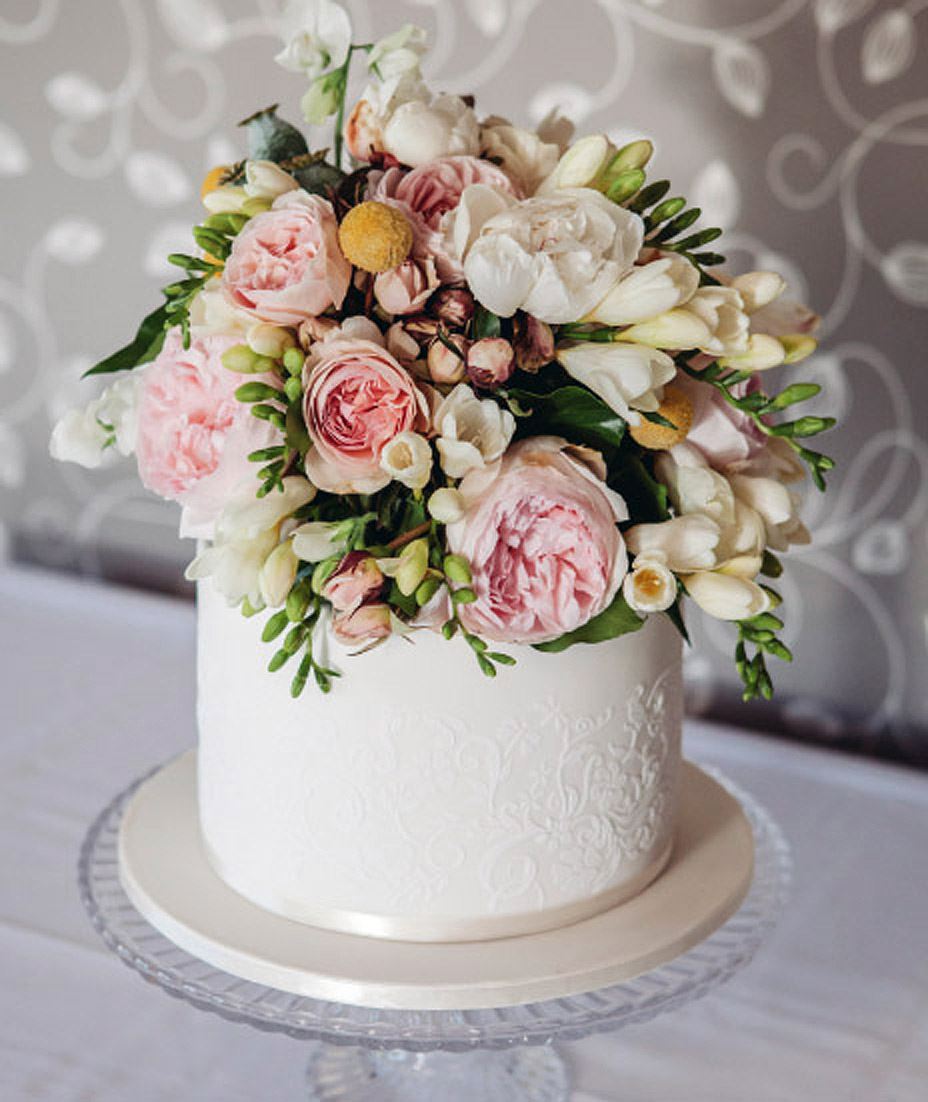 What size portions should I serve?
There are two main portion servings of cakes at weddings; dessert and coffee.
Dessert portions are naturally larger portions of cake and will come out as your dessert course. For many couples, this means they can save a bit of money by having their cake double as their actual dessert. This could be suitable for a sit-down meal as well as a cocktail option. 56% of couples choose to serve their wedding cake as dessert.
Coffee servings are generally half the size of a dessert portion and will come out after dessert has been served. These are usually added as a sweet treat when your venue or caterer will offer tea and coffee to round out the evening. 44% of couples opt for coffee portions of cake at their wedding.
These portion sizes will directly impact how much cake you need for the number of guests you have. Obviously, dessert portions will require more cake so could mean you have a larger cake or fewer guests. While coffee portions will mean your cake can go around further in a smaller size.
While thinking about serving sizes is important, if you are set on what you want your cake to look like there are ways around this. Chat with your baker about what options will be best for you both visually and financially. Because, and we can't help ourselves here, you should be able to have what you want for your cake, and eat it too!