What old school wedding traditions will you embrace at your wedding? Any you think are still cool? Any you think are just plain outdated? Our social followers weighed in and the results are very interesting!
We recently ran a poll on our Instagram stories about wedding traditions, thinking some were a little outdated and some might be die-hard traditions that'll stand the test of time. We had nearly 15,000 responses that ranged from passionate to tepid in their feelings about said traditions.
Here are our findings, mixed with some ideas on new spins to the old school traditions. As with all things related to wedding planning, we strongly emphasise the *you do you* nature of weddings. If you love some of the more old-fashioned traditions, run with them, own them, and enjoy them!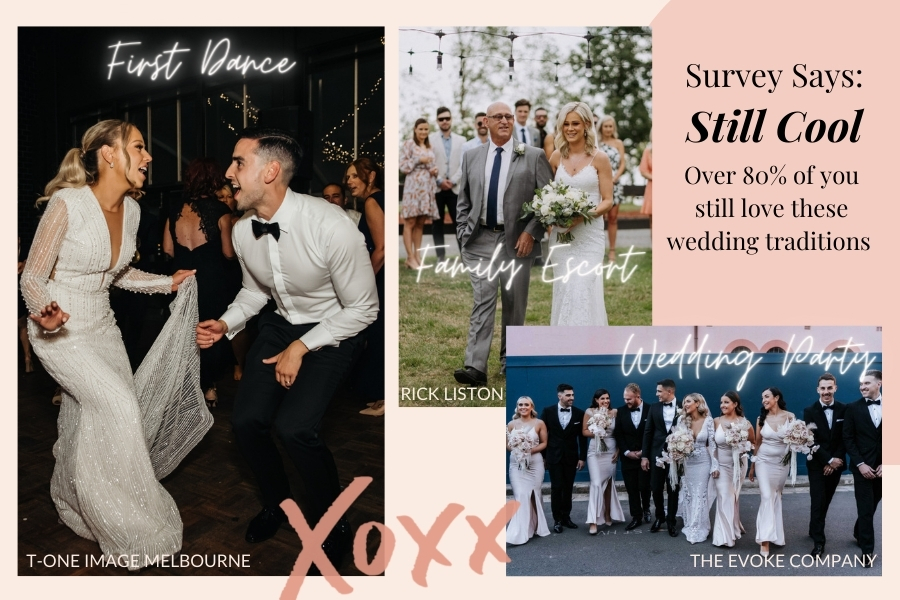 Still Cool Wedding Traditions
85% of respondents said they were into the first dance tradition
82% of respondents love a traditional wedding party
80% of respondents said being given away at the ceremony by a parent or guardian is still cool (though only 36% insist on dad leading the way)
75% of respondents still love the traditional look and feel of paper wedding invitations
71% of respondents said they really wanted a traditional surprise reveal at the ceremony instead of doing a first look
63% of respondents said they were cool with banning female guests from wearing white to a wedding
If you're into the idea of sending snail mail invites, we're so behind that! Love a gorgeous set of stationery. Check out your local invitation designers in our directory.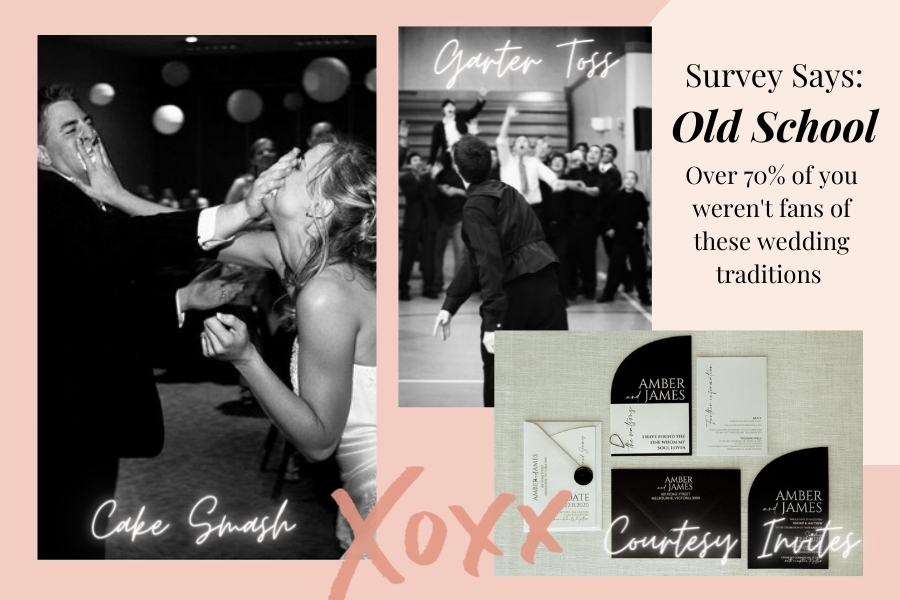 Old School Wedding Traditions
86% of respondents think inviting every member of your family is not necessary (scrap the courtesy invites!)
84% of respondents think smashing cake in each other's faces is old school (but you look so nice — why ruin your makeup!)
74% of respondents replied to a public garter toss as, "ew gross – what even?!" (save it for the honeymoon, eh?)
71% of respondents think having assigned sides at the ceremony is old school
69% of respondents were all about cutting the cake as early as possible to get right into party mode
However you decide to cut the cake at your wedding (and eat it too), we recommend working with a cake maker who gets your vision and will design a cake that suits your style. Find a cake maker here.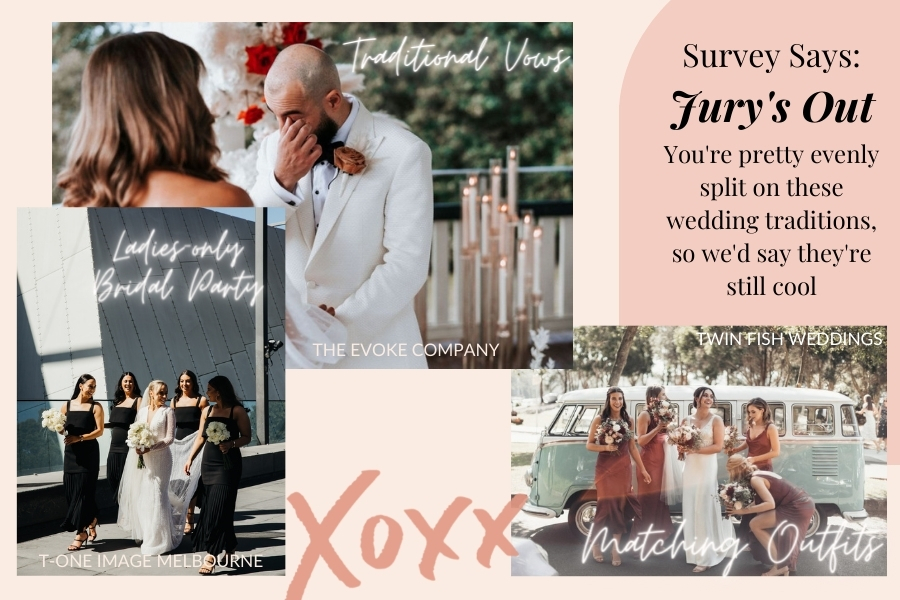 Wedding Traditions Going Strong
As for these wedding traditions, there wasn't a clear answer as to whether people found them old school or still cool. Instead, results were close to 50/50, so we're sticking with still going strong — neither fad nor fashion.
Traditional wedding vows vs. personal vows
Wedding favours and gifts
A mix of new things and secondhand items
Matching outfits for bridesmaids and groomsmen
Same-sex wedding parties on either side of the aisle
Love these kinds of surveys? Check us out on Instagram!
---
Still deciding on the finer details of your wedding? Browse the suppliers you haven't booked yet.