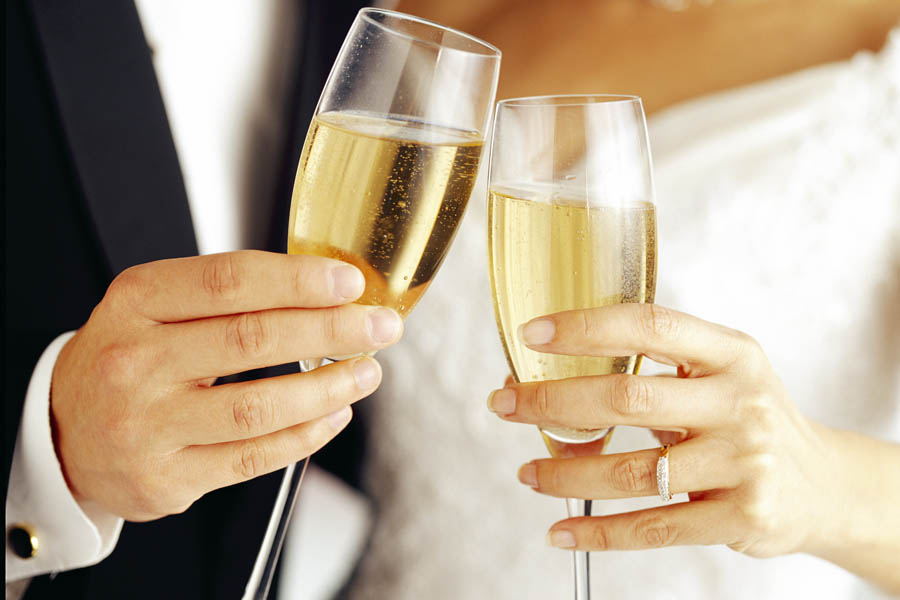 Inspirational speaker, author and seasoned speaking coach Laurie Smale is no stranger to the panic that many people experience from public speaking. He has conquered his fear though, and so can you.
He, too, experienced sweaty palms, a shaky voice and other debilitating effects when speaking in front of a group of people. Thankfully, he was able to overcome it to the point that he now helps others to not only conquer the fear of public speaking but excel when doing so.
The following tips are from his book and CD program: One Step to Panic-Free Public Speaking and will help ensure your wedding toasts and speeches at your reception are not only easy, but also uplifting and memorable.
Guests don't expect a (very) polished speaker
Unless you are someone who is a regular public speaker, your guests aren't going to expect an overly polished performance. Your guests will surely appreciate your speech if you have given some prior thought to what you have to convey and you mean what you are saying. They will relate to you if you keep the information personal and come across as the natural, imperfect human being that you are.
You're surrounded by friends – who want you to succeed
These folk haven't travelled far and dressed up in their finest clothes just to evaluate your every word and move! They're there to celebrate the love between two people. The fact is you'll be talking to your nearest and dearest, here to see you succeed.
Stay away from the drink
It's always best to save your celebratory drinks until after your speech. Walk forward with pride in the firm knowledge that you've earned the right to speak on the subject by way of being a parent or long-standing friend. Drinking a lot might increase your confidence but it will decrease your performance.
Speak authentically and naturally
You're not a politician who is there to win votes. Your audience will probably appreciate a friendly and personal approach rather than a distant and overly formal one. Let your body and voice intuitively mirror the chemistry of the moment.
Try not to be offensive
This is different to a 21st where a bit of off-colour language might be expected – and even if you're the best man, remember that Nanna is sitting in the corner and probably won't appreciate anything too rude! Try to be brief, keep it crisp, clear and deliberate. About four minutes duration would be ideal.
Be a storyteller
The secret is to reflect on past experiences and find the right story for the occasion. Awkward moments are fine but no dirty ones. Ask close friends and relatives for stories you can use. You could relive from memory how the groom acted strangely the day he proposed; you could relate the time little Sally upstaged the principal at the school concert; or you could highlight the groom's generosity with the story of his willingness to help you paint your house during the holidays.
Lead your listeners through the story
And have a clear end in mind. Memorise your opening: "I'm deeply honoured for the opportunity to share some of my thoughts with you tonight… " and memorise your ending: "Would you all please stand and join me in a toast to Jenny and Bill". For the rest, relive your stories from memory.
Tears are natural…
Under no circumstances apologise for feelings which are as natural as the air we breathe. As your tears flow the audiences' tears will flow with you. You'll soon regain your composure and have people laughing with you as you share one of those 'awkward' moments we can relate to.
Rehearse, rehearse, rehearse
Imagine yourself at the venue as the confident warm speaker you desire to be. Each time you rehearse, your words will be ever so slightly different. You'll thus create an internal comfort zone within yourself and it will no longer frighten you.
Familiarise yourself with any equipment
Even if you rehearse over and over again at home, performing on a stage with a microphone and bright lighting is quite a different experience.  There are many different types of microphones and sound systems, so get to know the one you'll be using.
Strong lights shining directly in your eyes mean your eyes are not shadowed and your audience can see you. Don't squint and turn your head away with off-putting comments like "Gee that light's strong!" Pretend that everything is normal and look right through it.
Order of wedding toasts
Weddings speeches are, traditionally, delivered in a certain order, however, there is no requirement to stick to it.
Keeping in mind cultural differences and today's flexibility, the following is a traditional approach. You can find a more modern approach to wedding toasts here.
Toast to the bride and groom by close friend or relative
Response, expressions of thanks, toast to bridal party by the groom/bride. "Here we have a table of some very special people, let me tell you why…" (Interesting snippet on each of them).
Response on behalf of bridal party by best man
Toast to bride's parents by close friend or relative
Response by the bride's father
Toast to the groom's parents by close friend or relative
Response by the groom's father
Reading of telegrams. (Obviously, this is quite a dated aspect of the proceedings)
Duties of the master of ceremonies
The master of ceremonies (or MC for short) is the person who guides the guests through proceedings at a wedding.
Here is a list of the MC's duties:
Liaise with caterers and band/DJ
Direct guests to refreshments area
Guests seated
Welcome guests on behalf of the bride and groom
Introduce the wedding party
Announce dinner
Call upon each person giving a speech
Announce cutting of the cake
Announce bridal waltz
Announce bridal party and parents to join the bride and groom on the dance floor
Invite the other guests to join the dancing
Announce tossing of bouquet
Announce farewell circle/guard of honour
Announce departure of bride and groom
Looking for tips on writing the perfect father-of-the-bride speech? View our guide here.