If the groom doesn't often need to wear a tuxedo or formal suit, if you are looking for something a bit different and special for his wedding outfit, or if you are trying to reduce wedding costs, hiring a wedding suit is the obvious choice. It is also a great way to coordinate the outfits of the groom, the groomsmen and any other male members of the wedding party.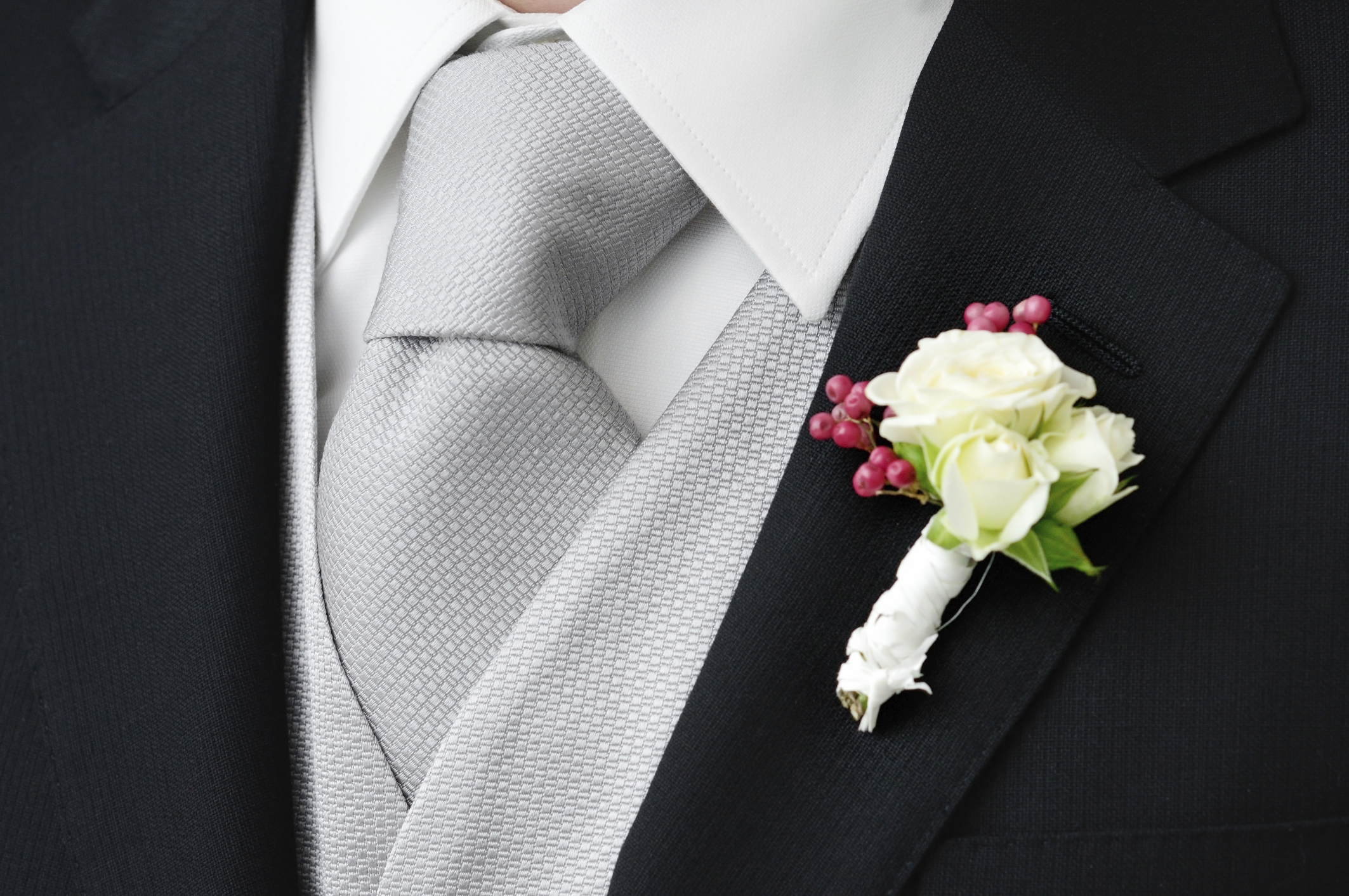 Some grooms aren't particularly interested in what they will be wearing and are happy to leave it to their future bride to decide on the appropriate style and colour, while others will want a major role in the decision process and will have fixed ideas about what they do and don't want to wear. Either way, here are a few rules to follow to make sure your groom looks his best on the big day.
Rules for choosing your groom's rental suit
Match the suit to the time of day
Menswear etiquette dictates that tuxedos and dinner suits should only be worn in the evening, so if you are planning a lunchtime or afternoon wedding, you should look for an appropriate alternative. A morning suit, usually in black or grey, with a wide tail at the back is often a good choice for a daytime wedding.
If you are set on a tuxedo the rules can be bent a little for weddings because many of them start early in the day and carry on well into the evening. Perhaps a white jacket and black tuxedo trousers could be a less formal option for use during the day.
Choose a style that complements the groom's physique
Tuxedo jackets come in a range of lengths, but the shorter the groom, the shorter the jacket should be. The traditional double breasted tuxedo looks great on men of slim build, but bulky or muscular grooms will probably look better in a single breasted option. Similarly pleated shirts will add bulk, so chunkier grooms should stick to plain fronted shirts.
While tall men can pull off flat fronted trousers with little or no cuff, shorter grooms should opt for pleated or tuxedo trousers. A cummerbund will attract attention to the waist, so heavier grooms should opt for a slimming waistcoat instead.
Match the suit to the formality of the wedding
For a casual beach or garden wedding, the groom may not need a formal suit at all, but may be able to get away with smart trousers and an open collared shirt. However, most weddings do lend themselves to certain degree of formality, and the groom may enjoy the chance to wear a morning suit, tuxedo, or other formal alternative for a change. Bear in mind that your male guests will take their cue from the groom when deciding what to wear, so the more formal he is, the more formal they will be in turn.
Avoid extreme menswear trends
Although the groom may think he looks the part in this season's latest colours or cuts, you might not agree when you look back at the photos in twenty years time. To avoid having to cringe every time you see your wedding picture on the sideboard, try to choose a suit style that is classic and timeless.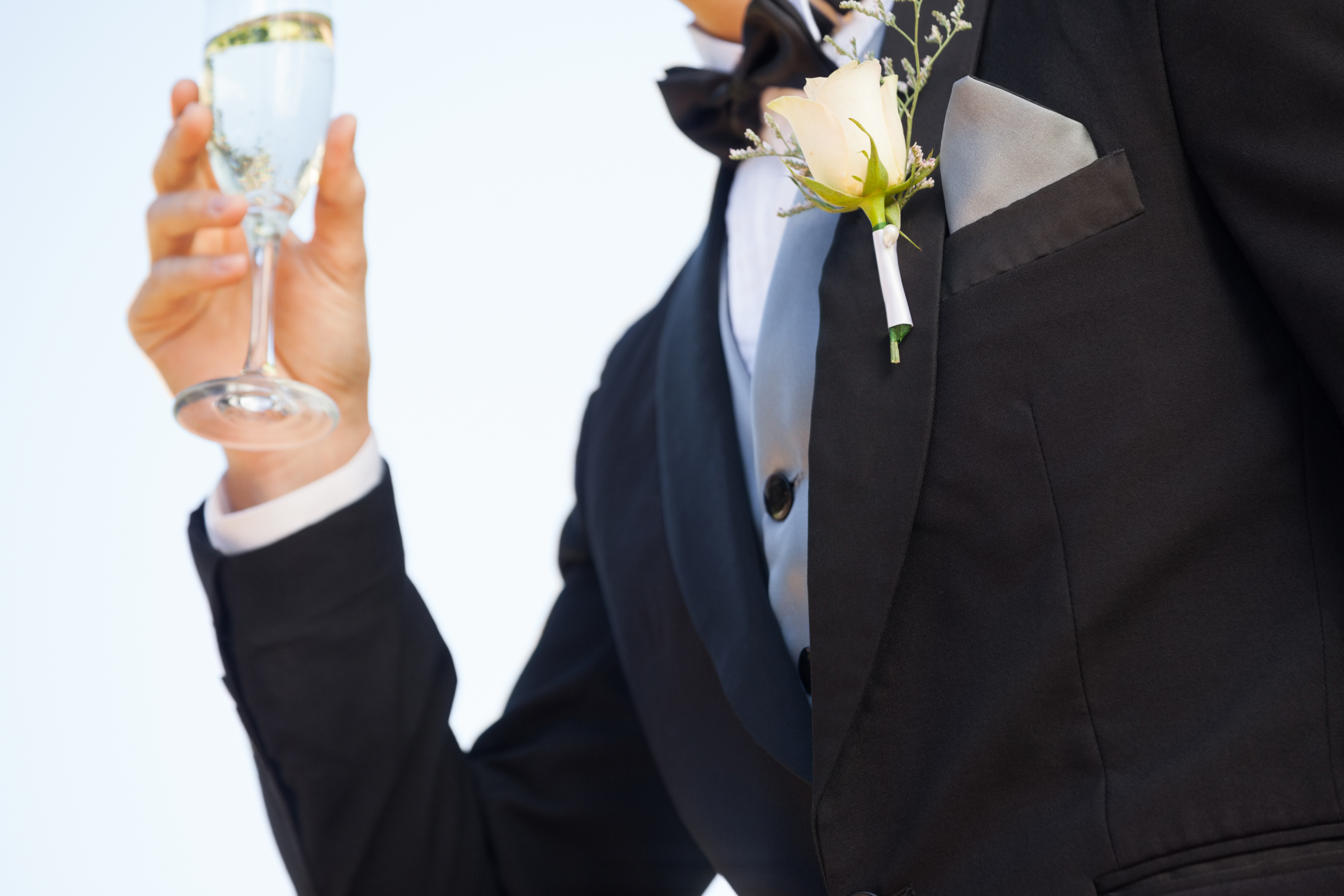 When to hire your groom's wedding outfit
Arranging suit hire for your fiance and his groomsmen, as well as other male members of the wedding party such as the father of the bride, should be done six to eight months before the wedding. Make sure you arrange fittings and collection dates at the same time as you organise the suit rental.
Questions about wedding suit hire
Here are a few of the questions you might want to ask the rental company before you hire the suits for your groom and his groomsmen.
What items are included in the rental price? As well as the jacket and trousers are shirts, waistcoats or cummerbunds, and ties included? Do you need to pay extra for dress shoes?
Are fittings and alterations included in the rental price? Although menswear tends to need fewer alterations than a bridal gown, the odd stitch here and there might be necessary to get a good fit.
How will they fit groomsmen from out of town? Do they have a rental shop in the groomsman's neighbourhood or would they accept measurements taken by a local tailor?
Can a fitting for minor adjustments be done at the same time as the suits are collected?
What is the policy on damaged or stained suits? What fee will you need to pay if the jacket gets torn for example?
When and how do suits need to be returned to the rental company?